Holiday season is officially here, and for some, that means getting dressed up for fancy holiday parties. While we usually think of dresses or skirts when it comes to women's formalwear, there are definitely lots of super-chic holiday party outfit ideas that aren't dresses or skirts — think Yves Saint Laurent's Le Smoking, or the many examples of female celebrities who have worn suits, tuxes, jumpsuits, or rompers on the red carpet.
So, whether you're looking to switch things up a little, or dresses and skirts just aren't your thing, let the four looks I've styled below be your inspiration to really make a statement this season!
Holiday Party Outfit #1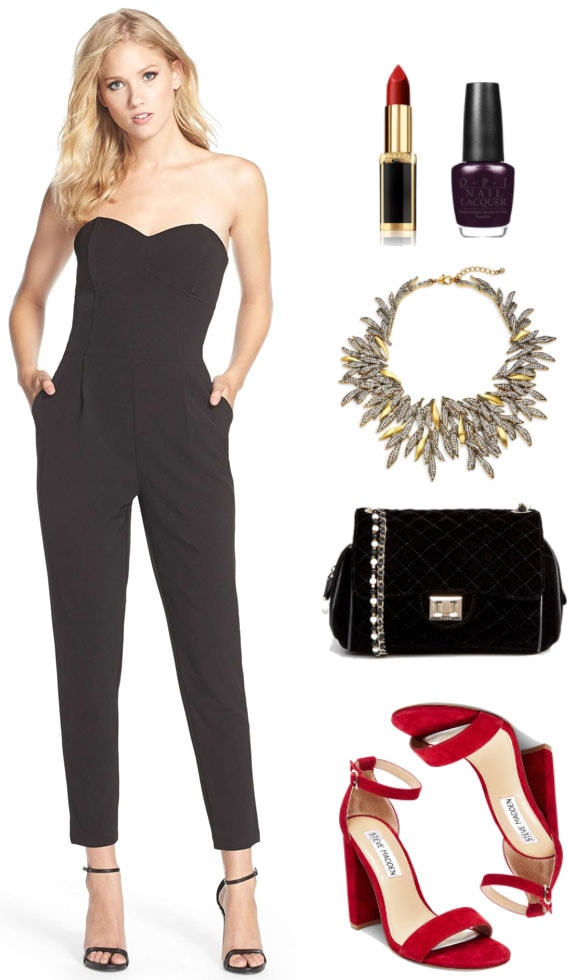 Products: Jumpsuit – Nordstrom, Lipstick – Barneys New York, Nail Polish – Amazon, Necklace – Saks Off 5th, Bag – ASOS, Sandals – Amazon
If you're looking to step away from dresses and skirts but don't want to full-on commit, then a jumpsuit or romper is the perfect place to start.
I'm a fan of this sleek strapless black jumpsuit, because, like a LBD, it can be worn so many different ways; it is also flattering on a wide range of body types. Here, I've styled it with a statement necklace that's sure to make people do a double take!
Red heeled sandals are a perfect way to amp up the style factor, while a black quilted velvet bag with a cool pearl-and-black-beaded chain-strap is an unexpected alternative to a standard black clutch.
Lastly, paint your nails a moody dark purple shade, and swipe on lipstick in a bold shade of red that matches the sandals for the perfect way to finish off this ultra-fashionable look.
Holiday Party Outfit #2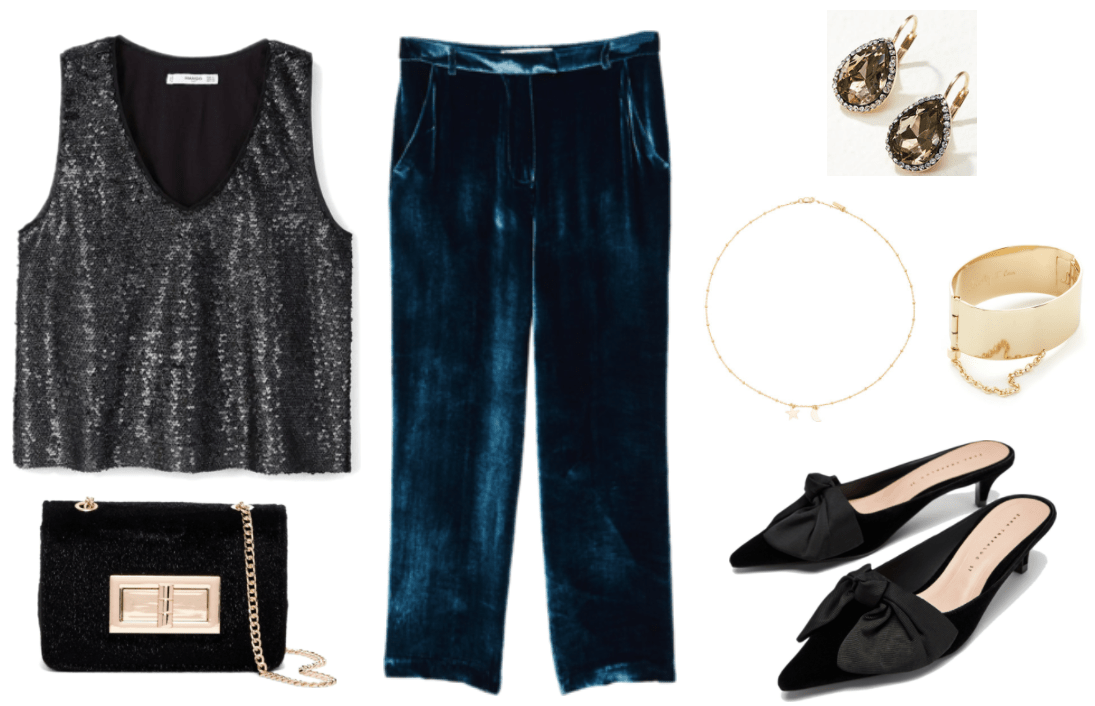 Products: Top – Mango, Clutch – Nordstrom Rack, Pants – Mango, Earrings – Loft, Necklace – Revolve, Cuff – Shopbop, Mules – Zara
If you're a velvet fan, then this look is for you! The deep blue hue of these pants is guaranteed to stand out just enough without going over the top.
Now, I realize that some of you might be thinking that it would be all too easy for the pants to read "bad '70s throwback." However, by pairing them with a black sequined top and faux calf-hair clutch, you're not only bringing them into the modern world, but also creating an interesting and unique mix of textures that shows that you know your stuff when it comes to current fashion!
Accessorize with a pair of sparkly drop earrings, a wide cuff bracelet with a dainty chain detail, and a delicate moon and star necklace, and complete the outfit by slipping on a pair of trendy kitten-heel mules.
Holiday Party Outfit #3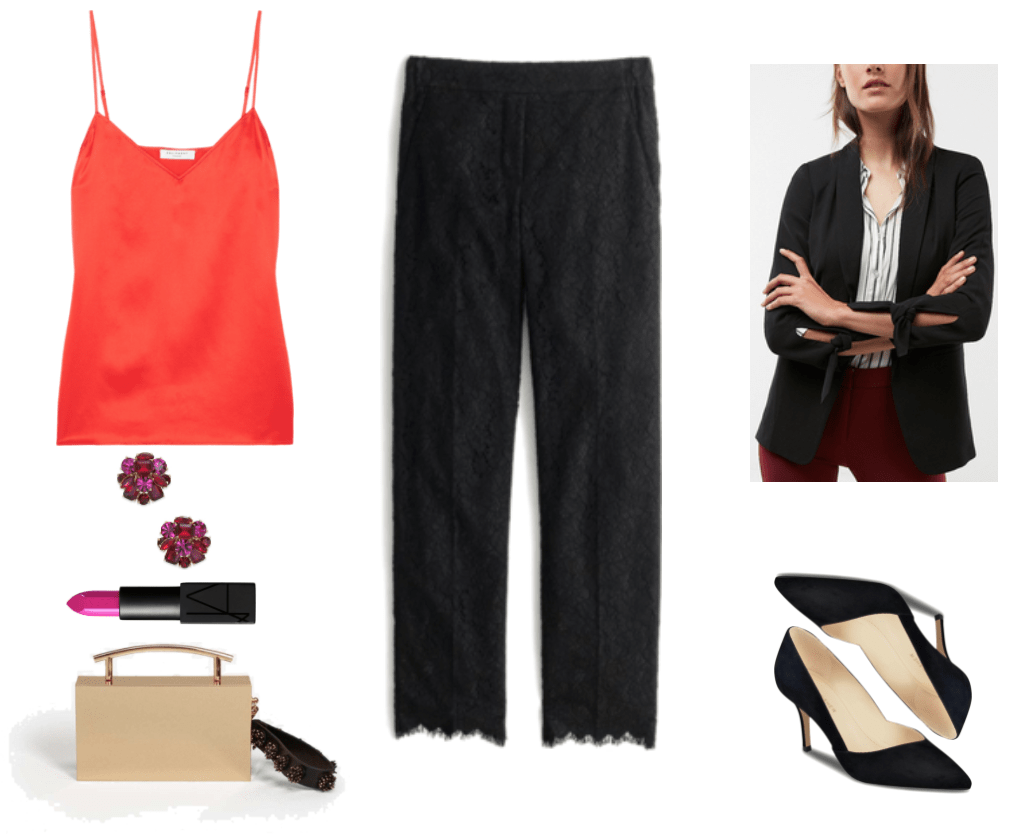 Products: Camisole – NET-A-PORTER, Earrings – Macy's, Lipstick – NET-A-PORTER, Clutch – Mango, Pants – J.Crew, Blazer – Express, Heels – DSW
This elegant and sophisticated look is sure to turn heads at your next holiday cocktail party! To get it, put on a festive tomato-red silk-satin camisole. (This one's an investment, but it's by Equipment, a brand famous for its luxurious silk pieces, so it's definitely worth it.)
Next, put on a gorgeous pair of lace pants (which, once again, are an investment, but as the owner of lace pants myself, believe me when I say that they're surprisingly wearable and versatile!).
This black blazer with tie-sleeve details is the perfect way to put a feminine twist on a classic piece, while understated low-heel pumps are a timeless (and comfortable!) shoe option. Add a pair of beautiful red-and-fuchsia cluster-stone earrings, and grab a glamorous gold metal clutch with a cute embellished strap.
Finally, put on some neon-fuchsia lipstick that clashes with the color of the camisole (in a good way!) for an extra dose of cool.
Note that since this look has a lot going on, I'd recommend keeping the rest of your beauty look simple; think a thin winged eyeliner look (if you choose to wear any more make-up) and a no-fuss hairstyle.
Now you're all set to go!
What do you think?
Have you ever chosen to forgo dresses and skirts for a formal occasion? What did you wear instead? How do you plan to make a statement with fashion this holiday season?
Let me know in the comments!