The 2017 MTV Video Music Awards were last Sunday, and I for one am still thinking about them.
This awards show, as usual, had a lot to discuss: Katy Perry's hosting skills were… unique. Taylor Swift debuted her music video for "Look What You Made Me Do", which had everyone talking. Pink accepted the Michael Jackson Vanguard Award and gave an incredibly empowering speech dedicated her daughter Willow. And, of course, there was fierce fashion.
There were many stylish red carpet looks, but it was the performances that really caught my eye, style-wise. So I'm going to show you how to channel these performances in your own outfits:
VMAS 2017 Outfit 1: Fifth Harmony performs "Down" and Angel"
https://www.youtube.com/watch?v=b22vPo0_wBg
Fifth Harmony performed "Down" and "Angel" with Gucci Mane.
The performance started off with some shade to ex-member Camilla Cabello: The girls added an extra as a fifth member only to push her off the stage. What also stood out from the performance was Normani doing the splits which impressed the audience, especially Bebe Rexha.
To channel this performance into an outfit, start off with a basic black bodycon dress. The performance had a galaxy vibe to it, so add a space-styled phone case. The girls were rocking silver metallics, so finish off your outfit with metallic heels and a silver jacket.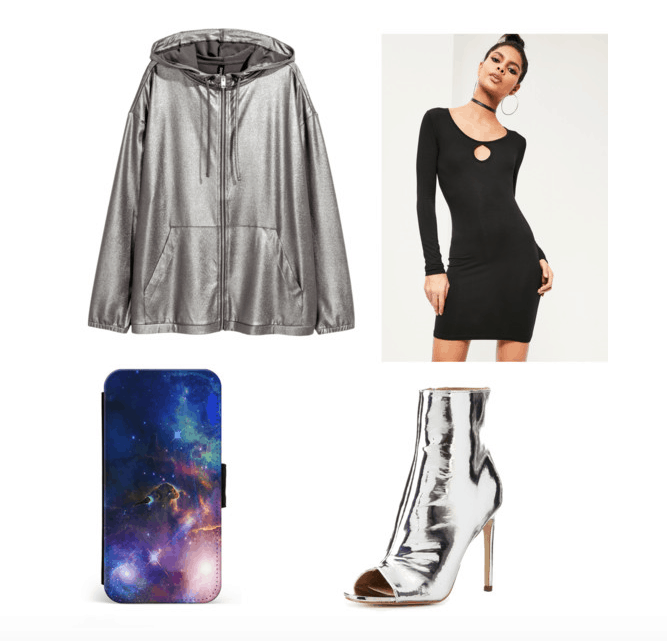 Products: Hooded Jacket – H&M, Bodycon Dress – MissGuided, Phone case – Etsy, Booties – Charlotte Russe
VMAS 2017 Outfit 2: Katy Perry performs "Swish Swish"
https://www.youtube.com/watch?v=MrV5a9aLBWk
Personally, I wasn't a huge fan of Katy Perry as a host, but I did really enjoy this performance. This performance payed homage to her "Swish Swish" music video, with an athletic theme.
To recreate this performance in an outfit, start off with an Adidas tank dress. Katy is seen wearing orange drop earrings, so add a similar pair to your look. Inspired by the giant hand behind her, swipe on some red polish.
Although this is an athletic outfit, you don't need to be wearing running shoes. In fact, some ankle strap heels will really amp up this look. Inspired by Nicki Minaj's striped look, finish off your outfit with a striped makeup pouch.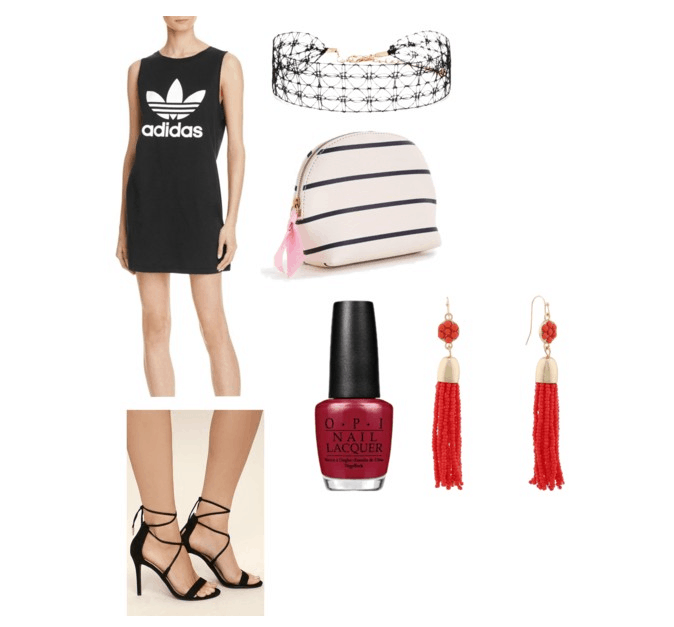 Products: Tank Dress – Adidas, Choker – Forever 21, Makeup Pouch – J.Crew, Drop Earrings – JCPenney, Heels – Lulu's, Nail Polish – Amazon
VMAS 2017 Outfit 3: Lorde performs "Homemade Dynamite"
https://www.youtube.com/watch?v=M4hUmKZvBBE
Lorde had quite a memorable performance — it had absolutely everyone talking.
Lorde decided to not sing and she danced through her entire track, "Homemade Dynamite." It turns out, she had the flu and couldn't sing. Kudos to her for going on with the performance, bizarre as it might have been!
For a Lorde-inspired look, I decided to channel her outfit, which is perfect for class or a casual day out. Start off with grey skinny jeans. Keep the silver/grey look going by adding a silver metallic frill top. Keep the outfit casual with running shoes. To channel the balls behind her, finish off the look with gold studs.
Products: Frill Top – River Island, Jeans – Lee, Studs – Target, Sneakers – Adidas
VMAS 2017 Outfit 4: Demi Lovato performs "Cool for the Summer"
https://www.youtube.com/watch?v=Oh-VNhkcnUM
This is definitely my favorite outfit of the bunch, so I decided to keep it for last. Demi Lovato performed her popular hit, "Cool for the Summer," with the audience in the pool around her.
Demi is seen wearing a one-shoulder bodysuit so start off with one, but in black. Inspired by her sheer fishnets, add on a sheer lace midi skirt. The backup dancers are seen wearing blue booties, so channel them with these lace-up suede booties from Target. Demi is also seen wearing hoop earrings so finish off your outfit with smaller ones.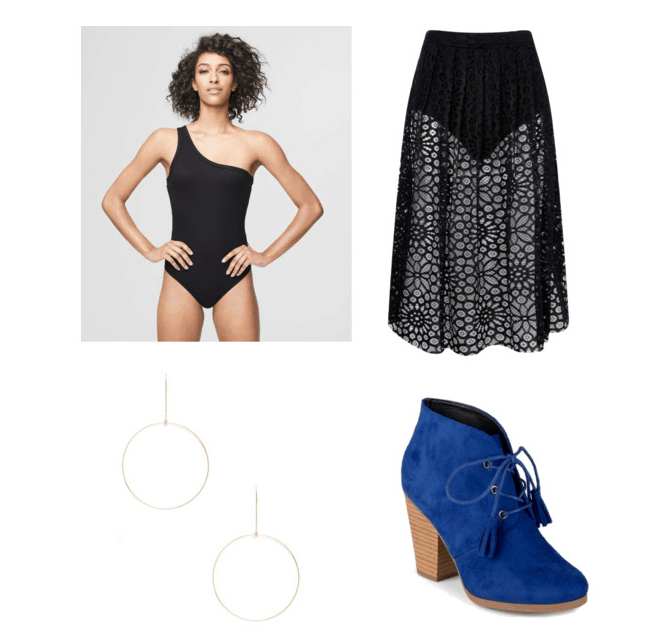 Products: Bodysuit – Aeropostale, Midi Skirt – Boohoo, Booties – Target, Hoop Earrings – Forever 21
What do you think?
What was your favorite moment at the 2017 VMAS? Which performer had the best outfit? What did you think of Katy Perry's hosting skills? Leave a comment below!