Winter weather may be right around the corner, but that isn't getting in the way of this WVU student's style. Gentry, a freshman psychology major, is looking on-trend while fighting off the cold December weather. You have to check her look out, especially her styled cream lace top and sienna red sweater combo.
Gentry has a sweet, girl next door feel to her aesthetic; her look is so relatable for college girls everywhere. You're sure to fall in love with Gentry's outfit and her personality.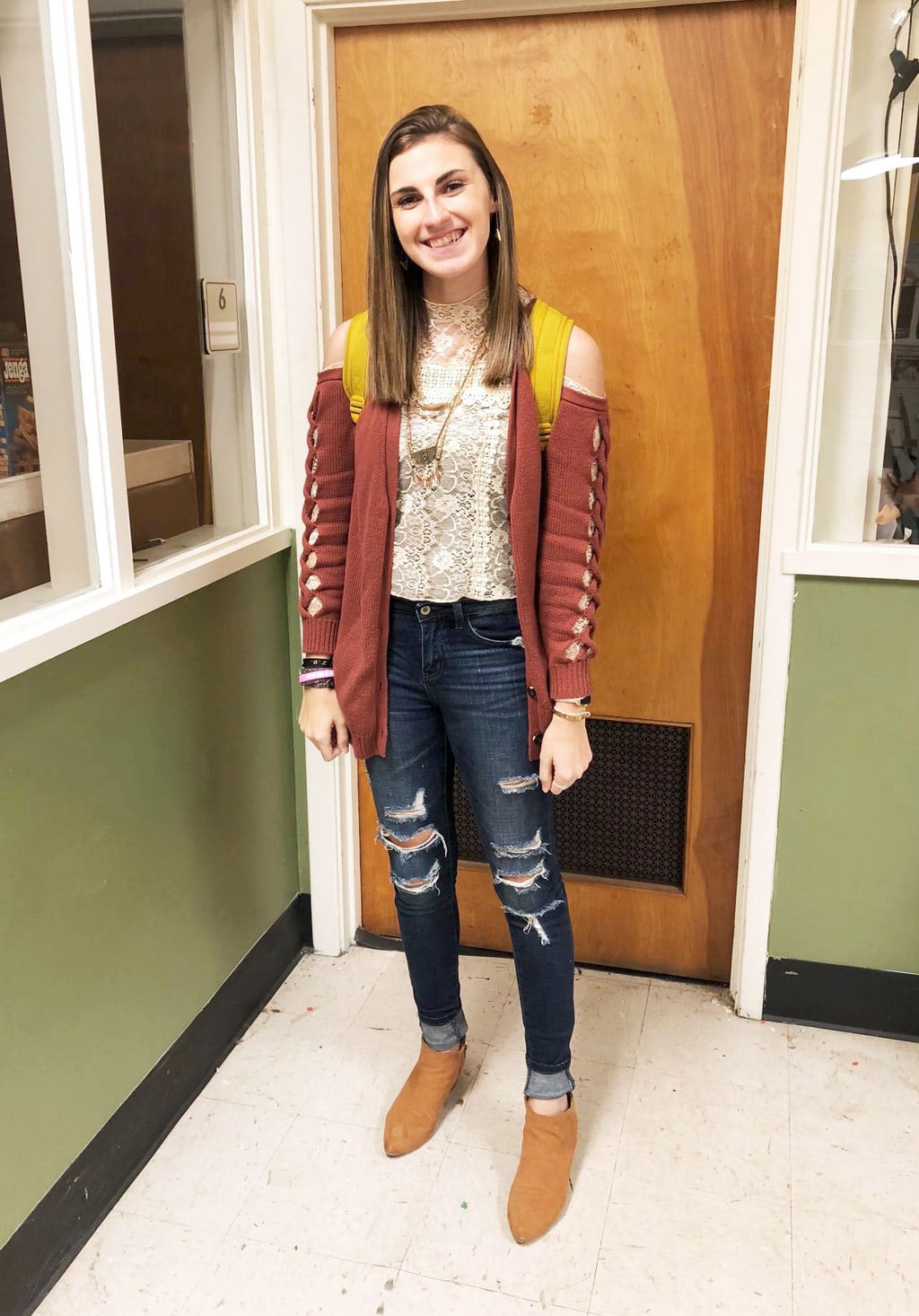 Gentry 101
Name: Gentry
School: West Virginia University
Year: Freshman
Major: Psychology
Hometown: Fairmont, WV
Let's Talk Fashion
Who or what inspires your style? "What really inspires my style is seeing what other people are wearing. My style is pretty mainstream. I like to see what YouTubers I like [are] wear[ing] or [what] certain Instagram models [are] wear[ing], and I try to recreate those looks.
Where do you like to shop? "Where I like to shop usually depends on what I'm looking for. If I'm looking for jeans, I shop at American Eagle or Buckle. If I'm shopping sweaters or shirts, I shop at American Eagle, PacSun, or Old Navy. For shoes, I typically shop online like L.L. Bean, Timberland, [and] Hunter. For shoes I also go to places like Old Navy or Journey's and find shoes there. For nicer clothes like dresses or jumpsuits, I shop at Francesca's, Altar'd State, or H&M."
How would describe your sense of style? "I would describe my sense of style as trendy and casual. Most days I dress very low key and comfortable, but some days I will dress a little nicer which usually includes a sweater, a pair of skinny jeans, and booties."
Why did you choose this particular outfit? "I really love the warm tones of this look as well as the layers. I feel more put-together and dressier when I layer my looks. I also really love wearing small dainty jewelry like my Tory Burch gold bracelet and as well as my Katie Loxton silver bracelet. I think they add a nice touch to any nice outfit."
Do you have any favorite trends? "One of my favorite trends is wearing anything oversized. I love wearing oversized sweaters, sweatshirts, and shirts. I like it because it's super comfortable but you can dress it up if you want to."
Do you have any favorite fashion designers? "I don't really follow fashion designers or wear any designer clothes but one fashion designer that I really like is Michael Kors. I mainly shop for his purses or wallets but I also have a Michael Kors puffy jacket that I love."
What do you do for fun? Do you have any unique hobbies or interests? "For fun I usually just hang out with my best friends or spend time at different coffee shops. A hobby and [an] interest that I have is music. I used to be a choir kid in middle school and high school but now I just sing for fun and I am also learning how to play ukulele!"
If you could raid anyone's closet, who would it be? "If I could raid anyone's closet, I would raid Kristin Johns' closet. She is a YouTuber whose look is very chic and neutral. Her style is very simple but she knows how to make it look really cute."
Elements of Gentry's Outfit
1. Orange Sweater & Cream Lace Top Combo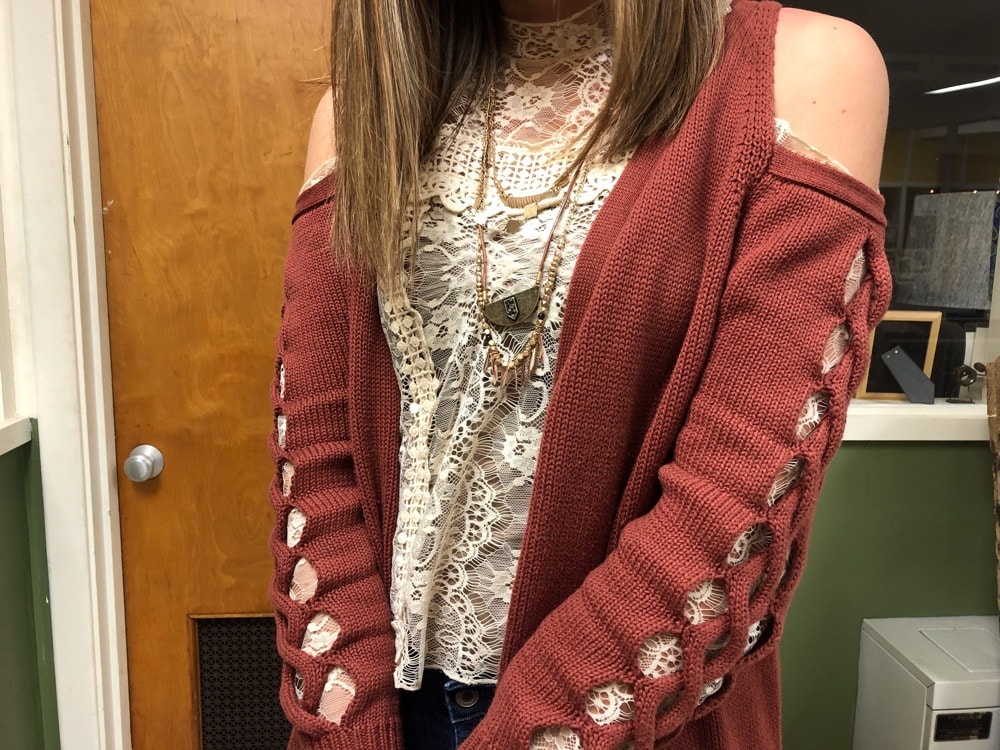 This sweater has a unique twist on traditional cardigans: accents on the sleeves. With braiding down the sleeves and open shoulders, this cardigan is one step above the rest. Gentry paired her sweater with a cream lace high-neck top.
2. Booties and Ripped Jeans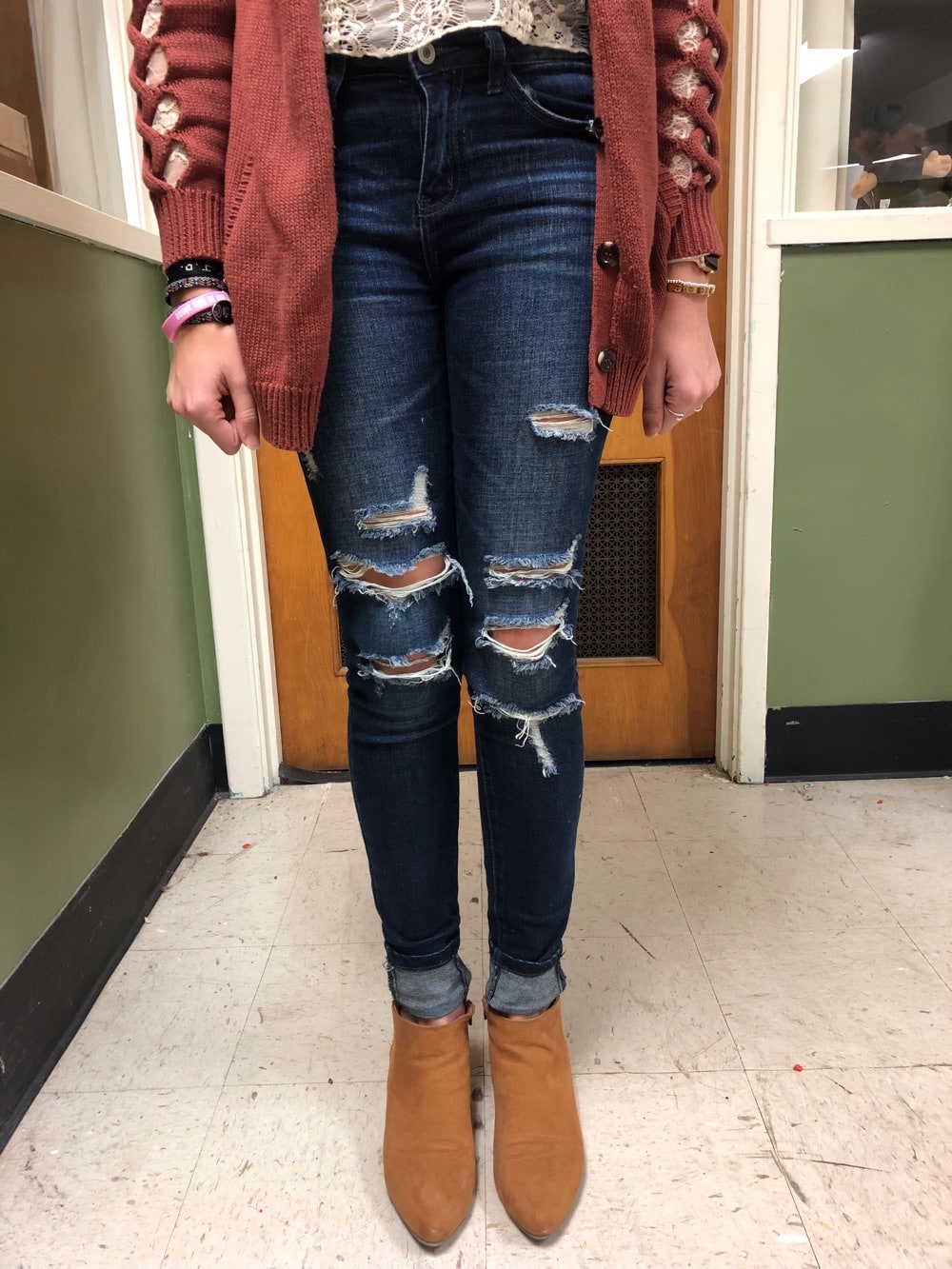 Gentry talked about her experience being styled at Buckle, "I enjoyed being styled a lot. It was cool to get other people's style input!" Gentry is obsessed with these hand-selected dark washed, ripped jeans. They have a lot of character and she dressed them up with these cute camel colored booties.
3. Layered Accessories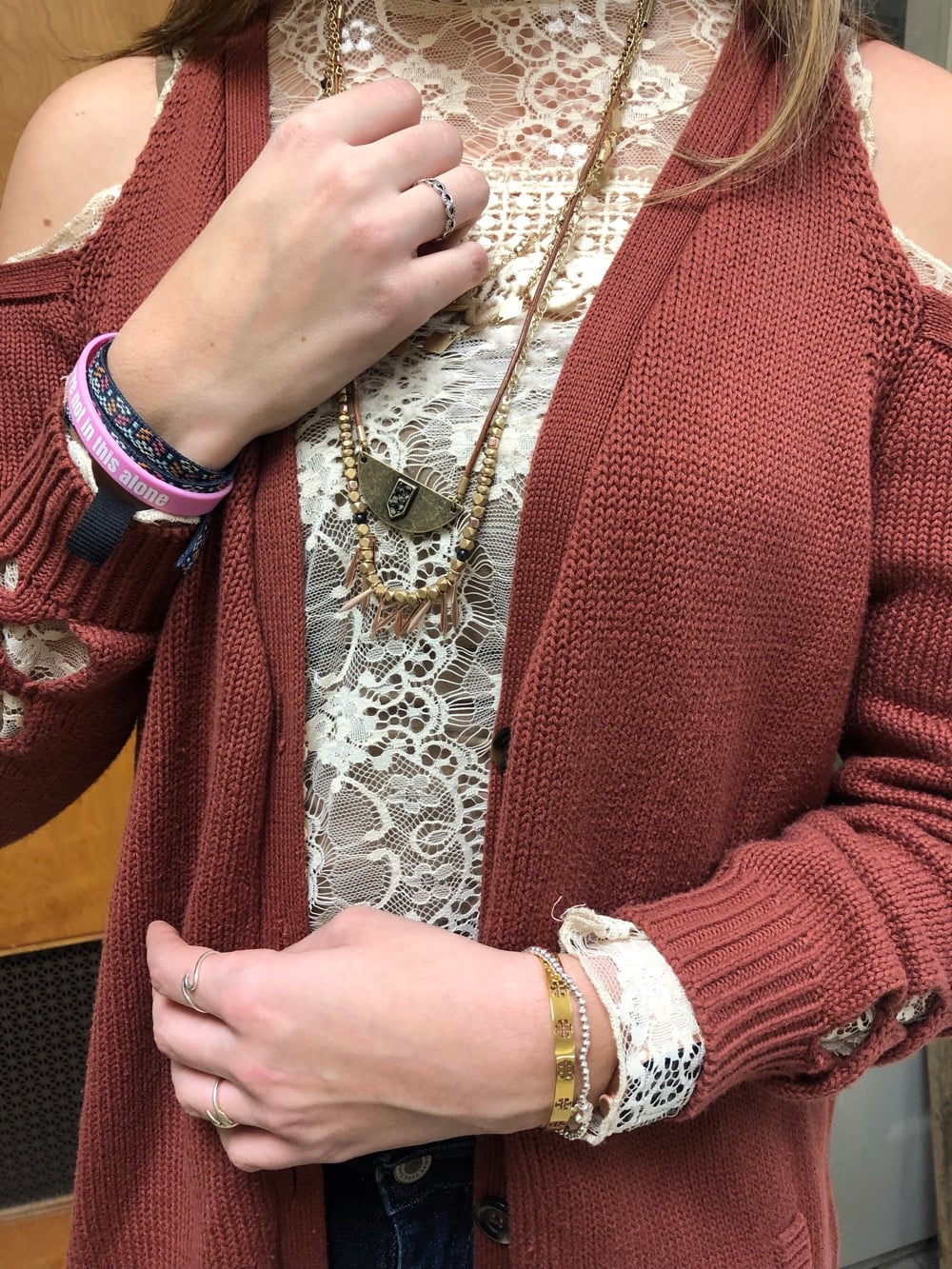 Gentry's mismatched rings are staple pieces that she can't leave the house without. She paired them with long layered necklaces which add edge to her rather soft and rustic look. Her simple, dainty Tory Burch bracelet adds even more femininity for an additional glint of gold.
What do you think of Gentry's look?
Would you wear her open shoulder sweater? Do you think her accessories game is strong? Comment below and share your thoughts with us!