There's nothing wrong with wanting to feel beautiful. You can be empowered while also showing off your femininity in lace and ruffles. That's the message of For Love & Lemons.
For Love & Lemons is an LA-based brand focusing on "the principles of confidence, femininity, and individuality." And their clothes? They're killer.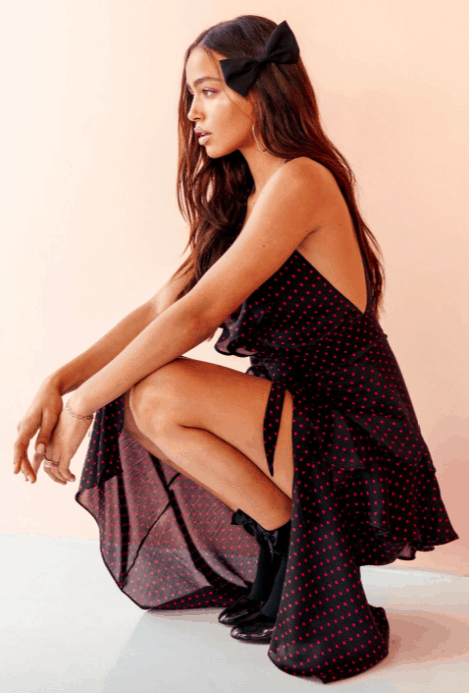 Founded in 2011 by two best friends who ran a lemonade stand together as little girls, the brand is growing its presence with some 2.8 million Instagram followers and countless celebrity fans, including Kylie Jenner, Vanessa Hudgens, BEYONCÉ(!!), Ellie Goulding, Hailey Baldwin…I could go on.
The brand is known for its beautiful designs and free-spirited charm. What does this mean? Some of the prettiest dresses you've ever seen.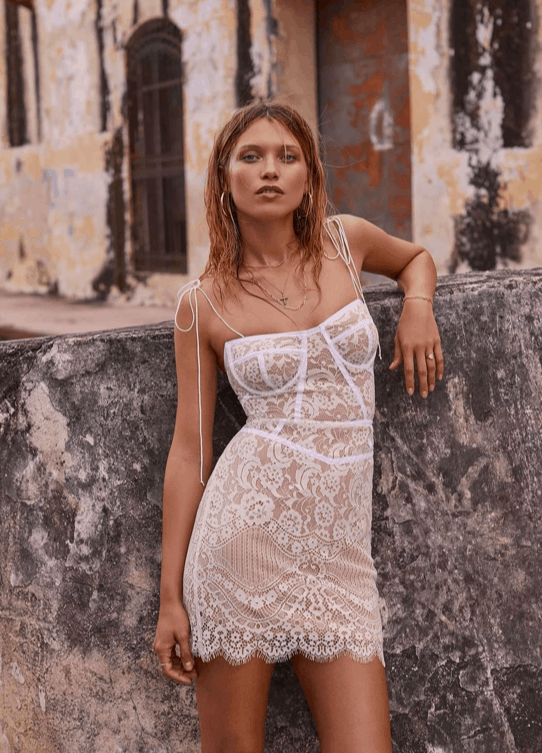 The brand does make other clothing, but is most famous for its dresses. Their swimwear and lingerie are also very popular.
To really capture the look of For Love & Lemons, I've taken some of their most distinctive designs and turned them into outfits that you can a) wear IRL and b) afford on a college girl budget.
Let's get started!
Outfit #1: The White Lace Dress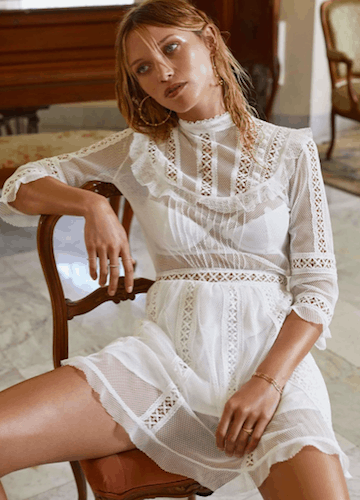 What could be dreamier than a white lace dress?? This design showcases For Love & Lemons' beautiful use of lace and embroidery to make a simple design feminine and flirty. Now, to make this class-ready…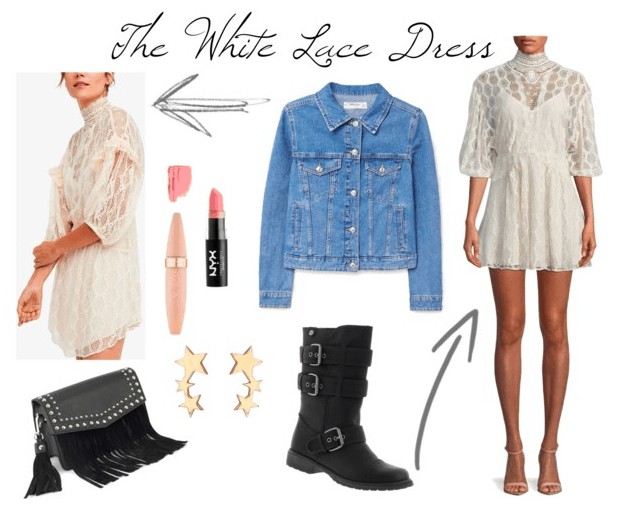 Products: White Lace Dress (L) – Macy's, Bag – Miss Selfridge, Mascara – Amazon, Lipstick – Nelly, Earrings – Oliver Bonas, Denim Jacket – Mango, Moto Boots – Shoemall, White Lace Dress (R) – Gilt
Start with a high neck white lace dress. If it feels too girly, add a denim jacket and moto boots to toughen it up. Next, add metallic accessories, like this studded bag and these drop earrings.
The brand doesn't use heavy makeup, instead allowing models to flaunt their natural features. Playful makeup, like a swipe of mascara and some pink lipstick, keep this look young and fresh.
Outfit #2: The Off-Shoulder Floral Dress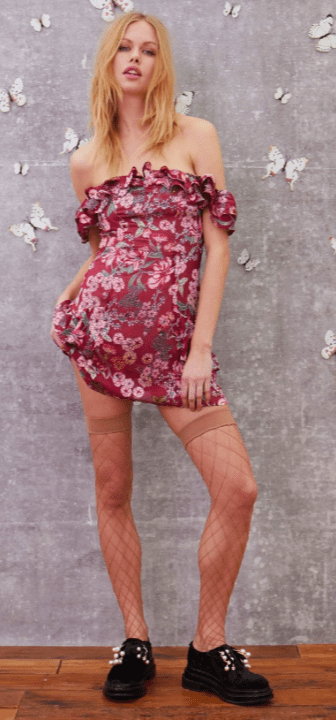 The floral print and romantic neckline of this For Love & Lemons mini dress turn it into a piece that's both cute and sultry. If a dress like this is too much for class, save it for that weekend getaway or special date.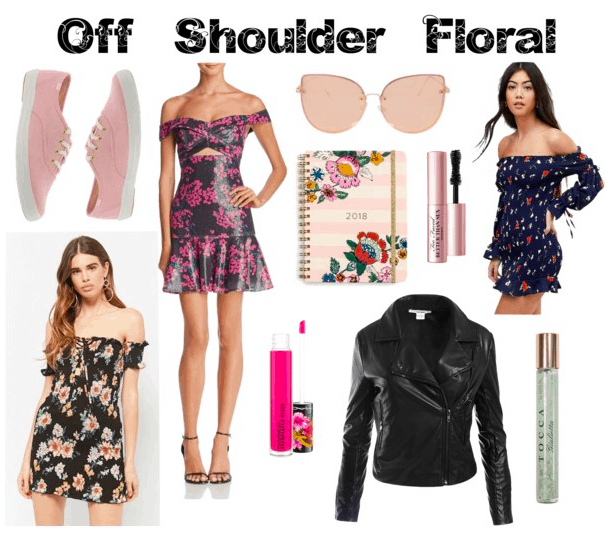 Products: Slip-Ons – Shoemall, Floral Dress (L) – Forever 21, Floral Dress (Center) – Bloomingdale's, Lip Gloss – Harvey Nichols, Sunglasses – Topshop, Planner – Vera Bradley, Leather Jacket – Sans Souci, Mascara – Selfridges, Floral Dress (R) – Asos, Roller Fragrance – Hattan Home
Again, we're going to take a feminine piece and toughen it up, this time with a leather jacket. Pink Keds make the dress casual, but not sloppy.
Flirty touches, like a floral fragrance, pink lip gloss and long lashes, topped off with dramatic cat-eye glasses, complete the look. This floral planner is a super cute add-on for all college girls.
Outfit #3: The Red Ruffle Dress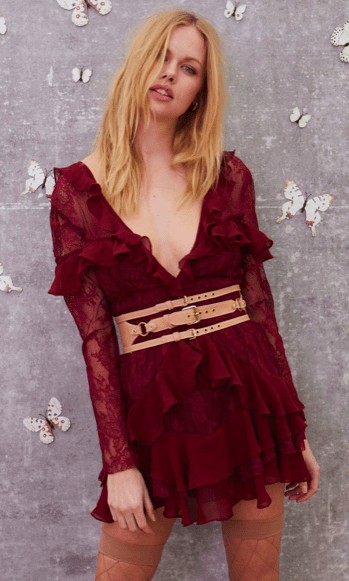 The neckline. Those ruffles. That color. While this dress is a textbook case of "gorgeous dresses we never have an excuse to wear," styled right, it makes a glam look for a night out. Or class. Or the library. Wherever you want to turn heads.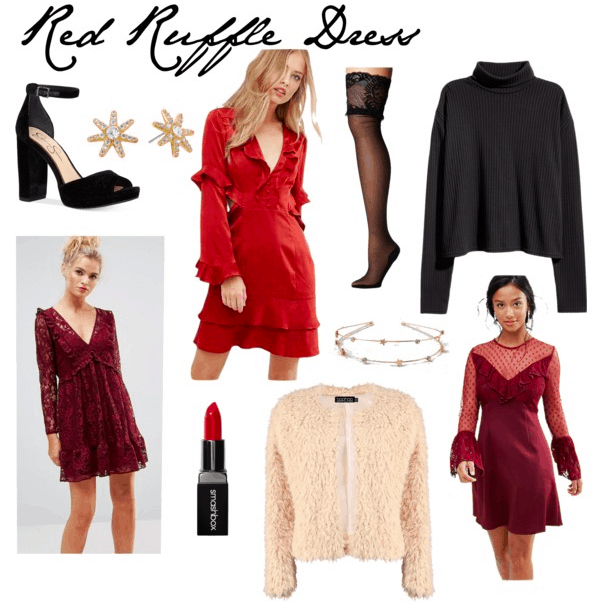 Products: Black Heels – Macy's, Red Dress (L) – Asos, Star Studs – Zappos, Red Dress (Center) – Asos, Red Lipstick – Gilt, Fur Coat – Boohoo, Lace Stockings – Zappos, Headband – American Eagle, Turtleneck – H&M, Red Dress (R) – Asos
For a night out, there is nothing flirtier than a ruffled mini dress. But in red? You'll be absolutely swoon-worthy.
For Love & Lemons is big on plunging necklines. If that's too much for you, layering a turtleneck underneath your dress is a trendy solution. Next, lace stockings are a sultry addition that are sweet without being too revealing. Add cute velvet heels and a fur coat.
Now for princess-worthy accessories, put on your star-studded headband and earrings and swipe on bright red lipstick.
What Do You Think?
Have you heard of For Love & Lemons? Are you a fan? Would you wear any of these outfits? Let us know below in the comments!