This post may contain affiliate links, which means we may receive a commission if you purchase through our links. Please
read our full disclosure here
.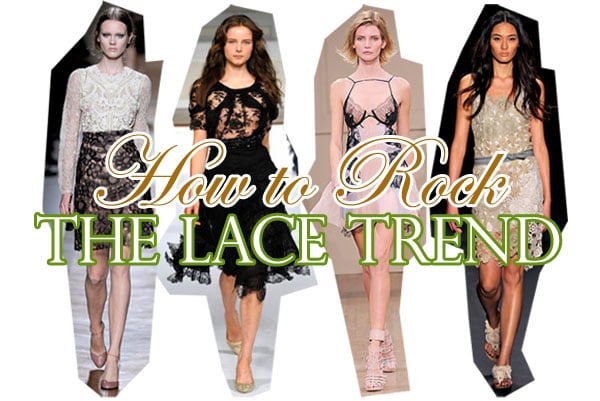 (Source: Style.com | Valentino, Oscar de la Renta, Julien Macdonald, Vivienne Tam)
The lace trend has been around for a few seasons now, and it's only getting stronger for fall. If you haven't tried this trend yet, it's time to join the lacy bandwagon!
Whether you're wearing it on your top, skirt, or elsewhere, one thing is for sure, lace isn't just for your undergarments anymore! Not sure how to rock this trend with confidence? Well have no fear friends, I'm here to give you tips and tricks on wearing this detail-oriented fabric! Interested? Read on!
How to Wear Lace on Campus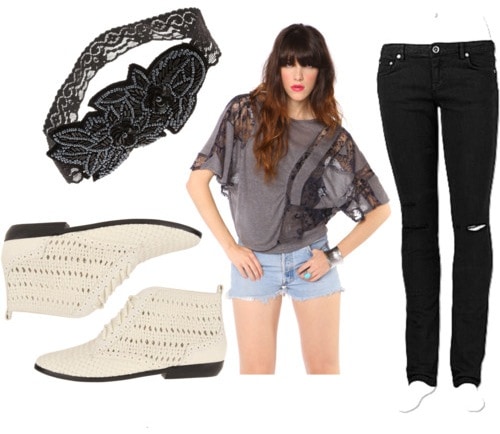 First on the list of outfits is an easy top/jeans combo – an effortless fallback look for any on-campus occasion.
To start, I picked out this great lace shirt and paired it with a pair of dark skinny jeans. A lace shirt is a great way to rock the lace trend as it is subtle, yet still fashion-forward. Another great way to wear this trend is to invest in a cool lace-based headband – I picked out a gorgeous black one that you can either wear traditionally around your head or across your forehead. To complete the outfit, I found a pair of great cutout booties in white; they add a pop of contrast to the outfit without being too over-the-top. Wear this on campus and you'll be laced up and ready to ace those classes!
How to Wear Lace on a Date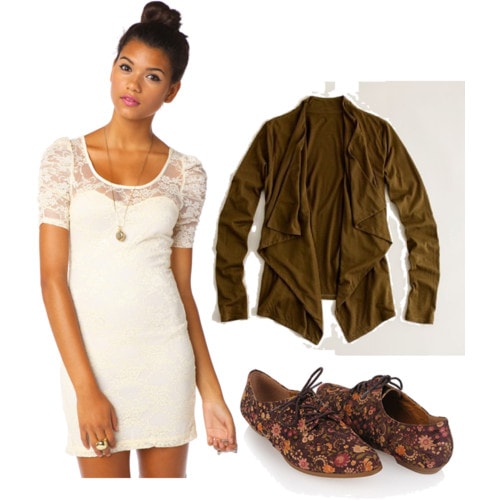 While black lace can be a bit much for certain occasions, white lace is always a great fabric as it gives off a classy yet innocent look – perfect for date night!
To create this look, I picked out a form-fitting white sweetheart dress with lace detailing. It can be dressed up or down depending on the shoes and outerwear you wear with it, but since this is a date outfit, I went for a soft and sweet look. I paired the dress with a pair of cute floral oxfords, and a soft drapey cardigan in olive green. Sweet yet sultry, this outfit is a great daytime look, whether your date is with Grandma or Prince Charming.
How to Wear Lace for Nights Out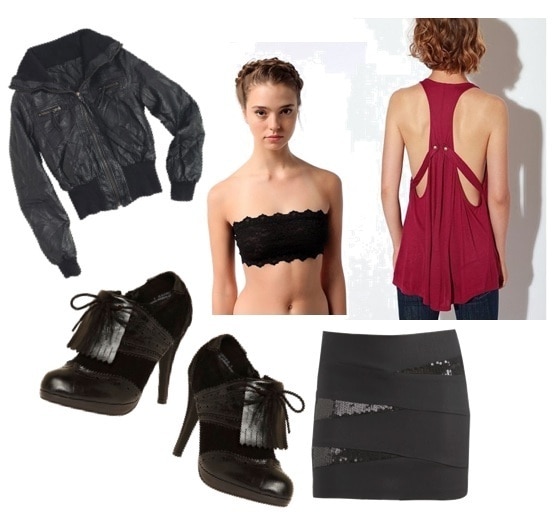 (Bandeau, Heels, Skirt, Top, Jacket)
For my night out outfit, I decided to steer clear of the obvious black lace dress and go for a more understated lace look to give you more creative ideas. The lace part of this outfit is actually a smaller detail in a larger look.
To start, I picked out an awesome black lace bandeau – bandeaus are so versatile and can be worn underneath lots of different things to add some understated sex appeal. Worn under scoop neck tanks, cutout shirts, or tops with fun back detailing, the bandeau always makes the outfit, especially if you dare to wear different colors.
For this outfit in particular, I paired the bandeau with this drool-worthy tank top with a sexy cutout back. It's a great way to show off your back as well as the lace detailing of your bandeau. Tuck your top into a skirt like the one I picked out, throw on some heels, and then just grab a cool bomber jacket – wherever you're off to, you'll look and feel like a million bucks!
Thoughts?
Are you guys fans of the lace trend, or are you going to skip it? What do you think of the outfits I put together? Did you like the tips I included? How are you going to wear lace this season? Whatever your thoughts, let me know in the comments – I always love your input!