This post may contain affiliate links, which means we may receive a commission if you purchase through our links. Please
read our full disclosure here
.
In a recent post here on CF on the latest fashion trends for fall and winter, we talked about lace; this uber-feminine fabric will be everywhere this season.
So for this week's edition of "3 Ways to Wear…", I'll show you how to wear a lace top, a popular choice for fall. Below, I've created three different ways you could wear this single piece to get your inspiration going; one outfit is trend-oriented, the second is more vintage-inspired, and the third is very girly and feminine.
The Top: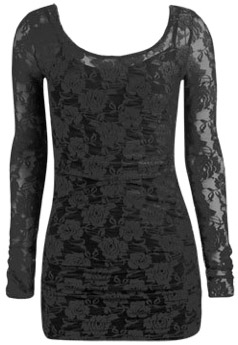 Product Info: Top
The top I chose to feature is perfect for fall – it's long-sleeved, which is good for cooler temperatures, and it's made entirely of lace without being see-through, which is also good… unless you're channeling Miley's recent street style outfit!
Also, because it's neutral, you can wear this top 8,000 different ways. depending on your style. For example, you could play up the Victorian Gothic side of it with other dark, brooding colors (Think Aria Montgomery from "Pretty Little Liars"), or channel the '90s by pairing it with grungy apparel and a fierce pair of lace-up boots. It's totally up to you!
Three Ways to Wear One Lace Top
Below, I'll show you three ways to wear this top, depending on your personal style and the situation you're dressing for. To get your inspiration going, I've created three sample outfits: one girly, one vintage-inspired, and one trendy, so there should be something to fit every style.
Outfit 1: Trendy Way to Wear a Lace Top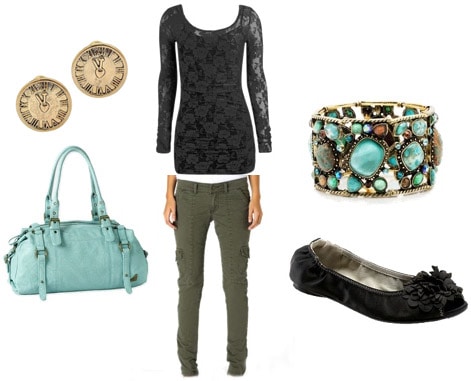 Product Info: Pants, Shoe, Bracelet, Bag, Earrings
This up-to-the-minute ensemble combines my two favorite trends of the season – military and lace.
Because the pants and top are of neutral colors, I added some pizazz to the outfit with colorful accessories. The shoes are black, yes, but I went with a pretty turquoise shade for the bag and bracelet. If you preferred, you could swap out the bag and bracelet for options in your favorite color – purple or red (two hot colors for fall) would work really well here, but it all comes down to personal preference.
Outfit 2: Vintage-Inspired Way to Wear a Lace Top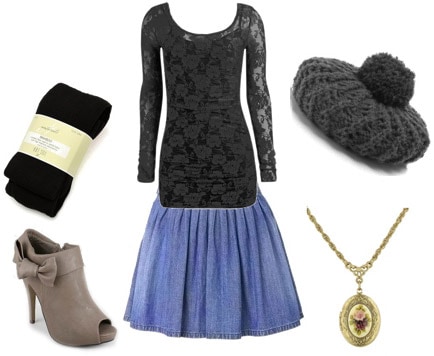 Product Info: Boots, Tights, Skirt, Necklace, Hat
This second look I've got for you is feminine and vintage-inspired.
I kept this look fairly monochromatic, just dealing in neutrals (black and gray), aside from the high-waisted, longer denim skirt, which adds a pop of color. For those chilly fall days, I included a pair of simple black opaque tights, which will make your legs look mile-long while keeping you warm.
For accessories, I included a simple necklace to reflect this season's trend towards wearing less jewelry, and a cozy beanie hat, (which might remind you of this week's fashion challenge!). For shoes, these peep-toe booties are on-trend for fall and look adorable with tights! Finally, I didn't include a bag with this outfit because I wanted to leave it up to you, depending on where you were wearing this – if you were going to class, you would need a larger bag, whereas if you were going out at night, you'd need something smaller.
Outfit 3: Girly Way to Wear a Lace Top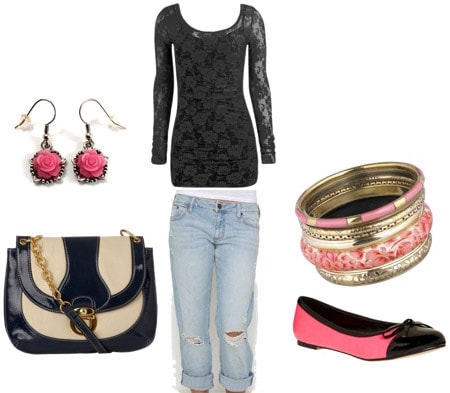 Product Info: Pants, Earrings, Purse, Bracelets, Shoe
The look I put together here is feminine, without being too over-the-top girly. I utilized the black top and bag to toughen up the sweet pink accessories, and I played up the floral lace pattern with a pink and cream floral bangle set, as well as the pink floral earrings. Finally, I roughed up what could have turned into an overly prissy outfit with cuffed boyfriend jeans.
A good way to translate jeans like these into winter is to layer them! I have seen girls on my campus recently wearing plain, neutral leggings underneath ripped boyfriend jeans. Obviously if that isn't your thing, you might want to consider boyfriend denim minus the holes.
What do you think?
So, tell me what you think! How are you wearing lace this season? Which look is your fave? Do you have any ideas for future posts like this? Leave me a note in the comments!