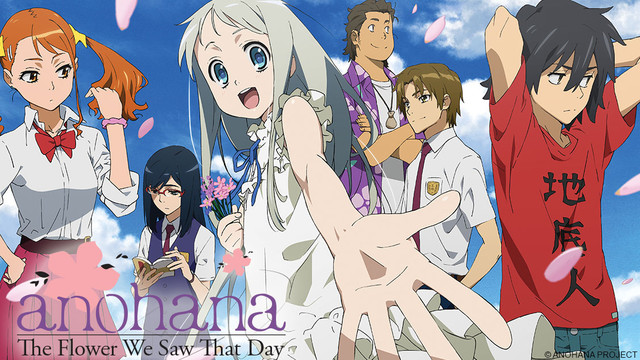 Dealing with the death of a friend or loved one isn't easy, no matter how old you are, and everyone comes to terms with their loss in different ways. Ano Hi Mita Hana no Namae wo Bokutachi wa Mada Shiranai (We Still Don't Know the Name of the Flower We Saw That Day), or AnoHana for short, covers the different ways people cope with death — whether it's through blaming oneself, becoming a shut-in, or obsessively collecting anything associated with the deceased one.
AnoHana's sentimental story unfolds as five different children-turned-adolescents come to terms with past trauma in just 11 short episodes. It is a fantastic, emotional story of grief and loss which will always tug at my heartstrings no matter how many times I watch it.
Get a taste of AnoHana's art, themes, and character designs by watching the opening sequence here:
AnoHana Crash Course
After a tragic accident during their childhood, Jinta and his group of friends, self-named the Super Peace Busters, split apart and became estranged. Now choosing separate paths in high school, the group is drawn together once more by an unknown force. AnoHana is a drama and slice-of-life anime series that follows the lives of these five students and the friendship they once had, as they re-discover guilt, anger, friendship, happiness, and so much more.
Will Jinta Yadomi, Tetsudou Hisakawa, Naruko Anjou, Matsuyuki Atsumu, and Chiriko Tsurumi find the strength to repair broken bonds? You'll have to watch AnoHana to find out.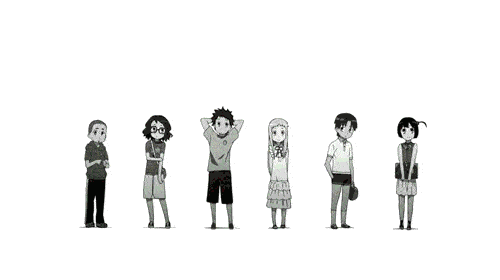 AnoHana Fashion
This week will be all about the nostalgic, summery looks in the Japanese anime series Ano Hi Mita Hana no Namae wo Bokutachi wa Mada Shiranai (We Still Don't Know the Name of the Flower We Saw That Day), AnoHana for short.
Meiko Honma (AKA "Menma")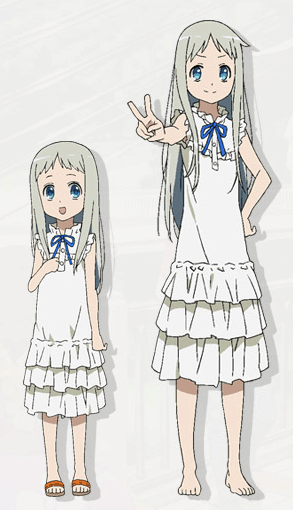 As she's portrayed, Menma is seemingly the most wonderful girl ever: incredibly sweet, loving, selfless, and innocent. Jinta is in love with her, even after all these years — as are the other boys from their old Super Peace Busters group. And the girls? Their emotional crises are all about how they could never match up to Menma, even now that she's dead.
Several years after her drowning accident, Menma suddenly appears to Jinta, asking him to reunite their group of friends so that her wish can be granted and she can move on to Heaven. While she does not remember what her wish is, what she does know is that if their childhood "Super Peace Buster" group is reunited, she'll be able to move on. Despite being deceased, she is a positive, energetic, and lively person. According to Jinta, she is quite selfless and cries very often for others instead of for herself.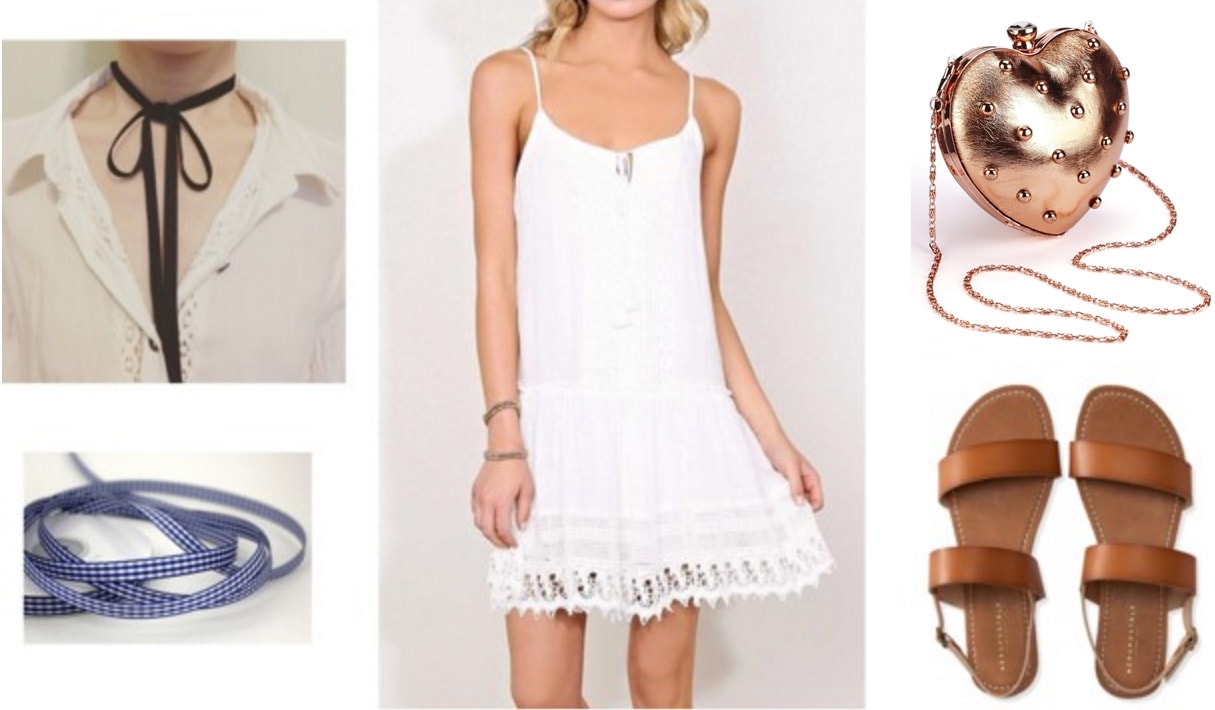 Products:
Because Menma's character is childish, innocent, and selfless, a little white dress is all too fitting to be the centerpiece of this outfit. For this look, I found a similar feminine LWD with the same drop waist silhouette as Menma's.
One easy way to make a fashion statement is to create your own DIY version of the '90s choker trend using just a simple ribbon. For Menma's look, use a blue ribbon in your favorite pattern or shade and tie it around your neck like the first picture. Lastly, I added a heart shaped bag and some tan strappy sandals to bring your mind to happy, sunny days.
Naruko Anjou (AKA "Anaru")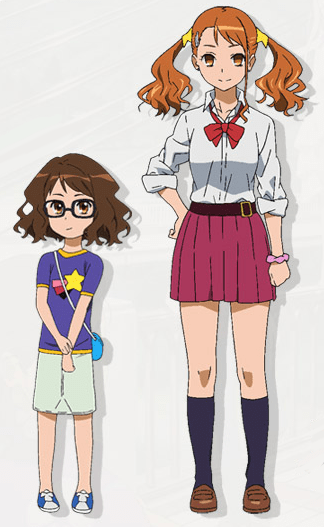 Anaru is a childhood friend of Jinta and Menma. While she displays a cold attitude towards Jinta, she is secretly concerned for him. She is the closest to him at present, as a popular student at his school (although Jinta stopped attending). Tsuruko comments that Anaru has not changed over the years: she is still easily persuaded by everyone around her.
While they have grown apart, Anaru seems to care deeply about her estranged childhood friends. She works at a video game store and has a large collection of manga and video games herself. Because of this collection, she started reconnecting with Jinta and Poppo.
Anaru admits that she was always jealous of Menma. Insecure of her glasses and curly hair, she desperately wanted to have flowing hair like Menma's. Moreover, she was jealous of Jinta's affection towards Menma; Anaru secretly had a crush on Jinta that continues to linger.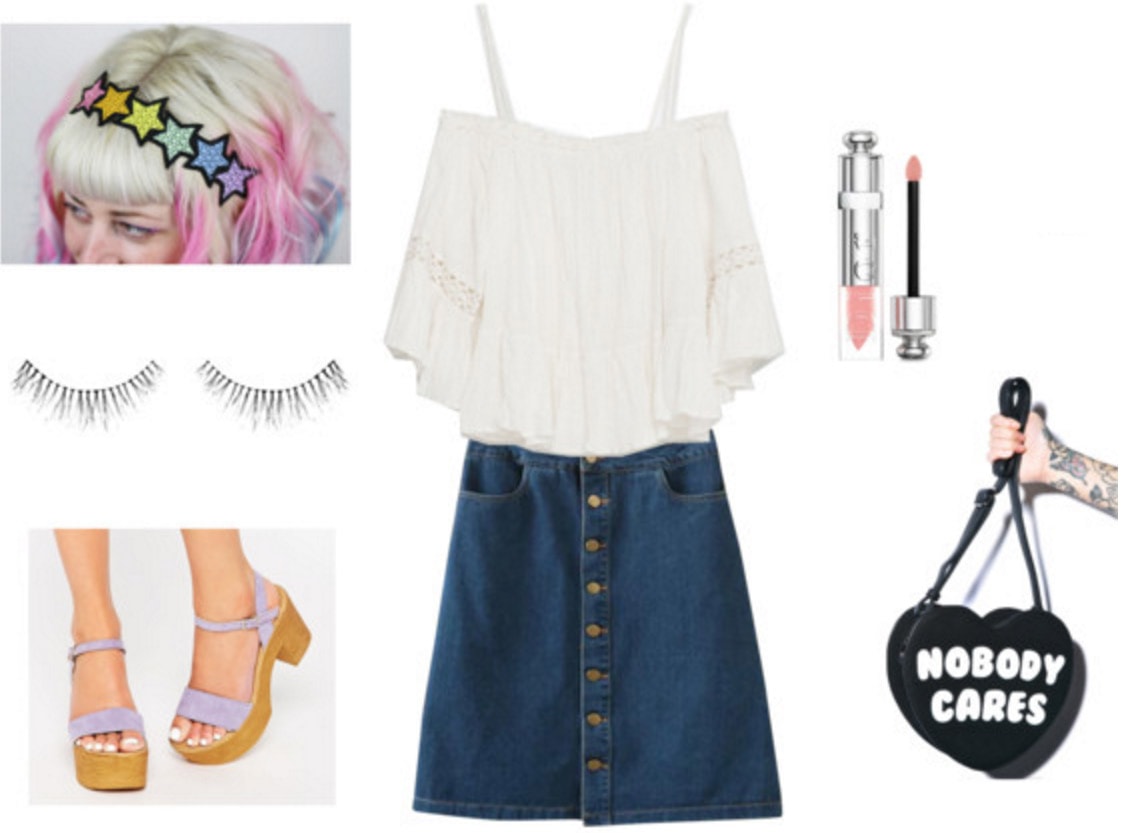 Products:
Anaru is the popular and trendy high school girl of the bunch, and, due to her secret feelings, her looks around Jinta always seem to mimic Menma's past little white dress in an updated way. For Anaru's look, I found a romantic off-the-shoulder top and paired it with an A-line denim skirt. Accessorize with unique accessories, chic makeup, and sarcastic "cool" girl gear.
Chiriko Tsurumi (AKA "Tsuruko")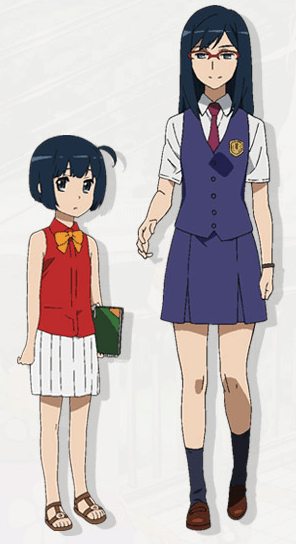 As a child, Tsuruko was a shy girl and a member of the Super Peace Busters. Now, she is enrolled at an elite school with Yukiatsu as the fourth ranked student in her class. She is now serious, stoic, and cocky. Upon meeting with Anaru, Tsuruko insults both her and her friends.
While the other members of the Super Peace Busters have fallen apart, Tsuruko and Yukiatsu have remained friends after Menma's death. Tsuruko is shown to have feelings for Yukiatsu; however, she knows he will not reciprocate her feelings because he is still in love with the deceased Menma of the past.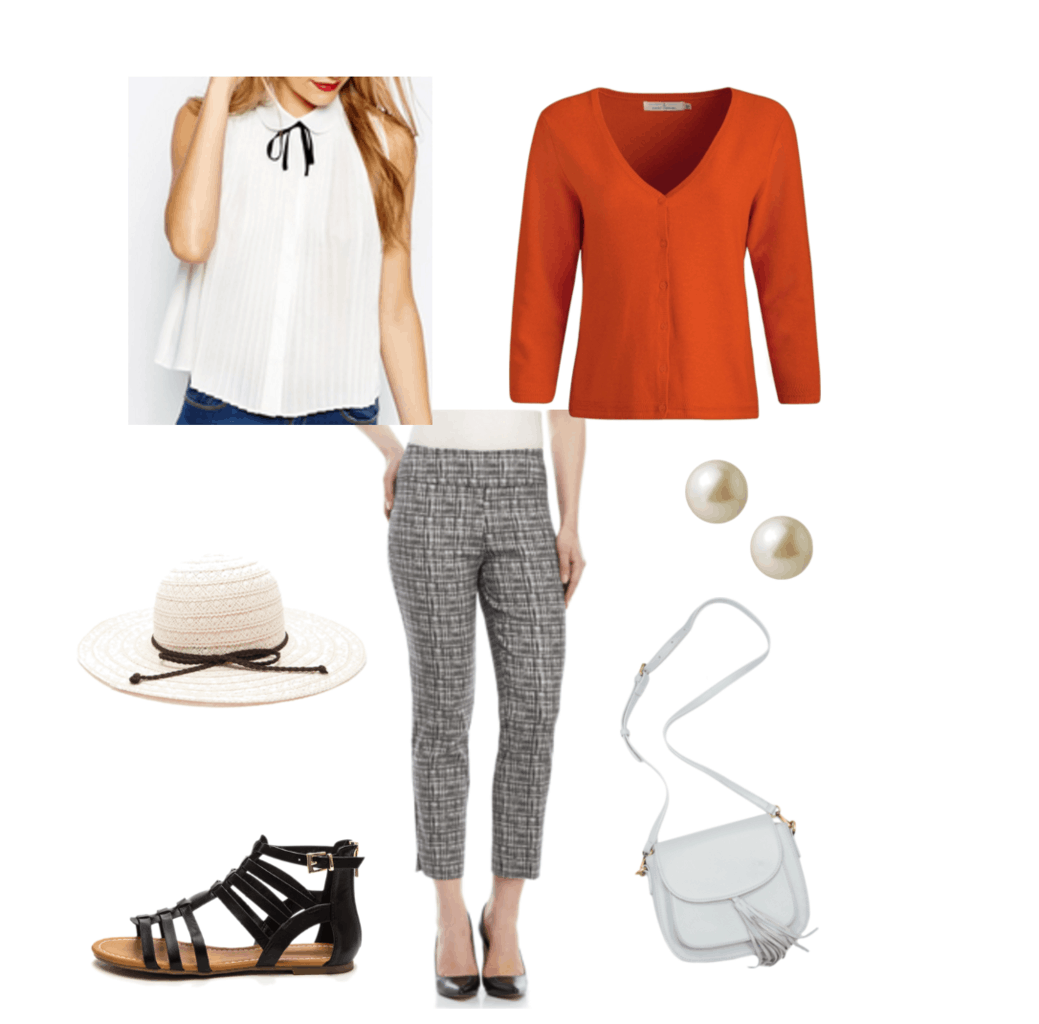 Products:
Out of all the future Super Peace Busters, Tsuruko is the one who's seemingly grown the most. In the years after Menma's death, she has become more adult, mature, and polished. As a top honors student at an elite school, she's always seen as cool and collected, so I created a conservative, mature look incorporating minimalism using a pop of color, good proportioning, and just a hint of mixed textures. Switch the sandals out for a pair of low heels, and Tsuruko's look can also be a perfect summer, stuck-at-the-office outfit!
Jinta Yadomi (AKA "Jintan" or "Leader")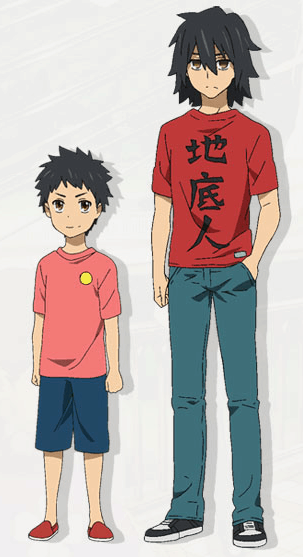 Jinta is the main character of AnoHana. In the past, he was an energetic, young boy and the leader of their group, the Super Peace Busters. As children, when Anaru asked if he had a crush on Menma, young Jinta responded reactively, "Who would be in love with such an ugly–!" He had planned to apologize to her the next day, but she died later that night.
Unable to forgive himself, Jinta spent the following years of his life in isolation. He became withdrawn and eventually became a hikikomori, or shut-in. While he is enrolled at the same high school as Anaru, he stopped attending and instead spends his days at home alone, playing games and surfing the web. When he has to go out, he wears a disguise of glasses and a beanie in order to comfortably leave, and even amongst strangers, he is socially awkward. Jinta is the only one who can see, hear, and touch Menma after she appears. For Menma's sake, he tries to reconnect and reunite with his old friends.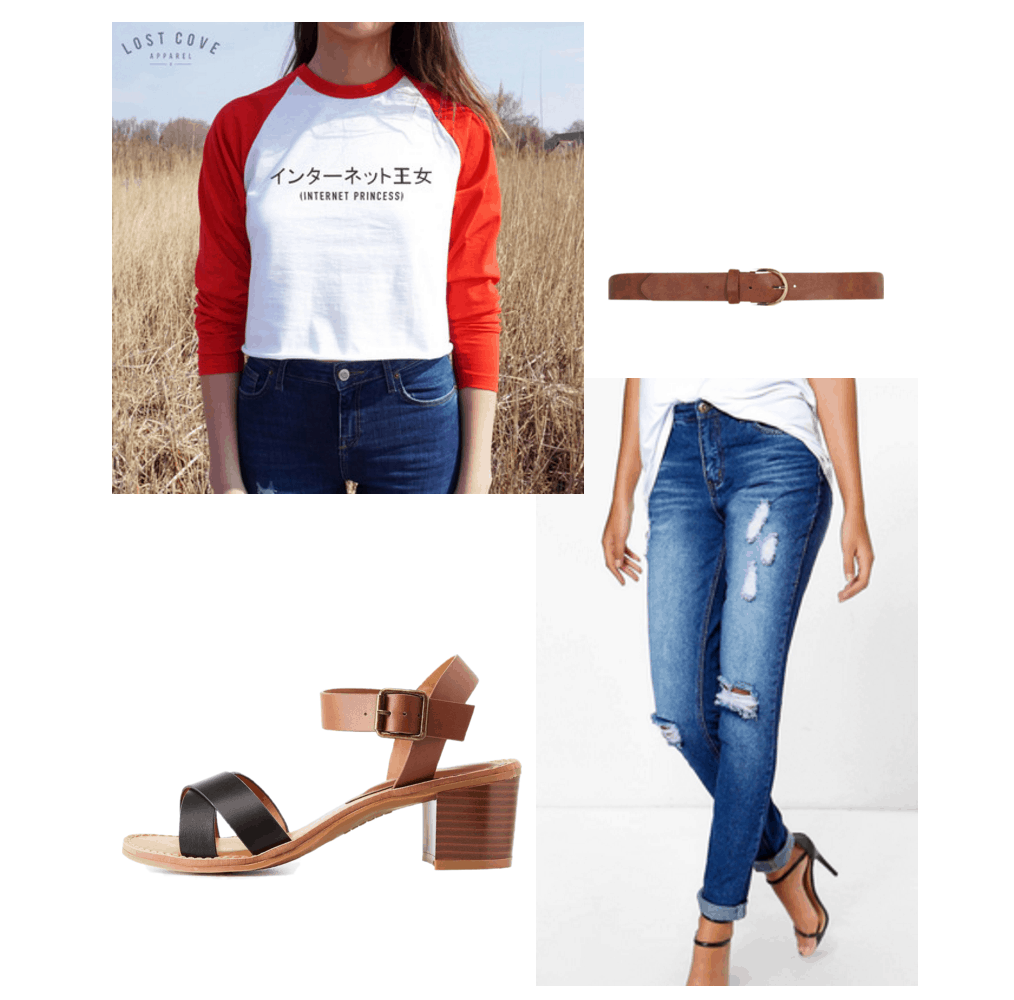 Products:
Jinta's look is the most comfortable and relaxed — simply because, as a shut-in, he's always lounging in his favorite tee and jeans! To wear his look out, I added some simple sandals with a low, chunky heel and a skinny belt to look put-together in a minimalistic fashion. Show off your hikikomori pride with some quirky Japanese letters; this one is appropriately translated to "internet princess."
Atsumu Matsuyuki (AKA "Yukiatsu")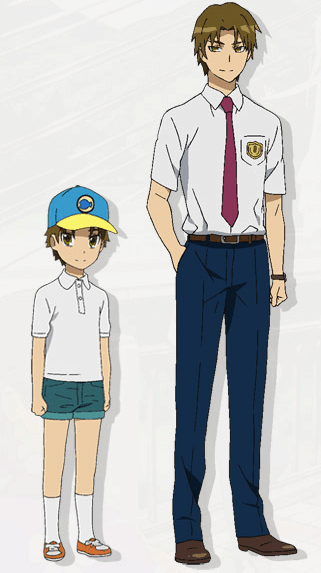 Yukiatsu was a childhood friend and member of the Super Peace Busters. In the present, he holds a condescending attitude towards Jinta, becoming agitated when Jinta mentions Menma, as he is still deeply distraught over her death. Together with Tsuruko, he attends the infamous prep high school, which Jinta failed the entrance exams to enter. Since they are seen together so often, Yukiatsu and Tsukuko are once mistaken as a couple; however, despite her death, Yukiatsu is still in love with Menma.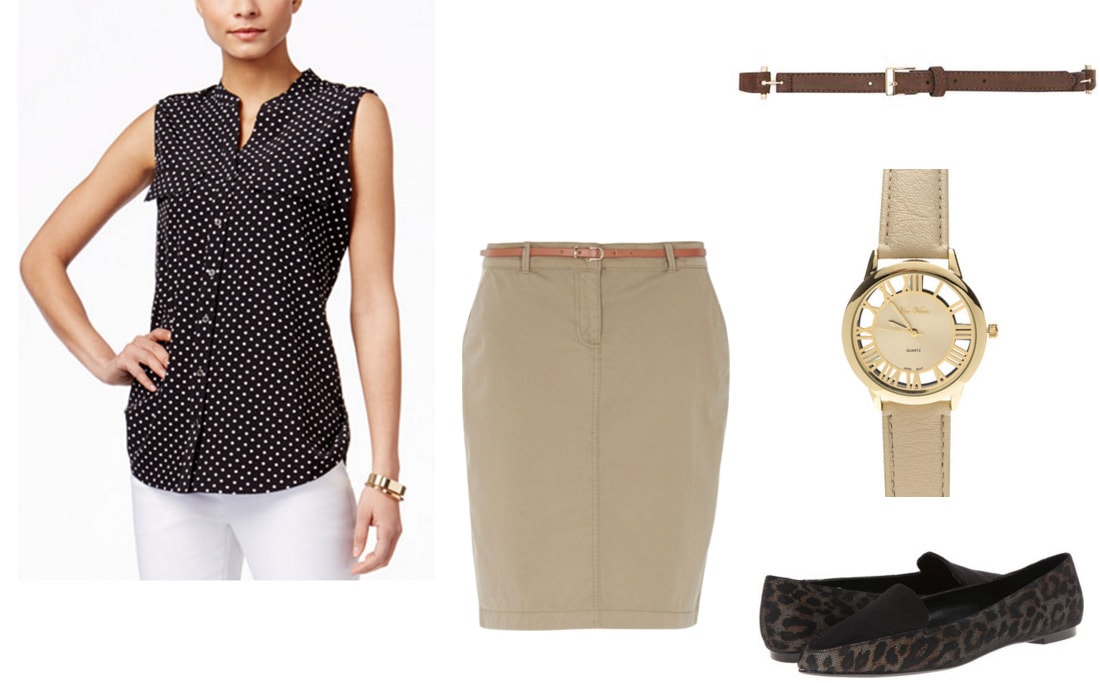 Products:
Like Tsuruko, Yukiatsu attends the same elite private high school and is always seen looking professional and clean-cut in his school uniform. For this I created a preppy and neat look, pairing a crisp top with a chino pencil skirt, a skinny belt, and charming accessories.
Tetsudou Hisakawa (AKA "Poppo")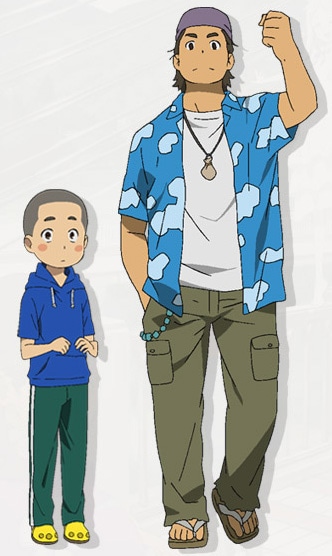 Poppo is the first childhood friend that Jinta reconnects with. As kids, Poppo was uncontrollably energetic, friendly, and was always loyal to Jinta, recognizing him as the leader of their group. Jinta reunited with him when he was searching for Menma. He visited their old Super Peace Busters clubhouse and found Poppo living there. Poppo explains that he works various part-time jobs to earn money, and when he makes enough, he goes on trips around the world. Because of this, Poppo has not attended school in several years.
There's a secret reason Poppo travels so much: He saw Meiko's dead body drifting away in the river. His travels are an attempt to escape the past and get away from the clubhouse, the river, and the memory of Meiko's death. Despite his attempts to escape his past, he still finds himself returning to the clubhouse and living there between trips.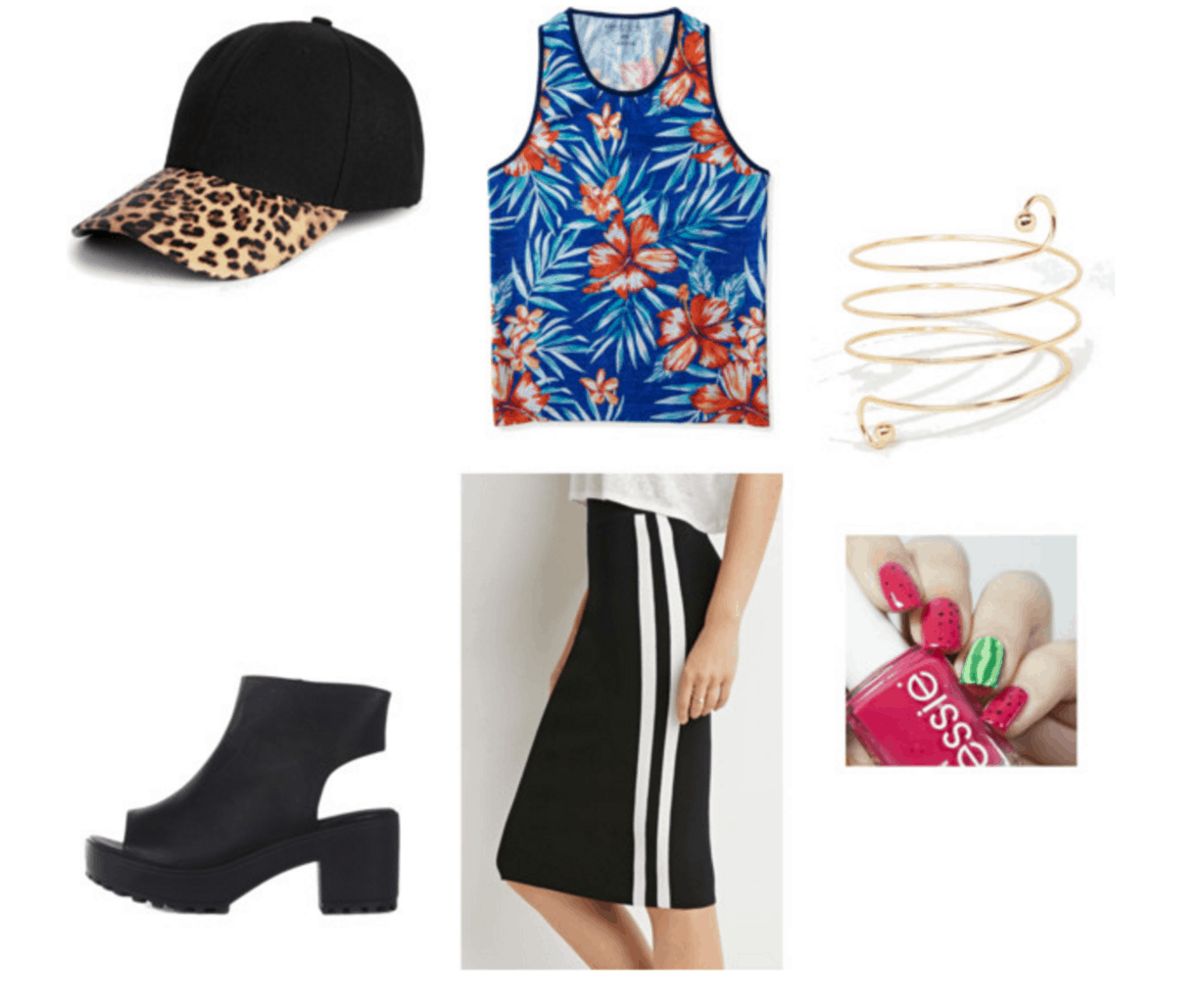 Products:
For Poppo's look, bring out your bold prints this summer! Poppo is the most striking and loud of the group, and his outfits declare it. Rocking a Hawaiian tee almost every shot, I found a Hawaiian tank in bold blue and red and mixed it with other trendy prints and equally striking accessories. For a little more print-mixing, try spreading it to your nails. These watermelon colors really bring out the summer flavor of the series.
Final Thoughts?
After all the action series and magical girl stories people usually think of when they think of anime, it can be really refreshing to visit a series like AnoHana, soaked in realism, centered around issues of loss, grief, and coping mechanisms. AnoHana is a fantastic, emotional story that incorporates nostalgic, summery character designs while striking all the right heart chords in its sentimental moments.
Which character's look was your favorite? Have you heard of AnoHana? Is there an anime series you'd like me to cover? Comment below.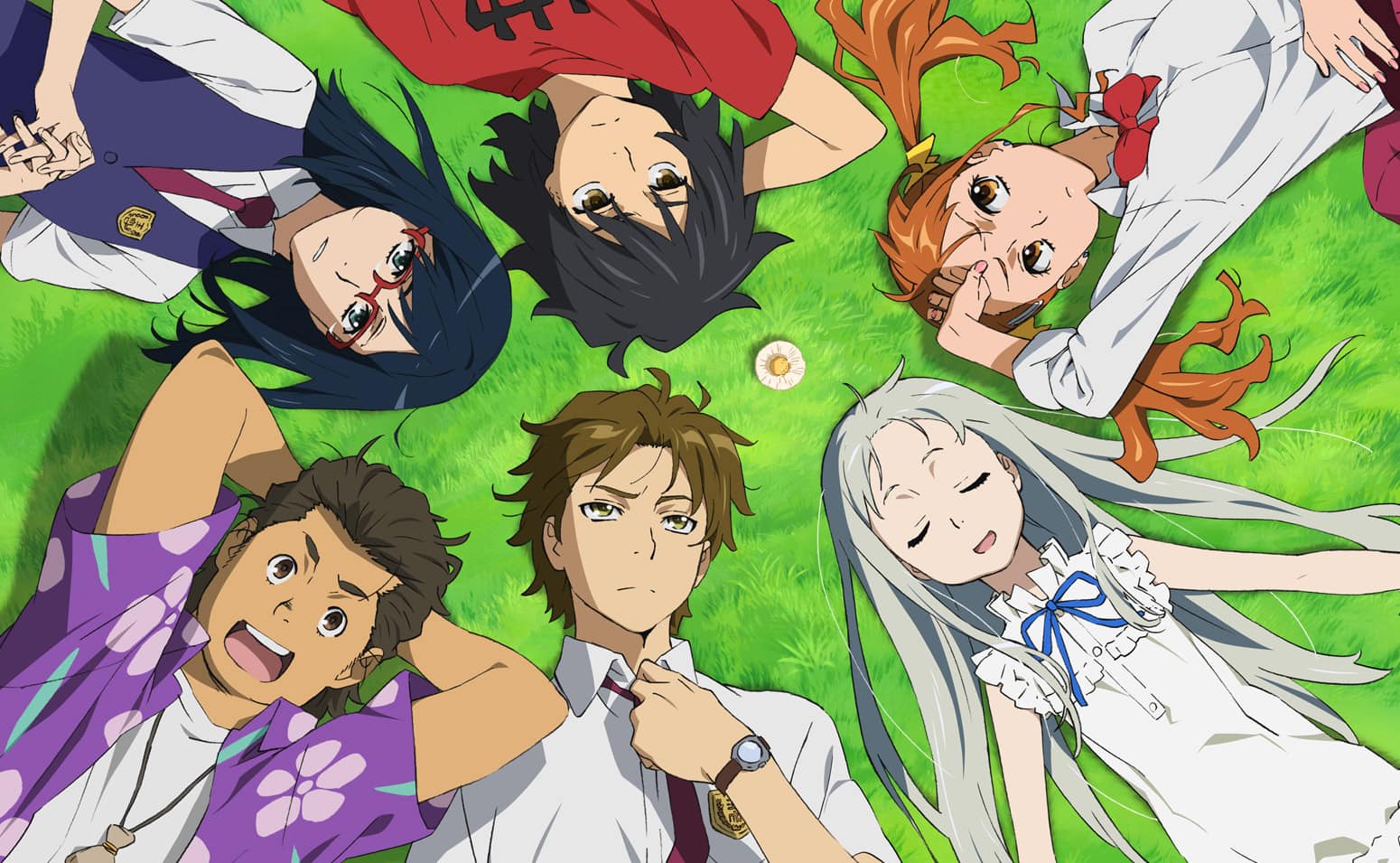 If you enjoy reading this posts, please consider the related posts below: