*This article contains mild spoilers for The Society*
Looking for a new teen drama to devour over Summer break? Then you need to know about Netflix's newest dystopian offering, The Society.
Starring Kathryn Newton of Big Little Lies fame, The Society tells the story of a group of teens who come home from a school trip, only to find that they are all alone in what appears to be an exact replica of their town. This binge-worthy show would be especially enjoyable for fans of The Hunger Games or Lord of the Flies.
Today, I'm going to introduce you to the relatable and beautiful ladies of The Society. Though the entirety of the young cast is exceptionally talented, it is the women of the show who manage to band the citizens of New Ham together.
So without further ado, here are six looks inspired by Allie, Cassandra, Kelly, Helena, Becca and Elle.
Allie
Allie is the show's hidden protagonist. From the pilot, it is assumed that Cassandra is The Society's heroine, the one who is going to lead the teens as they emerge into this new world. However, when an unexpected coup d'état occurs, Allie finds herself thrust into a leadership role for which she is unprepared.
Rising star Kathryn Newton does a stellar job portraying the nuances of Allie's emotional turmoil as she attempts to restore order to her restless peer group. Consequently, Allie must make some very tough decisions along the way, leading her to question just who she has become in this new society.
As younger sister to valedictorian Cassandra, Allie has always been overshadowed. It's no surprise, then, that her wardrobe consists largely of deep navy and army green. Allie's clothing allows her to blend in with the crowd, allowing her sister to shine.
Allie's wardrobe is consistent throughout the show. She is most often spotted in her trusty green jacket, dark skinny jeans, and an inconspicuous black cap. I've also included a replica of her signature star necklace and some black boots to complete the look.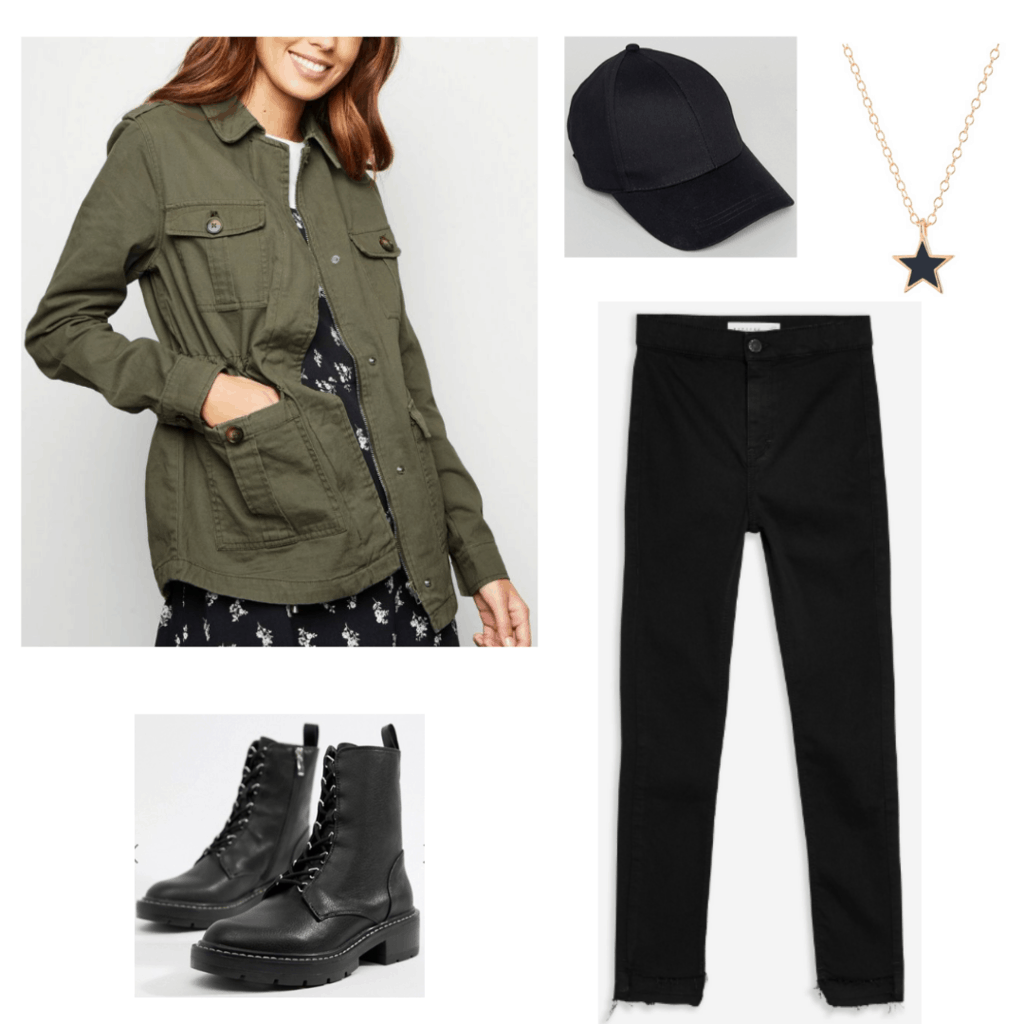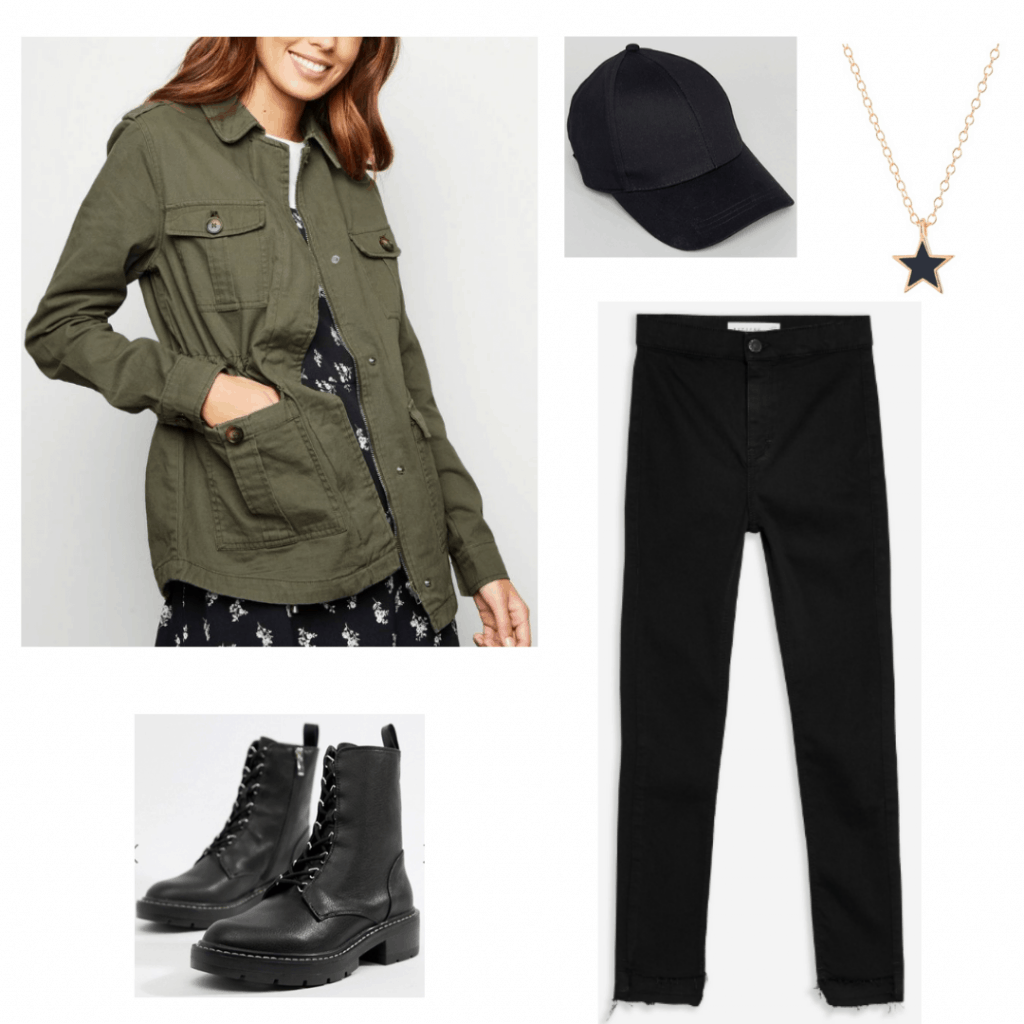 Products: Jacket – New Look, Jeans – Topshop, Cap – ASOS, Necklace – Kris Nations at Nordstrom, Shoes – Pull & Bear at ASOS.
Cassandra
Cassandra (played by Rachel Keller) is the typical overachiever of this teen group. A natural-born leader, Cassandra's arc sees her become the first de-facto leader of New Ham, mostly due to the status she held in high school. Consequently, Cassandra's new position sees her face criticism from popular and rich kid Harry, whom she beat to become valedictorian.
Following the aforementioned coup, Cassandra's government is overthrown, forcing her sister Allie to step up as New Ham's new leader. We also discover that perhaps Cassandra has always been an overachiever due to a congenital heart defect. This condition has left her in a constant state of fearing for her life.
Cassandra's clothing is a little more polished than Allie's, given her type-A nature. She lives primarily in striped shirts and denim, so her style is the perfect balance of formal and informal. This River Island shirt is a viable alternative to Cassandra's and is most definitely a staple item.
I've recreated this classic Cassandra outfit by adding a cute and functional blue denim skirt, a grey hoodie, and some navy Stan Smiths. This look is easy to put together because it consists of individual pieces that most college students already have in their closets.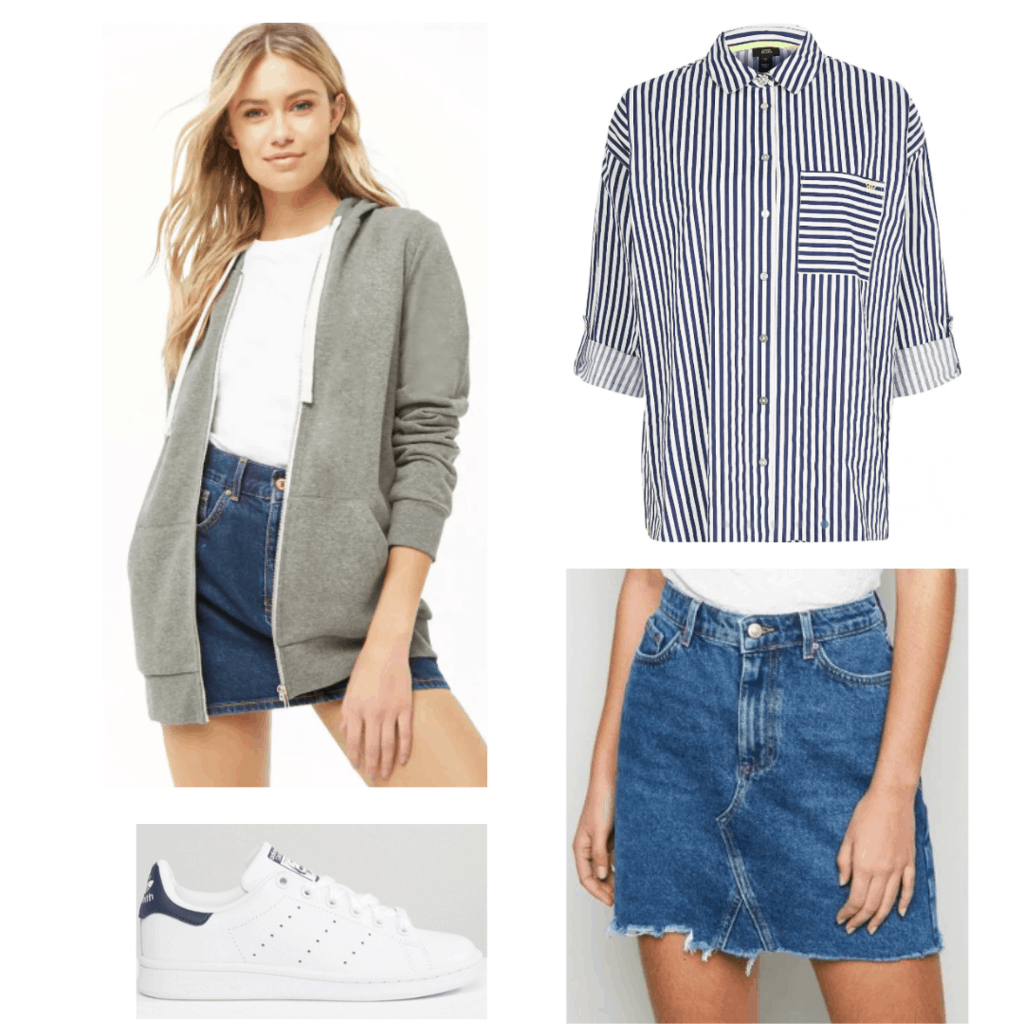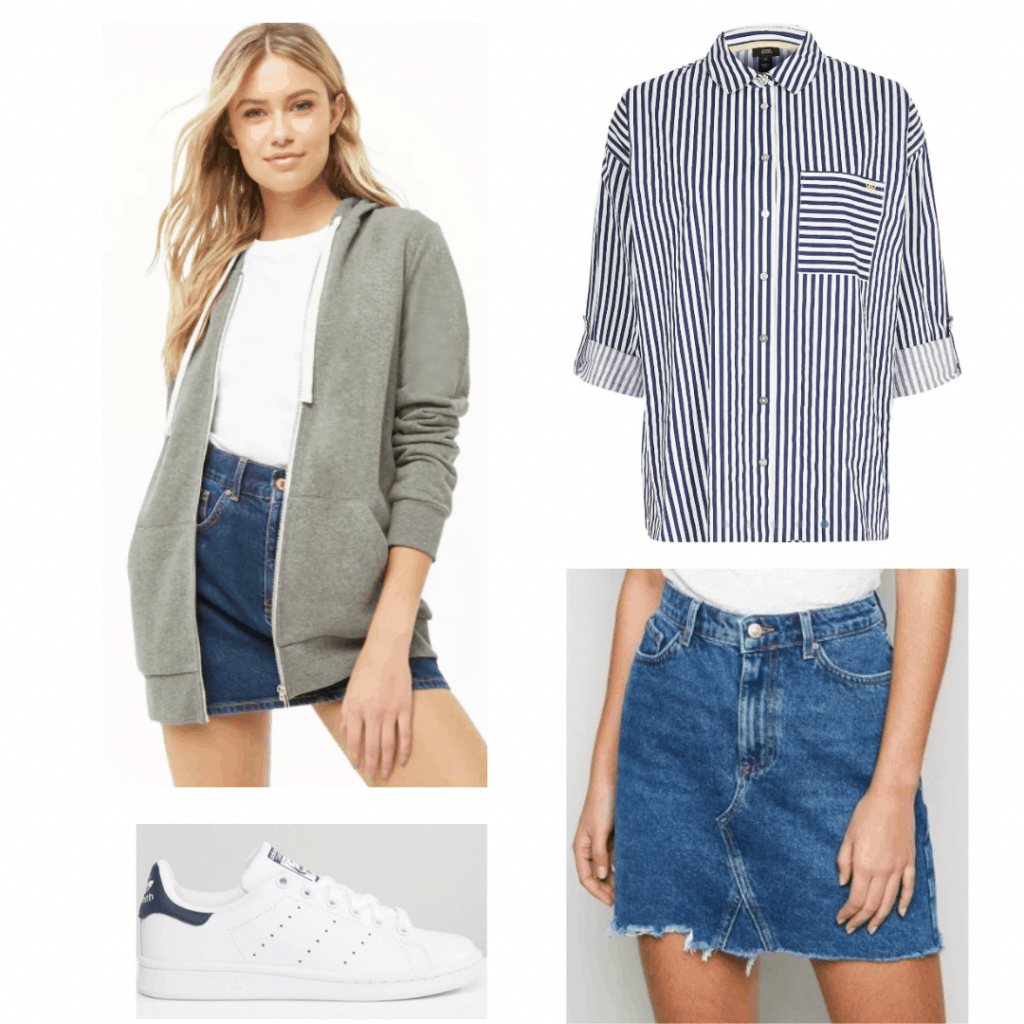 Products: Hoodie – Forever 21, Shirt – River Island, Skirt – New Look, Shoes – Adidas Originals at ASOS.
Kelly
Kelly (played by model and actress Kristine Frøseth) is Harry's pretty and popular on-again-off-again girlfriend. As a result, when Harry and his friends attempt to reject Cassandra's style of leadership, Kelly is torn between her conscience and the consequences of her privileged upbringing.
Subsequently, Kelly breaks things off with Harry for good and eventually chooses to align herself with Allie's cause, which is based on equal participation and sharing of resources. Harry is deeply affected by this decision and selfishly chooses to keep his own resources to himself.
In short, by the close of season 1, Kelly has blossomed into a capable contributor to New Ham, helping to deliver Becca's baby and basically running the town hospital with the help of Gordie. Finally, she is the one to suggest that the group hold an impromptu prom night and this helps people to band together when times are tough in their new society.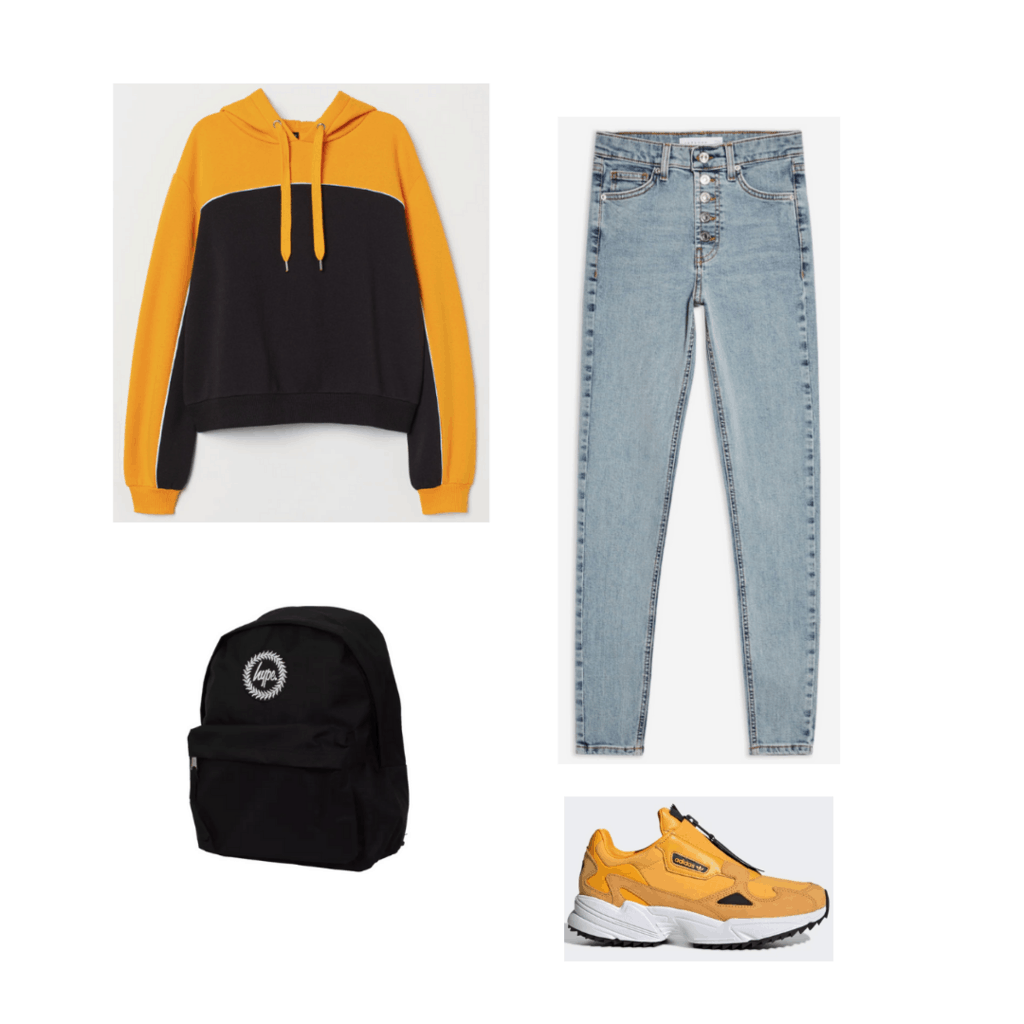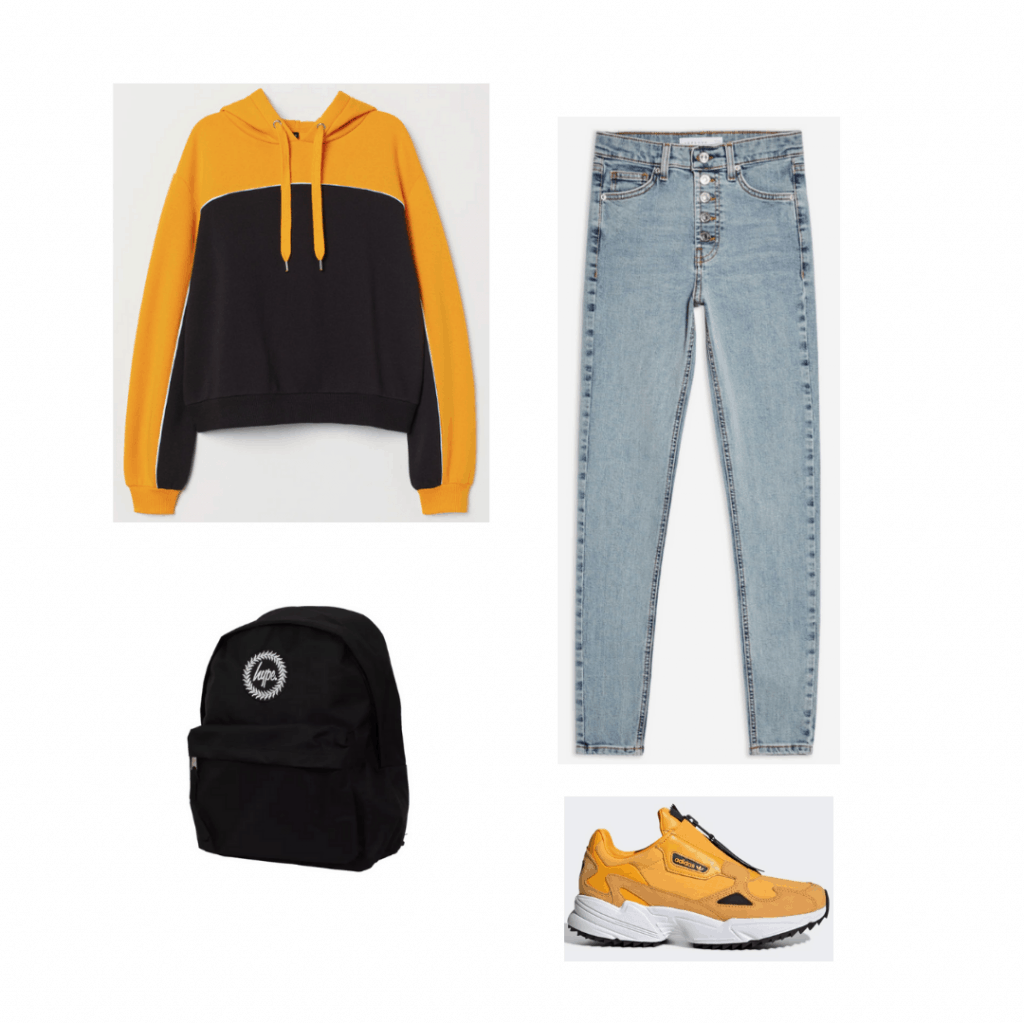 Products: Hoodie – H&M, Jeans – Topshop, Bag – Skate Hut, Shoes – Adidas.
Helena
Helena (played by Natasha Liu Bordizzo) is the religious conscience of New Ham. A devoted Christian, Helena uses her faith to bring people together in their time of need. Naturally, she believes that if the group stays strong in the face of adversity, then they will be saved by God's mercy. However, her faith is tested throughout the show, particularly as she grows closer to boyfriend Luke (below left).
Though she is hesitant to give political speeches in the town church (which becomes New Ham's main meeting point), Helena realizes that in order to protect Allie's Rules, she must advocate for her in her place of worship. Meanwhile, Helena's story arc also portrays various perspectives on gun control, speaking to an issue that is clearly contentious in America today.
In terms of style, Helena embodies the cute and innocent side of the typical K-pop girl group aesthetic. Therefore, her outfits consist mainly of check tennis-skirts and demure t-shirts with cute sleeve detailing. Her style is also the most feminine among the ladies of New Ham (along with Elle's).
For this look, I decided to recreate a typical Helena outfit using a check skirt from Dolls Kill as my base. I paired this with a plain black t-shirt, some white trainers and Helena's signature jewelry. Both the cross necklace and blue beads are staples of Helena's daily look.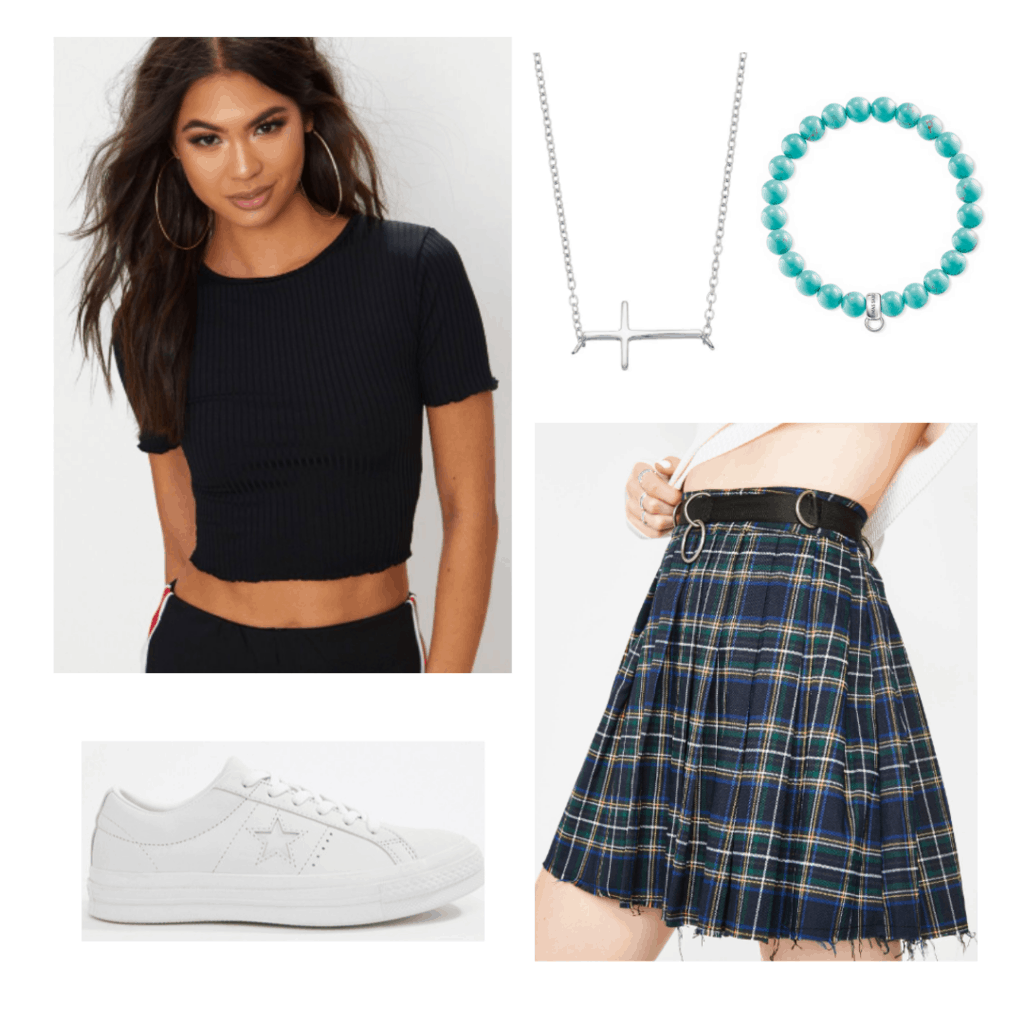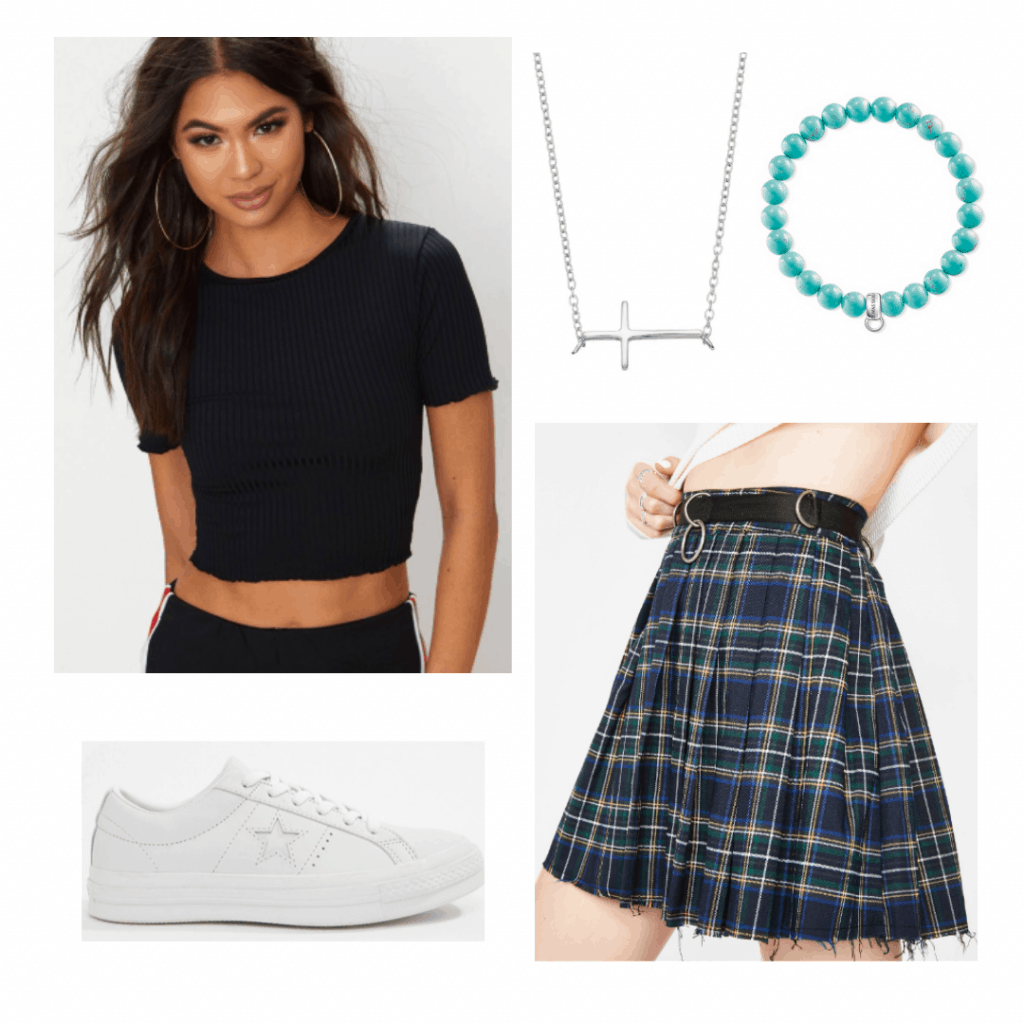 Products: Top – Pretty Little Thing, Skirt – Dolls Kill, Necklace – Kohl's, Bracelet – Thomas Sabo, Shoes – Converse at ASOS.
Becca
We are first introduced to Becca (played by Gideon Adlon) through her close friendship with Sam, who is deaf. As a result of this, Becca is fluent in sign language and communicates with Sam in this way throughout the series. However, when Becca becomes suddenly ill, her story arc becomes apparent: she is pregnant.
Thus, Becca's story sees her grapple with young motherhood. She realizes the importance of her role as the mother of the first child born into the new world, though the child's father is not revealed. Many speculate that Campbell, the show's main villain, could be the father of Becca's baby. However, we will have to wait for season 2 to find out if this fan theory comes to fruition.
For Becca's trendy and casual aesthetic, I decided to recreate her outfit from the first photo and combine it with her quirky camera bag from the second.
This red sweater and flared jeans combo is both comfortable and wearable for a college student. These New Look lace-up boots and vintage-camera novelty bag add some personality to this otherwise simple outfit.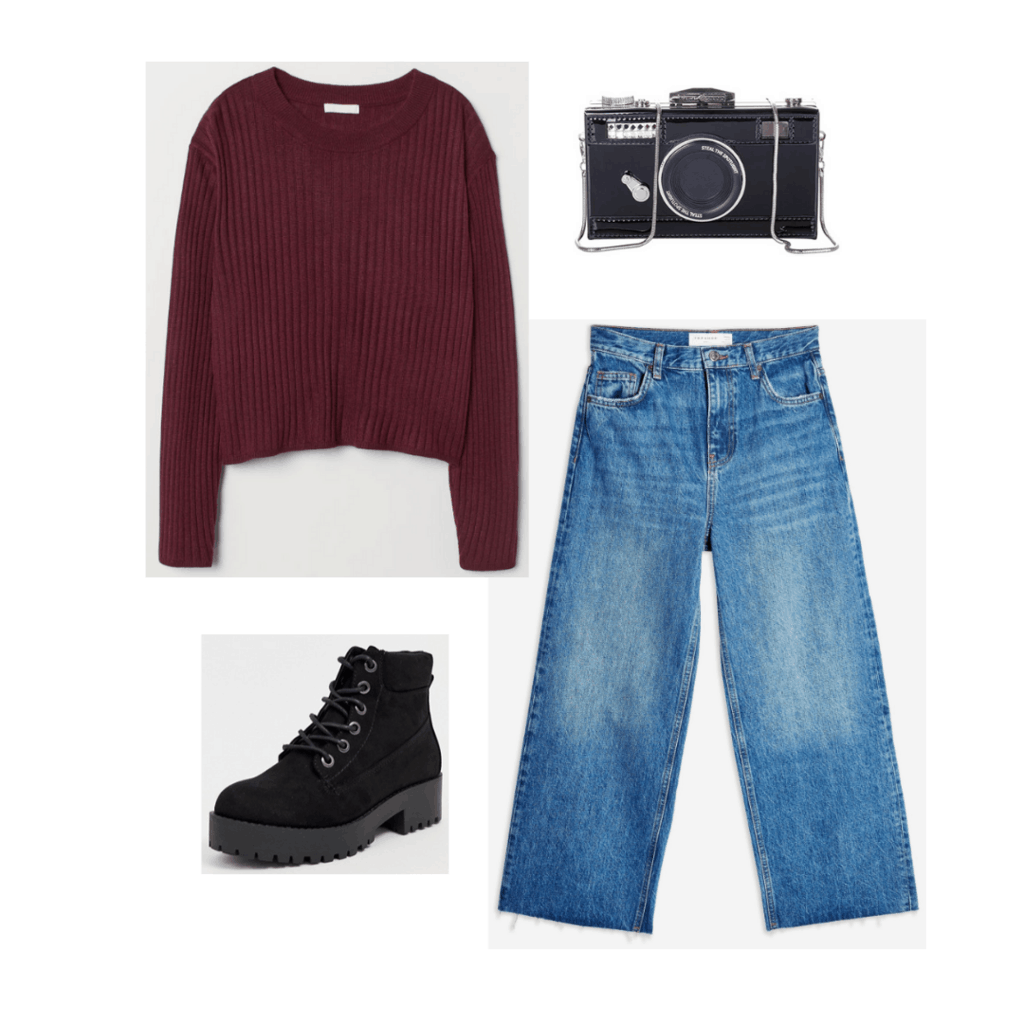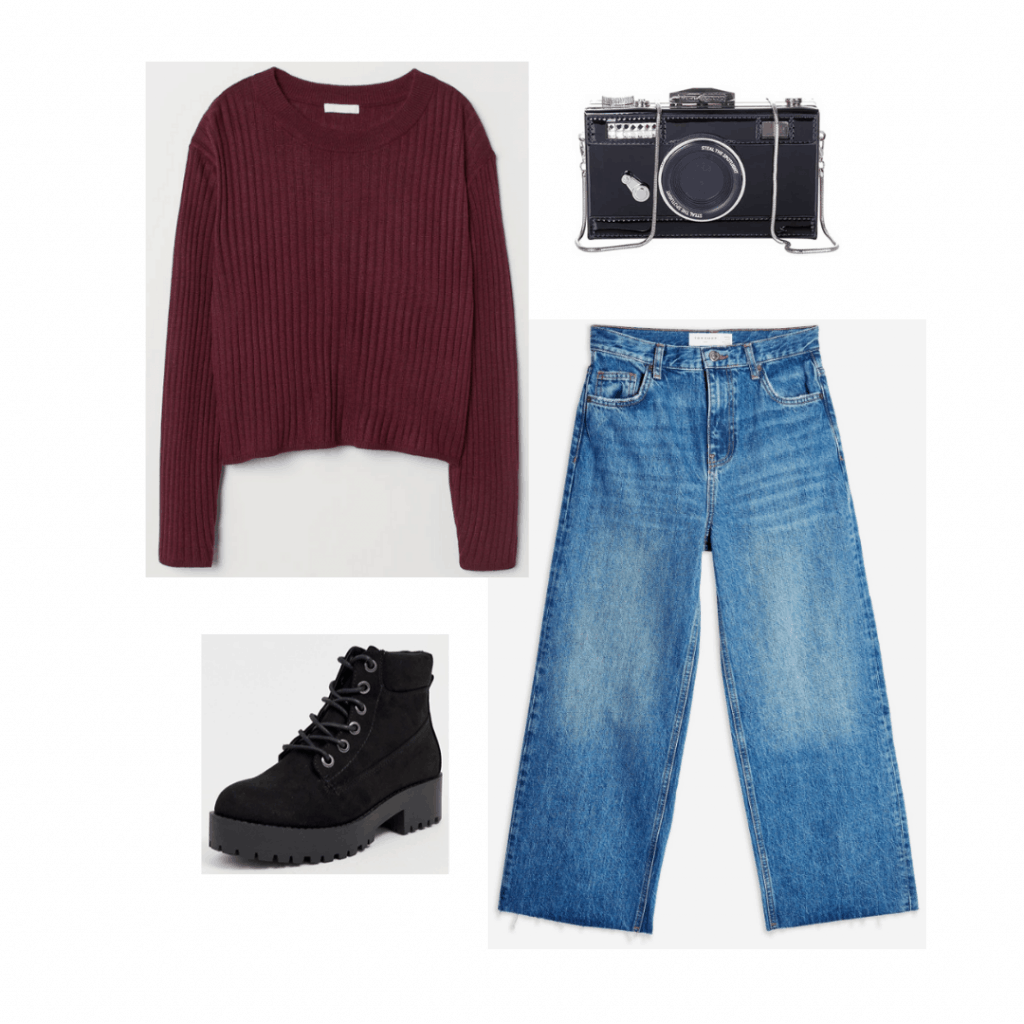 Products: Sweater – H&M, Jeans – Topshop, Bag – Amazon, Boots – New Look at ASOS.
Elle
Finally, we get to know Elle (played by Olivia De Jonge), when antagonist Campbell sets his sights on her. Initially attracted to his bad boy image, Elle becomes romantically involved with Campbell, who deliberately distances her from the rest of the group. Thus, Elle's tragic storyline begins, and she becomes the victim of an abusive, unpredictable psychopath.
Consequently, Elle spends the majority of season 1 trying to escape from Campbell's clutches. This culminates in her attempt to poison him on Thanksgiving, which has disastrous consequences. Eventually, placed under Allie's protection, Elle finds herself safe from Campbell for a short time. Unfortunately, this freedom does not last forever.
Elle is the girliest of the New Ham ladies, clearly favoring pink in the majority of her outfits. We also discover that prior to the show's events she was a competitive ballerina, so naturally I've included a pretty charm bracelet to pay homage to Elle's dream career.
This gorgeous floral number from Lulu's is similar to Elle's, as are the Adidas white sneakers with subtle pink detailing. To pull the look together, simple add a neutral pink button-down cardigan and you've got yourself a ballerina-inspired look that Elle would be proud of!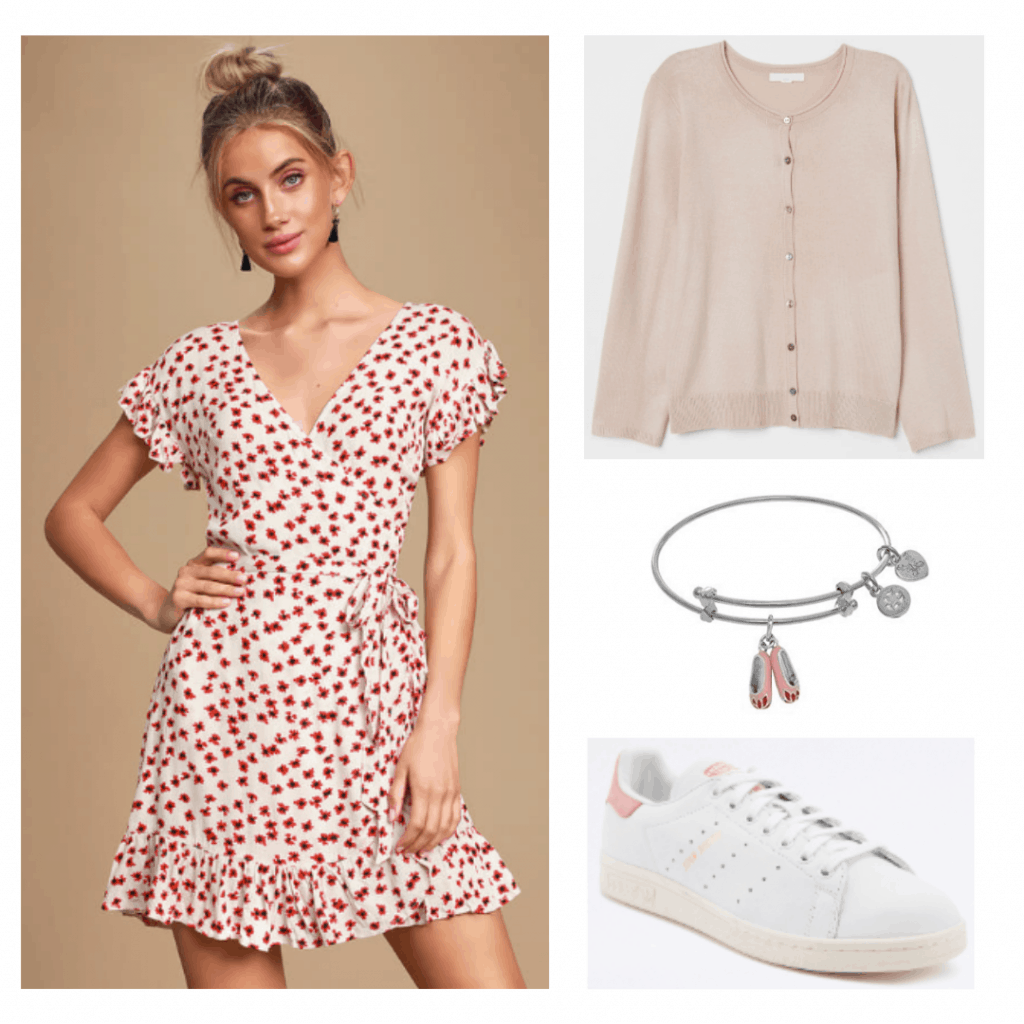 Products: Dress – Lulu's, Cardigan – H&M, Bracelet – Amazon, Shoes – Adidas at ASOS.
What Do You Think Of Our Fashion Guide To The Society?
Have you watched this Netflix original yet? Who is your favorite character? Which of these looks did you like the most? Are you excited for season 2? Check out my last TV fashion inspiration post on Big Little Lies, and let me know in the comments below which shows I should cover next!