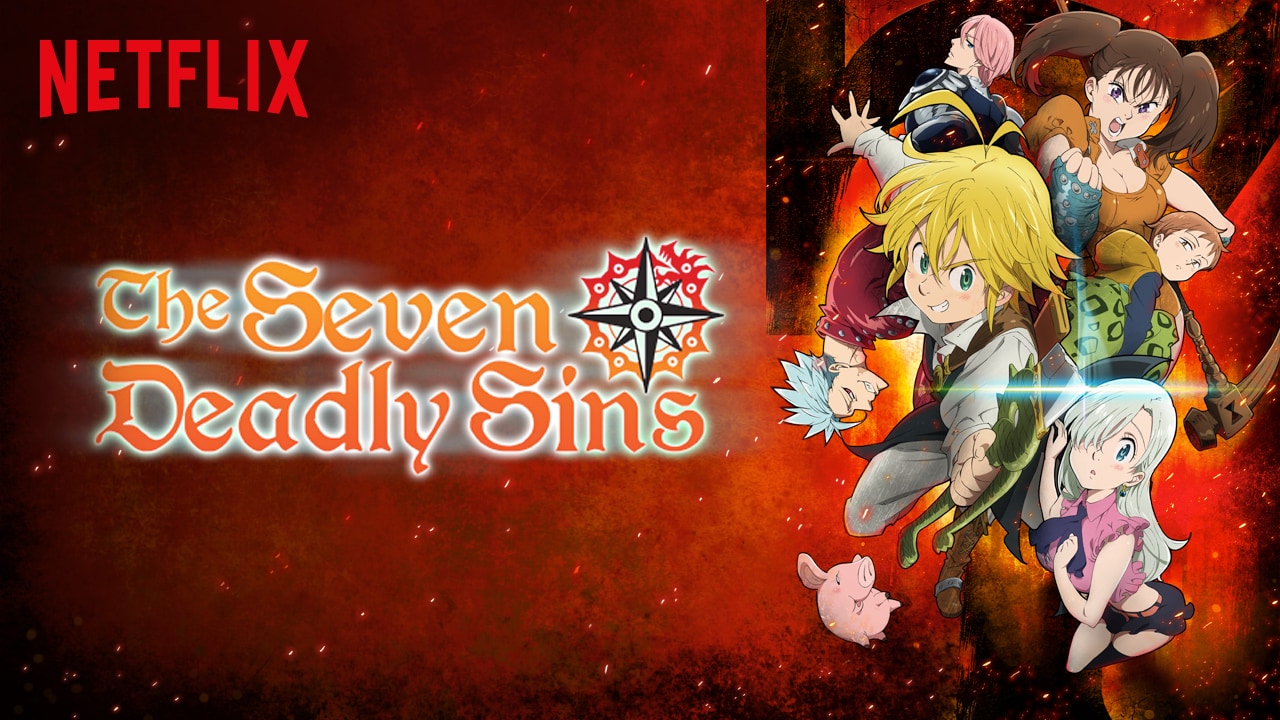 I love anime, but I can be pretty picky. I made the unfortunate mistake of watching Attack on Titan as my first anime ever, which is good because it's what made me fall in love with the genre, but bad because it's the best anime I've ever watched and now it can be hard to find a new show that gives me the same sense of all-consuming obsession.
Luckily, I discovered The Seven Deadly Sins on Netflix last year, and it did NOT disappoint. This show has everything: humor, action, adventure, and the kind of romance that never gets resolved, so you get to spend the whole season yelling at your TV because WHY WON'T YOUR OTP JUST GET TOGETHER ALREADY OH MY GOD THE TENSION. Fun times.
About The Seven Deadly Sins show
The Seven Deadly Sins tells the story of Princess Elizabeth Liones, who runs away to seek out the help of the eponymous Sins after a band of corrupt Holy Knights takes over her kingdom. The Sins are a band of former knights, each with unique magical abilities, who have disbanded after allegedly attempting to overthrow the Liones Kingdom themselves. Elizabeth reunites the band and together they set off on a quest to take back the Kingdom through the power of having really awesome powers (and, you know, friendship).
Whenever I watch this show I find myself desperately wanting to cosplay every single character because all of them, even the minor characters, have such great looks. Since wearing battle armor or a tiny neon leotard isn't super practical for every day life, I've put together a few outfits based on my favorite characters from The Seven Deadly Sins!
Elizabeth Liones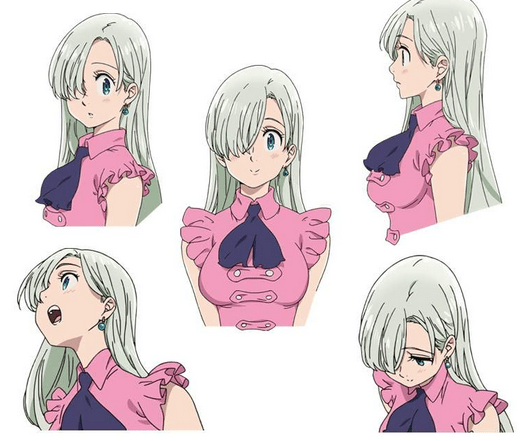 Elizabeth may seem like your typical damsel-in-distress princess, but she is actually sweet, selfless, optimistic, and courageous, and she proves herself a valuable member of the team, endearing herself especially to the leader of the Sins, Meliodas.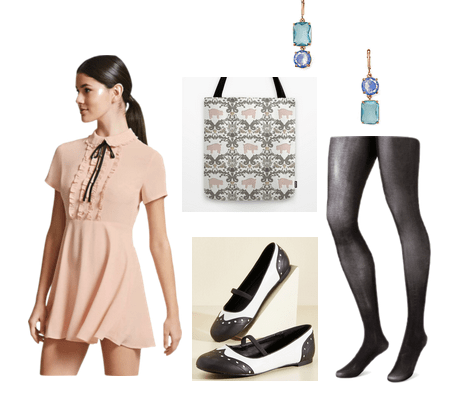 Products: Dress – Forever 21, Bag – Society6, Shoes – ModCloth, Earrings – Kate Spade, Tights – Target
Elizabeth is most commonly seen in her pink and black waitress uniform, which I've modernized into a super-cute blush dress with ruffles and bow detail to rival Elizabeth's own. Elizabeth is also known for her mismatched one black and one white shoe, and for wearing one black stocking. Instead, combine both colors into these black-and-white flats, and replace the black stocking with more wearable simple black tights.
Elizabeth also wears a single blue earring, a symbol of her royalty- but this blue pair from Kate Spade will provide that same regal touch! Finally, tote a pig damask bag as a reference to Elizabeth's friendship with Meliodas' pig, Hawk, as well as the medieval setting of the story.
Meliodas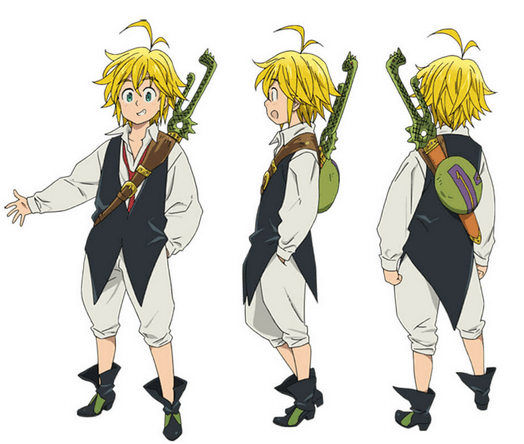 Meliodas is the leader of the Seven Deadly Sins, and is represented as the Dragon Sin of Wrath. Despite being over a thousand years old, he has the appearance of a teenage boy, and is not actually particularly wrathful either – he typically has the personality of a flirtatious, carefree trickster (kind of like Peter Pan). Meliodas' wrath is only unleashed when someone threatens the people he cares about (like Elizabeth).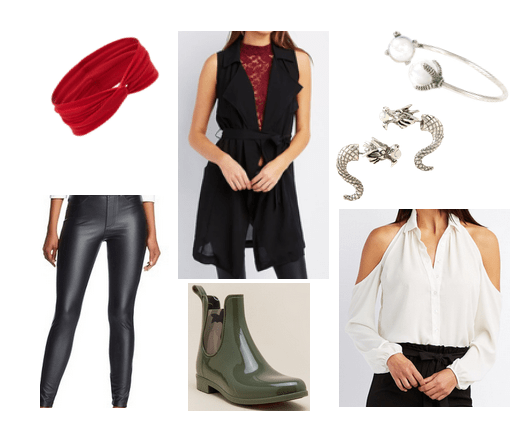 Products: Headband – Forever 21, Jeggings – Target, Vest – Charlotte Russe, Boots – Francesca's, Bracelet – Hot Topic, Earrings – Hot Topic, Shirt – Charlotte Russe
Meliodas' typical outfit is a white shirt and pant, black vest, and red tie, but to make the look more modern while still showcasing Meliodas' personality, try a white blouse with cutout shoulders, long black vest with a cinched waist, and black leather jeggings.
For accessories, reference Meliodas' dragon symbol with a dragon claw bracelet and dragon earrings, then replace Meliodas' tie with a red hairband. For another pop of color, rock these green combat-inspired rain boots.
Diane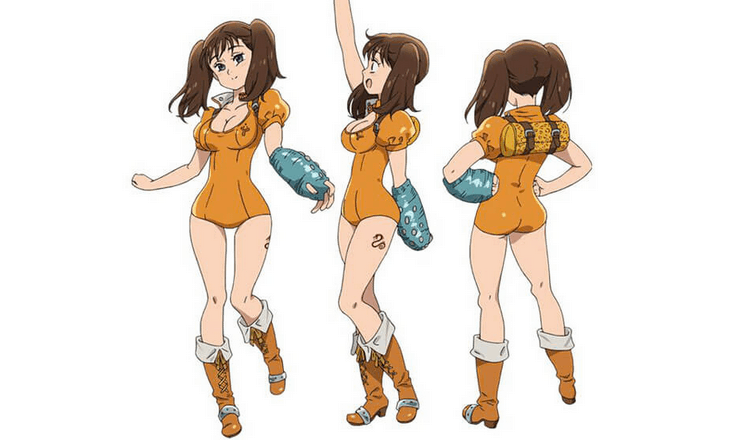 Diane is adorable, sweet, and innocent – for a giant. Like several of the other Sins, she has the appearance of a young girl despite being 750 years old. As the Serpent Sin of Envy, she is prone to jealousy – especially when it comes to Meliodas, who she calls "Captain" and harbors fierce feelings for.
If Meliodas is the anime version of Peter Pan, Diane is sort of like his Tinker Bell (only huge instead of tiny). However, Diane is also fiercely protective, loyal, and brave when it comes to taking care of the other Sins and Elizabeth, who she forms a strong friendship with despite competition for Meliodas' attention.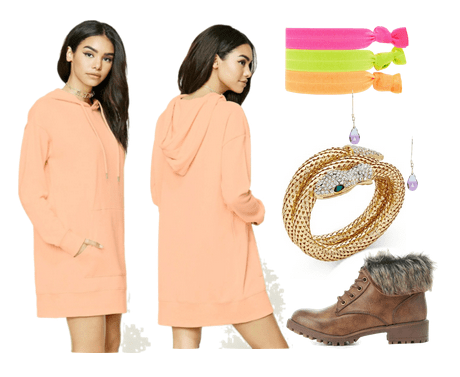 Products: Dress – Forever 21, Hair Ties – Forever 21, Earrings – Kate Spade, Bracelet – Macy's, Boots – Charlotte Russe
Diane's orange leotard is definitely not practical for every day use, so try a slouchy, comfy sweatshirt dress instead, then use some bright, neon hair ties to get Diane's signature pigtails while staying true to her love of all things bright and cute!
Accessorize with some gorgeous purple drop earrings (for Diane's purple eyes) and a gold snake cuff to reference Diane's Serpent symbol. Finally, throw on some brown boots with fur cuffs, and you're all set!
What do you think?
Will you be watching The Seven Deadly Sins? Which of these looks is your favorite? Let me know what you think of the show (and these outfits!) in the comments!