When someone describes a work of art as "visionary," it's usually meant as praise, referring to a willingness to defy convention in favor of something more thought-provoking and enticing. By definition, "visionary" refers to embracing fanciful and often impractical ideas. Mawaru Penguindrum falls underneath both meanings.
The series, created by director Kunihiko Ikuhara, takes philosophical musings on themes such as fate, love, and death, and combines them with slapstick antics involving ghost penguins and ping pong balls that erase people's memories. The anime covers topics that are at times questionable, offensive, immoral, philosophical — an all-encompassing myriad of emotion and thought at the same time. Few directors are able to pull off such a jumble of themes as artfully as Ikuhara while retaining an appeal to a wider audience, which is why I chose this work of art as this week's anime inspiration.
Check out one of its opening sequences here for a taste of Mawaru Penguindrum's unique art, direction, and symbolism:
Boys, Come Back to Me - Mawaru Penguindrum (With Subs)
Mawaru Penguindrum Crash Course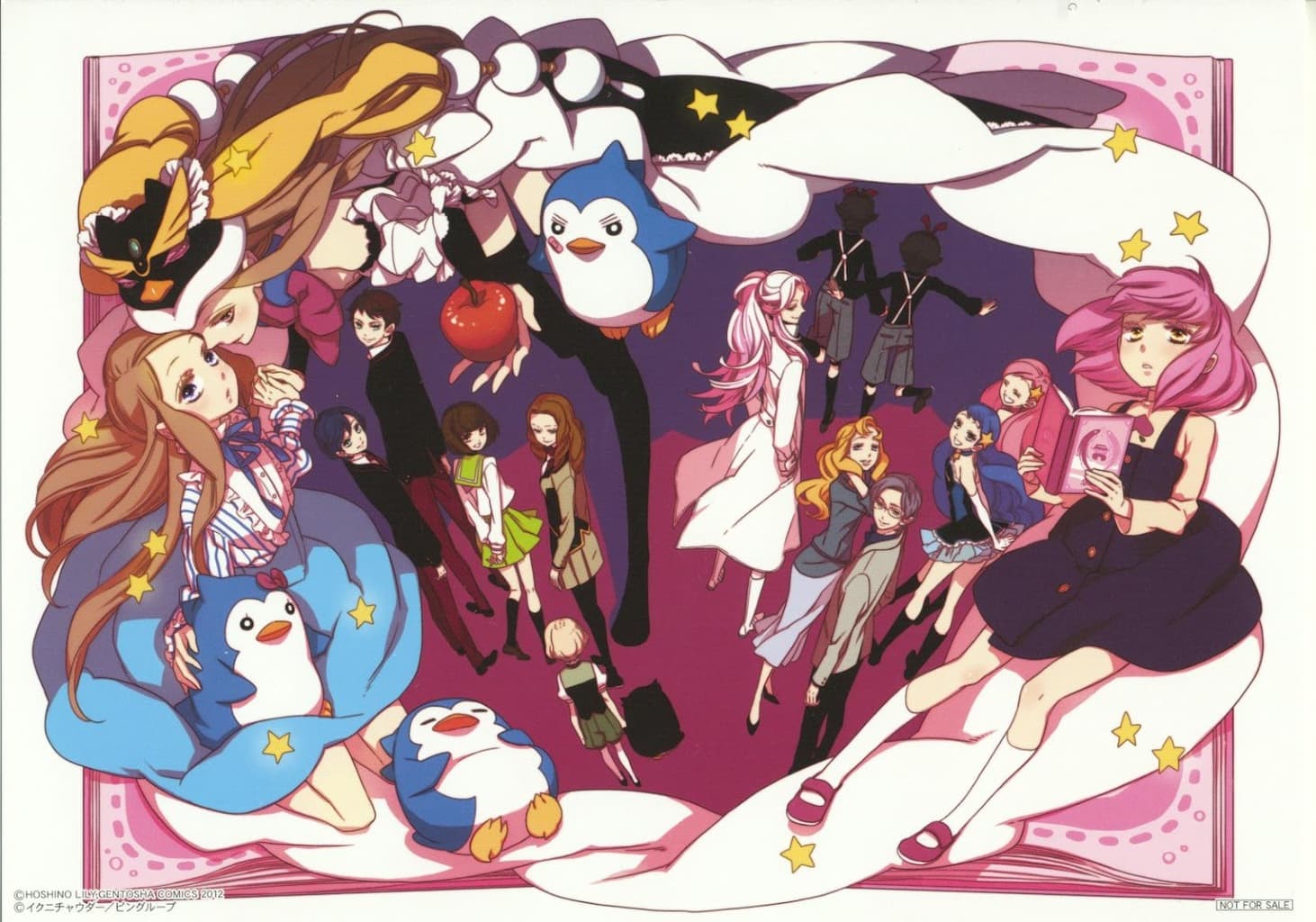 Once you make a decision, does the universe conspire to make it happen? Is destiny a matter of chance, a matter of choice, or the complex outcome of thousands of warring strands of fate?
All twins Kanba and Shouma know is that when their terminally ill sister Himari collapses at the aquarium, her death is somehow temporarily reversed by the penguin hat that she had asked for. It's a provisional resurrection, however, and it comes at a price: to keep Himari alive they need to find the mysterious Penguin Drum.
In order to find the drum, they must first decipher the links to a complex, interlocking chain of riddles that has wrapped around their entire existence, unravelling the knots that tie them to a mystifying diary and a baffling string of strangers and semi-acquaintances who all have their own secrets, agendas, and "survival strategies." And in order for Himari to live, someone else's chosen destiny will have to change.
TL;DR: It's a story of love, fate, life, death… and penguins!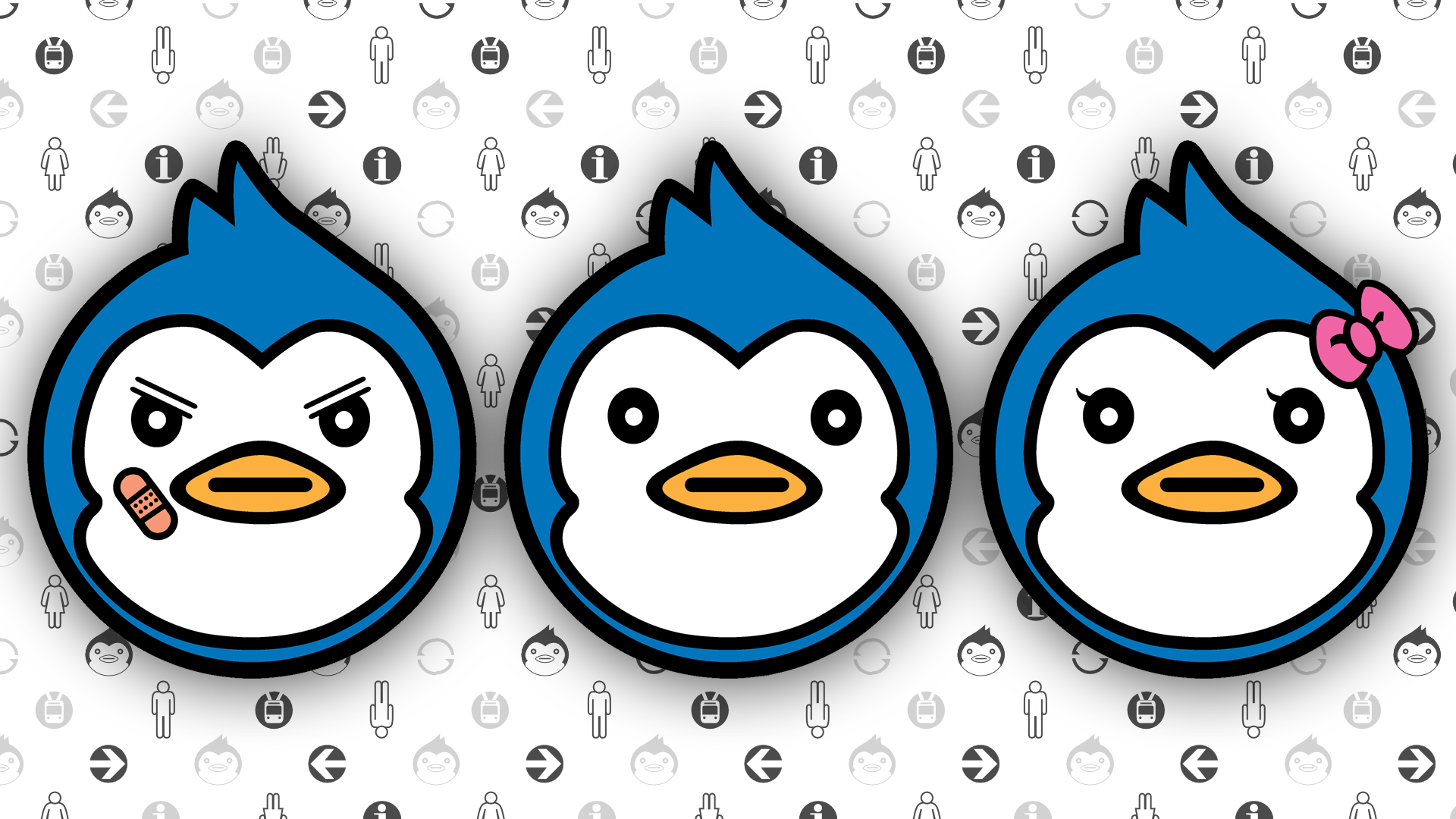 Mawaru Penguindrum Fashion Inspiration
Basically, the story of Mawaru Penguindrum is completely absurd. Not just because of its surreal elements and sense of humor, but also because of how it makes something so imaginative and implausible seem real. We start off with a dying sister, her revival, and we eventually arrive at a search for a mysterious object, the "penguin drum." Yet, somewhere along the way, the story morphs into a complex take on life, death, and existence itself.
Below, I've created a few looks inspired by the main characters from the anime.
Look #1: Himari Takakura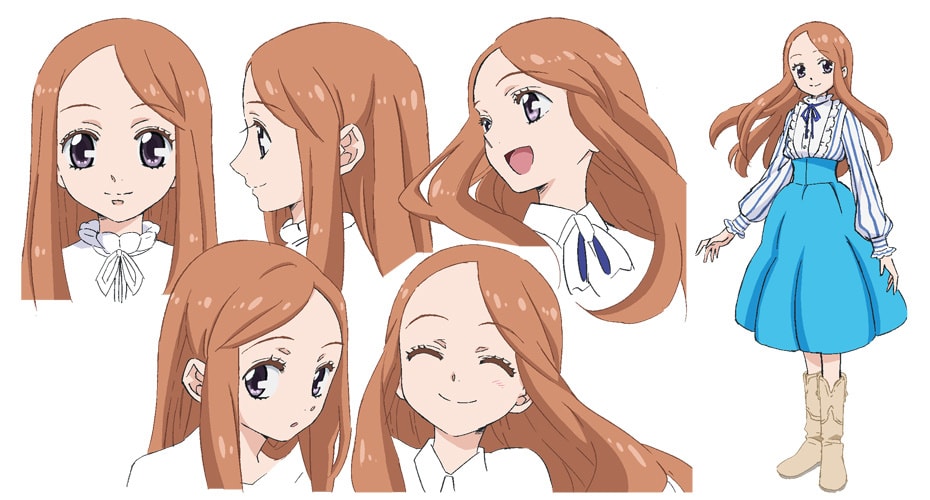 Himari is the twins' younger, ever-cheerful sister. She loves her brothers very much, and is constantly smiling so that they will worry less about her illness. After being discharged from the hospital, she loses consciousness and dies at a trip to the aquarium. She is revived by a penguin hat bought at the aquarium's souvenir shop.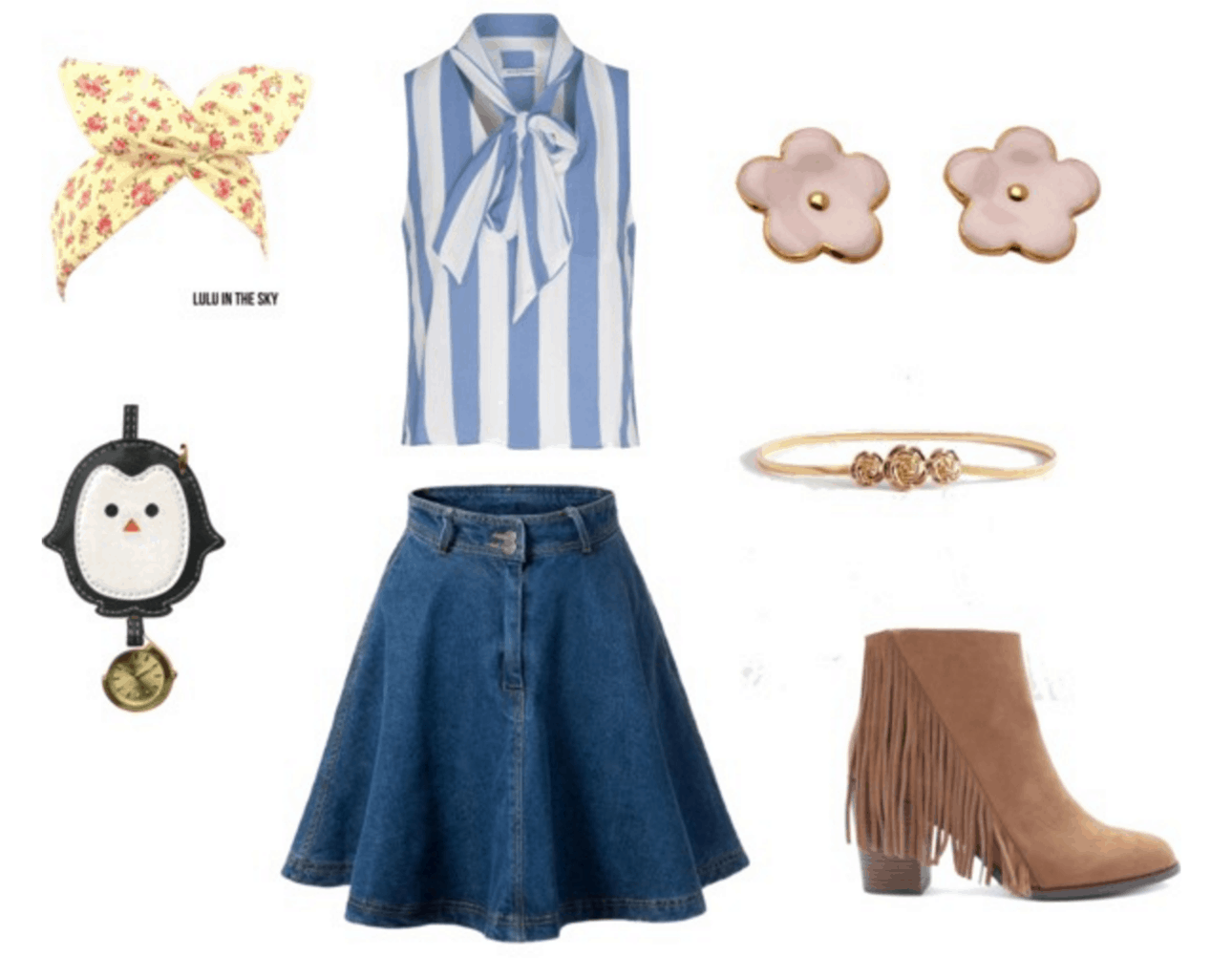 Products: headwrap, purse charm, striped blouse, denim skirt, earrings, belt, booties
Himari's look is vintage-inspired and feminine, so for this first outfit, I used retro accessories and played with mixing them with modern day trends. Try pairing a trendy high-waisted, A-line denim skirt with a tucked in striped pussy bow blouse, a fun yellow and pink headwrap, and western-inspired tan fringed booties. This fun mixture of textures and colors keeps the outfit contemporary while maintaining its nostalgic roots.
For more of Himari's cutesy quirks, I added light pink flower earrings, an elegant gold rose belt, and an adorable penguin charm accessory for your purse.
Look #2: Himari Transformation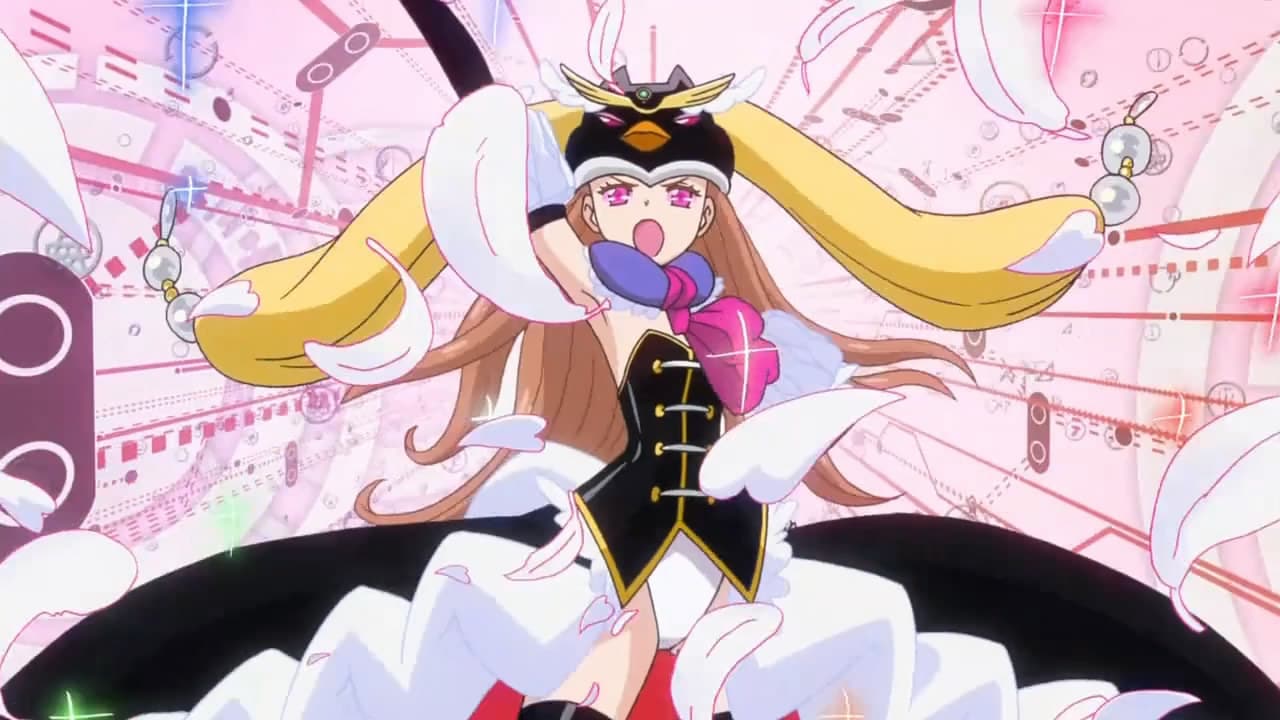 When Himari wears the penguin hat, her appearance and personality do a complete 180° turn, transforming her into a dominatrix-type character, donning a skintight costume. The new Himari orders her brothers to obtain the Penguindrum in order to extend her life.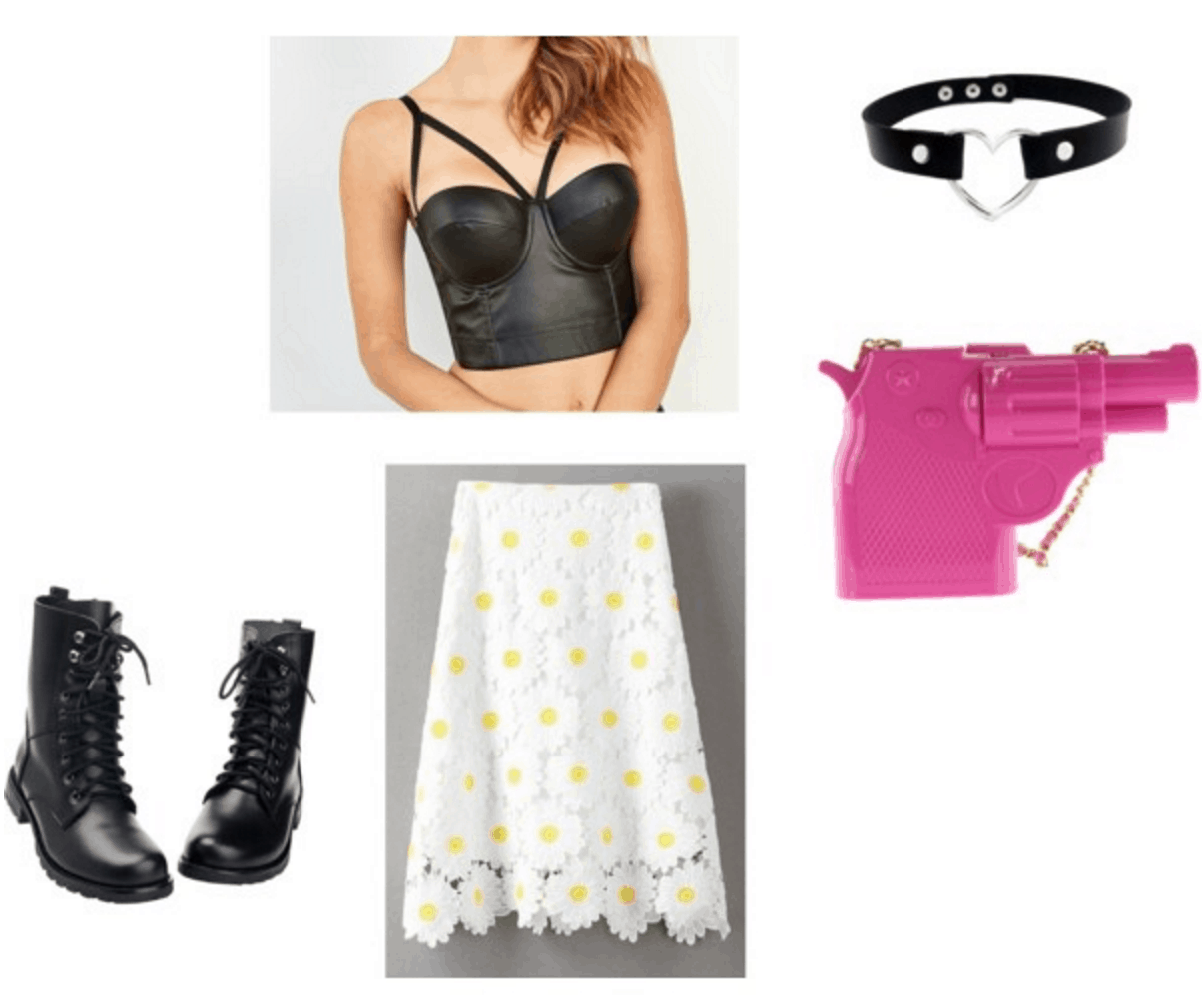 Products: combat boots, bustier, skirt, choker, clutch
Channel your inner bad girl with this festival-ready look that combines edgy looks with feminine florals and trendy cuts.
For this look, I paired a caged bustier top with a high-waisted sunflower A-line dress. I wanted to keep it hard-edge to match the transformation outfit, so I stuck with the bad girl theme and added leather boots, a black heart choker, and this hot pink statement clutch.
Look #3: Ringo Oginome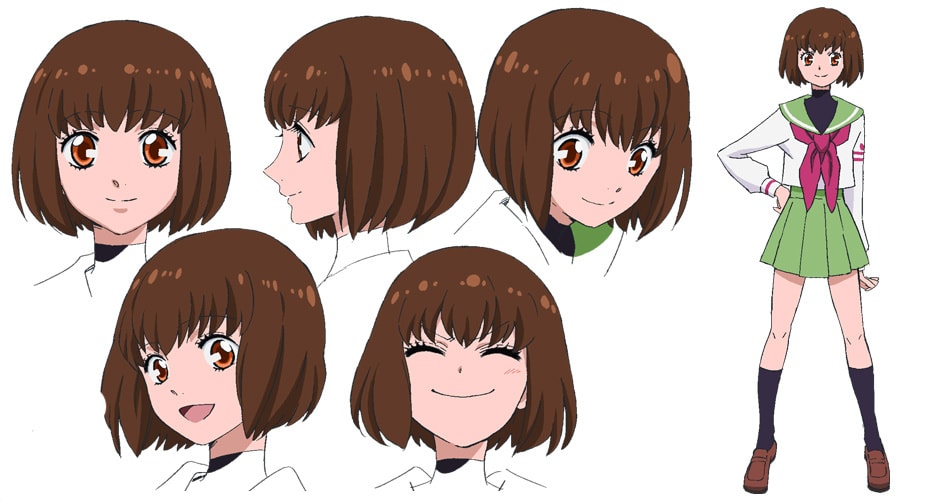 Ringo Oginome is the target the brothers are ordered to watch. She was born on the same day her older sister Momoka died, which caused her family to fall apart, and she now lives only with her mother. She possesses a diary that belonged to Momoka that foretells future events.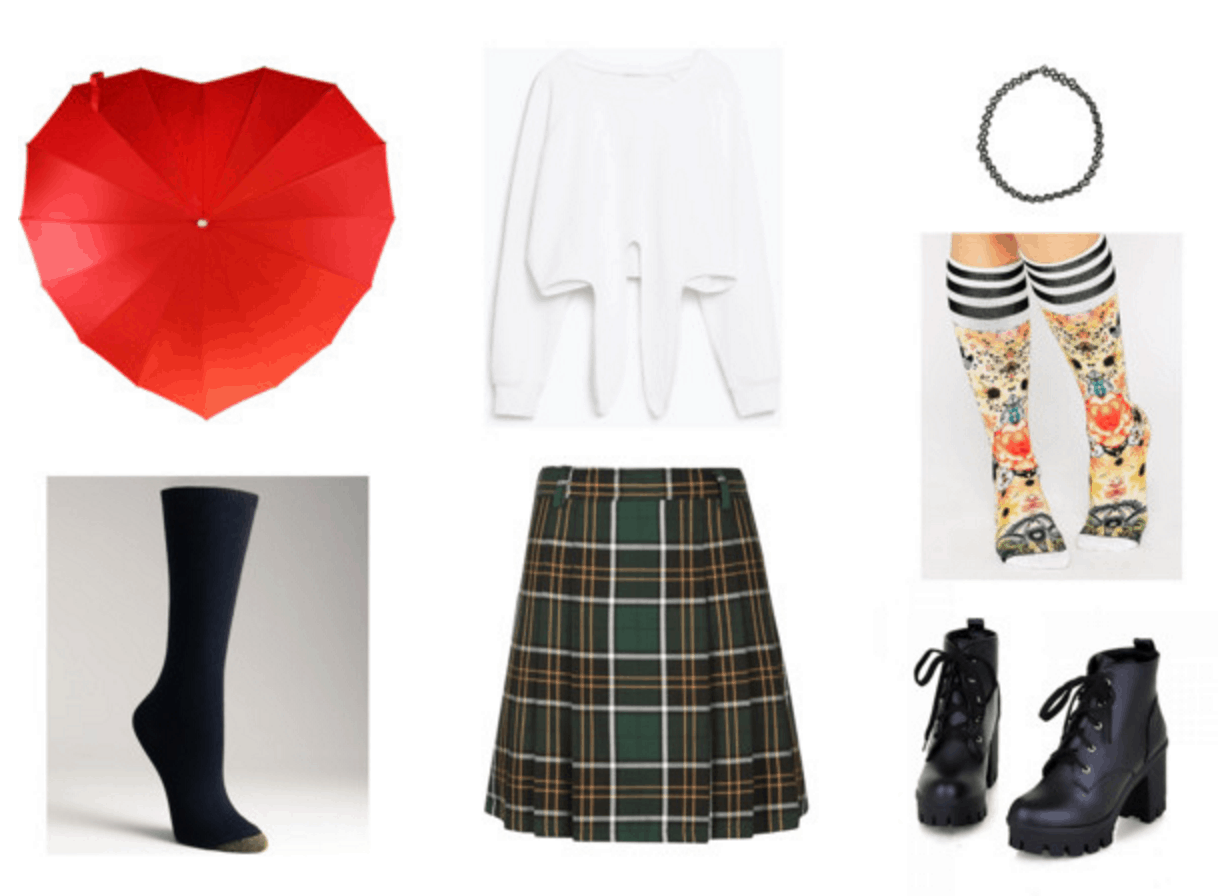 Products: umbrella, black socks, cropped tie sweater, pleated skirt, choker, patterned socks, chunky boots
Here, we have the classic Japanese school girl uniform with an updated twist! Pair a tie-at-the-waist crop sweater with a plaid high-waisted skirt, adding chunky boots, mid-calf socks, and a '90s choker to mimic Ringo's old school uniform look.
Perfect for rainy days, I found this adorable heart shaped umbrella to shield you from the drops. If you're like me and can't go a single outfit without mixing a little bit of print, go for these patterned socks on the right. If you prefer minimalism, these black mid-calf socks will keep your trendy pieces as the outfit focus.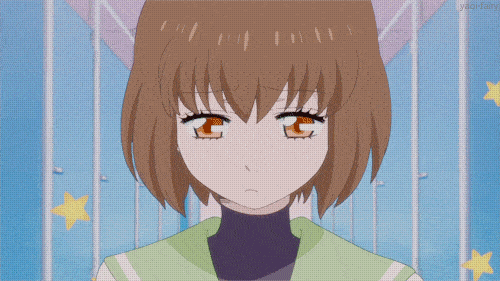 Look #4: Momoka Oginome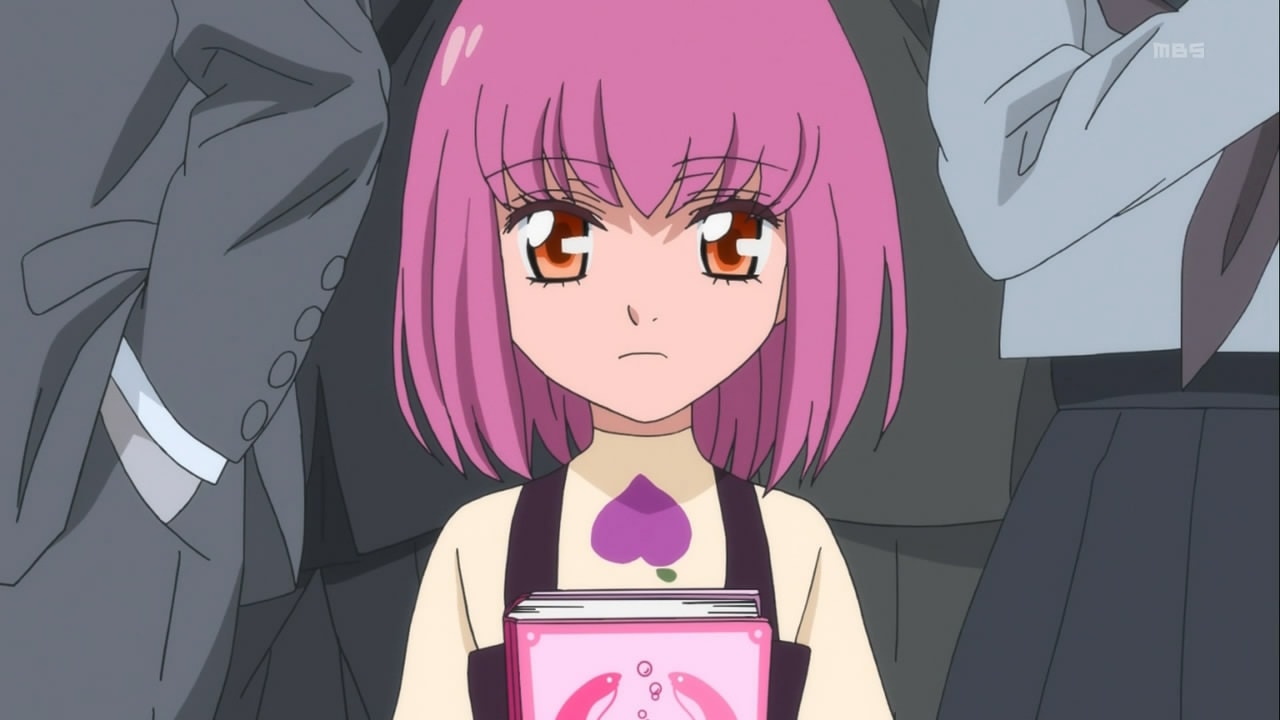 Momoka is Ringo's older sister who died in a subway explosion on the day of Ringo's birth, and she is the original owner of the Penguindrum diary.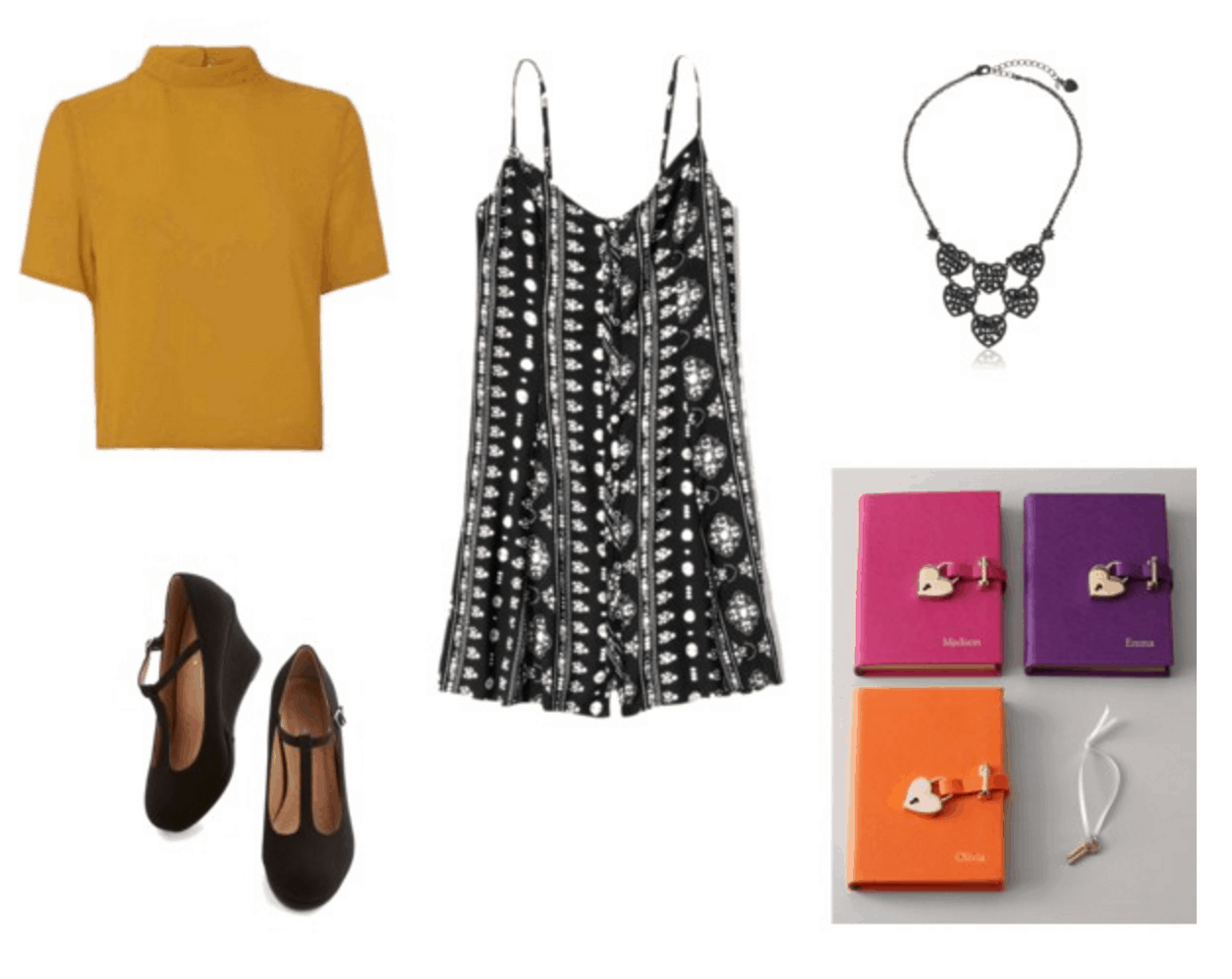 Products: mustard tee, shoes, dress, necklace, diary
I can't say much due to spoilers, so I kept Momoka's outfit looking subtle and trendy. Rock this season's layering dress trend by overlapping an adorable strappy sundress over a form-fitting mustard turtleneck. Next, add in some sweet accessories, like this heart statement necklace and some sweet Mary Jane wedges. Lastly, adorn yourself with a diary of your own — I found these customized ones with working locks and keys!
Look #5: Penguins!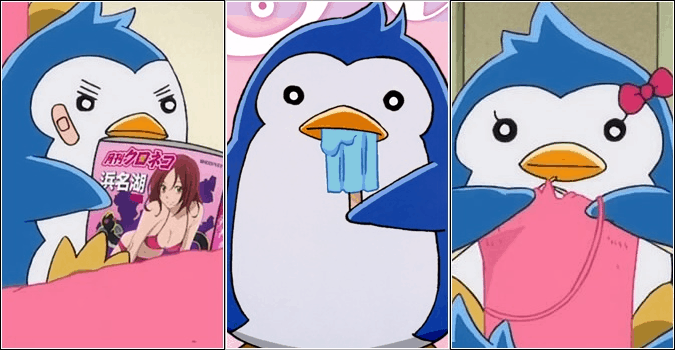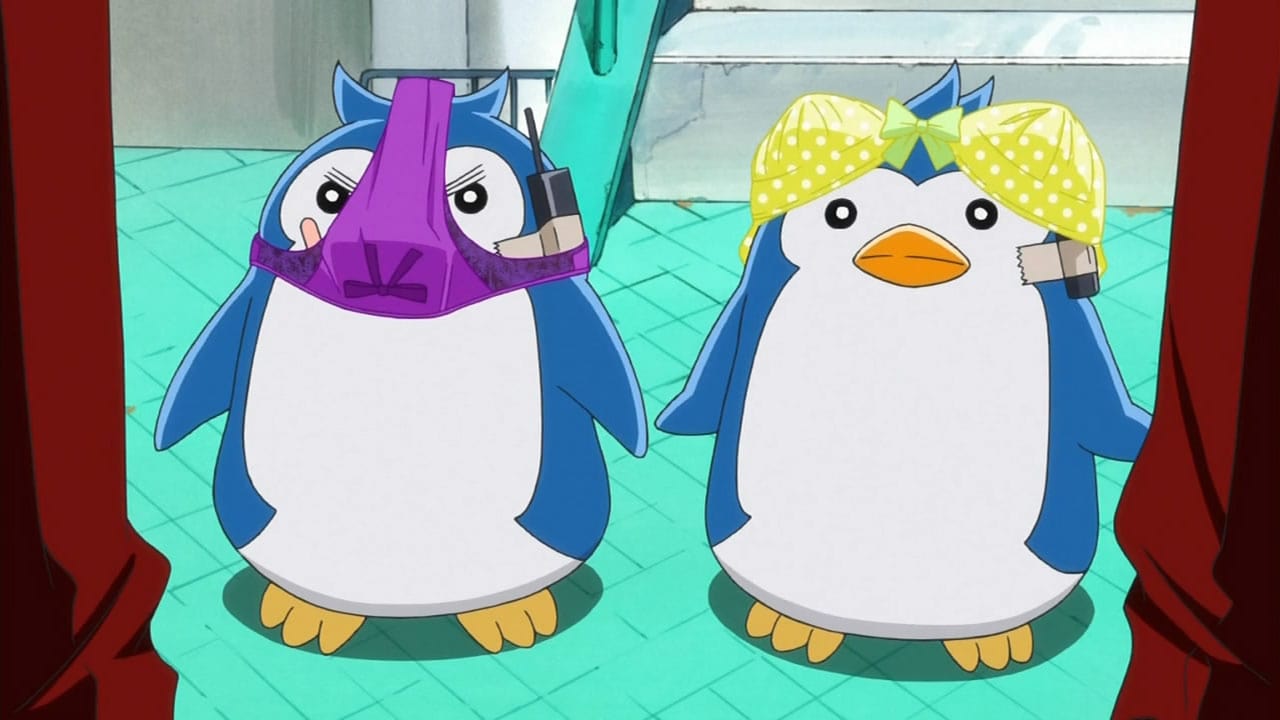 These cute little guys follow Kanba, Shouma, and Himari around, helping with household chores and other orders. While seeming to be the comic relief and mascots of the series, each one also has a personality similar to the three main characters. They may be here just for symbolism, but Mawaru Penguindrum just wouldn't be the same without them!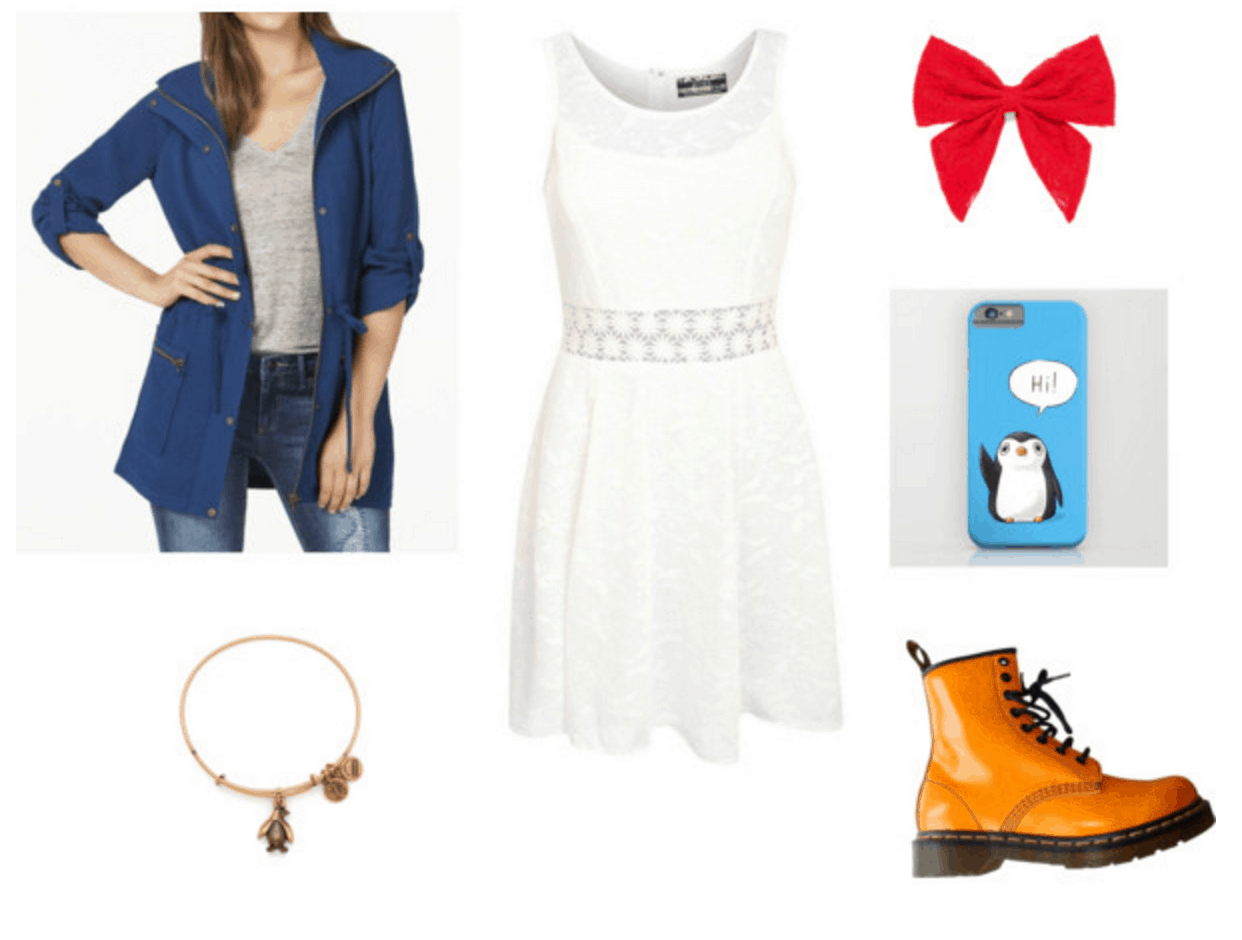 Products: raincoat, charm bangle, little white dress, hair bow, phone case, boots
For the penguins look, I came up with another playful rainy day outfit — this time combining similar colors and unlike textures. I paired a floral cutout white dress with a blue rain parka and added orange Doc Martens for a pop of color. Lastly, I found an adorable hair bow that recalls one of the penguins, a penguin charm bracelet, and this silly penguin cell phone case.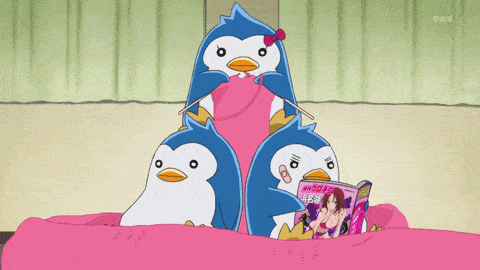 Look #6: Takakura Household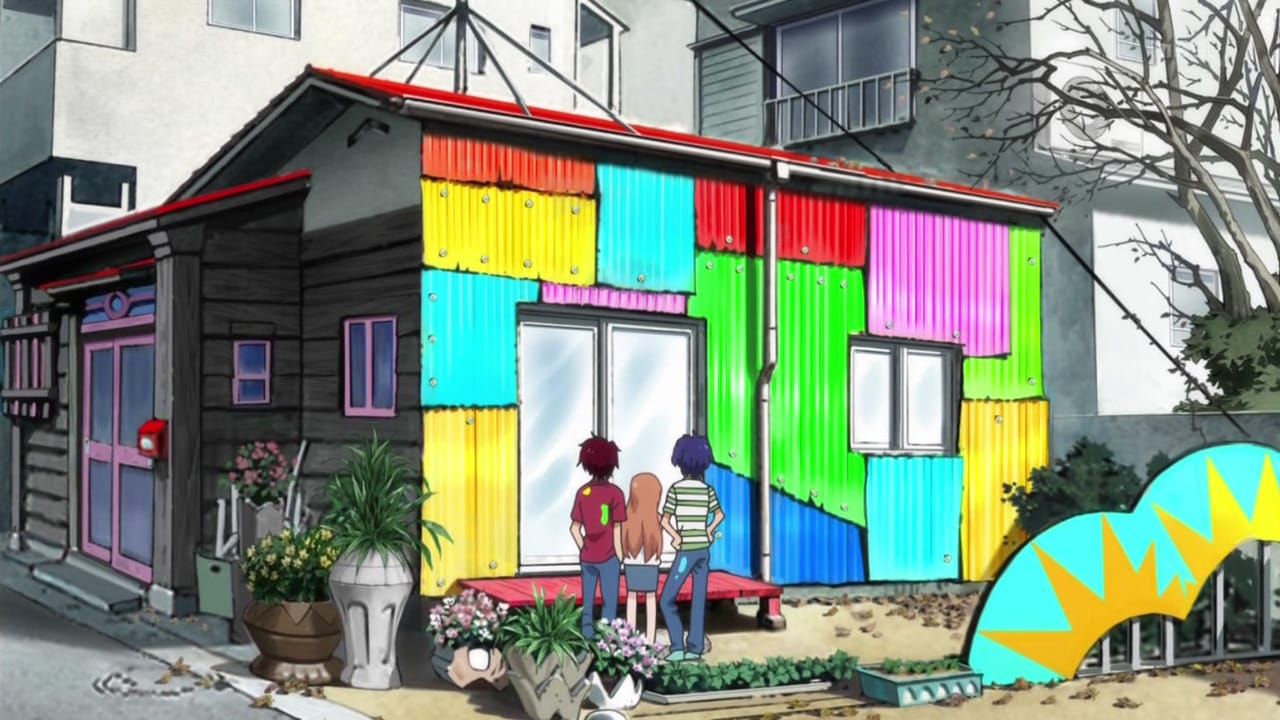 One thing that stands out in this series is the different art and colors used in the architecture and interior design of the Takakura household. Even if it's not a character in the show, I knew I had to dedicate a look to it!
Products: hot pink blazer, orange purse, color-blocked tank, yellow pants, bracelet, matte lipstick, heels
The Takakura home incorporates color-blocking neon tones and unique accessories — which is exactly what I tried to mimic in this last look. Color-blocking is a great way to make a statement using minimal effort while still looking clean-cut and polished. For this, I used a hot pink sateen blazer and paired it with a unique color-block green and white tank and bright yellow trousers. Accessorize with some statement-worthy red heels, a matte lipstick in matching hot pink, a chunky red bracelet, and a neon orange cross-body bag.
Final Thoughts?
Mawaru Penguindrum's unique style, impeccable direction and interesting themes make for a wonderful anime and an innovative inspiration. This series must be praised for its unique style: it isn't just different for the heck of it. Ikuhara combines audio and imagery in striking ways, constantly delivering scenes that will shock and surprise. Even if you end up disliking the series, I guarantee that you'll remember it.
So, what did you think of the looks? Are you a fan of Mawaru Penguindrum? Any requests for your favorite series? What did you think about this week's inspiration? I want to hear it all.