This post may contain affiliate links, which means we may receive a commission if you purchase through our links. Please
read our full disclosure here
.
Rihanna is no stranger to the world of fashion. From her flamboyant pink gown at the Grammy's to her controversial Swarvoski crystal dress, her bold style has been making headlines throughout her entire career.
While her red carpet looks are captivating, it's her trendsetting street style that has us OBSESSED, and we aren't the only ones. Rihanna's sense of style has landed her plenty of fashion-related jobs, including being named the creative director of PUMA and the new face of Dior.
In this A Week in Her Style post, I am going to give you a week's worth of outfits inspired by Rihanna's edgy style. Scroll down to see all seven looks:
Monday:
Quote tees have to be one of the best trends this year. Wearing a t-shirt and still looking fashionable? Yes please! Here, Rihanna channeled the '90s by rocking her statement-making tee with a mini-skirt and choker necklace.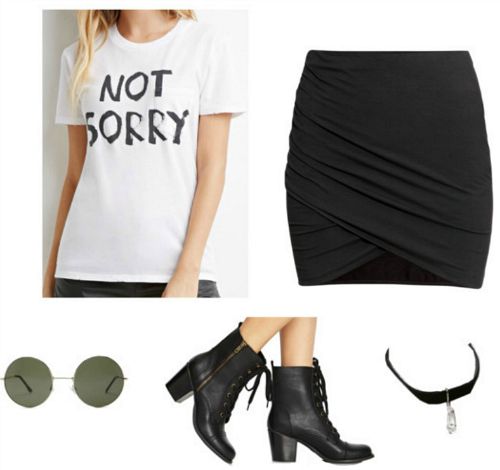 Top, Skirt, Sunglasses, Boots, Necklace
Pair a graphic tee (go up a size for a loose fit) with body-con mini-skirt. Add lace-up booties, then accessorize with trendy, '90s-inspired pieces, like circle sunnies and a choker necklace.
Tuesday:
This outfit is ideal for a hot summer day spent running errands. Distressed denim shorts are a summer staple, and there are endless ways to style them. Rihanna paired hers with a crop top and sneakers for sporty look.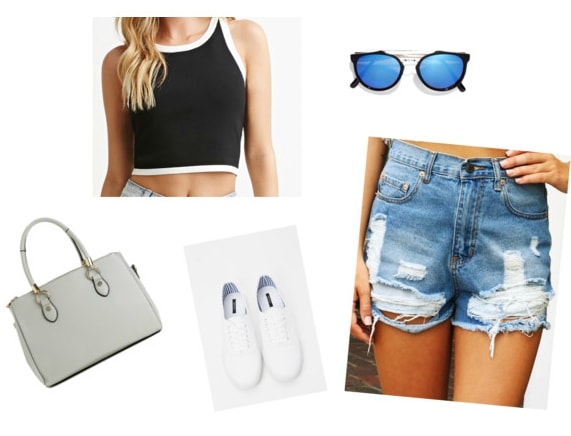 Top, Shorts, Sunglasses, Purse, Sneakers
Channel Rihanna's style by wearing a black crop top with distressed cutoffs. Add a pair of sneakers, or for a more summery look, gladiator sandals. Top the outfit off with mirrored sunglasses, a structured bag, and your favorite jewelry.
Wednesday:
When it comes to fashion, Rihanna usually sticks to a very dark color scheme, but this year we have seen her branching out and incorporating more bright colors into her wardrobe.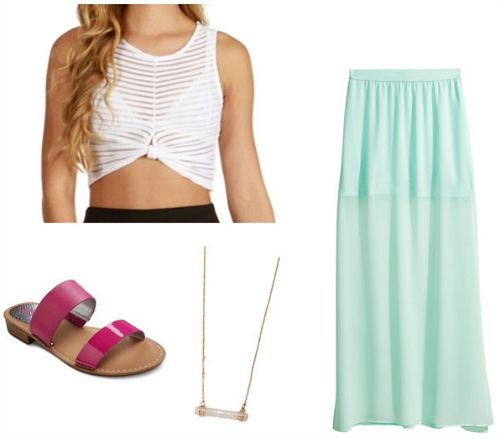 Rihanna's midi-flared pants are extremely bold and fashion-forward, so a more wearable option is a maxi skirt paired with a knotted crop top. Summer is all about bright looks, so don't be afraid to mix colors by choosing fuchsia sandals.
Thursday:
Rihanna is a master at turning sporty basics into a perfectly styled outfit. Who knew a baseball jersey and leggings could look so cool?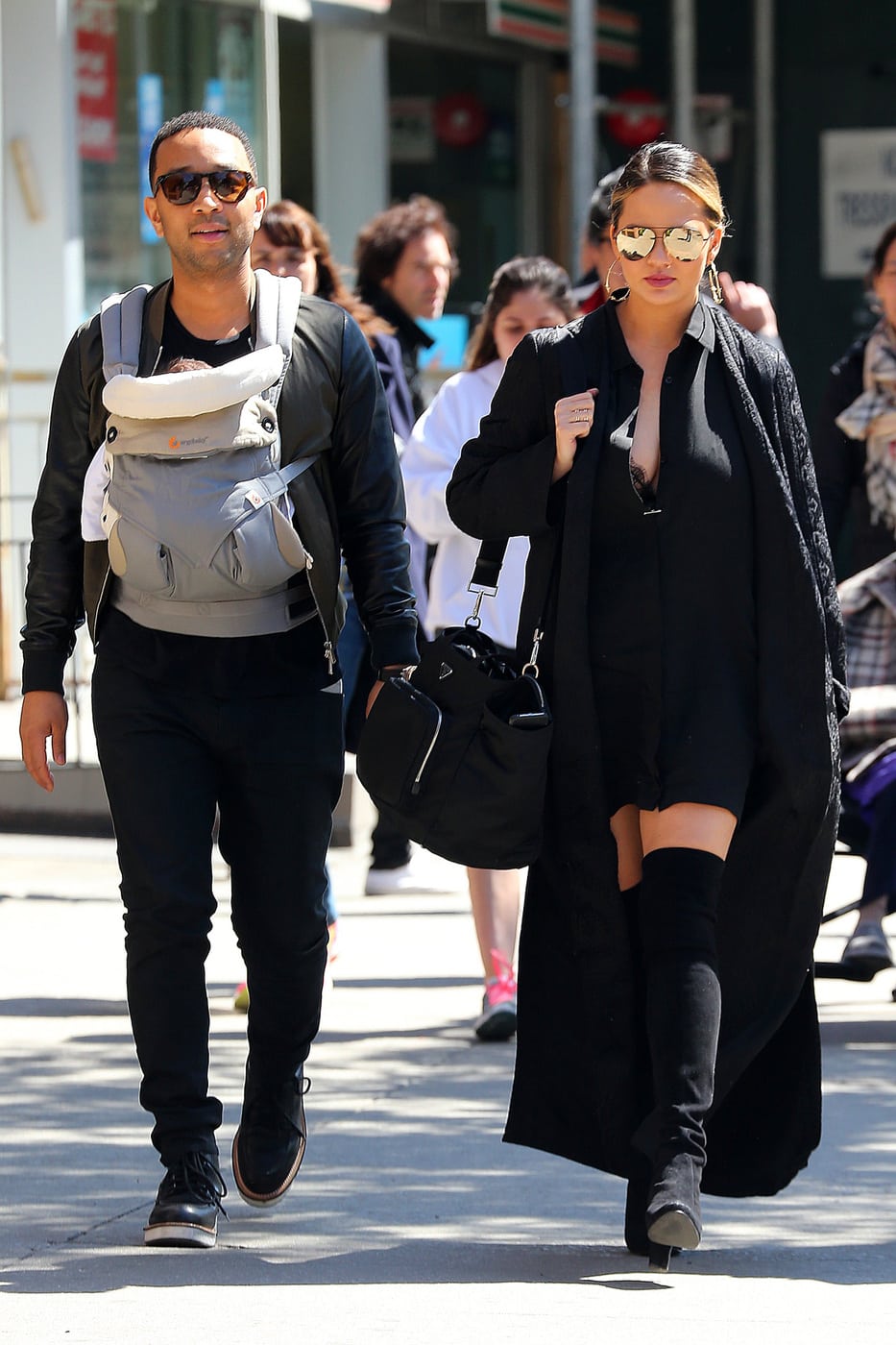 Shirt, Leggings, Sports Bra, Sneakers, Hat
Show off your sporty side in edgy leggings, a sports bra (or crop top), and faux leather slip-on sneakers. Layer on a baseball jersey, but leave it unbuttoned. Finish the look with a baseball cap… worn backwards like Rihanna, of course.
Friday:
This outfit is perfect for a cool summer night, and is actually a great example of a day-to-night look. Wear it with sneakers during the day, then throw on boots and a jacket in the evening.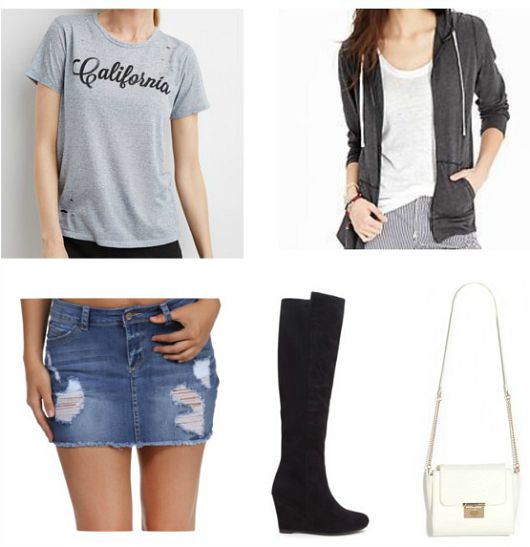 Shirt, Jacket, Skirt, Boots, Purse
Pair a denim skirt (yes, they are coming back!) with a gray graphic tee. Over-the-knee boots are unexpected, but totally transform an otherwise laid-back look. When the temperature starts to drop, throw on zip-up hoodie.
Saturday:
Matching sets are probably the biggest trend of the past year, and we can thank celebs like Rihanna, Taylor Swift, and even Kim Kardashian for their popularity. For this look, we love how Rihanna went with a bold crop top and skirt set, then toned it down with neutral accessories.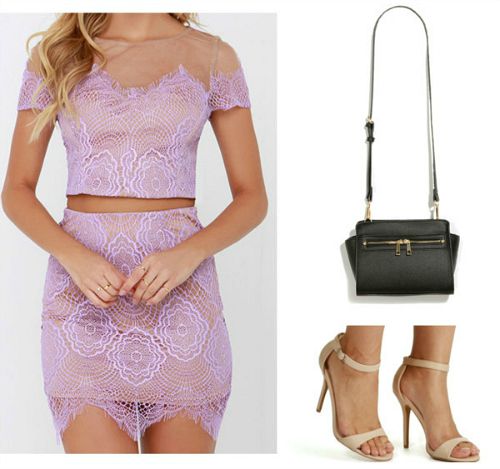 Matching sets are the perfect way to dress up without the hassle of figuring out how to style your outfit. Two pieces, one fabulous outfit. Add ankle strap heels and a crossbody bag and you're ready to make a bold statement on a Saturday night.
Sunday:
Wide-leg pants are trending this summer, and trust me, you will have no problem finding them. They are EVERYWHERE. Whether you opt for solid-colored trousers or a casual patterned pair, like Rihanna, you'll look amazing.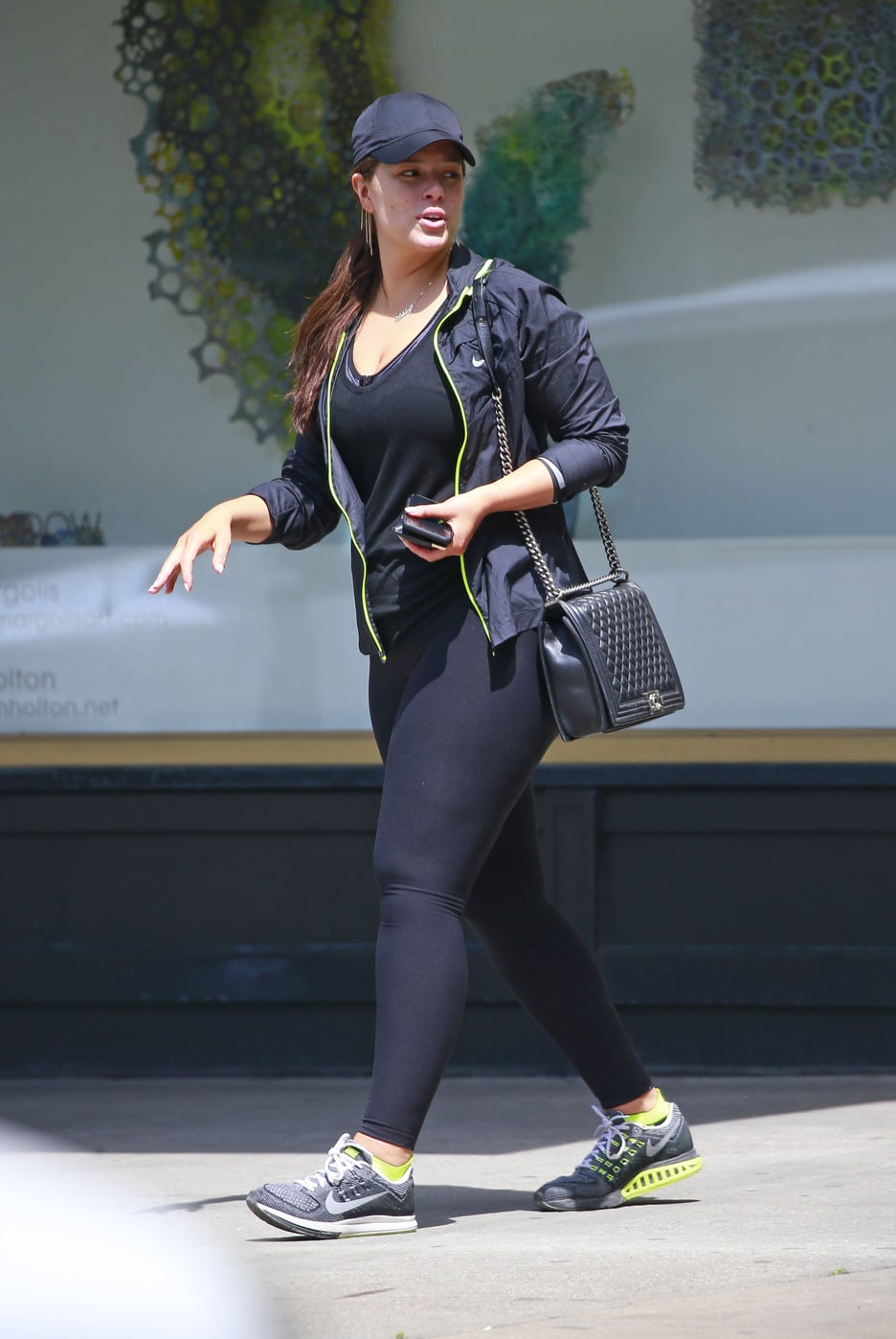 Top, Pants, Heels, Sunglasses
For a polished, slightly-dressy look, wear wide-leg pants with a solid tank and heels. If you aren't into wide-leg pants, a maxi skirt would work just as well. Don't forget a pair of oversize sunglasses!
Thoughts?
What do you think of Rihanna's style? Which outfit was your favorite? Who would you like to see next? Let me know in the comments!