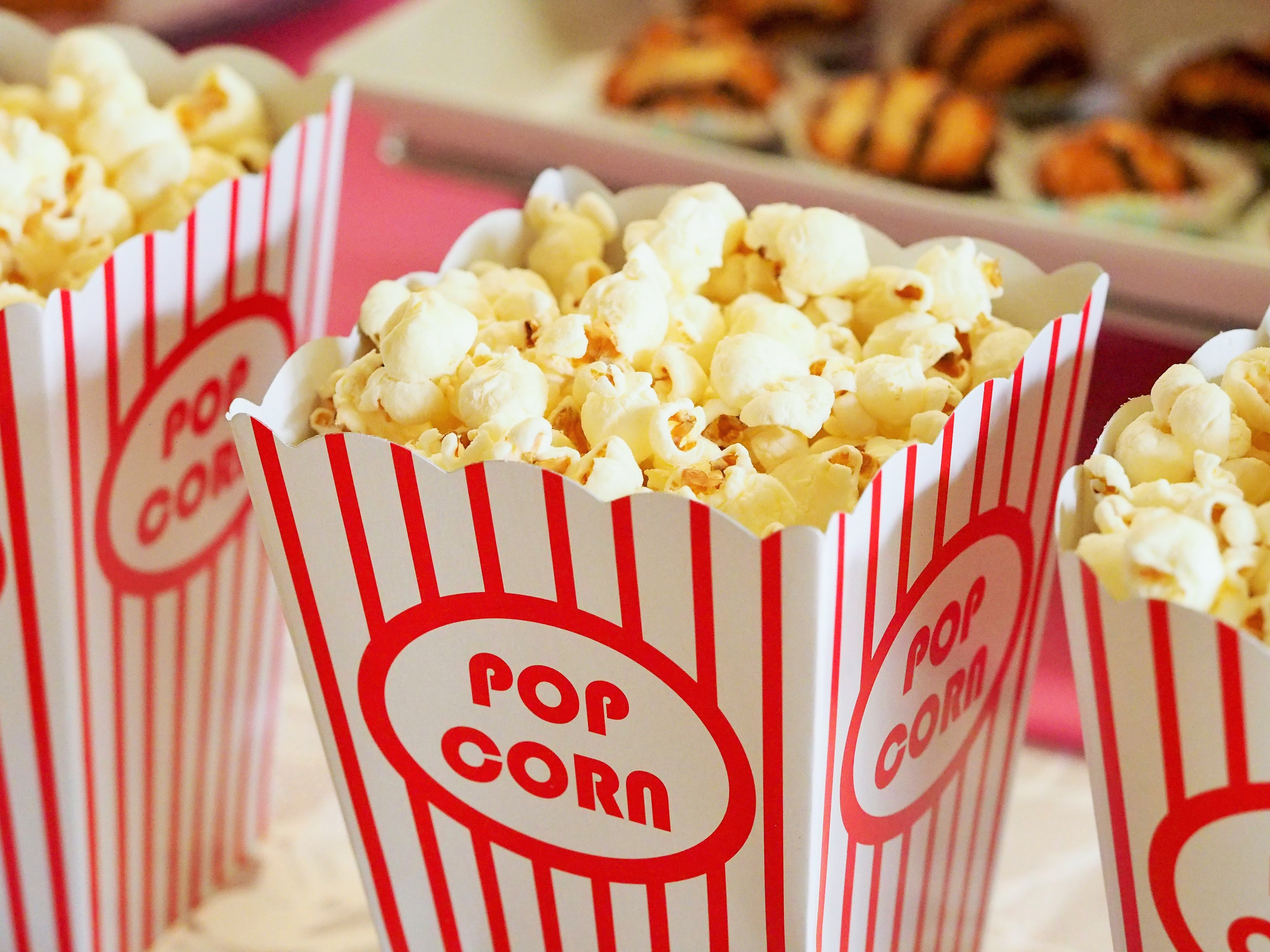 Last fall, we did an article on 10 Movies for Fashion Inspiration. While some great movies with inspirational style were featured, there are still so many style-inspiration-worthy movies out there.
That's why I am continuing the series with 10 more films to draw fashion inspiration from. I tried to cover a large span of decades and styles, so hopefully there's something for everyone. Also, these movies not only have enviable style, but they're actually great films to watch, so check them out if you haven't already seen them.
Without further ado, 10 More Films for Fashion Inspiration:
Bringing Up Baby (1938)

This film, starring Katharine Hepburn and Cary Grant, is the epitome Old Hollywood glamor. Hepburn wears gorgeous gowns, hats and coats, and looks completely elegant– all while taking care of a baby leopard.
For more about this Old Hollywood style, see Fashion Inspired by Bringing Up Baby.
Rear Window (1954)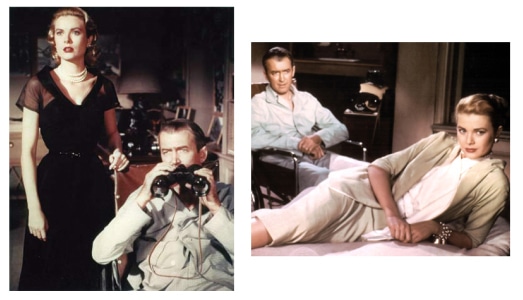 While this movie is a Hitchcock thriller, it's impossible to avoid being enamored with the amazing wardrobe worn by Grace Kelly. Super tailored, demure and dressy pieces make this wardrobe embody the classic style of the 1950s.
For more on the classic fashion from this film, see Fashion Inspired by Rear Window.
… And God Created Woman (1956)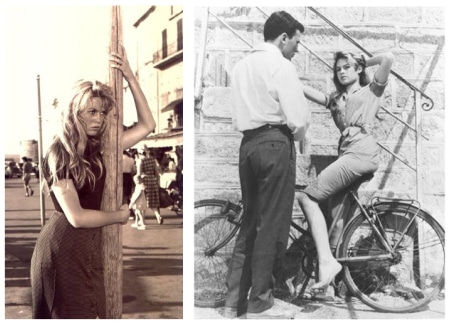 If you're looking for another side of 1950s fashion, check out this French film (also known as "Et Dieu… créa la femme"). Brigitte Bardot is definitely at her bombshell best in this movie, wearing formfitting pencil skirts, blouses and shirt dresses. She knows how to look like a total vixen without being trashy.
For more on dressing like a 1950s bombshell, check out Fashion Inspired by …And God Created Woman.
Grease (1978)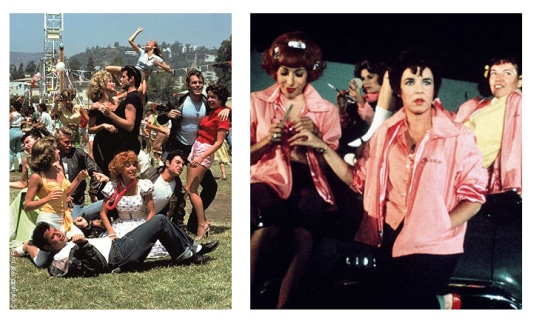 How can you watch this movie and not want a Pink Ladies jacket? Other drool-worthy pieces in this film include full skirts, cat-eye glasses and the fabulous all-black outfit worn in the finale by Olivia Newton John.
For more on how to dress in the fun styles of Sandy or the Pink Ladies, check out Fashion Inspired by Grease.
Heathers (1988)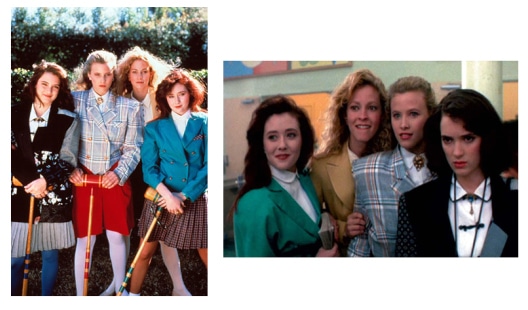 This black comedy is filled with trendy 1980s school girl pieces – lots of plaid, structured blazers (with shoulder pads!) and opaque tights. The movie also features signature colors: all of the main characters have one color that is always worn predominately in each outfit.
For more on dressing like an 80s schoolgirl, check out Fashion Inspired by Heathers.
Clueless (1995)

When someone asks me what my favorite movie is, I'm always quick to respond "Clueless!" Clueless is a must-watch film, not only for the witty dialogue and lovable characters, but for the amazing fashion from the '90s. Knee-high socks! Faux-fur bags! Dr. Seuss-esque hats! I'm in love.
For more on dressing like a total Betty, check out Fashion Inspired by Clueless.
The Virgin Suicides (1999)

This film, set in the 1970s, is truly otherworldy and has a wardrobe that fits the ethereal vibe perfectly. The movie features lots of soft fabrics, pastel colors and delicate floral prints.
For more on the beautiful, yet simple style featured in the film, check out Fashion Inspired by The Virgin Suicides.
Factory Girl (2006)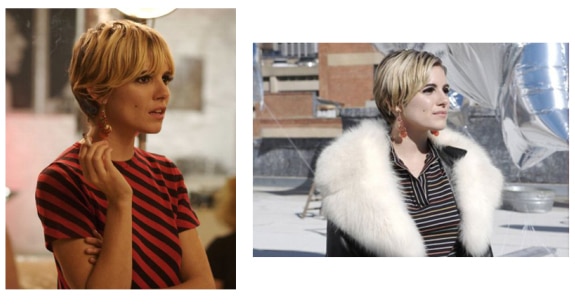 This movie captures the mod style that was popular in the 1960s with lots of clean lines, bright colors and geometric prints. It also follows the story of one of everyone's favorite fashion icons, Edie Sedgwick. Sienna Miller brings the era to life with mini-skirts, oversized jewelry and tall boots.
For more on Edie's mod style featured in the film, see Fashion Inspired by Factory Girl.
Vicky Cristina Barcelona (2008)

This film captures today's style beautifully with flowy, effortless, casual pieces. There are also three main female characters, and each embodies a different version of the style, from bohemian to a more classic look. The wardrobe also uses lots of separates– perfect for mixing-and-matching.
For more on how to capture this casual and effortless fashion, check out Fashion Inspired by Vicky Cristina Barcelona.
Confessions of a Shopaholic (2009)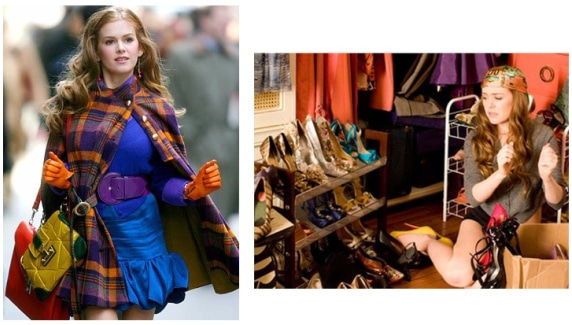 Confessions of a Shopaholic offers another take on modern style, but this one has a fashion-forward flair. The wardrobe in the film, designed by Patricia Field of Sex and the City fame, is enviable for any budding fashionista. There are tons of bright and bold colors and fabrics as well as countless bags, shoes and other accessories. Just don't go into debt like Rebecca Bloomwood!
For more on how to be über-fashionable like Rebecca Bloomwood,see Fashion Inspired by Confessions of a Shopaholic.
What Do You Think?
Have you seen any of these movies? Have you ever been inspired by a film? Is there a movie that should be added to the list? Leave a comment and let us know!