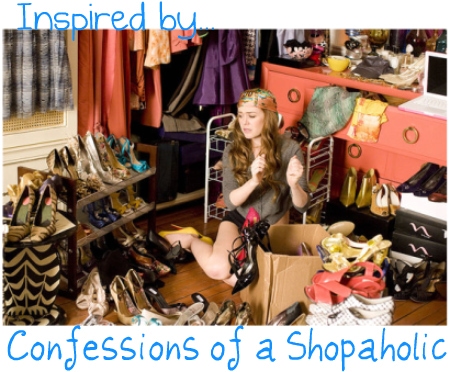 The final inspiring movie on my list of 10 More Movies for Fashion Inspiration is the 2009 film Confessions of a Shopaholic. The movie follows the life a Rebecca Bloomwood (played by Isla Fisher), a journalist with a penchant for shopping. Unfortunately, her love for fashion lands her deep in debt and she somehow finds herself working at a magazine giving out financial advice.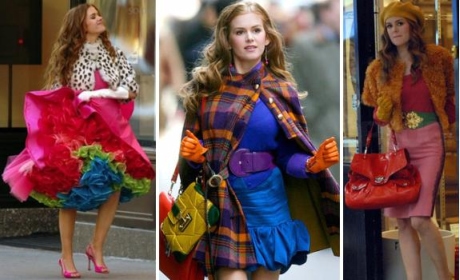 The wardrobe in this film– styled by Patricia Field of Sex and the City fame– has a fashion-forward, over-the-top flair. Rebecca is not afraid to take a fashion risk and her outfits are all about layering lots of bright colors and bold fabrics all at once. Most of her outfits are her own super-fashionable versions of business casual. She also wears tons of fabulous shoes, bags and accessories throughout the movie.
If you're a fashionista who wants to emulate Rebecca Bloomwood's bold sense of style, check out these 3 outfits inspired by Confessions of a Shopaholic:
Outfit #1: Savvy and Stylish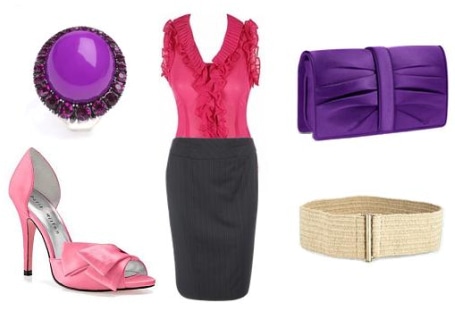 Product Information: Ring- ASOS, Blouse- gojane.com, Clutch- Spiegal, Shoes- DSW, Skirt- Dorothy Perkins, Belt- Charlotte Russe
This outfit showcases a great way to wear bright colors: against a basic black pencil skirt. A ruffled pink blouse makes a bold statement, especially when paired with some lighter pink heels. Accessorize with a dark purple clutch and matching purple cocktail ring. Instead of adding a typical black belt, define your middle with a neutral-colored belt instead.
Outfit #2: Summer Inspired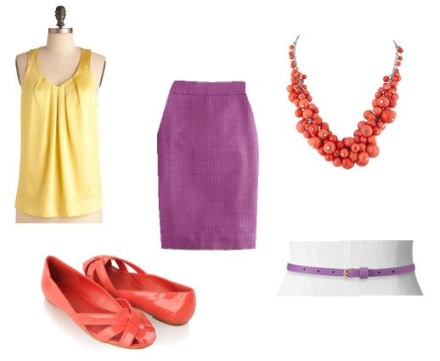 Product Information: Top- ModCloth, Skirt- J. Crew, Necklace- Oasis, Flats- Forever 21, Belt- Nordstrom
This outfit is perfect for warmer weather; it's colorful, fun, and sophisticated, yet still casual enough for daytime. To start, I paired a purple skirt with a lightweight pale yellow top for contrast. Next, I added a skinny purple belt to pull the two pieces together. Finally, I chose a fun coral necklace and matching flats to complete this breezy, vibrant outfit.
Outfit #3: Rainbow Bright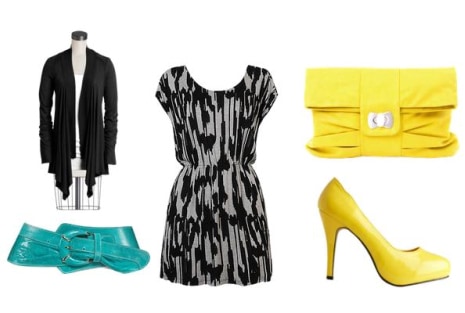 Product Information: Cardigan- Piperlime, Dress- Forever 21, Clutch- ASOS, Belt- Bloomingdale's, Pumps- Wet Seal
Adding some bright colors to a bold, monochromatic dress is a great way to channel Rebecca Bloomwood's style. Rebecca adds belts to almost every outfit, so buckle a wide turquoise belt over this printed dress. Yellow accessories– like the clutch and pumps– complement the turquoise. Finish the outfit with a lightweight long cardigan for balance and warmth.
Feelin' Inspired?
Do you like wearing lots of bright colors in one outfit? Do you take bold fashion risks? Have you ever seen Confessions of a Shopaholic? What do you think of the fashion in the film? Leave a comment and let us know!
I hope you enjoyed the series on fashion from movie inspiration! If you want to see any of the past articles in the series you can check them out here.