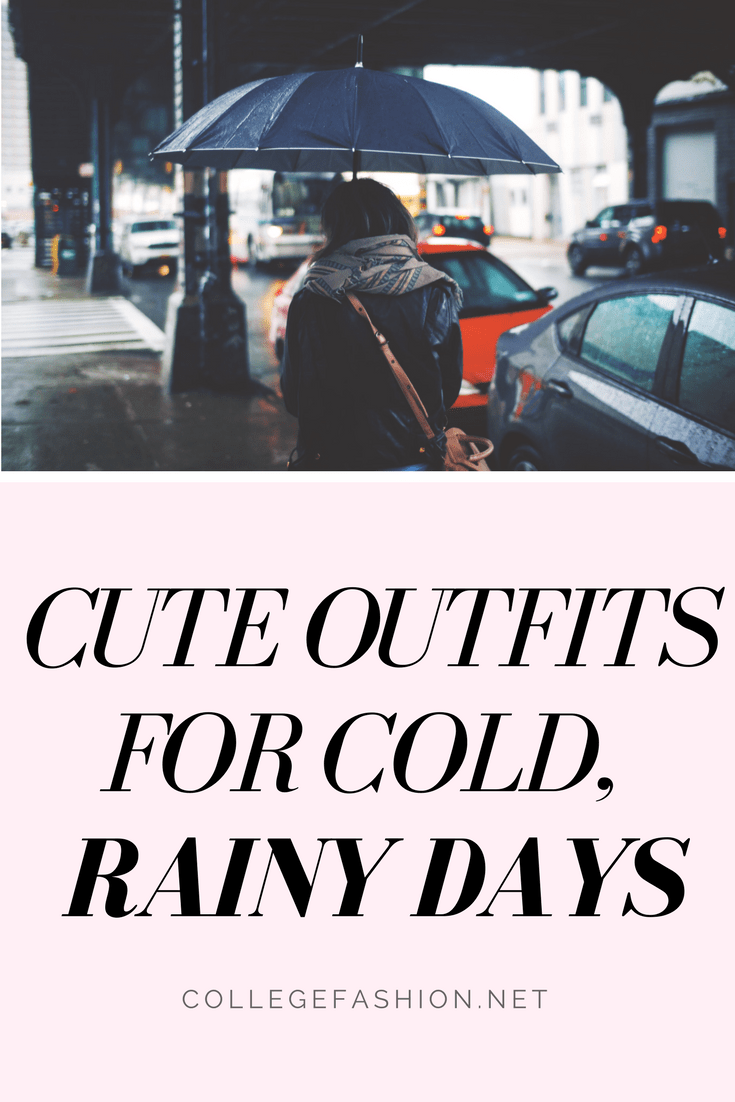 Today, I'm sharing my favorite outfits for cold, rainy days. It's a topic I'd rather not ever have to write about (because I hate cold and rain), but here we are.
Like I said, I am not a fan of the cold. I also really dislike getting my beloved clothes and poof-prone hair wet. Therefore, the combination of cold + rain = a pretty unhappy me!
Unfortunately, cold, rainy weather happens, and as college students forced to follow rain or shine schedules, we have to endure it. This is especially tough if you live in an area like Jeanie, who posted about her cold/rainy weather worries:
I was wondering if you could post a section on rainy days. I live in Shanghai, so it rains a lot during the spring, winter and fall (practically every day!), and occasionally during the summer. I know that Zephyr already did a post on something like that, but it was for much warmer weather. I have a pair of rain boots, but I'm not too sure if they would be good for the winter as well. I was wondering if you could give some ideas on how to dress during the fall and winter for rainy days.
Since even my roommate asked me about what to wear on these dreary days recently, I figured this may be a question on many of your minds.
And while, as Jeanie pointed out, we already have articles about rainy day fashion and how to wear a raincoat, I figured it may help some of you to revisit the topic in the context of fall/winter weather.
So here are my takes on the a few basic outfits for cold, rainy days.
After the outfits, I've also included some "rainy day weapons," or products that are essential to keep you look great in this weather!
Outfits for Cold, Rainy Days
Outfit One: Day-Time Showers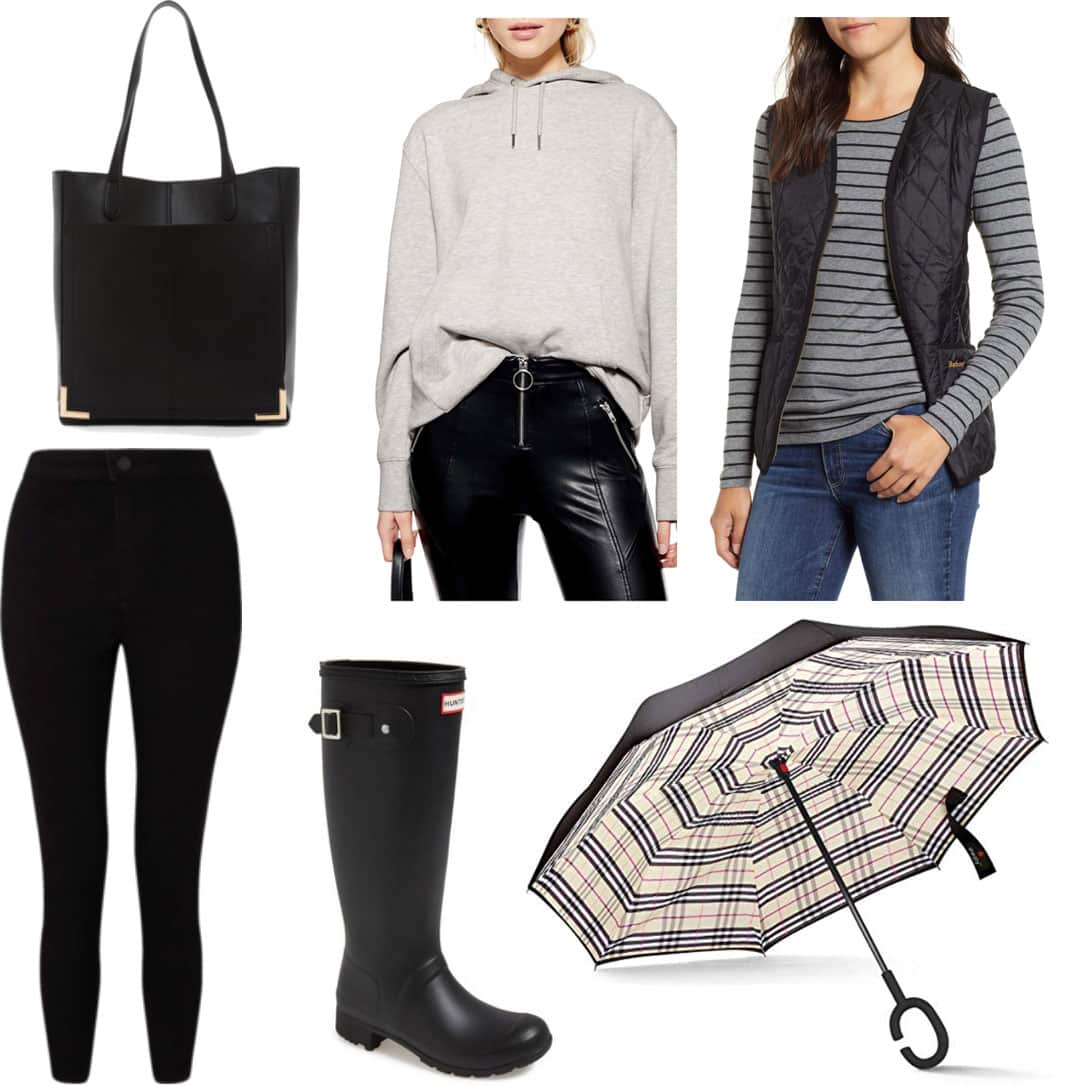 Products: Hoodie – Nordstrom, Vest – Nordstrom, Leggings – Amazon, Boots – Nordstrom, Tote – Nordstrom Rack, Umbrella – Amazon
Just because the weather is less than lovely doesn't mean your look has to be!
Instead of going for a typical rain coat, in this look I decided to layer a functional, waterproof vest over a cozy gray hoodie. This way, you have warm layers and are protected from the cold. (Rain coats aren't always the warmest!)
On the bottom, I chose simple black leggings — they're chic, timeless, and will dry faster than jeans if they get wet.
For footwear, I suggest rain boots (these are classic Hunter boots) because they are the most functional option for this weather; however I do understand some people dislike them. If you aren't a fan of rain boots, Doc Martens are a great alternative — I have found that my lace-up Doc Marten style boots fair pretty well in the rain — and are really stylish for this season!
Because I know my hair becomes a disaster in rain (especially if there is wind involved!), I suggest making sure you have a hood during the day. This hoodie is perfect for keeping your locks in check.
Finish the look with a simple black tote bag and a stylish black umbrella that has Burberry-esque plaid on the inside (but, really, if you lose umbrellas like I do, any one will work).
Outfit Two: It Was a Dark (Cold!) Stormy Night…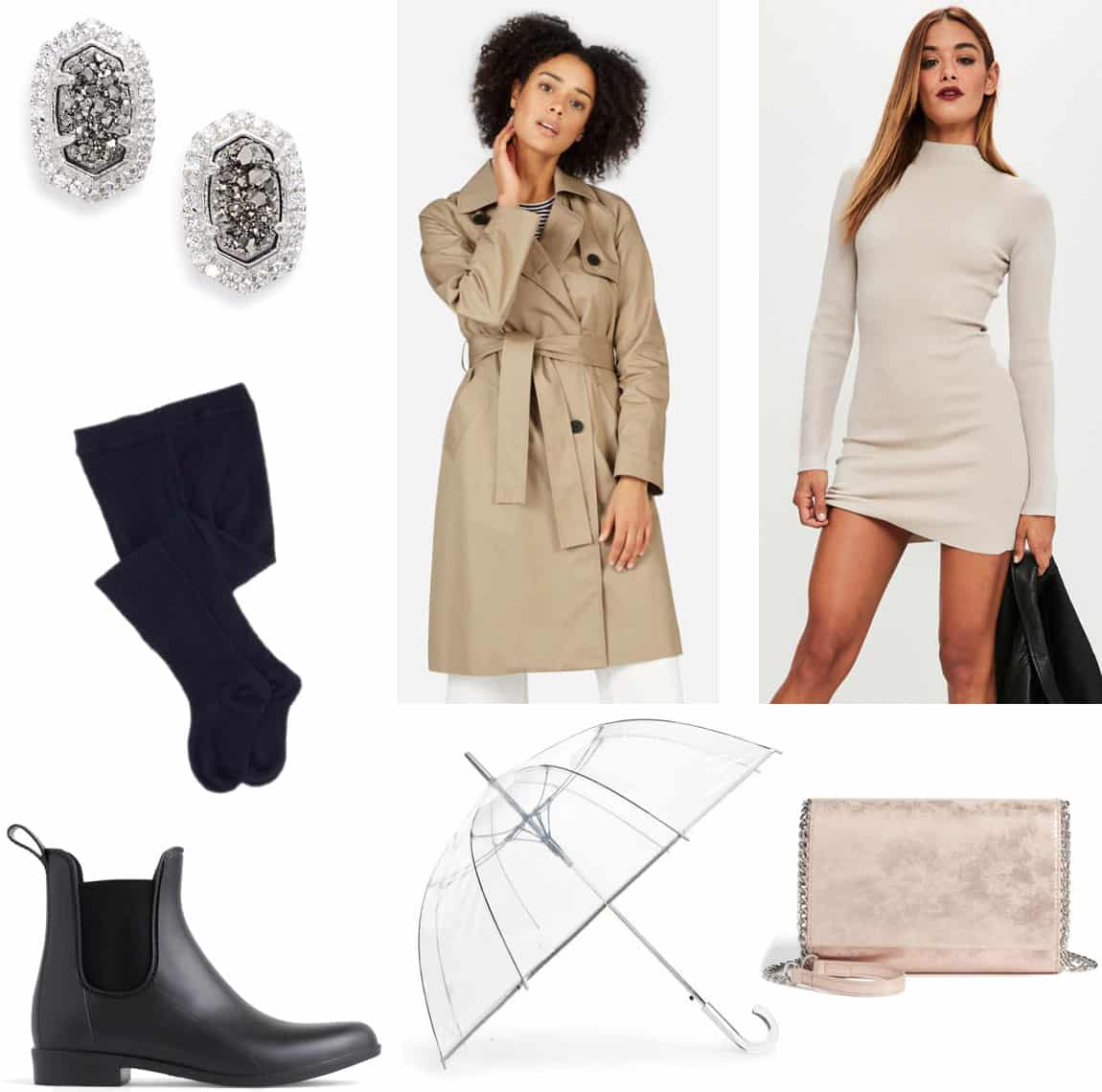 Products: Sweater Dress – Missguided, Trench – Everlane, Tights – Amazon, Earrings – Nordstrom, Boots – J.Crew, Umbrella – Amazon, Clutch – Nordstrom
The only thing worse than trekking to daytime classes/work/internships in the rain is attempting to go out at night in the rain!
After all, going out is the number one time us college girls want to look cute and nothing kills that perfect combination of blow-dried hair and impeccable makeup faster than some freezing rain!
Still, I think it is totally possible to make the rain work to your advantage. Here's what I suggest: go for feminine style with a sweater dress and cozy tights.
I am obsessed with the beige tone of this sweater dress, which will look great on just about everyone. It also has a pretty shape with a mock neck style. The dress looks perfect with simple black opaque tights.
This classic trench coat is the perfect choice for a night out, and it will keep you pretty warm thanks to the cozy sweater dress. For extra warmth, add a scarf and/or hat as well.
For shoes, I chose a black faux-leather pair with a sturdy heel — I have a similar pair that have yet to let me down in the rain. These are technically rain boots but you'd never be able to tell!
Also read: How to Style a Camel Coat
Rainy Day Weapons: Beauty and Hair Products for Rainy Days
Now that you've seen my cold, rainy day outfit picks, here's my list of Rainy Day Weapons. These products will help you fight the seemingly inevitable rainy day frizz and smeared makeup!
Products: Makeup Wipes – Neutrogena, Hairspray – L'Oreal, Mascara – L'Oreal, Flat Iron – Amazon, Eyeliner – Urban Decay
Things To Consider When Doing Your Hair & Makeup for Rainy Days
Makeup: If it's raining hard during the day, I suggest going for as little makeup as possible — trust me, you'll look better with none on than with black smudges dripping all down your face! Of course, I do understand that we all like to put on a little something to look our best. Therefore, I suggest investing in waterproof makeup. Most mascaras also come in waterproof forms, so check to see if yours does, too. (If not, I recommend Lash Paradise mascara!) Also, go for waterproof liner, either in fun colors like UD offers (great for going out) or in a smoky brown.
Makeup Remover: While many beauty products may claim to be waterproof, they might not hold up as well as they claim. If you are unsure of the waterproof strength of a product, carry makeup wipes in your bag to quickly swipe away any rain-induced makeup mishaps.
Hair: Definitely, definitely go for some sort of anti-frizz spray or serum on a rainy day! A good, strong hold hairspray is key. Also, if you are going somewhere and really want to ensure that your look is perfect, there are wireless, miniature flat irons that you can purchase. Charge one up and throw it in your bag so you can tame any frizzies or flyaways in the bathroom once you get out of the rain!
What Do You Think?
Would these cold, rainy day outfits work for the weather where you live? Do you have any favorite pieces, accessories, or beauty items for dealing with the cold, wind, and rain? What is your go-to bad weather look? Share in the comments!
Editor's note: This post was originally published in 2009; it was completely updated and revamped in 2019 with new photos, outfit sets, and information.
Related posts: