Winter is getting close – lately, it has gotten colder, the rain and snow have started to move in, and mornings seem so dark! And along with winter comes fabulous winter clothing!
I love winter clothes – sweaters and jackets are my two favorite things to browse because there are so many classic, comfortable options. So I thought I would show you guys some great vintage-inspired winter coats and sweaters to spice up your November-to-April wardrobes.
Vintage-Inspired Coats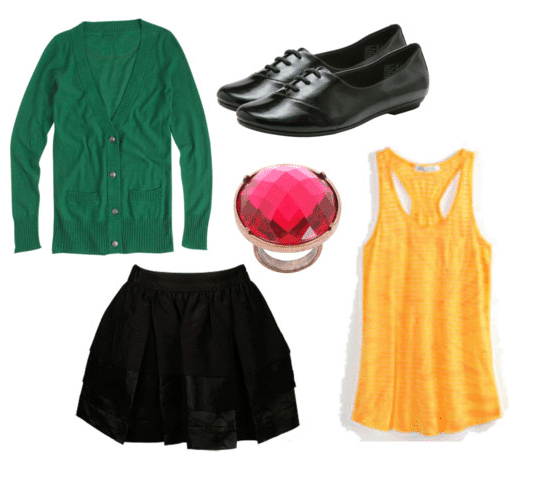 Product Information: Peacoat (in Navy) – American Eagle Outfitters. Vintage Blazer – American Eagle Outfiters. Union of Plaid coat – Modcloth.
I love these coats! I chose two – the AE peacoat and the ModCloth coat – that would be perfect for layering in cold weather. The middle blazer would be perfect for places where it doesn't get quite so cold and a serious winter jacket isn't necessary. (If you've fallen in love with the Vintage Blazer from AE too, good news – it is currently on clearance!)
You don't have to buy new, though – there are many great coats in vintage and thrift stores. When shopping for a coat in a vintage or thrift store, look for great patterns (plaids are very cool and fabulous for winter) and also look for unique touches – many older coats have intricate details, like the buttons and stitching, which are what makes them so one-of-a-kind. Make sure the coat fits you well in the shoulders and bust and is a good length for your height. As always, watch for any tears, holes, or areas of stress.
Not sure how you'd wear a coat like the ones above? Keep reading!
How to Wear a Vintage-Inspired Coat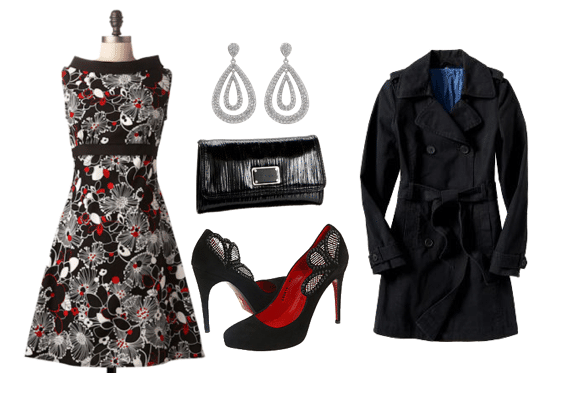 Product Information: Sexy Scoop sweater (in Smoky Brown Heather) – American Eagle Outfitters. Miso Sparkle Jegging – Republic. Dakota Velvet boot – Forever 21. Gold Studded Bangle set – Dorothy Perkins. Linear Wood Heart earrings – Moxsie.
I love the flirty, feminine details of this jacket, which help balance out its slightly menswear-inspired style.
For this outfit, I decided to layer a simple brown sweater with some jeggings under the coat. I chose jeggings for one main reason: they're great for tucking into tall boots! I kept the color palette simple and sophisticated, letting the jacket stand on its own and then adding some wonderful sparkle with earrings and a set of bangles.
Vintage-Inspired Sweaters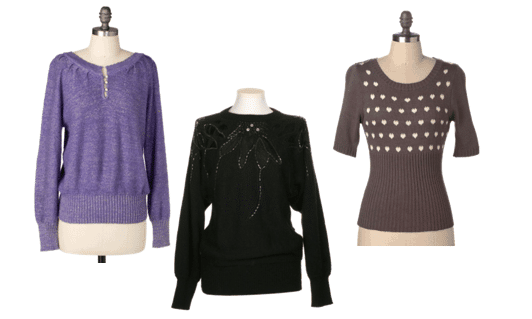 Product Information: Sugar Plum sweater – ModCloth. Black Batwing sweater – Rokit. The Izzie Sweater – ModCloth.
It would not be an overstatement to say that my favorite article of clothing is sweaters! They work with almost any outfit in almost any climate. They look great with skirts or jeans, under dresses, over dresses, under coats, on their own… I could go on and on!
I chose these three vintage-inspired sweaters for their shapes. The Sugar Plum sweater looks so comfortable with its slightly baggy shape. (It would work well with skinny jeans!) The Batwing sweater is a slouchier shape, which means it would go nicely with structured pieces like a great pencil skirt or your favorite dressy jeans. Finally, the Izzie sweater is so prim and cute, it would look great with just about everything!
When looking for sweaters in vintage and thrift shops, pay attention to detail: look for great patterns, shapes, and embellishments. As always, watch out for holes or tears and make sure the fit is right – sweaters can stretch over time, so you might not wear your usual size. Also, pay attention to laundering instructions on your vintage sweater! Make sure you recognize what fabric it's made out of and whether or not it needs to be dry cleaned!
Keep reading to learn how to wear these fabulous sweaters!
How to Wear a Vintage-Inspired Sweater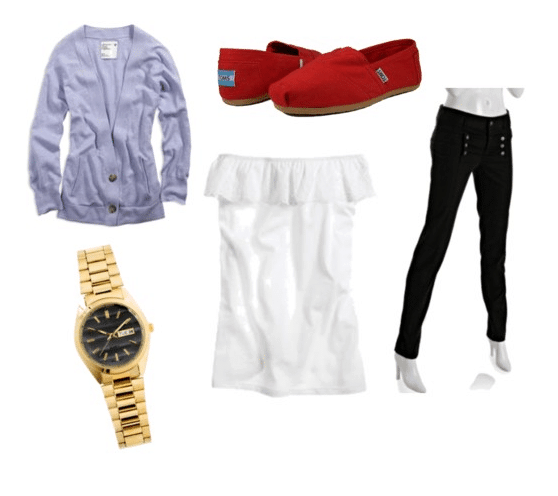 Product Information: Olivia Skirt – Delia's. Snap Collar Leatherette Jacket – Forever 21. Ruffled Faux Leather Ballet flats – Old Navy. Betsey Johnson Patchwork Bow Drop earrings – Zappos.
I decided to pair this muted brown sweater with a pretty purple skirt – it provides a pop of color without overwhelming the standout design of the sweater.
Some chic flats and a great (faux) leather jacket provide a little bit of contemporary flair. (Of course, you could always skip the jacket if you just want to show off the sweater.) If it is especially cold where you live, I would add some dark tights or leggings to give a little bit of warmth in the leg. You could always switch out the skirt for a great pair of jeans – I think a medium wash denim would look great with this sweater as well.
What do you think?
What do you think of these vintage-inspired winter items? How would you wear these coats and sweaters? Let me know in the comments!