It's time for me introduce you to another West Virginia University fashionista! Abby is a golden hour queen. Her vintage denim overalls will entice you to go on a thrifting spree, especially after you hear her stance on sustainable fashion.
From head to toe, Abby's ensemble brings forth a sense of nostalgia, while still being fresh.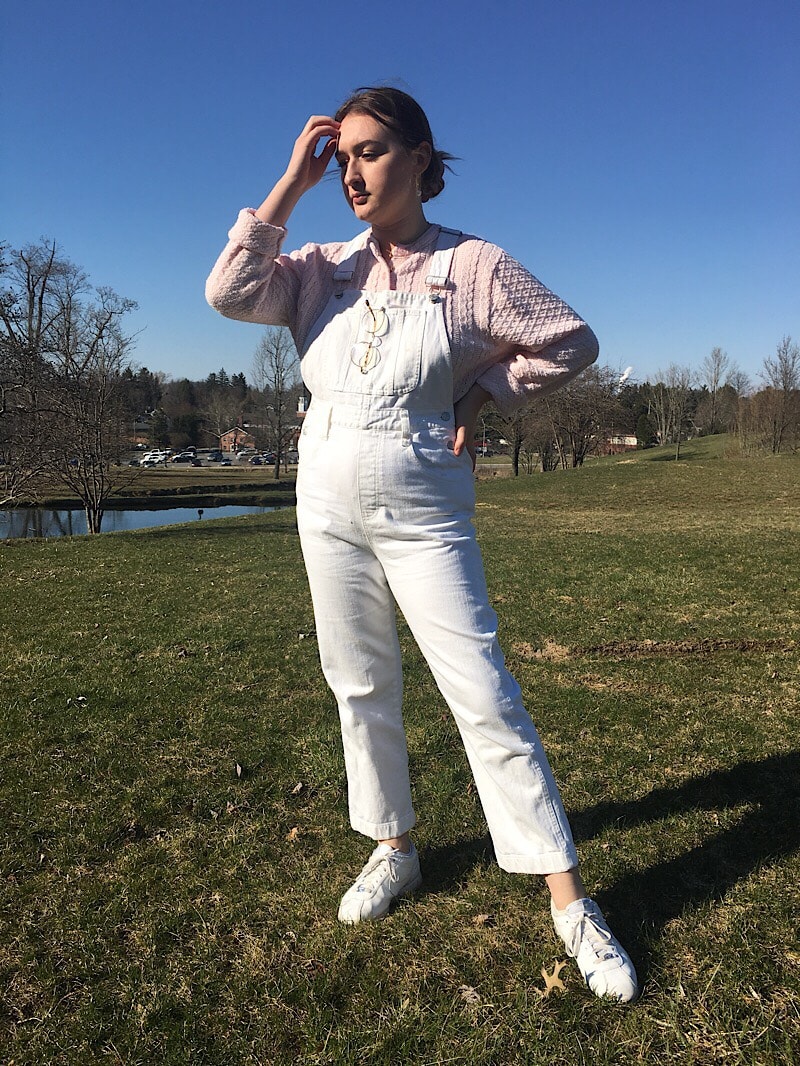 Abby 101
Name: Abby
School: West Virginia University
Year: Sophomore
Major: Fashion, Dress, and Merchandising
Hometown: Lewisburg, WV
Let's Talk Fashion
Who or what inspires your style? "Right now I am most inspired by beautiful colors. For a long time I only ever wanted to wear neutrals, but nowadays I'm really drawn to baby pinks, blues, and lavenders. I also follow so many people on Instagram whose style[s] I really admire. Some of my favorites are @wearilive, @harlingross, @sami.stasia and @minamigessel… and I'm always reading the blog Man Repeller because they feature the kinds of trends I'm interested in."
Where do you like to shop? "My closet is 99% composed of secondhand items. So mainly I shop at thrift stores but if I'm looking for a specific item or something name brand, I usually buy it from Depop or sometimes Poshmark. As far as brands go, I love basically everything from Madewell. But I like buying specific things from specific places. For example, I love Girlfriend Collective's activewear but J. Crew's swimwear, and if I want to splurge on a girly blouse or dress, I'll hit up Reformation."
How would describe your sense of style? "Very comfortable, vintage, and fun. I think I accidentally reference the '90s a lot just because I am almost always in vintage denim. I feel the most myself when I'm in something really comfy, but still put-together. I have a hard time really defining my style because my wardrobe is just a bunch of different items I feel drawn to. I try not to buy something unless I'm totally in love with it."
Why did you choose this particular outfit? "I'm all about practicality! I try to dress for the weather and whatever I have planned for the day. Today it was a little chilly, so I paired this cardigan under my favorite overalls (which are my go-to when I don't know what to wear). I like the way the baby pink looks with the white denim. Then I just threw on my Nikes because I am going to the gym after class. Today I carried around my backpack because I was in class all day, but if I were to wear this out, I would pair it with a canvas tote… the only kind of bag I carry!"
Do you have any favorite trends? "Like I mentioned earlier, I love all the colors happening right now! I'm also very here for fleece pullovers on any occasion, crop tops, jumpsuits [and] coveralls, long-but-not-quite-capri shorts, and puffy sleeves. I like bike shorts if paired with a sweatshirt [a la] Princess Diana in the '90s. And I will probably never be over scrunchies, polka dots, or gingham!"
What fashion advice would you give to other students looking to improve their style? "Learn to differentiate between trends you really love and trends you just like because everyone else is wearing them. This has been my biggest challenge as I continuously try to construct the perfect wardrobe. I want to wear things for more than one season without getting tired of them. Also, do your best to avoid fast fashion! I used to buy a bunch of fast fashion clothes at once and wonder why I was never satisfied with my closet. It was because the items weren't good quality, the fit wasn't how I wanted it [to be], and they were very trendy so I would either get tired of them or they'd fall apart after a season."
Do you have any favorite fashion designers? "I love Rachel Comey. I also really enjoy Mansur Gavriel, Ganni, and Shrimps. They're all very wearable to me, which I appreciate. Most of the designers and brands I like are smaller and less expensive/more accessible, but there's far too many of those to name!"
What do you do for fun? Do you have any unique hobbies or interests? "I'm really interested in cooking. I try to avoid animal products so I cook a lot of my own plant-based meals. It's a good creative outlet that I can express everyday. I also love plants and consider myself an indoor gardener and an aspiring outdoor gardener! I have I think thirteen plants and they're all my babies."
If you could raid anyone's closet, who would it be? "Probably Jenny @wearilive! She's my favorite YouTuber. She has the most amazing thrift finds. But I would also be glad to raid any of my other style inspirations' closets."
Elements of Abby's Outfit
1. Pink Sweater-Top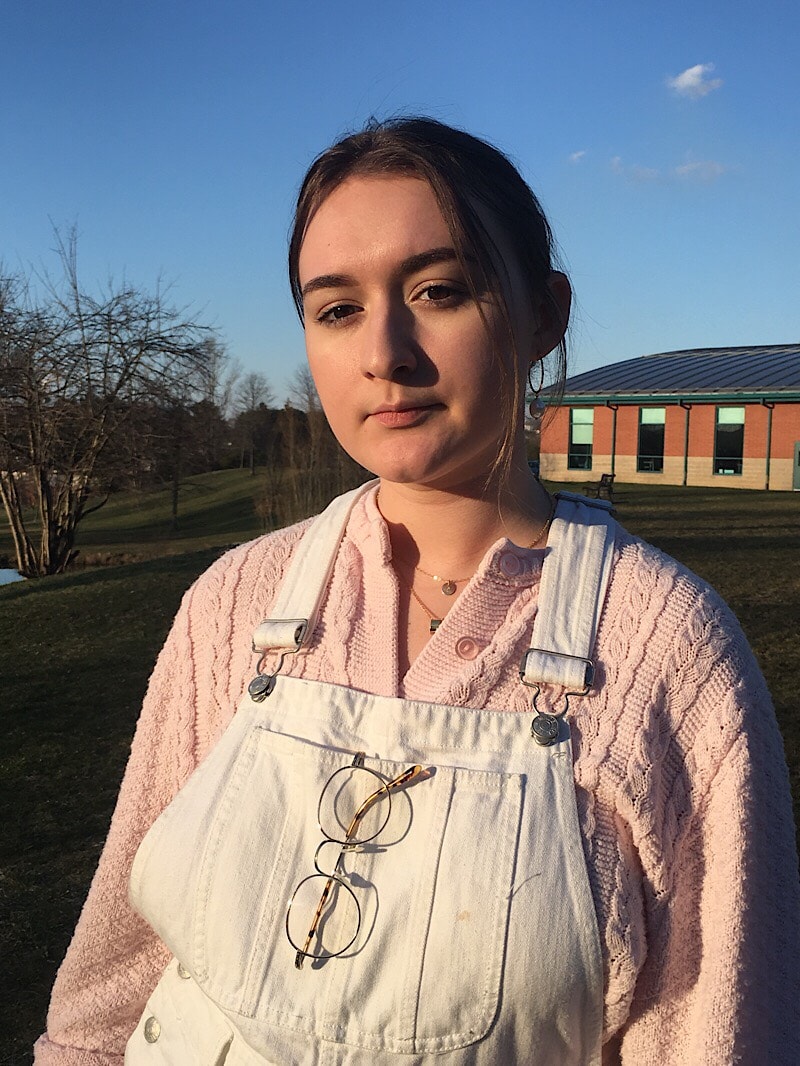 Abby's pink sweater is a vintage thrift find worn under her white denim overalls. It's a hybrid between a top and a sweater, making it a cool and unique closet treasure. It is a chunky knit, which is an interesting choice to pair under overalls, but it works (like, totally works).
2. White Denim Overalls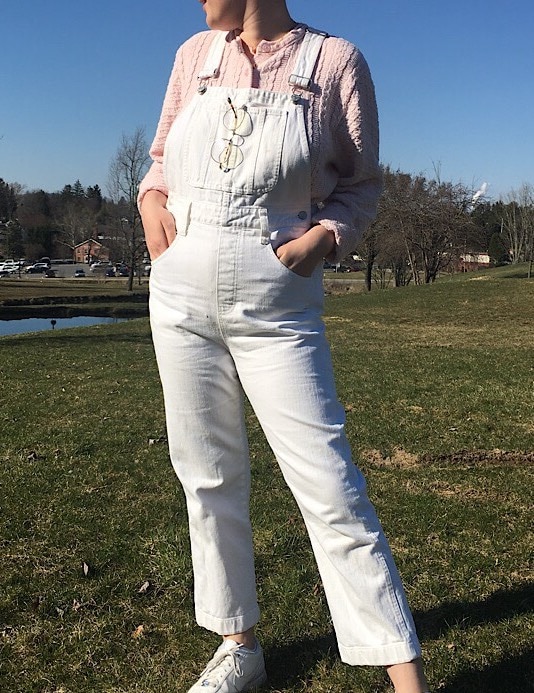 Abby was quick to tell me that she bought these cropped Madewell overalls secondhand from Poshmark. "I'm all about sustainability and ethics in fashion, so I do my best to make as little impact possible with my shopping choices. I already love vintage clothing so it's not too difficult to lean towards secondhand clothing," she says.
3. Wire-Rimmed Glasses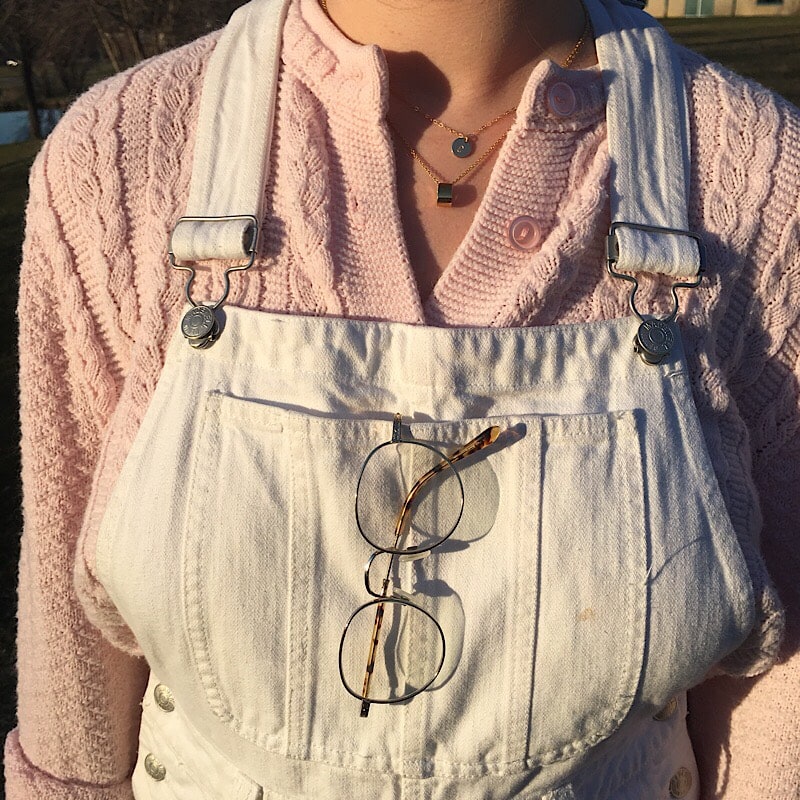 These simple, wire-rimmed glasses are a cool and practical accessory. The silver metal even matches her buckle clasps! She also added a couple of dainty necklaces which glint in the sunshine.
What do you think of Abby's outfit?
Are you also interested in sustainable fashion and thrifting? Do you love white overalls too? Let us know below!