This post may contain affiliate links, which means we may receive a commission if you purchase through our links. Please
read our full disclosure here
.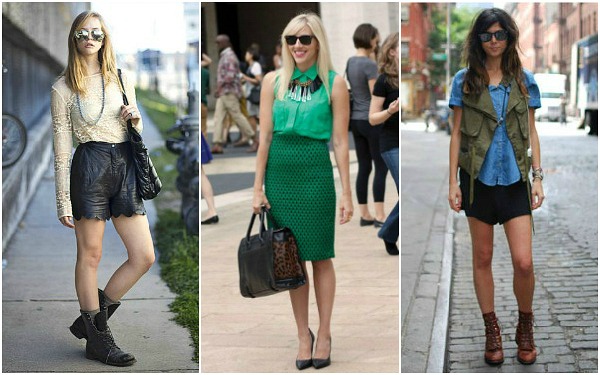 Photos: ELLE
Whether it comes from a magazine, a store display, or Pinterest, fashion inspiration can be found just about anywhere these days. Here at College Fashion, we love to feature outfits inspired by celebrities, TV shows, movies, and music – it's honestly hard not to get new ideas.
However, sometimes even if we see something we would like to wear, we don't always know how exactly to do that. That's where I come in – I'm here to teach you how to replicate an outfit you fell in love with.
Below, I'll give you five easy tips for recreating an outfit you like. For this post, I used street style photos as an example, but these tips can be applied to any source of fashion inspiration.
1. Choose an attainable goal
Don't start with just any photograph that catches your eye. Try to look for outfits that include pieces you already own, or items that can be easily replaced by something similar from your own closet. To help you do that…
2. Break it down
The key here is to understand why that particular outfit captured your attention. Analyze it from head to toe and pick up the different pieces that make it a whole. Notice what complements what. For instance, a top may be "meh" when paired with jeans, but if you wear it with a skirt, suddenly everything just falls together. Look for these hints.
I'm going to give you an example – when I saw this picture, I was instantly drawn to the very masculine, casual vibe of this outfit.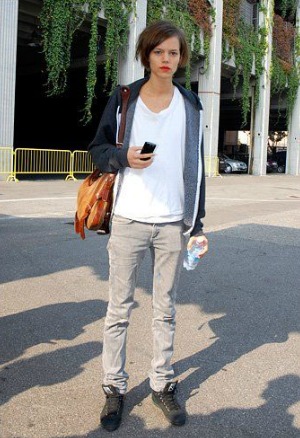 Photo: ELLE
At a first glance, it looks like a very basic everyday outfit: jeans and a white t-shirt. But, there are two elements that bring everything together – the bag and the lipstick. These extras really add polish to an otherwise casual look.
In recreating this ensemble, I only used what I had in my closet, which means that the final version doesn't look 100% like the photograph, but the main elements are the same: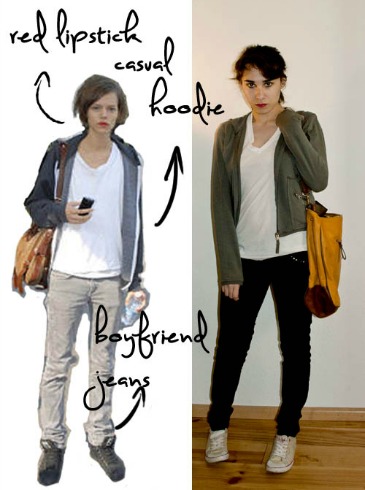 3. Don't go out and buy every single piece
Of course, you might not own everything you need to recreate an outfit found on the internet (or in a magazine), but that doesn't mean that you have to rush to the mall and grab the exact same skirt, shoes, or blouse. I'm sure I don't have to tell you this, because I know that CF readers are clever girls, but you should improvise and get creative!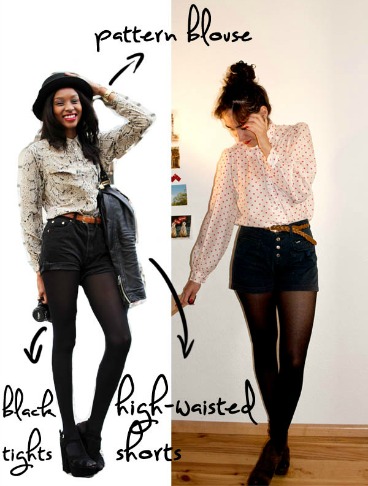 Photo on left: ELLE
In the case of this look, I already had most of the pieces, except for a similar blouse. The one the girl is wearing has a beautiful snake pattern, but since I didn't have anything with an animal print on it, I decided polka dots would do the trick.
Also, I don't own a hat like hers, but I figured I'd wear my hair in a messy bun for now and perhaps invest in a similar hat later. Sometimes you have to compromise, which brings me to my next point.
4. If you don't have all the pieces, focus on either shape or color.
This is important. If you can't copy every detail, take one element and work it into your own outfit. Usually, there are two main parts that contribute to creating a cohesive look – shape and color. Take, for instance, this picture: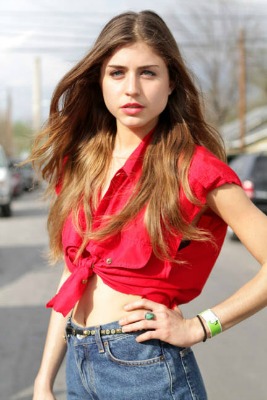 Photo: ELLE
You might want to start by looking for a short red top with no sleeves. Or, you could focus solely on the color and replace the blouse with basically any top, as long as it's red. Try and aim for something that is shorter (a crop-top) or try a t-shirt that would allow you to knot it.
As for the bottom, any pair of high-waisted jeans would look just fine and – as long as you pay attention to the accessories used – your outfit shouldn't be too different from the one above!
5. If it doesn't look the same, just use it as a starting point for your own amazing outfit!
Lastly, I want you to know that sometimes it all just doesn't work. Unless you go out and buy that exact copy of the dress or t-shirt you like, the final outfit may not look the same as your inspiration. But that's okay, because any type of fashion inspiration can be used as a jumping-off point to create your own fabulous, one-of-a-kind look!
What do you think?
Do you recreate outfits often? I usually use fashion blogs for inspiration to get me going, but I liked trying to copy an entire look. Do you have any tips to add? Let us know what you think!