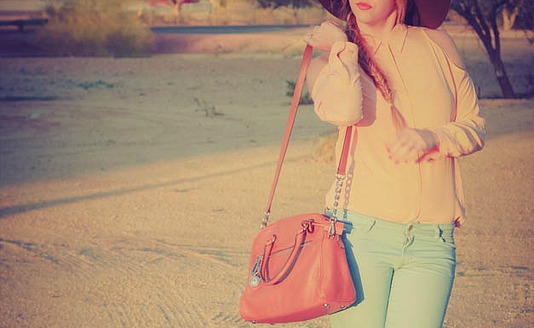 Spring is finally here and — if you're anything like me — you cannot wait to infuse your wardrobe with a little bit of color!
Aside from being a great way to update you current pieces for warmer and sunnier weather, colorblocking has also been a major trend the last few seasons. I love colorblocking because it strikes the right balance between daring and easy to pull off. Also, you probably already have the pieces you need to rock a great color-blocked outfit sitting in your closet!
It's still freezing here in Oklahoma, but that doesn't mean your outfits have to look dreary as well. Read on for a few quick and easy outfit ideas that utilize colorblocking!
1. Go snappy casual with a jacket, shoes, and a necklace.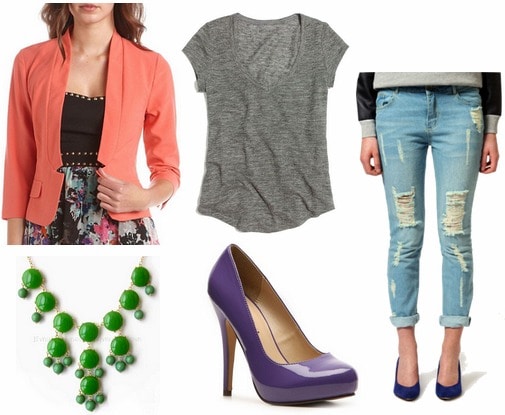 Blazer, Shirt, Jeans, Shoes, Necklace
One of the easiest ways to incorporate color into your wardrobe is with bright accessories like jewelry, shoes, purses, or belts. Don't worry about clashing — the whole point of colorblocking is to boldly combine colors. As long as you stick to combining just 2-3 different bold shades, you'll look on-trend and chic, rather than like a walking rainbow.
There's something I just love about the look of tattered, casual boyfriend jeans paired with high heels. This combo will look especially chic with a snappy casual blazer in an on-trend coral color. Finish with an emerald green statement necklace.
For variations of this outfit, swap out the blazer for a colorful cardigan or sweater, replace the heels with colored sneakers or wedges, or get adventurous with the t-shirt you wear underneath the jacket. With a neutral base like jeans, the possibilities are endless!
2. Dress it up with lipstick and heels.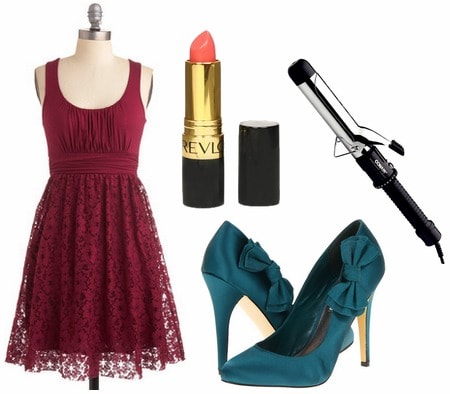 Dress, Shoes, Lipstick, Curling Iron
Another very creative way to colorblock is to use your body — literally!
A bold lipstick hue always looks fresh and springy, plus, it's just an adorable way to play with color. To keep your lips from clashing with your outfit, be sure to choose a lipstick shade that's very different than anything you're wearing. Red lipstick looks great with purple-toned clothes, while tangerine-colored lips will work great with a hot pink ensemble.
For this look, I thought a raspberry dress would look amazing with a bright coral lip. These turquoise heels complement the rich, vintage-y feel of the dress. For the finishing touch, use a curling iron to create loose, romantic waves in your hair.
3. Look bold with a brightly colored trouser and top.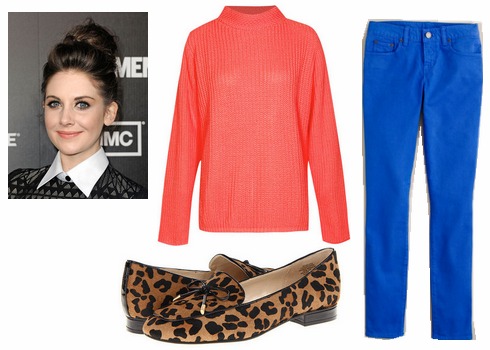 Hair Photo: ELLE | Shoes, Sweater, Pants
For the fashion-fearless, the most obvious way to colorblock is to take the trend literally and wear one bold color on top of another!
Thanks to trendy colored pants, these kinds of looks are extremely popular on college campuses. If you live in a place that stays cold well into March and April, this method is also a neat way to wear cheerful, spring-esque clothes while still staying warm enough to feel comfortable. When rocking this look, be sure to wear a cute pair of shoes: These leopard loafers are a fashion-forward touch, but you could even go with another solid color if you wanted to!
To finish a stylish look like this, a ballerina bun will look right on-trend, but won't take attention away from your bold outfit. If buns aren't your thing, a sleek pony or deep side part would look equally as ravishing.
What Do You Think?
Do you ever colorblock? What's your favorite way to work this trend? What are some of your other favorite fashion trends? How to you work pops of color into your springtime outfits? Leave a comment and tell us what you think!