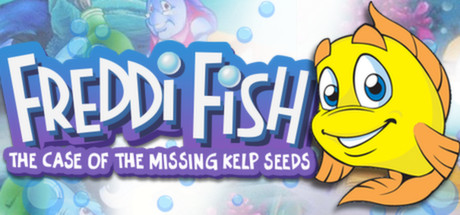 First things first, I know that this game is for children. In fact, it's not just for children: It's recommended for children ages 3 to 8.
However.
I think this game deserves some attention in our video game fashion column. Though it may be for kids, it's a great kids game: This series fueled my childhood. These games took hours (and maybe even days) to finish.
Freddi Fish is a series about a bright, young fish named Freddi that solves mysteries underwater with her friend, Luther. Most of the games are innocent in nature, but they are complex enough to keep kids interested through the finish, which, like I said, might take days.
As you can probably tell from this post and a bunch of my previous ones, I was not an outdoorsy kid. Although probably unhealthy, I would sit in front of the computer, clicking back and forth through scenes in the game, trying to figure out what to do next. And I wouldn't stop until my parents cut me off. So this game is still special to me.
This week I've come up with three outfits inspired by my favorite underwater detective and her fishy friends.
Freddi Fish
Freddi is our fun-loving protagonist that always finds herself in some sort of trouble. Although her job mainly consists of her hunting down "ghosts" and bad guys, she doesn't let that get to her.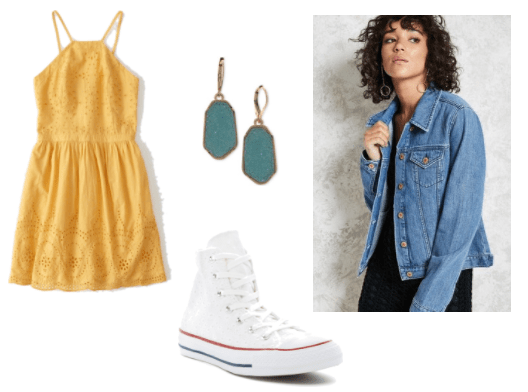 Products: Shoes – Nordstrom Rack, Earrings – Macy's, Jacket – Forever 21, Dress – Abercrombie & Fitch
To channel some of Freddi's sweetness in your own wardrobe, start off with a bright yellow skater dress. Accent the yellow dress by throwing in a pair of white, hi-top converse and a denim jacket and lastly, as a slight homage to the sea, add a pair of aqua blue, stone drop earrings.
Luther
Luther is Freddi's goofy and mischievous best friend. Though he's adorable and hilarious, his personality can – and often does – get him into trouble. However, he's always down to help Freddi solve a case when she needs him.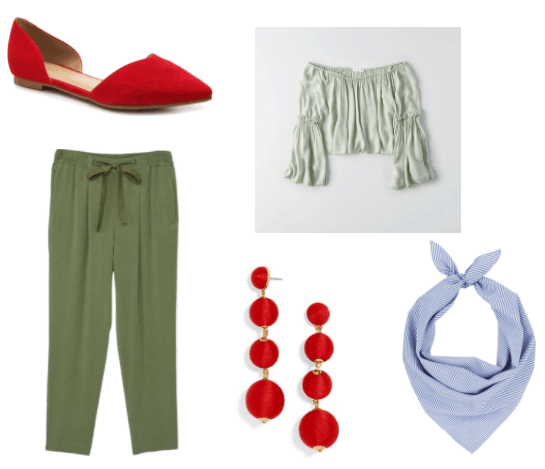 Products: Pants – Mango, Earrings – Nordstrom, Bandana/Ascot – Barneys Warehouse, Shirt – American Eagle, Shoes – DSW
Rock Luther's signature color by pairing some green trousers with a light olive, bell-sleeve, off-the-shoulder top. Keep everything fun and fresh with some red flats and a pair of matching red ball earrings. Tie everything together with a trend that's been sweeping the nation: the ascot. Try out this blue, striped one you'll be ready to take on any criminal in style.
Grandma Grouper
Grandma Grouper is one of the most underrated Freddi Fish characters. She is Freddi's loving grandmother and although she only appears in a few of the games, she is a very important one because Freddi doesn't really have any other family members present in the games.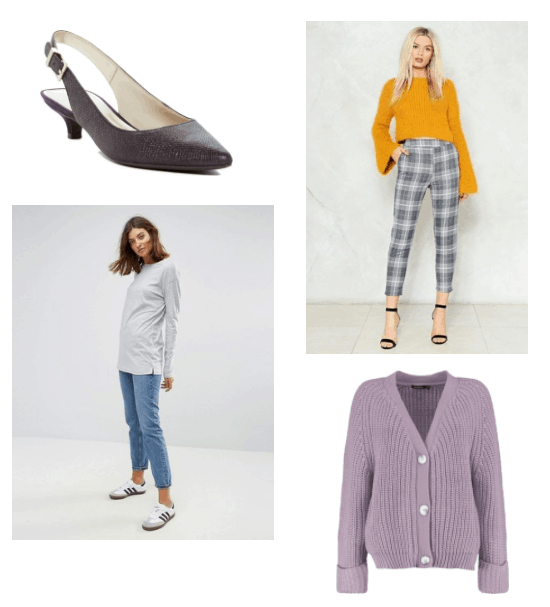 Products: Shirt – ASOS, Cardigan – Boohoo, Pants – Nasty Gal, Shoes – Amazon
As one of the few characters that actually wears clothes in the game, Grandma Grouper's outfit set was a bit easier to work with. However, she only really wears a large apron-like dress, so I'm going to show you how to incorporate some "granny chic" into your own style, in a loosely inspired manner.
Oversized everything is the move when it comes to "granny chic", so begin with a simple, grey oversized t-shirt and an oversized, chunky, purple knit cardigan. Pair those with some plaid pants and finish the look off with a pair of granny-chic kitten heels.
What do you think?
Did you play any of the Freddi Fish games when you were a child? If so, which of them was your favorite and how long did it take you to finish it? Also, let me know some of your favorite childhood games in the comments below!