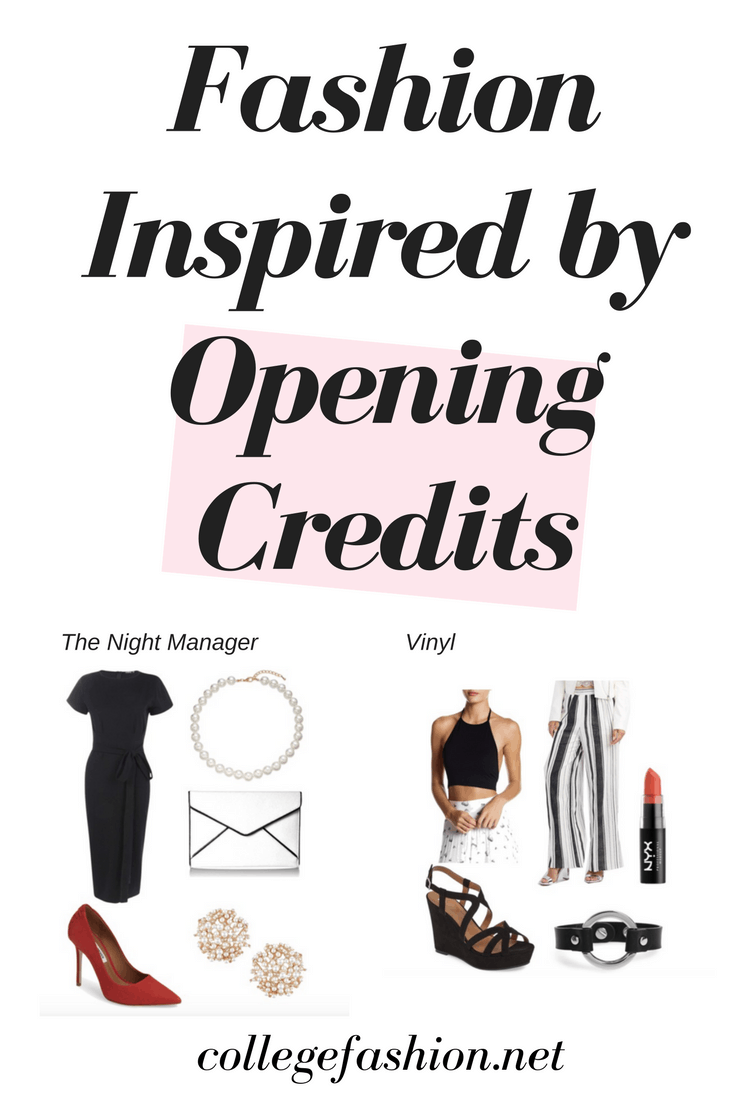 Continuing on the series of outfits inspired by opening credits (see the first post here), I will be covering the critically acclaimed dramas, The Night Manager and Vinyl. Today I'll also be covering the series' first movie – I'm kicking it off with the horror film, The Neon Demon.
All of these outfits are perfect for a night out!
Opening Credits Fashion #1: The Night Manager
The Night Manager (TV series) / Title sequence
The Night Manager is one the most critically-acclaimed miniseries of the year, having won both Golden Globes and Emmy Awards.
The show stars Tom Hiddleston and Hugh Laurie and focuses on a hotel manager who is recruited by an intelligence operative to investigate Washington DC.
The title sequence perfectly portrays the mysterious atmosphere of the show, mixing in high-end, gilded objects for a luxurious feel.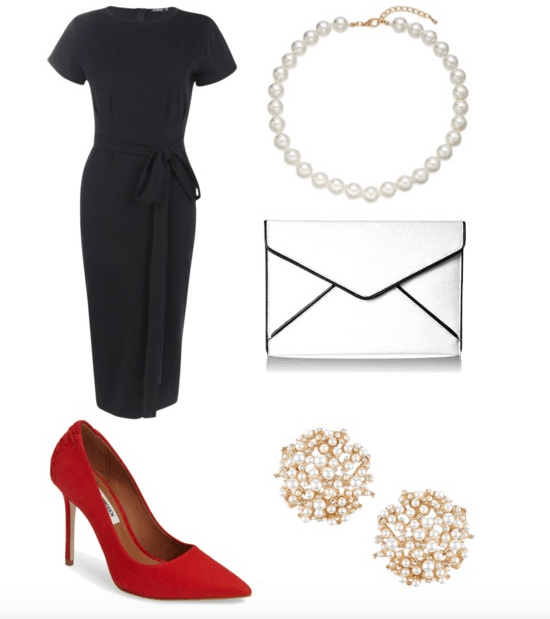 Products: Dress – Boohoo, Necklace – Saks Fifth Avenue, Clutch – Amazon, Heels – Amazon, Earrings – Dillard's
When I first saw the opening sequence, all I kept picturing was an evening outfit that channels your inner bond girl. Of course, you should start with an intimate black dress and classic white clutch.
A pearl necklace features in the theme, so why not pair it with your dress? Match the necklace by adding these faux-pearl earrings.
Even though the sequence itself is very neutral, a mysterious show requires a pop of drama, so finish the look with a pair of sexy red heels.
Opening Credits Fashion #2: Vinyl
Vinyl: Opening Credits (HBO)
This HBO show was one of my favorites. It received positive reviews, however it wasn't picked up for a second season.
Despite the cancellation, Vinyl still had a great run, and I totally recommend it. It stars Bobby Cannavale and is produced by A-listers including Martin Scorsese and Mick Jagger.
I love how Vinyl's opening theme makes you want to explore the 1970s. Personally, it makes me wish I was chilling at a music store looking for Foreigner records, about to check out the local band playing at the bar.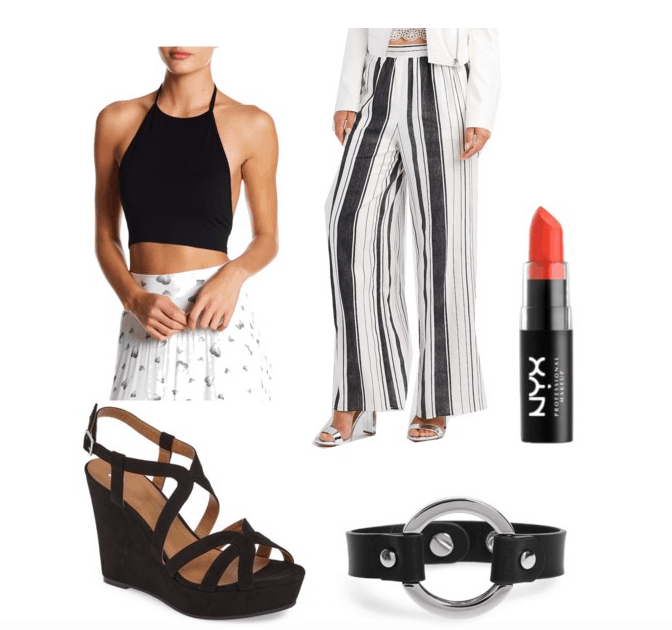 Products: Top – Nordstrom, Pants – Charlotte Russe, Lipstick – NYX Cosmetics, Wedge – Nordstrom, Bracelet – Nordstrom
Since the theme is all about the '70s, I decided to go for a '70s-inspired outfit. Like the Night Manager, the colors in the opening credits are neutral. Unlike the Night Manager, however, this opening sequence is funky.
Start off with these cute striped palazzo pants for a bold statement, then balance the bold pants with a simple black crop top. Wedges were big in the seventies so pair some with your outfit.
As with the previous outfit, don't be afraid to add a pop of color. Finish the look off with bright orange lipstick.
Opening Credits Fashion #3: The Neon Demon
https://www.youtube.com/watch?v=dxklnPiykf8
Now, let's move on to the movies. The Neon Demon, which we covered in-depth here, is an indie horror film starring Elle Fanning. The film is about an aspiring model in California whose career leads to bittersweet adventures in the industry.
What is fascinating about this film is that it's a horror movie, but it's more visually striking than your usual gory fare. When I think of a horror film, I immediately assume supernatural or serial killers, but this one is unique.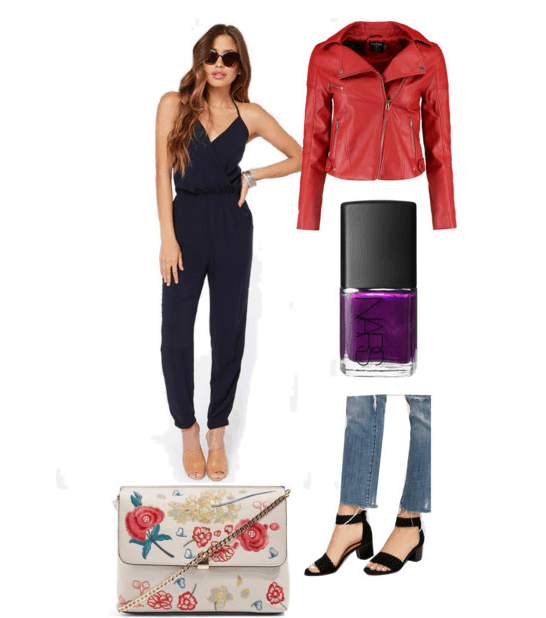 Products: Jumpsuit – Lulu's, Jacket – Boohoo, Nail Polish – Nordstrom, Heels – Lulu's, Bag – Nordstrom
The opening sequence of this film is, naturally, pleasing to the eye. From the ambient music to all of the colors, it's hard not to get inspired.
For my inspired outfit, I wanted to incorporate all of the colors presented in the theme. Blue hues appear a lot throughout, so begin with a blue jumpsuit. To depict the red lettering, add an edgy but adorable leather jacket. To reference the purple, paint your nails.
Finally, add a floral bag to depict all of the colors of the theme in one item. Now that you have so many colors in your look, finish off basic with some black heels.
What do you think?
Have you seen any of these dramas? Have you seen the Neon Demon? Which of these outfits is your favorite? Leave a comment below!