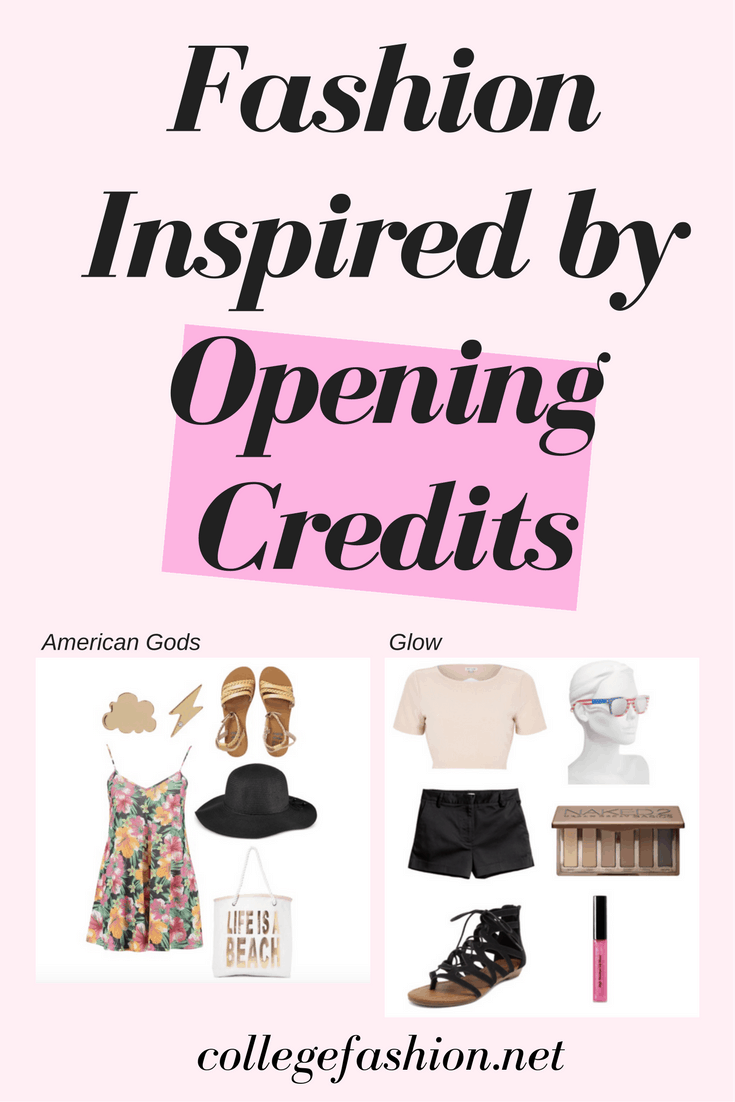 Here at CF, we're constantly inspired by film and TV show aesthetics. But while we're focusing on these movies and shows as wholes, we typically overlook the fascinating, and often visually stunning, first few minutes — namely, the opening credits.
There are so many striking title sequences out there, and we think they deserve a lot more appreciation.
So, today we're starting a new CF series, Fashion Inspired by Opening Credits. I will be covering opening credits from films and TV shows (and I'm open to requests in the comments!), plus outfits inspired by these sequences.
So let's kick off this column with TV, specifically three of 2017's hottest new shows:
Opening Credits Fashion #1 – American Gods
American Gods is one of the most hyped shows this season, based on the Neil Gaiman book of the same name. Season 1 aired this spring on Starz and is now available to stream on Amazon, too.
For those of you who aren't familiar with the show, it's about a man named Shadow Moon (portrayed by Ricky Whittle), who is released from prison and finds himself involved in a conflict between the New Gods and Old Gods, earthly incarnations of two groups of deities.
The title sequence is chilling and weird, but it's so intriguing. The theme displays various gods from different religions, and foreshadows the nightmare that Shadow Moon is getting himself into.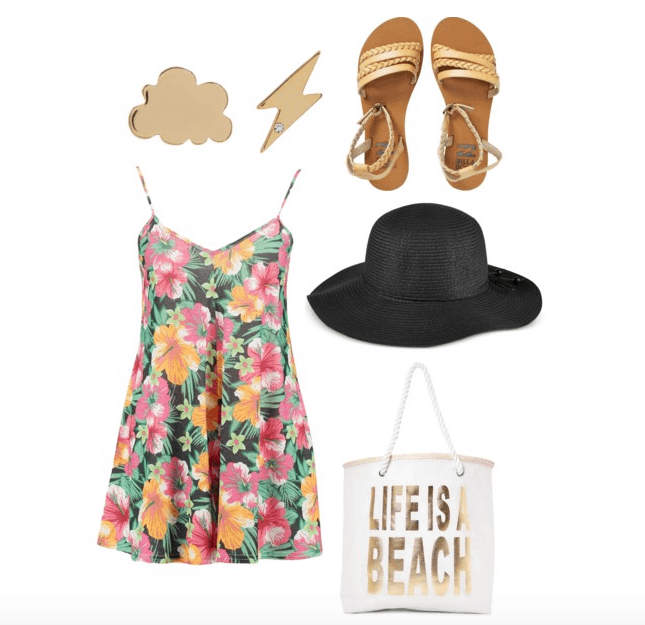 Products: Dress – Boohoo, Studs – Nordstrom, Sandals – Billabong, Bag – Nasty Gal, Hat – Macy's
The bold, almost tropical colors of the theme are perfect inspiration for a beach look. Start off with a floral sundress to match the color palette.
When I think of American Gods, I also think of a gold palette, which is why the accessories are almost all the same color. To get that beach vibe, add some cute sandals and a beach bag with gold lettering.
The theme is colorful, yet still has a dark tone to it, so add a dark hat to play off all of the light colors. Finish off the outfit with thunderbolt studs, inspired by Zeus, God of Thunder.
Opening Credits #2: GLOW
GLOW, which stands for Gorgeous Ladies of Wrestling, is definitely my favorite show of the summer! I absolutely adore its unique storylines and diverse cast.
The Netflix series stars Community's Alison Brie, who plays a struggling actress who joins the GLOW team for lack of other paying opportunities.
Unlike most shows, the opening credits for Glow only appear in a few episodes. There is also a different song per episode. So there's not exactly a theme song for this show. But the various themes they choose are always fun and upbeat.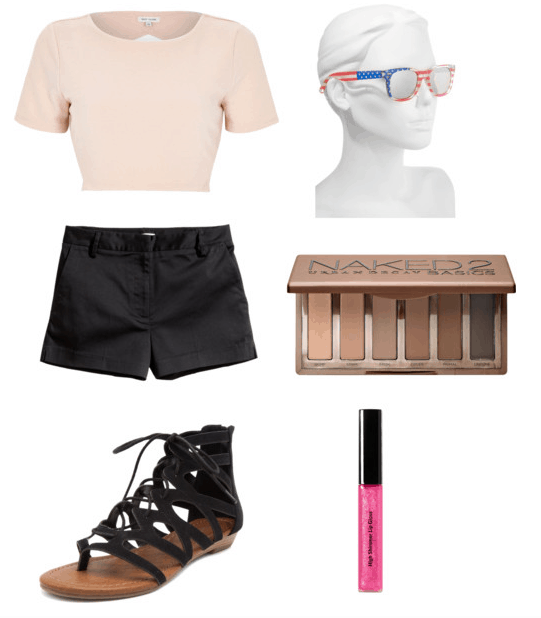 Products: Top – River Island, Shorts – H&M, Sunglasses- Nordstrom, Eyeshadow – Sephora, Lip Gloss – Lord and Taylor, Sandals – Amazon
The color scheme of the opening credits – and most of Glow itself – is pink and black, so follow these colors with your outfit.
Start off with some cute black shorts and a pink crop top to channel a female wrestler. Speaking of these gladiators, throw in a literal reference with some gladiator sandals.
Some of the wrestlers have patriotic pride, so rock your American flag shades. To further channel the neon colors of the opening credits, paint your face with pink lip gloss and eyeshadow.
Opening Credits Fashion #3: Anne with an E
Based on the book by Lucy Maud Montgomery, Anne With An E (which we've covered before here and here) follows the adventures of Anne, an orphan from Prince Edward Island in 1800s.
I'm from Canada and Anne of Green Gables is a huge part of our Canadian heritage. So it's amazing to see this story recognized worldwide! Needless to say, I'm a big fan of the series.
The opening credits begin with Anne in a wintry landscape. Soon, she starts to bloom. As soon as she rises, the seasons changes from winter to spring. (Fun fact: The theme song is by Canadian rock group, The Tragically Hip.)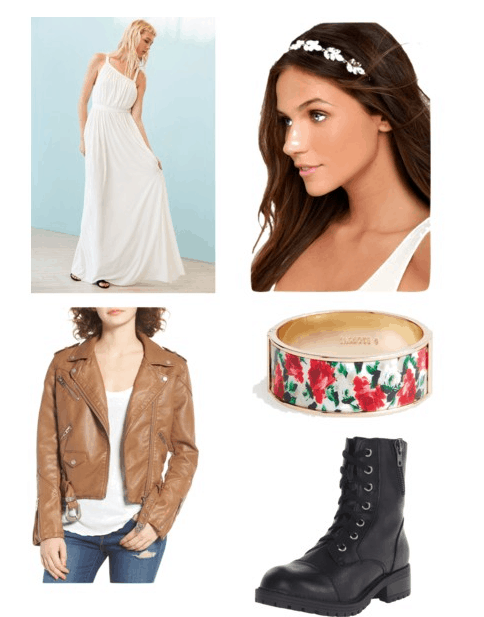 Products: Dress – Urban Outfitters, Headpiece – Lulus, Jacket – Nordstrom Rack, Bracelet – Talbots, Boots – Amazon
This outfit not only reflects the opening sequence but also represents something Anne herself would wear. Just like the intro, this outfit has a winter/spring vibe (though it's likely too cold to wear this during a Canadian winter).
Start off with a full length white maxi dress. To get that bohemian vibe, match it with a floral headpiece and a bracelet. To give the outfit more of an edge, top it off with a leather jacket and combat boots.
What do you think?
Have you checked out any of these shows? Which one is your favorite? Which one reflects your style the most? Which outfit is your favorite? Let us know what you think by leaving us a comment!