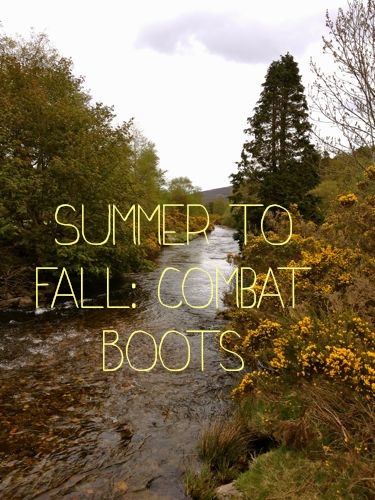 Combat boots were definitely my most worn boot last year and I have a sneaking suspicion they will be this year, too. Why, you ask? Well, these babies are oh-so versatile and can match almost any style. Likewise, they're great for transitioning from summer into pumpkin season!
To prove my point, I've put together two outfits incorporating my trusty combat boots. One is perfect for early fall, while the other is ideal for colder weather. Scroll down to check them both out:
Related reading: How to Style Combat Boots (+10 Outfit Ideas)
1. Fall Flowers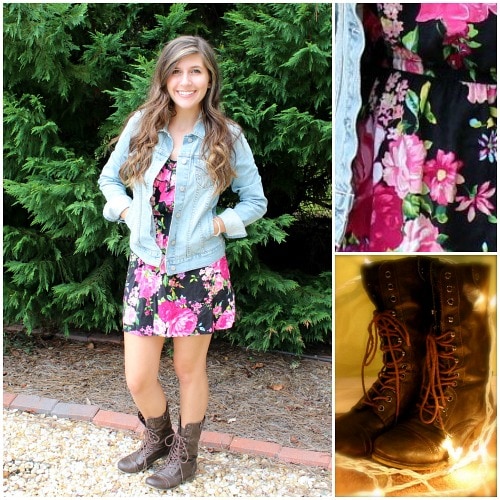 This outfit is great for those warmer, almost-fall days. I paired a summer dress with a denim jacket, although, if you have one, I think a denim vest would look pretty snazzy, too. I opted to leave my legs bare, but knee-high socks or tights would also be a stylish addition if it's chillier where you are.
As for the dress, who says floral is only for spring and summer? Like with most patterns, if the floral has a dark base – in this case, black – it's definitely appropriate for sipping pumpkin spice lattes and crunching on leaves on your way to class.
2. Sweater Weather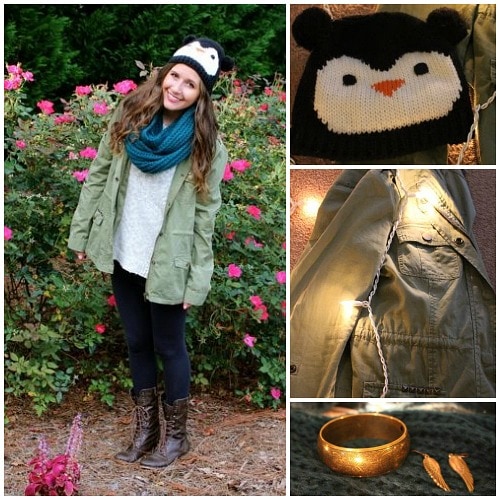 For colder days, there is nothing cozier than the oversized sweater and a chunky infinity scarf. Of course, you also can't go wrong with green utility jacket. On my legs, I went with some thick leggings, because as everyone knows, wearing pants every single day is hard. To not fall into the "leggings as pants" epidemic, just be sure your sweater covers what Miley Cyrus's outfit did not cover at the VMAs.
On occasion, a fun beanie with an animal (or a sassy phrase if you're feeling Cara Delevingne-inspired) can be a happy touch. Beanies keep the hair out of your face when walking to class on windy days, although I do recommend taking them off inside so people don't refer to you as the "Girl With the Penguin Hat".
Shameless plug time: to see an additional outfit featuring combat boots paired with jeggings, check out my Study Abroad post!
Tell me what you think!
What did you think of these outfits? Do you own combat boots? What do yours look like? Do you fold them over? What are you most excited about for fall? For me, I prefer my combat boots unfolded and I'm most looking forward to eating pumpkin pancakes at my school's dining hall!