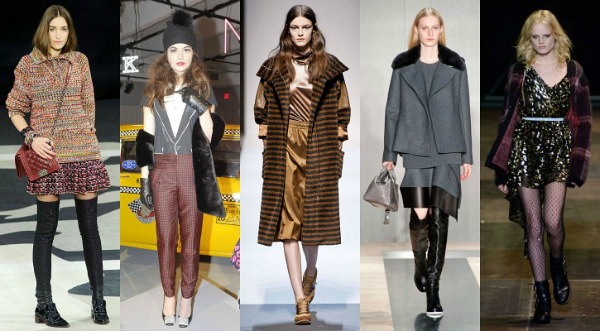 Chanel, Kate Spade, Max Mara, Reed Krakoff, & Saint Laurent Fall 2013 | ELLE
Although it may not feel like it, fall is about to arrive, and with it comes a fresh crop of new fashion trends. Below, we've rounded up five of the hottest trends for the fall 2013 season. The best part? They're all so easy to incorporate into the average college student's wardrobe! Simply scroll on down to check them out:
1. A-Line Skirts & Sweaters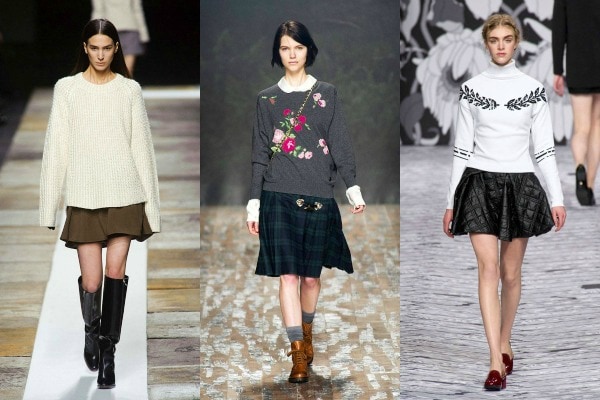 Theyskens' Theory, Blugirl, & Viktor & Rolf Fall 2013 | ELLE
Pairing skirts with sweaters is a big trend in general this season, but we especially loved the way that designers paired flouncy a-line skirts with cozy knit sweaters. The overall look is both cozy and feminine, and this combination was just made for layering with coats, tights, and boots during the colder months of the year.
This is also a cute, laid-back, and totally stylish trend to rock on campus in early fall, as shown in the outfit below:
Get the Look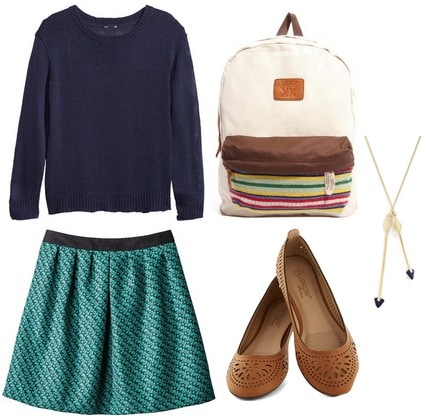 Product Info: Sweater- H&M, Skirt- Target, Backpack- ASOS, Shoes- ModCloth, Necklace- ModCloth
2. Knit Beanies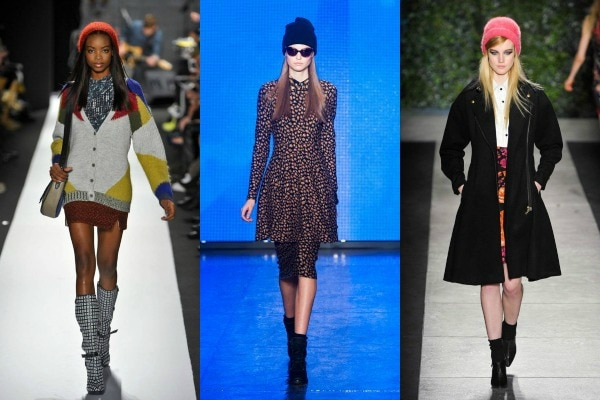 Rebecca Minkoff, DKNY, & Tracy Reese Fall 2013 | ELLE
After being featured heavily on the fall 2013 runways, knit beanies are no longer just an essential for covering up bad hair days. These über-trendy toppers can be worn with everything from jeans to dresses, plus, they're super practical for cold weather. That makes them a definite win-win in our book.
Hot Picks for Fall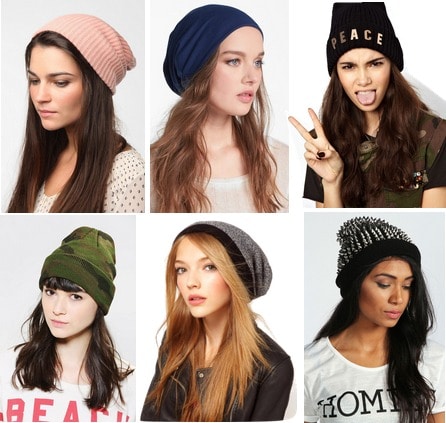 Product Info: Top Row- Urban Outfitters, Nordstrom, ASOS | Bottom Row- Urban Outfitters, ASOS, Boohoo
3. Statement Coats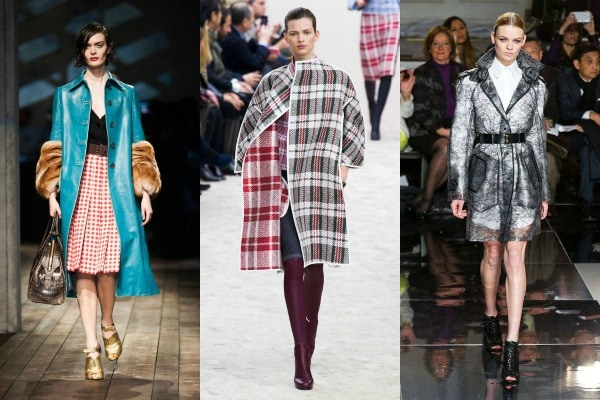 Prada, Celine, & Jason Wu Fall 2013 | ELLE
Need to pick out a new coat this season? Go the trendy route and snag a chic statement coat. Whether you decide on a bold color, a fun pattern, or even an unconventional material or shape, make sure your outerwear has that wow factor for fall.
Hot Picks for Fall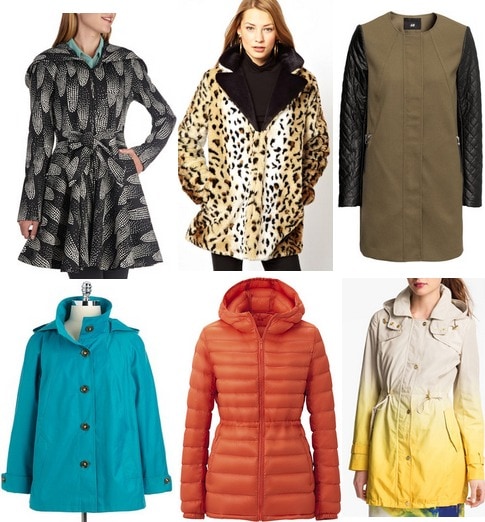 Product Info: Top Row – ModCloth, ASOS, H&M | Bottom Row – Lord & Taylor, Uniqlo, Nordstrom
4. Over-the-Knee Boots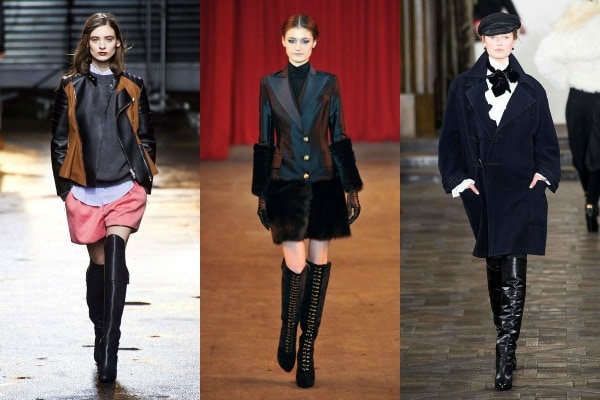 Phillip Lim, Christian Siriano, & Ralph Lauren Fall 2013 | ELLE
Boots will forever be a fall must-have, but this season, one trend is sticking around – it's all about the over-the-knee versions. These full-coverage boots look oh-so-stylish when worn with dresses and skirts, but we also love pairing them with super-skinny jeans for a more casual vibe. Go for a classic brown or black pair and you'll have a chic wardrobe staple that you can wear for years to come.
Hot Picks for Fall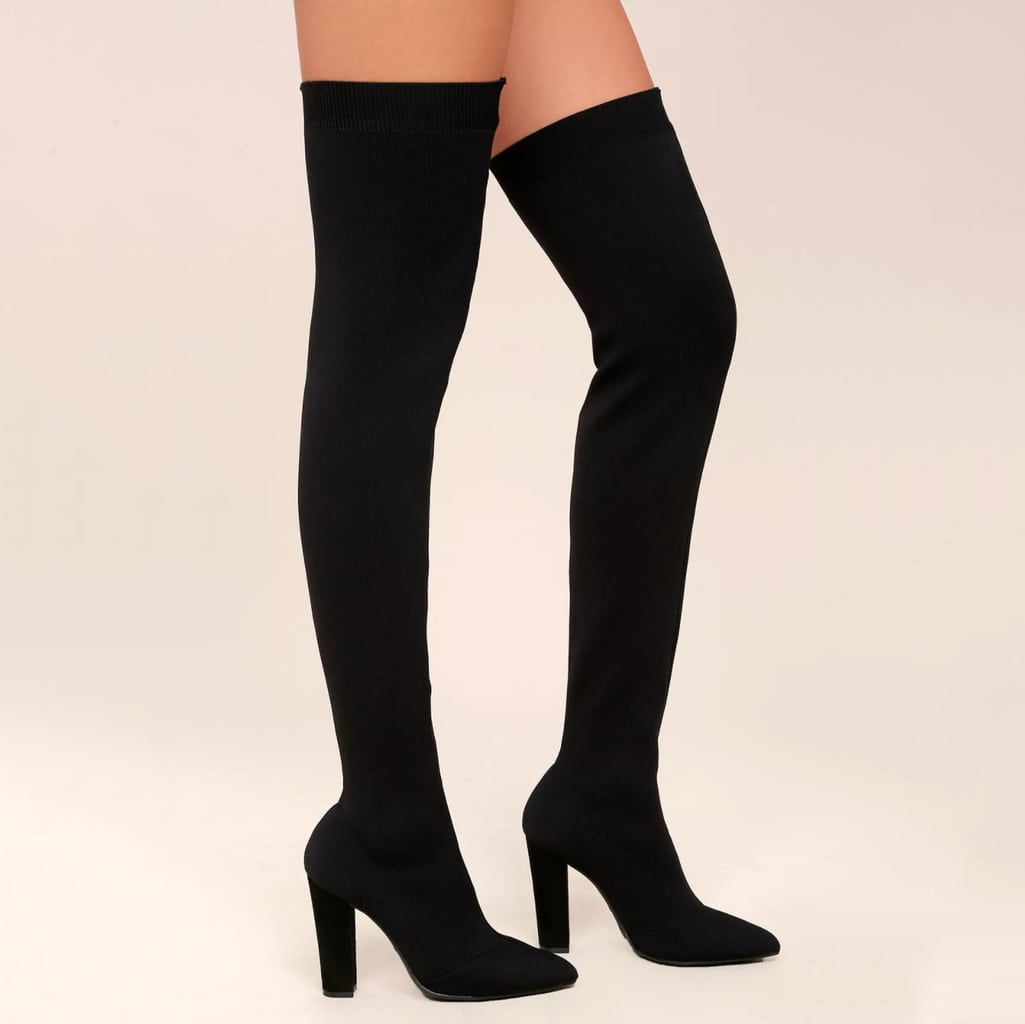 Product Info:Delia's, Amazon, Amazon, Chinese Laundry
5. Grunge-Inspired Looks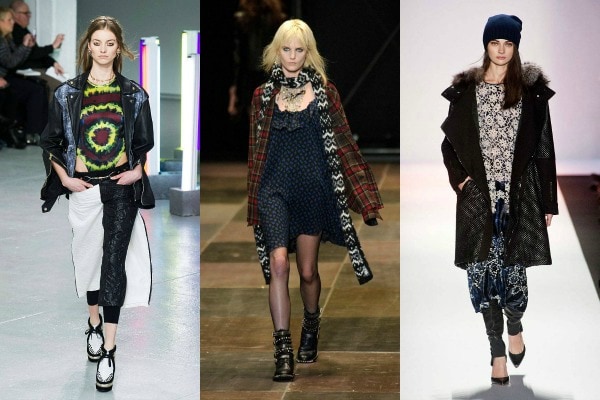 Rodarte, Saint Laurent, & BCBG Fall 2013 | ELLE
There's no doubt that '90s fashion is making a comeback, and this fall nothing is hotter than grunge-inspired looks. From flannel and band shirts to thick-soled shoes to beanies, expect to see grunge-inspired styles popping up in stores everywhere this season.
When wearing this trend on campus, we adore the idea of juxtaposing a grungy flannel button-up and boots with a simple, yet feminine dress, as shown below:
Get the Look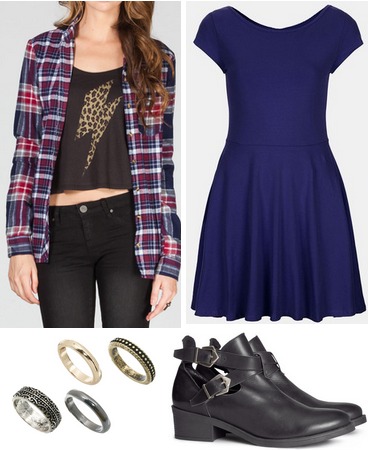 Product Info: Shirt- Tilly's, Dress- Nordstrom, Rings- ASOS, Shoes- H&M
Your thoughts?
What do you think of these trends? Which one of them is your favorite? Will you be rocking any of these trends for fall? Tell us your thoughts by leaving a comment below!