This post may contain affiliate links, which means we may receive a commission if you purchase through our links. Please
read our full disclosure here
.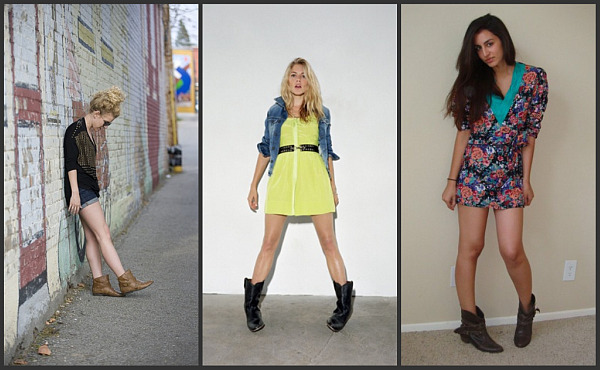 Photo Credits: 1 – Andrea via Blonde Bedhead, 2 – Twenty8Twelve Spring 2010 Lookbook, 3 – Elora
When summer comes around, most girls put away their favorite pair of boots and start shopping for colorful gladiators and open-toed flats. This summer, however, is different: Boots aren't going away. To switch things up a bit, bloggers, designers, and regular fashionistas are turning to boots worn with bare legs, a look that's a little unexpected in the summer season. When you tire of your go-to flip flops, boots offer a stylish alternative. Boots and bare legs add edge to summer basics and are the perfect trend for this week's Fashion Challenge.
Tips and Tricks for Rocking Boots in Summer
Go low. While knee-high (and even over-the-knee) styles were popular this past winter, higher boots are a bit too stuffy for spring and summer. Opt for ankle boots or mid-calf styles(like Picture 2, above) for a lighter look.
Lighten up. If you still feel like boots look too "heavy" for summer, look for lighter-colored styles. In Picture 1, Andrea wears a caramel-colored boot. Grey, and even white (like Jessica Stroup's, below), would also look great and would play up your brightly-colored summer wardrobe.

Experiment with styles. Many ankle and mid-calf boots have a western vibe. Even if you don't normally look to Dolly Parton for fashion inspiration, a western boot can add something extra to your look. In Picture 3 above, Elora's western ankle booties lend edge to her seriously girly romper. You can also try western boots as an alternative to grunge-y Doc Marten's with a floral mini dress.
Get The Look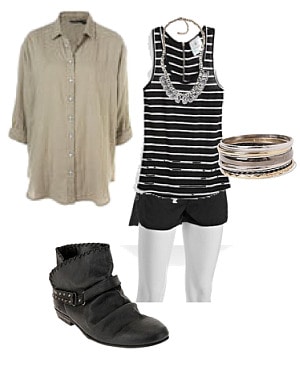 Product Information: Outfit #1: Black boots – Urban Outfitters, Military shirt – Topshop, Striped tank – Pacsun, Bib necklace – American Eagle, Bangles – Torrid, Shorts – BlueflyOutfit #2: Western boots – Aldo, Earrings – Accessorize, Floral dress – ModCloth
I wanted to prove that boots could work with two completely different styles. For Outfit #1, I went with a tougher look, inspired by a certain stylish starlet that "can't be tamed". For Outfit #2, I chose a sweet southern-inspired look. A western-style boot adds grit to a pretty floral dress. Boots can be worn in the summertime to add oomph to your already tough look, or toughen up a girly look; it's your choice.
So, will you take the Fashion Challenge?
How do you feel about boots for summer? Do you prefer a western or a rock-and-roll style boot? Or, would you forgo boots all together and remain loyal to your Havaianas?
Already work this trend? Send us pictures of you in your summer boots and we'll feature them here!* As always, we are open to suggestions for future fashion challenges and we'd love to hear from you!
* Send your outfit pictures to fashionchallenge AT collegefashion DOT net! – be sure to include your name and where you go to school, as well as a description of what you're wearing in the photo!