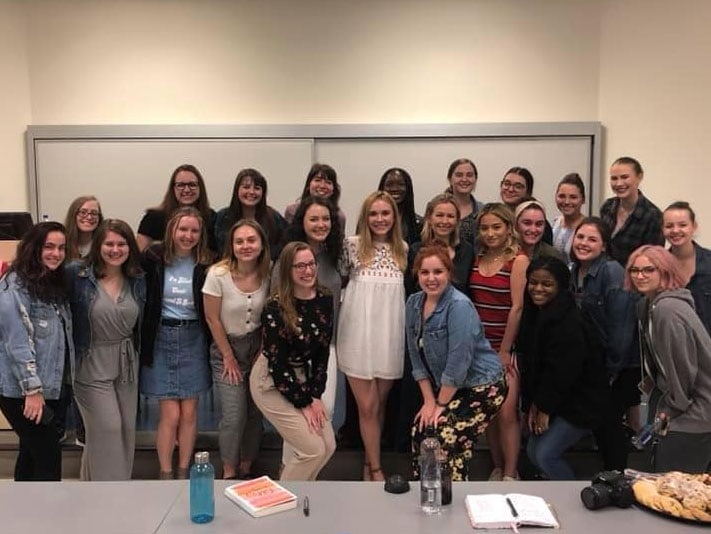 Here I am, a week away from graduating and absolutely freaking out over this new world of "adulthood" that I'm being forced to enter into.
It's a world where you hear more no's than yeses, where you have to grow a thick skin to make it through, and where you will have to work harder than you ever imagined. Though this new world of 'adulting' is a daunting place, it's also one that will surprise you and will lead you to a fulfillment you never imagined.
They don't teach you that in college.
Yes, you're given those building blocks to be successful after school, but they don't show you how much heart it actually requires.
A few weeks ago I attended a dream job panel at my university where I was able to see firsthand what it takes to get to a place you love — in this instance it was fulfillment within a career. The three women who sat on this panel (including Serena F Kerrigan of Refinery29!) talked about their lives, getting what they wanted, and never quitting in the meantime.
Over the years I have listened to many speakers, read many books, and allowed myself to become inspired by the success of others. But unlike those times, this time I felt connected. Listening to these young women relating with me, supporting me, and actually taking the time to listen has allowed me to feel a bit less terrified by this new world. I now know that attaining my perfect job — or any job for that matter — just takes a little originality.
So, let me share the wealth! Here are 3 pieces of advice I received that have already helped me to step up my job search:
1. Put Your Time into a Passion Project
Something that many employers look for is that you have a fire unlike anyone else's — and that you will put that fire into giving any task your all. You can show them you have this by putting some energy into a passion project.
This piece of advice really inspired me the most. Regardless of where I am in life, the key is to be doing something I love, so if I put that love and passion into the world who knows where it will lead?
Hopefully, it can lead to a job where I can stay inspired and passionate and fiery every day.
2. Don't be Afraid to Slide into the DM's
In this world being socially connected is everything.
So, take advantage of that connection, be a social supporter of others, show people you can be engaged, and go out of your way share your thoughts.
You always remember your loyal 'likers,' and commenters, and so do the people you admire. Sure, Shawn Mendes might not respond to your DM, but someone else might. And they will remember you as someone who wasn't afraid to take a chance!
3. Be Persistent and Be Sincere
The final piece of advice that resonated with me most was to always go the extra mile when it comes to interviewing for a job.
Take your time to do the research, write a unique cover letter for every application, and continue in your persistence. Employers remember those who are actually interested in — and really want — the position they have applied for!
I want to hear from you in the comments below!
What advice have you been given about joining the adult world? Have you had any success finding your dream job? What are you going to do to achieve your dreams?