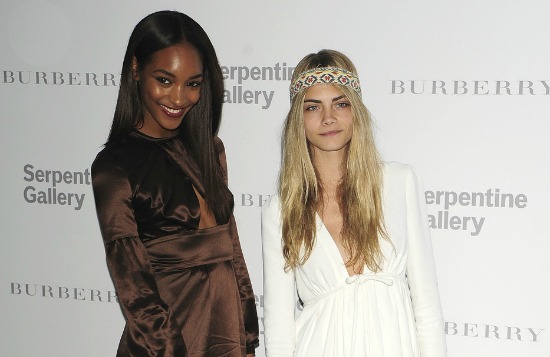 Models and BFFs Jourdan Dunn and Cara Delevingne | Photo via Pacific Coast News
New York Fashion Week kicks off in a few days and with it comes tons of new trends for the upcoming season from the world's most coveted designers.
However, the designers are not the only ones that create buzz at this event. Models, old and new, will be fighting for spots on the most prestigious runways. The reigning stars walking this week will further solidify their top model status, while the fresh-faced girls that rise up and dominate the catwalks could be launched into supermodel stardom.
Models are obviously praised for working the runway, but it's no secret that they sport stylish looks off-duty as well. So, in the spirit of New York Fashion Week, I've compiled a list of four models who rock street style looks that are bold, fierce, a little bit eccentric, and totally inspirational:
1. Cara Delevingne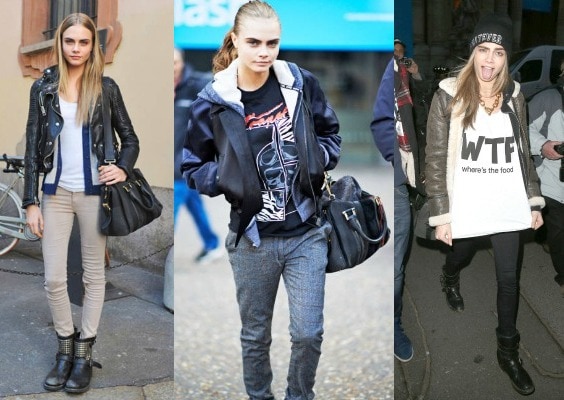 Photo Credits: 1. ELLE, 2. ELLE, 3. Pacific Coast News
Cara Delevingne is taking the modeling world by storm, but she's also well-known for her effortless, laid-back street style. Her off-duty style is in stark contrast to the couture she often models, featuring lots of jeans, high tops, t-shirts, and beanies. Cara is also a fan of onesies – yes, onesies – and pulls them off with ease.
Cara lets her fun personality shine through with her wardrobe choices and is living proof that a smile and a sense of humor can be your best accessories. She's also an amazing singer – is there anything this girl can't do?
2. Jourdan Dunn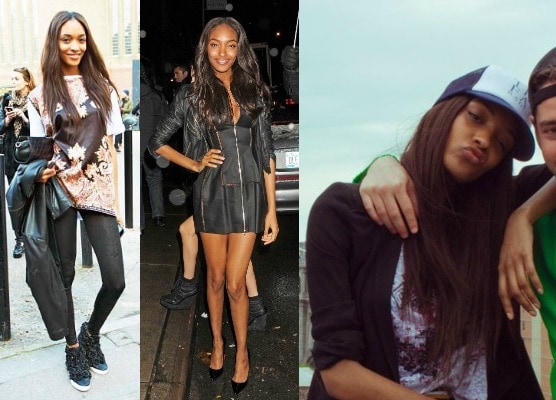 Photo Credits: 1. ELLE, 2. Pacific Coast News, 3. ELLE
Jourdan Dunn has become a well-established model due to her appearance in campaigns and catwalks for high end fashion designers. Her streetwear style is sometimes similar to that of Cara Delevingne, which makes sense – the two happen to be good friends!
The defining characteristic of her streetwear, though, is its versatility, as Jourdan doesn't necessarily stick to one style. While she sometimes sports a casual look, she's not afraid to glam it up for nighttime with heels or leather body-con skirts.
3. Chloe Nørgaard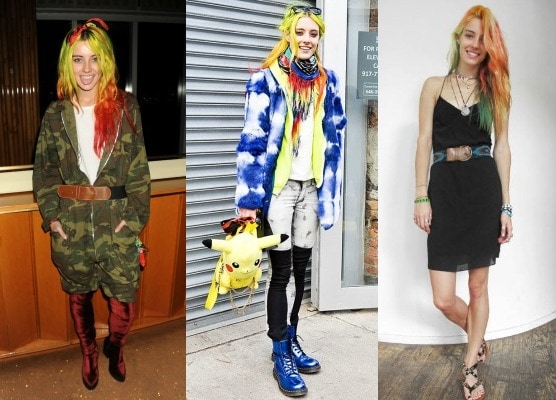 Photo Credits: 1. Pacific Coast News, 2. ELLE, 3. ELLE
Chloe Nørgaardmade a splash at NYFW back in February because of her appearances on high-profile catwalks, but her off-duty fashion choices are equally noteworthy. She's best known for donning multicolored hair (she dyes it every one or two weeks), but truthfully, everything about Chloe is colorful!
I first learned about Chloe's vibrant style from Vogue UK's "Today I'm Wearing" photo blog, which documented her outfits for a whole month – it's definitely worth checking out if you get a chance! She also goes all out at music festivals and is great inspiration for when summer concert season rolls around.
4. Soo Joo Park
https://www.youtube.com/watch?v=XYSrs7up0vE
Soo Joo Park is an up-and-coming model who has worked with a number of high-profile designers and is also known for her signature blonde hair. She was born in South Korea, and was actually discovered on a shopping trip in San Francisco.
Soo Joo dons the most progressive street trends for her off-duty outfits and her style can best be described as experimental. Her overall look resembles the fashion blogger street style often found on lookbook.nu, which makes her the perfect style inspiration for all you fashion-forward readers out there!
Although we weren't able to license any photos of Soo Joo, the above video showcases both her professional work and her awesome personal style.
Thoughts?
What do you think? Who are your favorite models? Do you look at model street style for fashion inspiration? Which models have the best off-duty style? Tell us your thoughts in the comment section!