Products L-R: Skinny Dip London, New Look, Dolls Kill, & Nordstrom Rack
Everyone knows that faux fur is a huge fashion trend right now, and fur bags are among fashion's top trending accessories this season.
Here at CF, we all love our purses, but a fuzzy fur bag takes our love to the next level. These bags come in different colors, sizes, and designs, so there's a perfect choice for every ensemble. Don't believe you can wear these everywhere? Keep reading and I'll convince you.
Below are two outfit ideas to help you learn how to rock a fur bag for class and a fun night out:
How to Style a Fur Bag – Outfit for Class: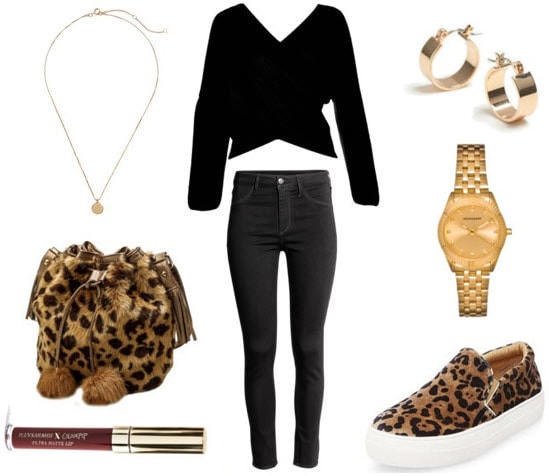 Products: Necklace – H&M, Fur bag – Amazon, Lipstick – Colourpop, Top – Boohoo, Jeans – H&M, Earrings – Topshop, Watch – Groupon, Sneakers – Steve Madden
The details of this outfit are really simple. Pairing this leopard print faux fur bag with some Steve Madden leopard print sneakers definitely will make heads turn. Wearing all black with leopard print is a classic combo that almost everyone can make work with their existing wardrobe.
Adding gold accessories is the final touch to making this outfit complete. A simple gold pendent necklace isn't overdoing it but if you would prefer a choker that's not too fancy, that will work as well.
Note: You can always bring a backpack as well if you need to carry a ton of books. However, a simple, smaller bag is great for discussion classes or labs where you might not need books or a laptop.
How to Style a Fur Bag – Outfit for Date Night: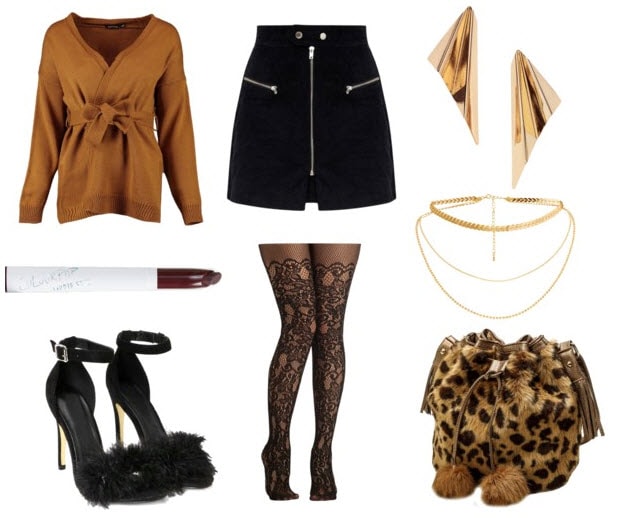 Products: Top – Boohoo, Lipstick – Colourpop, Heels – Nasty Gal, Skirt – Pretty Little Thing, Tights – ModCloth, Earrings – H&M, Necklace – H&M, Fur bag – Amazon.
For the perfect date night, every girl wants to look beautiful. For this set, I combined the fur bag with a black mini skirt, a light brown belted top, and adorable fur heels from Nasty Gal. Here, instead of doubling up on the leopard print, we're doubling up on the faux fur to really make a statement.
You want to make sure you don't over-accessorize since there is a lot of detail in the shoes, bag, and tights. A simple choker necklace and fancy gold earrings from H&M pair exquisitely.
Are you planning on wearing a fur bag this semester?
Will you be wearing a fur bag? What will the designs and colors look like? Comment and let us know your fur bag style!