September is nearing a close and so is our sanity. It has reached the point in the semester where papers are due, group projects have been assigned, and all of our exams just so happen to land on the same day.
With all of this going on, the last thing on one's mind is fashion. But at the same time, who doesn't want to look prepared and put-together during grueling class hours?
I assure you, with the invention of lace-up sweatshirts and an iced coffee in hand, this is one task that can be accomplished.
Lace-Up Sweatshirt: Class
Mixing both athleisure and style is considered by some to be an art. When done right, this combination provides both comfort and versatility.
To do this, I paired the lace-up sweatshirt with ripped jeans. The high-waisted structure of these jeans, as well as the hem ending slightly above the ankle, is the perfect fit when incorporating a pair of slide sandals.
To embrace an even sportier vibe, accessorize with a denim hat. This outfit may be a minimalist's dream and, of course, less is always more. However, if you want to add some statement pieces, a bold patterned backpack and detailed rings are sure to do the trick.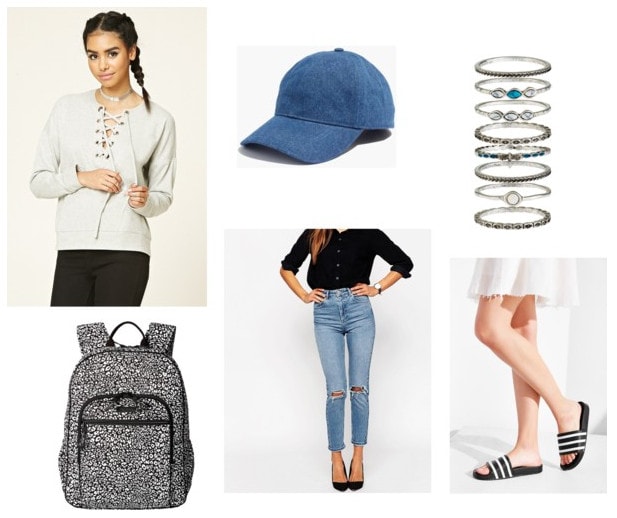 Products: Top, Jeans, Slides, Hat, Backpack, Rings
Lace-Up Sweatshirt: Night Out
After a long day of classes, the thought of going out may be cringe-worthy. Not only do you have to drag yourself away from Netflix, but the thought of having to dress up in an uncomfortable outfit may be worse yet.
Before you cancel your plans, give the comfy-cool lace-up sweatshirt a chance. Paired with ripped black jeggings and a faux leather biker jacket, this outfit screams edgy.
Now if wearing all black is not your thing, this is where statement pieces come into play. The snake print booties and matching clutch provide a whole new element to the outfit, while still keeping that fashionable edge. Who wouldn't want to rock a night out in this outfit?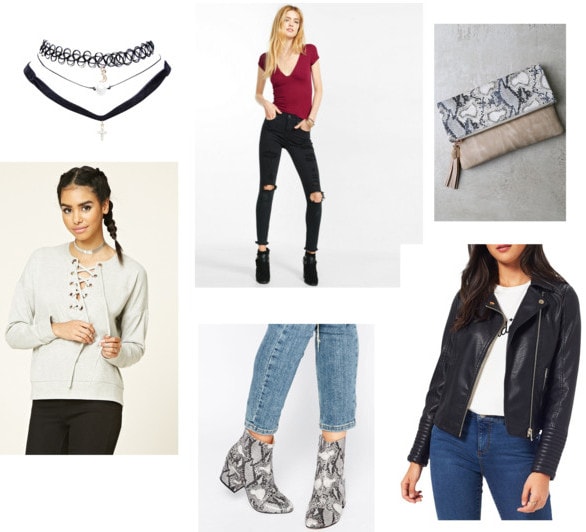 Products: Top, Jeans, Jacket, Boots, Clutch, Choker
What do you think?
Are you a fan of the lace-up sweatshirt? Should this remain a night-in piece or would you wear it out? Let me know!