When days are long and the weather is cold, it is completely logical to find yourself reaching for those sweatpants. Despite athleisure's popularity, alas, sweats still aren't appropriate for every occasion. So what's the happy medium between sweatpants and jeans? I'd like to suggest some currently-trending striped pants.
Striped pants: Class
Some were born to stand out and others opt for the back row of class where their giant mug of coffee and stacks of notes can appear less noticeable. You are who you are. Whether you want to be the center of attention, under the radar, or somewhere in between, striped pants can work for you.
Here, I chose a cool pair of red, white, and black striped trousers. Pair them with a simple white sweater, menswear-inspired loafers, and a fashionable backpack and you will be stylish – and motivated – for a full day of classes.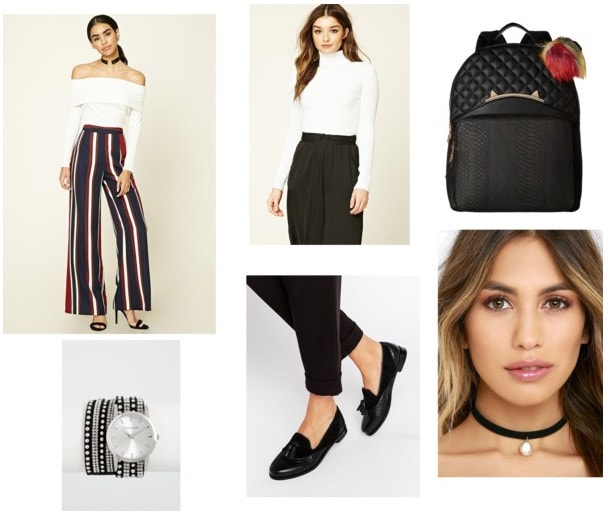 Products: Pants, Top, Shoes, Backpack, Choker, Watch
Striped pants: Night Out
We all know there is nothing better than staying in during the holiday season and embracing the celebratory spirit. In fact, striped pants are a great choice for ringing in the holidays in style.
Here, I styled the pants into a cute holiday party look. Add a black cop top, a pair of strappy heels, and some cool accessories. Statement necklaces can be difficult to style but are a great choice for a night out. Top off the ensemble with a crossbody and of course a red lipstick that can be later thrown into the crossbody.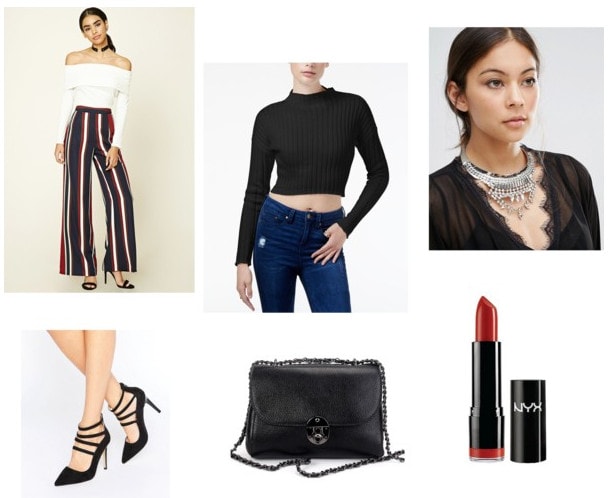 Products: Pants, Top, Necklace, Heels, Bag, Lipstick
Let me know!
Are striped pants casual or professional? Are these pants made for a night in or night out? Let me know in the comments!