Products L-R: 1. Shopbop, 2. Lastcall, 3. Nordstrom
It's no secret that statement chokers have made a huge comeback this year. They've been spotted everywhere from the runways of New York Fashion Week to college campuses across the country.
Whether you wear one for a fun night out or simply to class, chokers have a way of making any outfit look extra bold. Keep reading to see how you can style a super cool velvet choker for both class and a night out.
Statement Choker: Class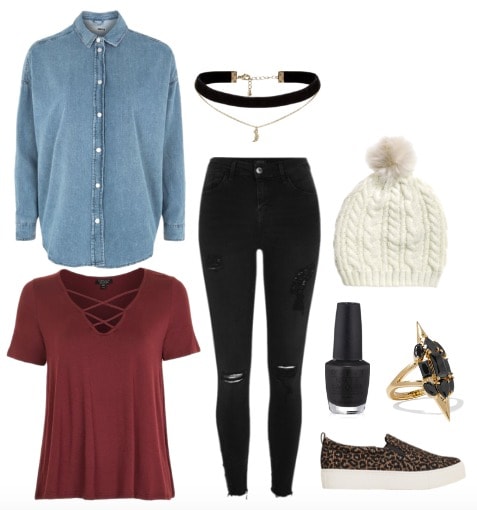 Products: Choker – ASOS, Denim Shirt – Topshop, Top – Topshop, Jeans – River Island, Shoes – Amazon, Hat – H&M, Nail polish – Amazon, Ring – The Outnet
A timeless denim shirt pairs well with a trendy black statement choker – the look is a little bit '90s grunge. Add a funky ring for another cool detail. The black torn jeans tone down the outfit and will match with the black accessories. A cute beanie will keep you warm on your walk to class, while leopard print sneakers are a chic finishing touch.
Statement Choker: Night Out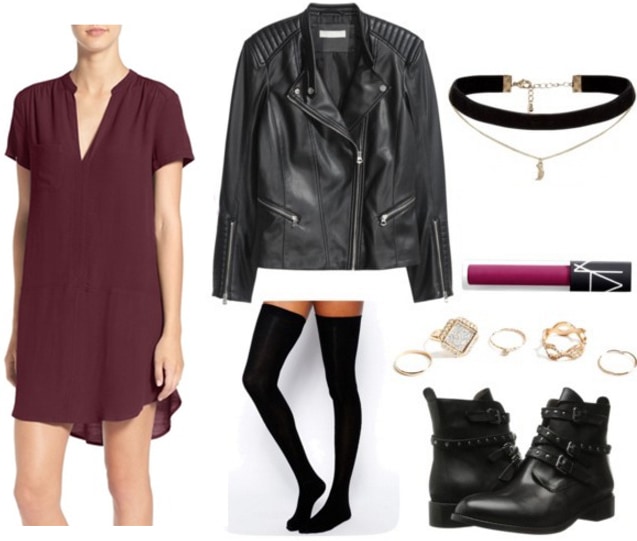 Products: Choker – ASOS, Dress – Nordstrom, Jacket – H&M, Socks – ASOS, Shoes – Amazon, Rings – Guess, Lip Stain – NARS
Burgundy dresses are all the rage right now. Pair this pretty, relaxed dress with a black leather jacket and the choker to let the red hue shine. Play up the look with some fun gold rings and let your hair down – it is your night out, after all! This rocker-style look needs edgy shoes and these chunky black booties will give you legs for days when paired with the thigh-high socks. Perfection!
So, what are your thoughts?
How do you feel about the return of the choker? Do you wish the '90s would stay in the '90s? Or do you love that they have made a comeback? What do you think of the above outfit sets? Please, let me know!