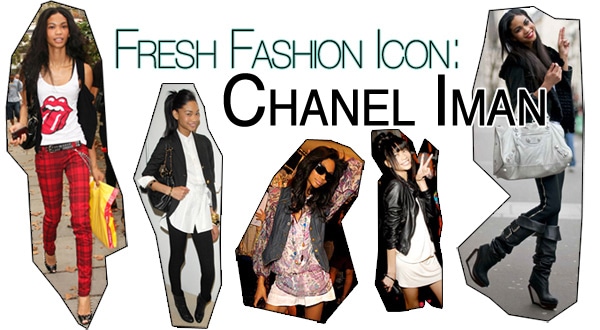 Tired of seeing the same celebs featured in blogs week after week? Me too! Don't get me wrong, I love myself some Rachel Bilson and Nicole Richie as much as the next girl, but there are days where I just need some fresh style perspective!
Enter "Fresh Fashion Icon", a new monthly series where I will feature a lesser known (but still super stylish) girl and break down her style secrets . Interested? Read on to find out about this month's Fashion Icon, Model Chanel Iman!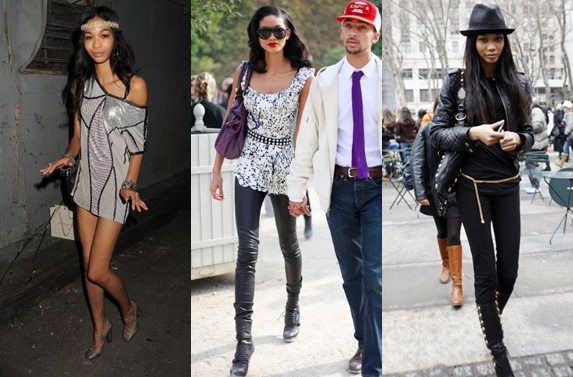 Just like her namesake, baby-faced model Chanel Iman has a natural knack for style both on and off the runway. (She's modeled for Marc Jacobs, Gap, Anna Sui, and more recently Victoria's Secret.) While this girl is always on trend, her style is great because she can be both street-stylish and ultra-sophisticated depending on the day (variety at it's best!).
Like what you see so far? Scroll on down to find out how to get her look.
Chanel's Style Essentials
Outerwear
(From Left to Right – 1, 2,3, 4, 5, 6)
Chanel's style is very "street", meaning that it is both stylish and functional – perfect for every day. Oftentimes she can be seen wearing things like leather jackets or blazers (for that urban city gal look).
But in addition to rocking the street-chic look, Chanel is also not one to shy away from color. Because of this, I also included a cute red coat and an army green capelet; these jackets are fantastic because they can offer a good pop of color if your outfit is drab, while still staying everyday-wearable.
Tops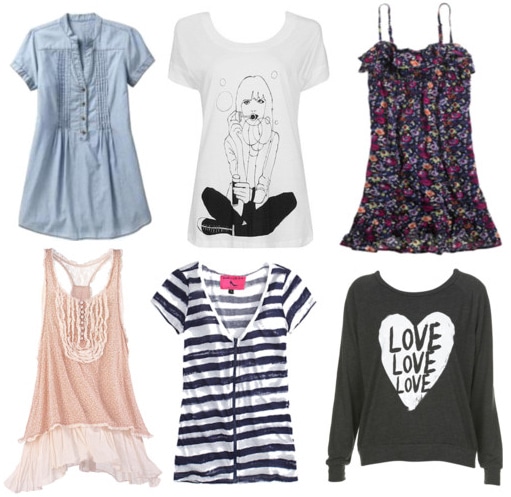 (From Left to Right- 1, 2, 3, 4, 5, 6)
Girly but tough is Chanel's signature, so I chose tops that evoke both those characteristics. While some are flouncy or floral, there are others (like graphic tees) that show off her rocker style. Just pair these tops with some black skinnies, a mini skirt, and/or a leather jacket, and you can easily achieve the same style as Chanel.
Bottoms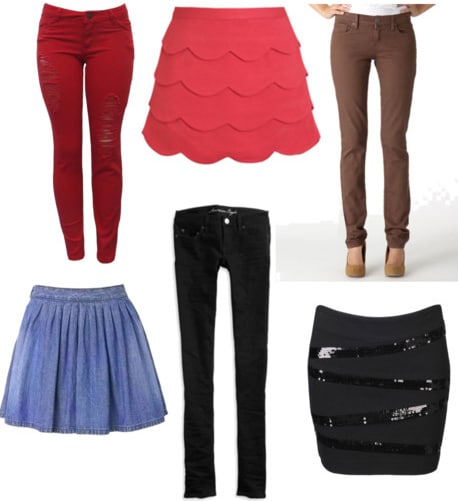 (From Left to Right- 1, 2, 3, 4, 5, 6)
As I said before, Chanel always has a soft-meets-hard edge to her outfit. And to give off that vibe, I chose bottoms that can be either girly or tough. For instance, more girly things like frills and ruffles can be rock n' roll when they are paired with some chic boots or a cool jacket. Meanwhile, ripped skinnies and sequined skirts can have their edge toned down if they are paired with soft-colored tops. It all comes down to balance, which Chanel has down pat.
Boots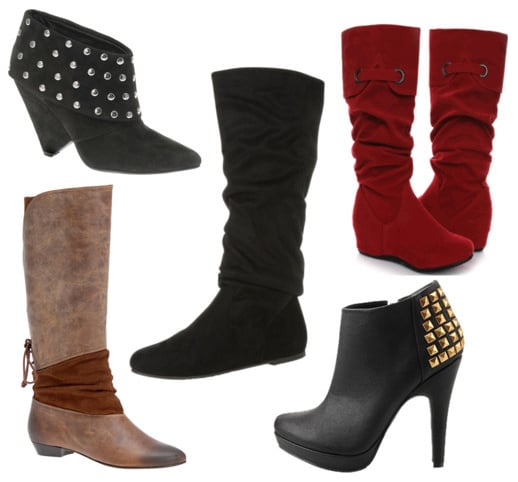 (From Left to Right- 1, 2, 3, 4, 5)
Boots, boots, boots, what can I say? I love them and so does Chanel. They totally complete an outfit while giving off the perfect amount of attitude and versatility. Whether they are studded, colorful or simple and chic, she shows them off by effortlessly tucking either skinny jeans or tights into these lovely gems.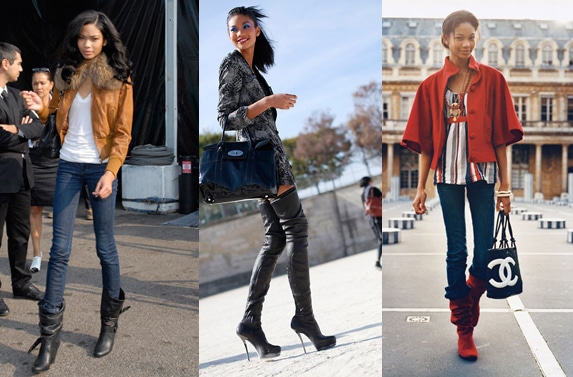 Get Chanel's Look
Outfit 1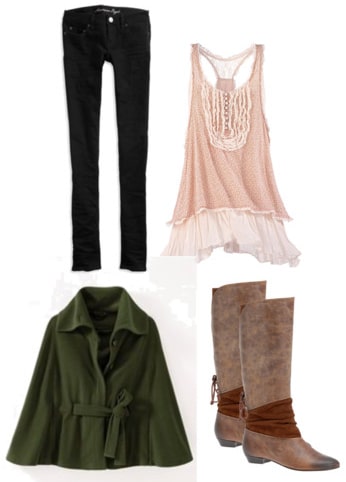 Product information is listed above.
Chanel's style has a very distinct look to it: while it is always on trend, it is versatile above all else.
For my first outfit, I chose four pieces: an ethereal frilly top, some gorgeous brown boots, a chic green capelet, and the ever-versatile black skinny jean (the links for all these items can be found in the Style Essentials Section). Put all these items together and you have an outfit that is both stylish yet very wearable in any situation, whether you're on the way to class battling cold winter wind or going on a picnic with your bffs.
Outfit 2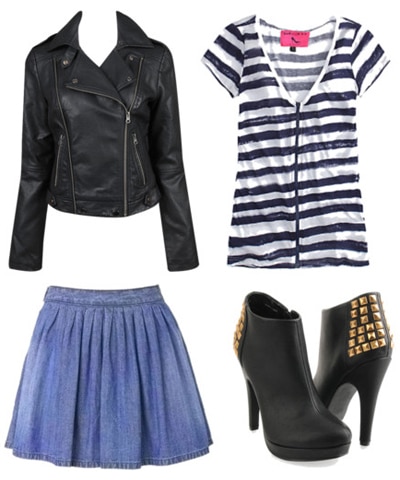 Product information is listed above.
For the second outfit, I went for a flirty punk look, a style that Chanel is known to rock. (She loves her leather jackets almost as much as me!)
First I chose an amazingly cute blue denim skirt, and paired that with a cool striped tee to tuck inside. Layer that with this awesome faux leather jacket, add some fab studded boots from Forever 21, and you're golden. It's a perfect look for a wild night out on the town, or your neighbor's housewarming party- you know, the usual.
Thoughts?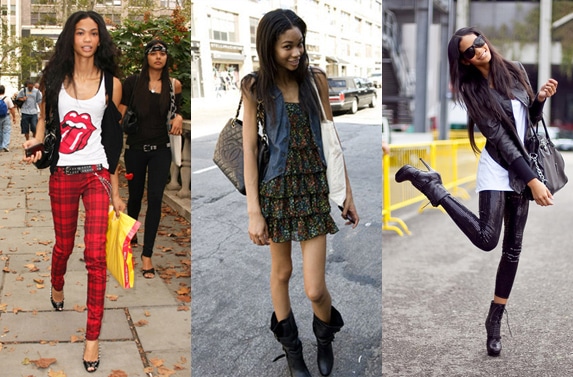 What I love about Chanel's style is that she knows the appropriate time to dress up and to dress down. She can look like a rock star one day, and a boho sweetheart the next. But what do you think of Chanel's style? Would you wear it? Do you have a favorite style icon that you think deserves more recognition? Whatever your thoughts are, let me know in the comments section!