This post may contain affiliate links, which means we may receive a commission if you purchase through our links. Please
read our full disclosure here
.
In case you haven't heard, this newlywed just got hitched to one of America's heartthrobs. Hailey Baldwin married Justin Bieber after a whirlwind engagement, and now we have a new favorite celebrity POWER COUPLE.
Hailey Bieber is chic, sweet and sassy. She never fails to impress with her street style, and she's stepped it up as of late. Here's how to cop her killer newlywed style for yourself.
Hailey Bieber Style – Outfit One: Biker Thoughts
One thing I love about Hailey is that she knows how to rock an edgy look. I love the contrast of the green velvet pants. They are definitely my favorite part of the outfit.
I'll be honest and say it was not easy trying to duplicate Hailey's outfits. They are all so unique and of course ~designer~. But that did not stop me! I had to find pieces that all of you could wear as well.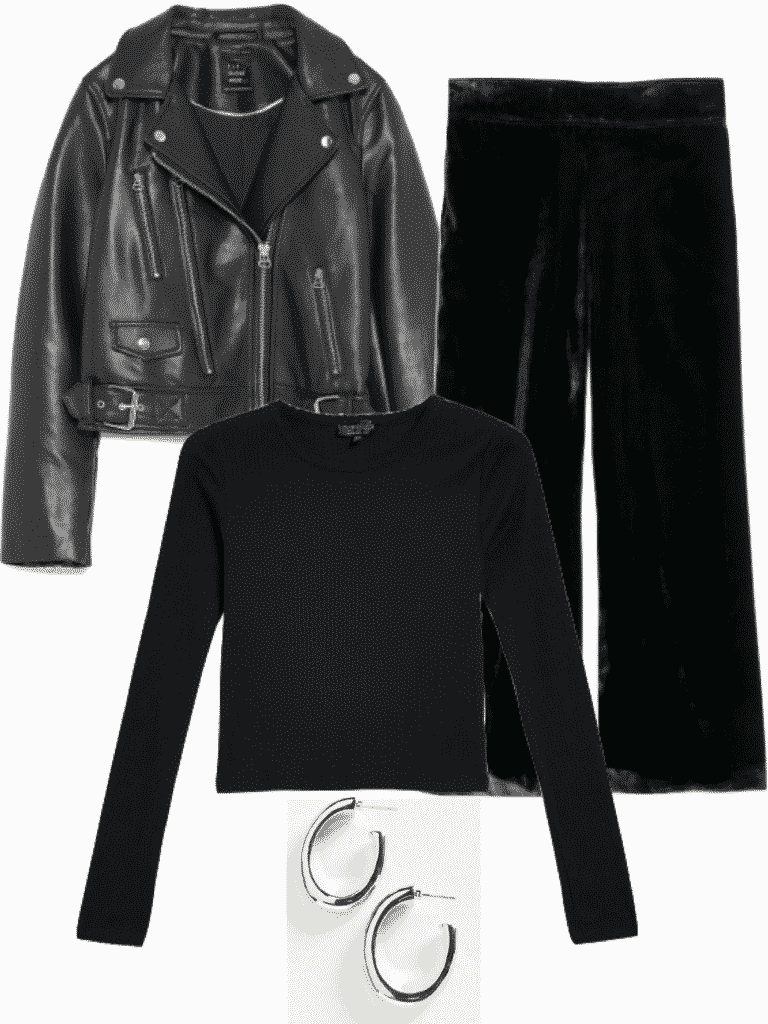 Products: Moto Jacket – Zara, Dark Green Velvet Pants – Madewell, Black Shirt – Nordstrom, Hoops – Urban Outfitters
You would be surprised at how easy it is to find dark green velvet pants right now! I picked a pair that resembled Hailey's the best. Obviously, the pants are lacking the cool stitching, but I thought these pieces were a great and affordable alternative.
Hailey Bieber Style – Outfit Two: Warm and Fuzzy
Like I said, duping Hailey's outfits is a challenge, but I was up for it! I had some fun finding affordable replacements for this on-trend look that you could totally rock on campus.
Products: Brown Aviator Jacket – Urban Outfitters, T-shirt – American Apparel, Jeans – American Eagle, Belt – Urban Outfitters, Shoes – Jeffery Campbell
I was really excited about finding these pieces because I truly love them. I think aviator jackets are so CUTE. They add so much detail to an outfit –especially when the leather and the fur are two-toned.
I was incredibly happy to find dupes of Hailey's sneakers. These Jeffery Campbell sneakers are a reasonable price and look very similar to the white high tops Hailey is wearing.
Hailey Bieber Style – Outfit Three: Summer Valentine
I am a complete fan of this outfit. It reminds me of warmer days in sunny Southern California.
I think Hailey did a great job of pairing the hot pink crop top and the red accessories. Red and pink can sometimes clash, but here they pair really well together!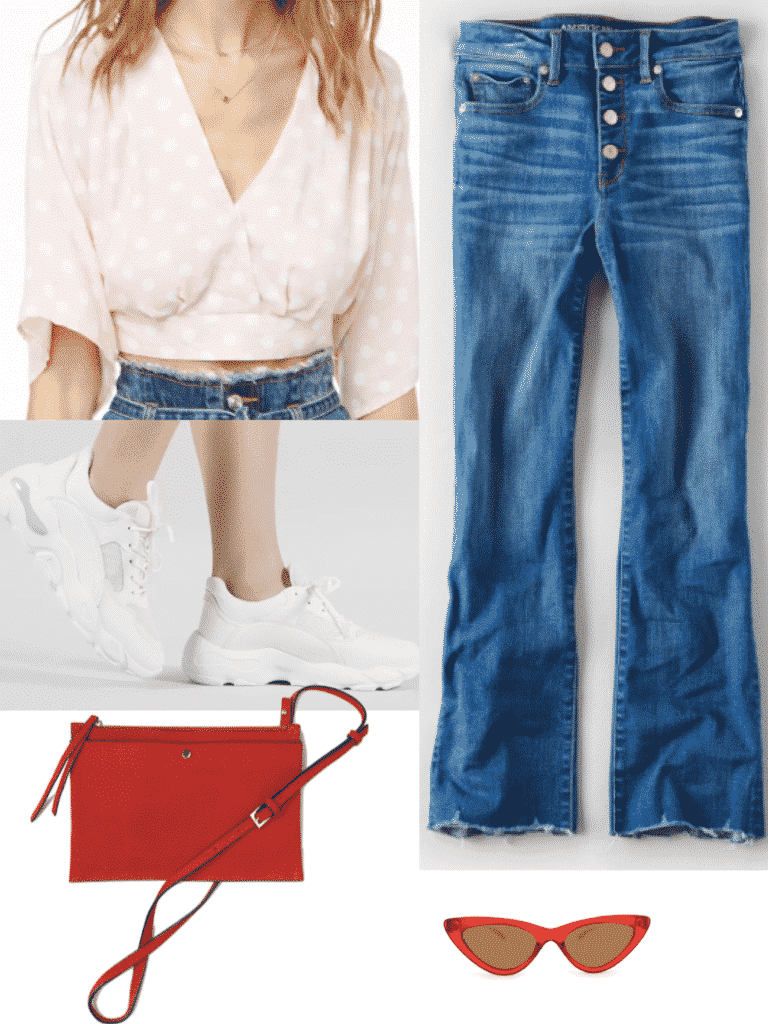 Products: Pink Top – Forever 21, Jeans – American Eagle, Sneakers – Public Desire, Bag – H&M, Sunglasses – Target
I love this outfit so much, I may have to buy the whole thing myself. It's fun, flirty, and girly. Three of my favorite things! It would be absolutely perfect for springtime.
Hailey Bieber Style – Outfit Four: Bright Night
Only Hailey Bieber would know how to connect classy and edgy in one outfit. The gold dress is classy and chic. The oversized leather coat is gritty in the best way possible. Then, she finishes the outfit off with simple clear heels. This allows all the attention to stay on the main pieces: the dress and the coat.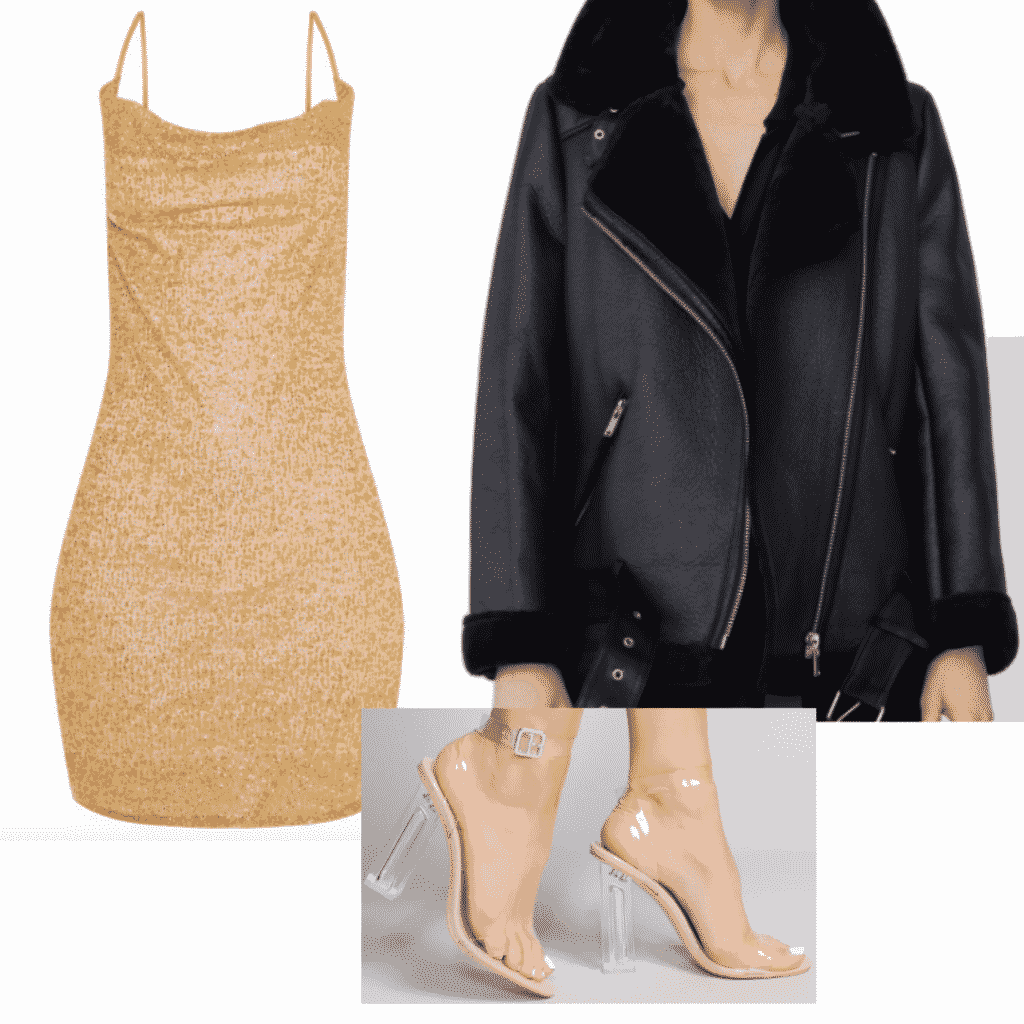 Products: Dress – PrettyLittleThing, Jacket – Zara, Heels – Public Desire
Sequins are so in right now and finding a dupe for Hailey's gold dress was not difficult. The leather coat on the other hand caused more of an issue. Most leather coats are very expensive or they were sold out. So, of course, I picked an aviator jacket. It's oversized, leather and keeps the warmth in.
Do you like Hailey Bieber's style?
Hailey Bieber continues to impress me with her street style. She adds so much personality to her outfits. I can't wait to see what she has in store for us next.
Which outfit is your favorite? Would you wear one tomorrow if you could? Leave a comment below and let me know what you think!