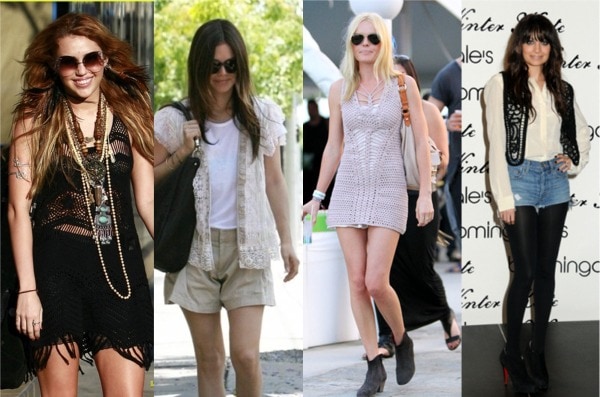 In tune with this season's emerging '70s-inspired fashion trends, crocheted tops, vests, and dresses are popping up everywhere. Though crochet might have earned a reputation as an old lady favorite, there's an easy way to pull off this trend and still look edgy and cool. With spring weather upon us, there's no better time to try out this lightweight sweater material.
So what are you waiting for? Read on for tips and trick for rocking this week's challenge!
Tips and Tricks for Wearing Crocheted Items
For a risk-free way to try this trend without going all-out, look for dresses with crocheted embellishments. Since crochet is already part of the outfit, it'll be a no-brainer to style.
Love your fur vest but hate that the weather is now too warm to wear it? A crocheted vest will look great with almost anything in your closet as well!
Crocheted sweaters (especially cropped ones) are perfect for springtime weather. They'll look great over a dress or a tank top and jeans.
For a really daring look, try wearing a bandeau under a crocheted top. Be sure to pair it with jeans or a conservative skirt to keep the look classy.
Don't pair crocheted clothing with too other many "hippie" trends, such as wooden platforms, bell bottoms, a hippie headband, or a peasant top. One other hippie-esque item is fine, but rock too many, and you risk looking like you're wearing a costume.
To keep from looking Grandma-esque, pair crochet pieces with tougher items like leather, denim, or boots. Floral print can sometimes look too delicate and girly with crochet for most people's taste.
Look for crocheted scarves, beanies, and other accessories for just a pop of the trend.
Outfit Inspiration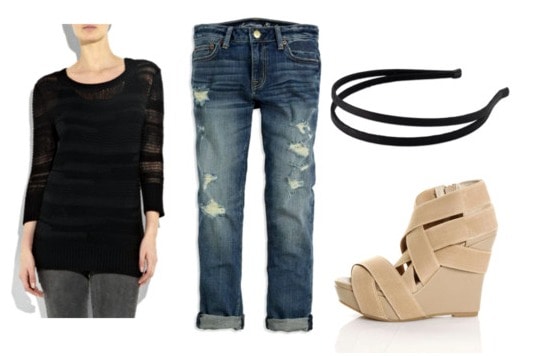 Sweater, Jeans, Wedges, Headband
A black crocheted sweater paired with rough boyfriend jeans strikes the perfect balance between frilly and tough. Add a headband to polish up the look, and a pair of strappy wedges for a boost of style.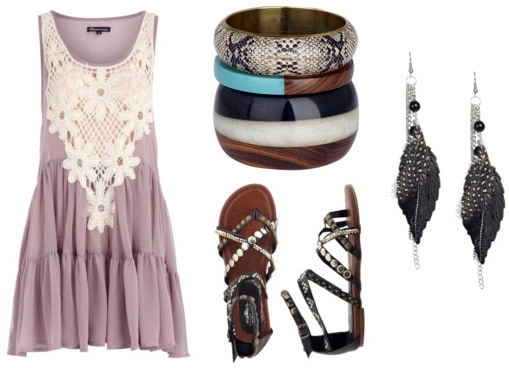 Dress, Shoes, Bangles, Earrings
This dress is perfect for a gorgeous springtime day! Keep it edgy with a stack of eccentric bangles and feather earrings. Finish with your favorite pair of gladiators.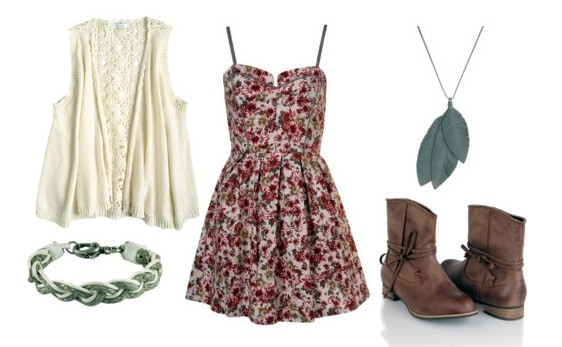 Vest, Dress, Bracelet, Shoes, Necklace
A crocheted vest will help keep your shoulders warm during chilly springtime nights. It will look great with a floral sundress, rope bracelet, and leaf necklace. Finish with some cute boots.
Rocked the Challenge? Send Us Your Pictures!
Did you wear something crocheted this week? Send your pictures to fashionchallenge AT collegefashion.net along with your name, school, a description of what you're wearing, and the URL of your blog if you have one. We're feature your photos here to inspire other CF readers!
We can make you a celebrity overnight 🙂
Thoughts?
What do you think about the '70s trends we've been seeing lately? Have you already been rocking crochet? What other '70s trends do you love? What fashion challenges would you like to see in the future? Let us know by leaving a comment!