This post may contain affiliate links, which means we may receive a commission if you purchase through our links. Please
read our full disclosure here
.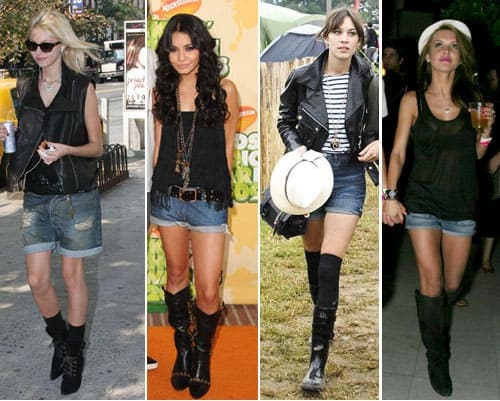 It's no secret that here at CF, we're crazy about our boots! From over-the-knee boots to cowboy boots, we love finding new ways to wear these closet staples. And although this might not be a novel idea to most of you, pairing boots with shorts can be both fun and unexpected. It's a good way to get some use out of your favorite boots in the summer months, and is an easy way to make a plain outfit look super stylish.
Since it's finally starting to warm up across the country, now is the perfect time to debut your favorite pair of shorts for the season! Pick out your favorite pair of boots and get ready to rock the challenge!
Tips and Tricks for Wearing Boots with Shorts
Consider boot height. I love the look of over-the-knee boots, knee-high boots, and ankle boots with a pair of shorts – to figure out which look you like best, try on different pairs with your shorts and compare. When deciding what shorts to pair with your boots, think about how dressy your shorts are and where the hem hits your thigh.
Another important thing to think about is how tall of a heel your boots have. A sky-high pair of over-the-knee boots with a pair of short-shorts might looks reminiscent of Julia Roberts in Pretty Woman. A safe rule to stick to is the shorter the shorts are, the lower your heels should be.
Earthy, beat-up leather boots look great with denim shorts! That combination will give any outfit a bohemian flair.
Dressy shorts made from tweed, lace, silk, leather, or sequins look awesome with ankle boots and a pair of tights.
Try pairing shorts with combat boots. Your outfit will look daring and grunge-inspired.
A structured top, like a blazer or military jacket, contrasts nicely with the rebel vibe that wearing boots and shorts together gives off.
Fringe-y moccasin boots look cool with shorts as well!
We don't usually talk "fashion don'ts" here, but this is one big exception: DO NOT WEAR UGGS OR SNOW BOOTS WITH SHORTS. I'm sure you guys probably wouldn't do this anyway, but I just had to mention it. This look is pretty much never cute (not to mention that it makes no sense).
Wear accessories and rock a lot of confidence. Your attitude can really make or break an outfit. If you constantly ask your friend if you look okay or hide in the corner of a party, people will question what you're wearing. If you smile and hold your head high, people will think you look like a rock star!
Outfit Inspiration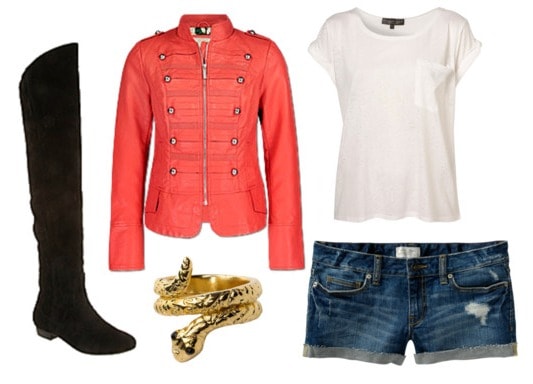 Boots, Jacket, Shirt, Ring, Shorts
This outfit is perfect for springtime, because it has a bright pop of color but will still keep you warm. Since these over-the-knee boots are pretty much flat, you can get away with wearing short-shorts with them without looking too scandalous. Next, a plain white t-shirt won't steal attention away from a salmon-colored military jacket. Finish with a edgy snake ring.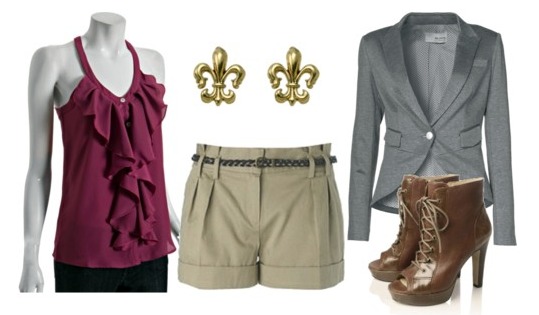 Top, Shorts, Earrings, Blazer, Ankle Boots
This outfit is dressy enough for a nice dinner or a date! Tailored khaki shorts provide a neutral foundation to work with, while a ruffled blouse like this one will look awesome under a structured blazer. Finish with ankle boots and a simple pair of stud earrings.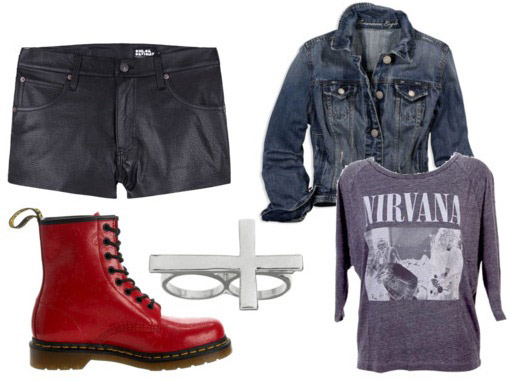 Shorts, Combat Boots, Ring, Shirt, Jacket
If you're feeling a bit rock and roll, try pairing some fierce shorts with combat boots! These faux leather shorts look tough but not too over the top – they're also a great trendy piece right now, so you can wear them everywhere. Red Dr. Martens are bold, but are wearable with a little dose of confidence. Finish the lo0k with a band t-shirt, denim jacket, and double-finger ring.
Took the Challenge? Send us Photos!
Did you wear your favorite pair of boots with a pair of shorts this week? Take a few snapshots and send them to fashionchallenge AT collegefashion.net along with your name, school, a description of what you're wearing, and the URL of your blog if you have one. We'll feature pictures here to inspire other CF readers.
Can't wait to see what your girls come up with!
Thoughts?
Do your ever wear shorts with boots? Do you think this looks good, or should boots only be worn in the winter? What are you thoughts on heels with shorts? Let us know what you think my leaving a comment!