Attention, DIY fanatics: This trend is calling your name. Decorating my jackets with patches was among my favorite things to do as a kid, so I could not be happier to see jackets with patches come back into style.
It's easy and fun to snag some iron-on patches and DIY your own jacket, however if you're not a DIY-er there are tons of pre-patched jackets in stores everywhere. Below, I'll show you how to wear one for a day of classes and a fun night out.
Jacket with Patches: Class
As summer comes to a close, so do the road trips and beach vacations – sob! So I say, keep the summer spirit alive by customizing a jacket: You can collect patches from your favorite vacation spots or simply choose patches to represent your personality or places you wish to go.
The styling options here are endless, but to let the jacket shine, I like to keep the rest of the look simple. Here I paired a patched bomber jacket with a simple tee shirt, denim shorts, and some trendy sneakers.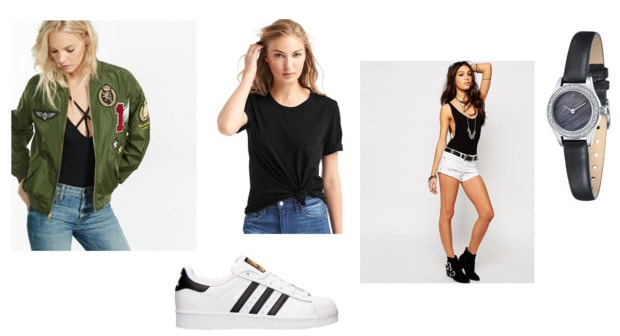 Products: Jacket, Tee, Shorts, Sneakers, Watch
Jacket with Patches: Night
I love a jacket with patches for a night out: It's kind of like wearing an edgier version of a charm bracelet. The patches can actually be a fantastic conversation-starter, especially if you've chosen your own patches and DIY-ed your coat.
Again, I kept the styling relatively simple to let the jacket shine: Instead of a classic little black dress I opted to mix the jacket with a black romper and heeled wedges. I finished the look with cool-girl gold jewelry.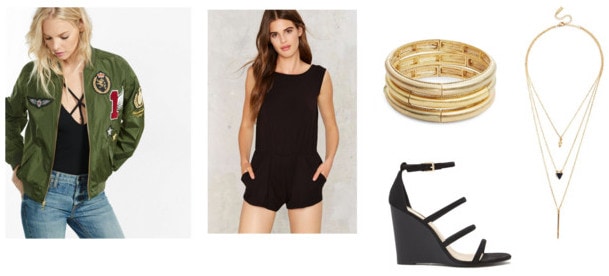 Products: Jacket, Romper, Heels, Bracelet, Necklace
Let me Know:
Would you DIY a jacket with patches or buy a pre-made one? How would you style this throwback piece? Tell me in the comments!