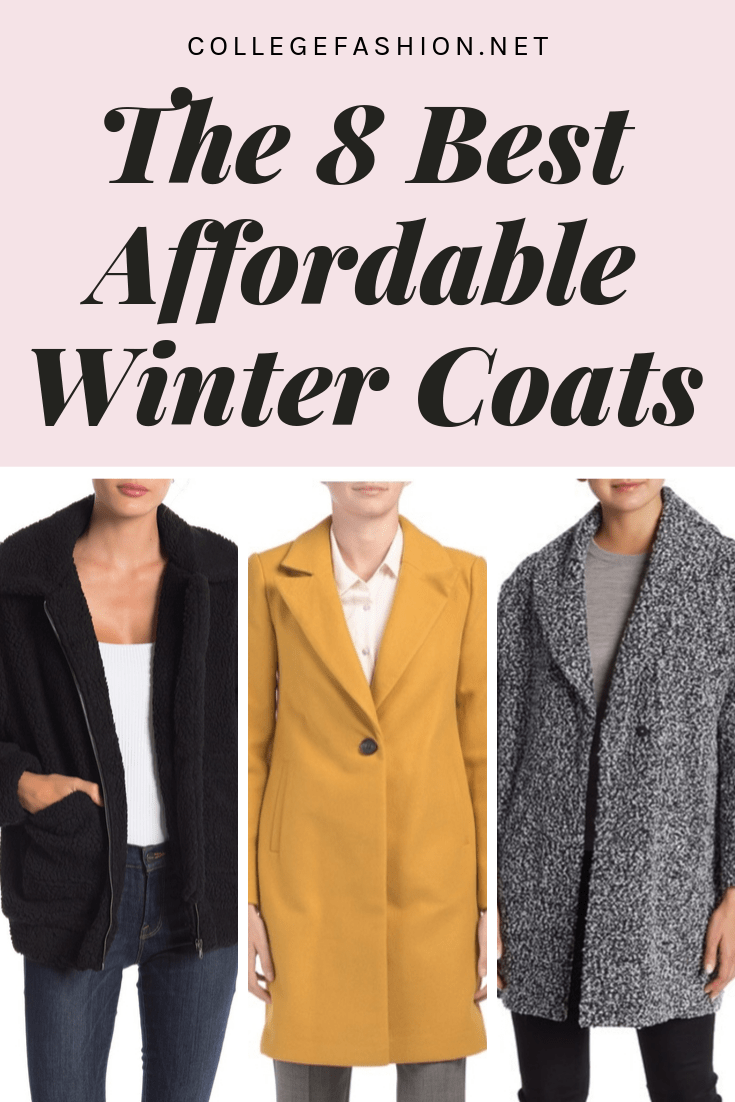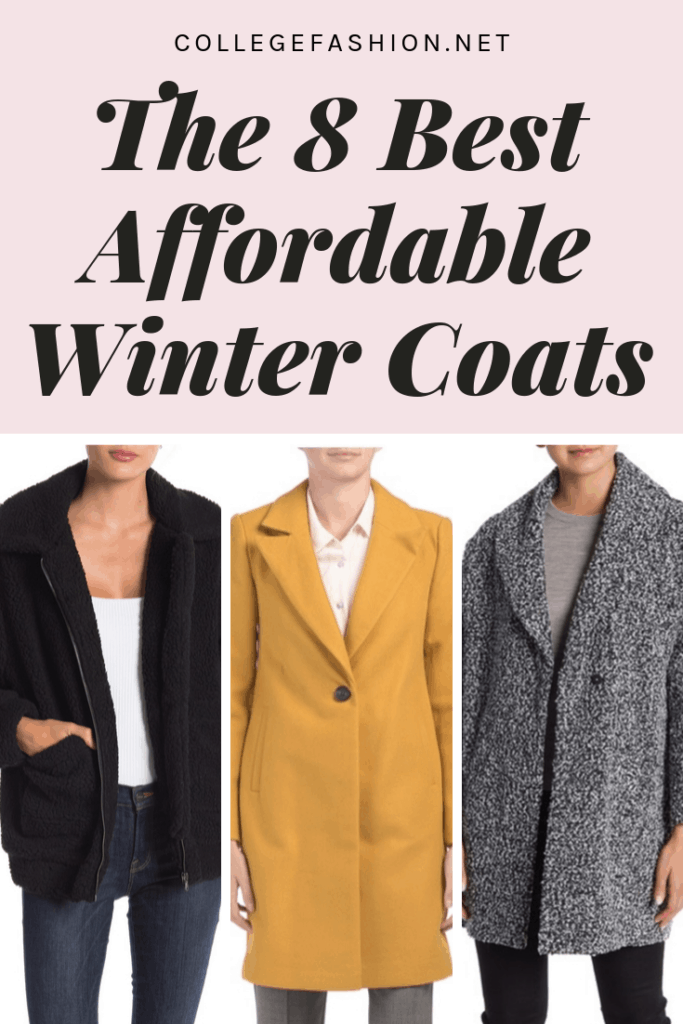 With winter just around the corner, or for some of us, here already, the search for the best affordable winter coats has begun!
I'm sure you all already have a giant puffer coat your mom made you buy in anticipation for what is the first winter away from home for some of you. So let's get into some more stylish options.
If you're looking for a cute winter coat or even a trendy winter coat that will step things up — one you can wear to your job or even on a walk with friends — you've come to the right place!
Here are some of my picks from a variety of different styles and looks for the gals who like to keep it both cute and functional.
Related reading: Jackets Under $100: Our Favorite Affordable Outerwear Styles for Winter
1. T Tahari Faux Fur Notch Lapel Coat
This chocolate brown coat from Nordstrom Rack is a gorgeous addition to any winter outfit, and will match those jewel toned sweaters and brown boots super nicely!
Not only does this coat look super warm, but the pointy lapel gives it a little playful vibe along with the fur.
2. DEPT. 19 Crombie Single Button Coat
This TJMaxx coat, in my opinion, is a super fun alternative to a traditional coat. It maintains a classic structure with a cute button and pockets, but the color will make you stand out in a crowd.
One of my favorite things about fall is how yellow is everywhere thanks to the leaves! Yellow will really make you stand out any time of year, but now it matches the burgundy, brown, and amber tones of leaves and clothes all around you.
3. Faux Shearling-Lined Jacket
Available in some super cute colors, this coat from Forever 21 is a more casual pick for throwing on before football games or even for playing out in the snow.
The stripe in the middle and the ruching at the bottom gives it a sporty, athleisure look which is major snow bunny goals. Plus, the inside looks amazingly comfy…you're never going to want to take it off!
4. Quilted Zip-Front Coat with Attached Hood
If you go to school in a chillier place and you're looking for something with a bit more ~coverage~, this long(ish) coat from Burlington Coat Factory is the perfect solution!
For a puffy coat, this affordable winter coat is super sophisticated and stylish. The quilting is subtle so it gives the coat a sleeker feel, and the baby pink is such a cute color for the bright winter snow. I can totally picture this being worn over a cute cardigan and some leggings!
5. SUSINA Brushed Tweed Coat
This beautiful Nordstrom Rack coat has to be my favorite on this list! It's a neutral grey that goes with a TON, but at the same time the black and white woven together makes for a super interesting pattern.
The form of this coat is classic, but the fit is relaxed and the lapel a bit more casual, so this coat is versatile — it works with a formal outfit but you can also pull it off with some jeans and a top.
6. Elodie Faux Shearling Jacket
If you've been following trends, the "Sherpa style," or shearling jackets, have come back in a major way the past couple of winters. It's the perfect jacket for looking cute while looking AND feeling cozy!
This affordable winter coat from Nordstom Rack comes in a sleek black that allows you to pair it with a colorful outfit and have it work as a part of your ensemble. If you're looking for more of a "pop" from your coat, this one also comes in a bunch of other unique colors!
7. Faux Shearling-Lined Denim Jacket
Going off of the shearling trend, this Forever 21 coat is a more subtle take on the shearling — it uses it to line the inside of an otherwise not-so warm denim jacket. Yay, warmth!
This coat is more of a casual and classic denim option, just a winter-y take on your usual jean jacket. It's a super important coat to have! It goes with pretty much everything and its one of those warm-without-looking-like-it kind of pieces.
8. Tall Double Breasted Coat
Finally, every girl is going to need that basic, camel colored double breasted coat at some point in her life. Why wait? Start now!
This coat from Boohoo is a well made piece that will be in your closet for years. But, for only $55 (yes, this one cheats by a few bucks), it's not a huge investment you'll have to worry about.
The length of this coat is gorgeous too — I can picture it being worn with an all black outfit to accentuate the silhouette and give you a model-off-duty look.
What do you think of our guide to the best affordable winter coats?
What's your favorite coat on this list? Are you more of a puffer coat or a sleek pea coat person?
Tell me about your favorite winter coat in the comments!