For most of us, social networking has been a part of our lives since middle school, starting with sites like Xanga, moving through MySpace and LiveJournal, and coming to a (temporary?) stop at Facebook, Twitter, Tumblr, and more recently, Google+.
Whether or not you subscribe to a particular provider, social networking is a huge part of modern life, and we have all developed a sense of which sites we like the best. I confess that I've (occasionally wrongly!) grouped people in my head by which site they spend the most time on — the Tumblr hipsters, the Facebook social butterflies, the Twitter celebrity followers, and the Google+ trendsetters, just to name a few.
It's interesting to entertain the idea that fans of different social networking sites have different preferences in real life, too — so without further ado, here's a quiz to determine which social networking site inspires your interior design style!
Quiz: Which Social Networking Site Inspires Your Interior Design?
Quiz Results
Below I've put together a few interior design elements like bedding and decor inspired by each of the four social networking sites. See if they fit with your tastes!
Mostly A's: Facebook
Product Information: Bedding, Floral Pillow, Yellow Accent Table, Nautical Pillow, Frames, Rug
Facebook's signature crisp navy blue and white are classic colors that create a warm, welcoming room, perfect for inviting friends in to hang out and chat. The fun throw pillows add conversational touches, and the fuzzy round rug promotes connectedness and is the perfect invitation to sit on the floor when other seating is filled.
Next, it's time to add interest with accessories and pops of color. Frames are arranged (with the largest one in the middle!) on the wall to showcase your family and friends, and they don't even have to match; I personally think mismatched frames look more homey. The pop of yellow in the nightstand breaks up the striped monotony and doubles as a bookcase and makeup drawer to conserve precious space.
More ways to create a Facebook-inspired room:
Search for clever ways to display photographs, like turning them into Polaroids, stringing them on a clothesline, or clothespinning them to a "web" of string in the ceiling corners.
Break up a rigid color scheme with bright, cheery colors like orange, yellow, or turquoise.
Keep the wall decor cozy with canvas-inspired hangings or shoebox wall art.
Mostly B's: Twitter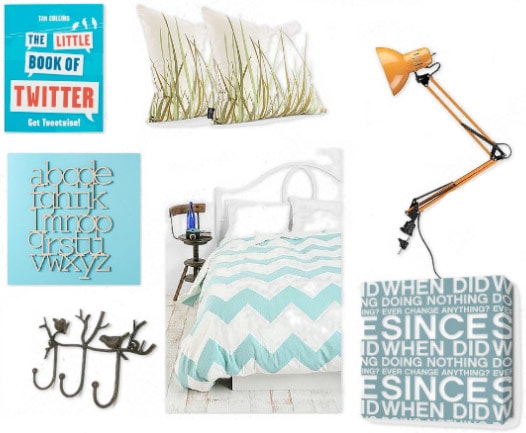 Product Information: Book, Pillows, Lamp, Typography, Bedding, Wall Art, Bird Hooks
Twitter's gentle palette of sky blues and pale greens is an excellent color scheme for a relaxing space. Invite conversation with an eye-catching coffee table book, and add hints of nature with the grass-inspired pillows. The orange table lamp eases the monochrome without being overpowering, and the wall art is a great way to motivate yourself (to get out of bed!).
Of course, a Twitter-inspired room wouldn't be complete without plenty of typography and, of course, birds. Bird-inspired pieces have had a great showing in interior design this year, and I'm willing to bet that they're here to stay. These cute bird hooks are just the thing to round off your style.
More ways to create a Twitter-inspired room:
Attach mirrored bird silhouettes to your wall, climbing upward, and hang paper cranes from the ceiling to create a 3-D illusion of transformation.
Print or cut out a favorite quote out of vinyl and put it on your wall where everyone can see it.
Use our tips on decorating your room with typography: Make a word or phrase the focal point of your room, and organize your decor around it.
Mostly C's: Google Plus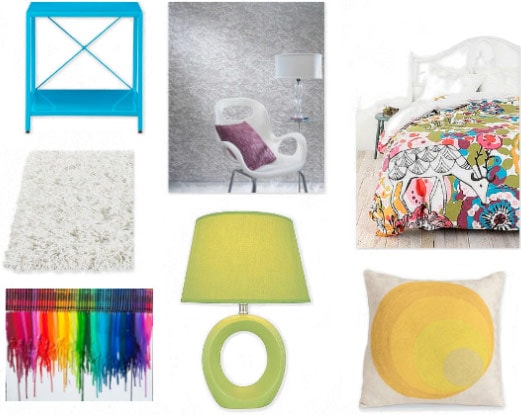 Product Information: Table, Wallpaper, Bedding, Rug, Artwork (DIY), Lamp, Pillow
Google+, the newest high-profile addition to the social networking scene, boasts a minimalist layout organized around primary colors. Take this chic sophistication to your dorm room with these modern design elements! The bright blue table immediately commands attention against the trend-setting air of the white shag rug.
This room is all about the extras: The textured wallpaper provides a simple backdrop, and the bedding is the perfect template for a room that boasts refined poise while still managing to be whimsy and youthful. The futuristic lamp and sunny yellow throw pillow add light to your room and offset the white, and the gorgeous DIY melted-crayon artwork will have everyone stopping at your door to gawk inside at your minimalist elegance.
More ways to create a Google Plus-inspired room:
Create abstract art on a canvas (just hang it up and splatter paint at it with your friends, or pull a Princess Diaries: fill balloons with paint, and throw darts at them) and hang it up. Instant artist!
Go thrift-store shopping, find old lawn chairs, and breathe new life into them with a fresh coat of bright paint.
Take inspiration from Google+'s sleek layout and incorporate elements of chrome and silver into your room, especially in your desk accessories.
Mostly D's: Tumblr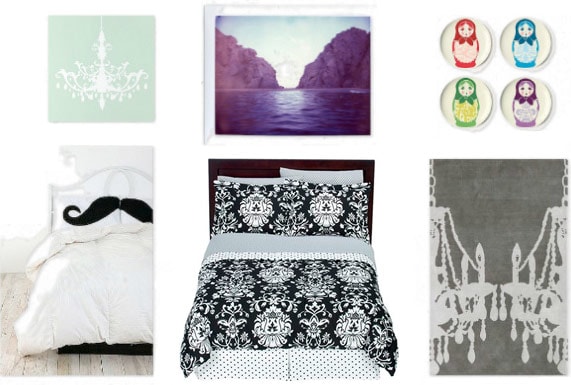 Product Information: Chandelier, Poster, Plates, Pillows, Damask Bedding, Rug
Tumblr, the go-to website for fashion photos, dramatic images, and hilarious memes, is an image-based blog that holds plenty of interior design inspiration. Be whimsy and quirky with the chandelier sticker, and pay homage to your pensive side with the vintage-esque washed-out poster of a river. The babushka doll plates add playfulness to the "seriousness" of Tumblr's hipster side, and of course, a room isn't complete without a mustache somewhere in it.
The damask bedding appeals to the elegant side of Tumblr that appreciates beauty and Victorian-inspired design, while the rug is a good conversation piece as well as a warm neutral that makes your room seem more comfortable.
More ways to create a Tumblr-inspired room:
Think of your favorite memes and try to incorporate them in your style — a troll face on the inside of your dresser drawers is a hilarious wake-up call!
Incorporate Tumblr's love for nature and photo stories with a gallery (taken by you, of course) of photographs lining your walls.
Use lots of creams, ivories, and soft neutrals to create the relaxed and easygoing vibe Tumblr promotes.
What do you think?
Did these interior design ideas fit your personality? What other sources do you look to for design inspiration? Do you think that these social networking sites' "stereotypes" ring true? Let us know with a comment!