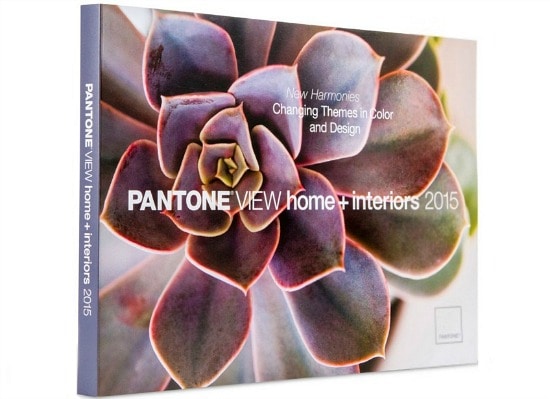 Photo Courtesy of Pantone
Pantone, the color-matching mega-corporation, has released their annual PANTONE VIEW home + interiors 2015 color palette, and the combinations they've chosen are as eclectic and diverse as 2015 promises to be.
The nine palettes they've selected for the upcoming year pay homage to the '80s, with "unlikely designs and unexpected colors" coming together to form a satisfying whole in each one.
With retro brights and twists on pastels in a year that embraced minimalism and muted tones (like Banana Republic's re-branding), it's looking like Pantone is predicting a shift in color harmonies that echo what we've come to expect from rapidly changing times.
Marsala, the 2015 Pantone Color of the Year, is just the tip of the iceberg! If you want a fresh twist on traditional color palettes to liven up your dorm or apartment, look no further. Let's get started:
Palette 1: Style-Settings

Image Credit: Pantone
This purple-rich palette is meant to evoke "poise, finesse, and polish," according to the Pantone press release. The royal purples, on a backdrop of muted champagnes, taupes, and beiges, is an elegant color scheme appropriate for airier rooms and well-lit spaces.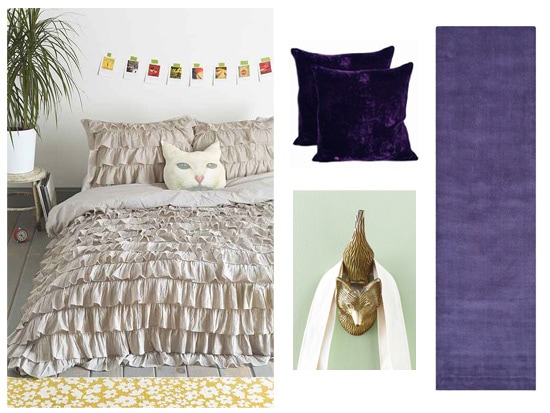 Product Information: Bedding, Pillows, Wall Hook, Rug
Bring out your inner royalty and lavish your room in rich fabrics and deep jewel tones with this palette. A soft champagne-colored waterfall duvet cover sets the scene, while a long purple shag runner and velvet pillows add texture and interest. Amp up the decor, like this gold-plated fox wall hook, then pile on the throw blankets and mirrored surfaces for a room fit for a queen.
Palette 2: Tinted Medley

Image Credit: Pantone
A "harmonious composition of closely related, deliciously warm tones," this color palette reminds me irresistibly of springtime brunch in the city. With frothy, feminine colors reminiscent of mimosas, bellinis, and early florals, this is a truly calming color scheme.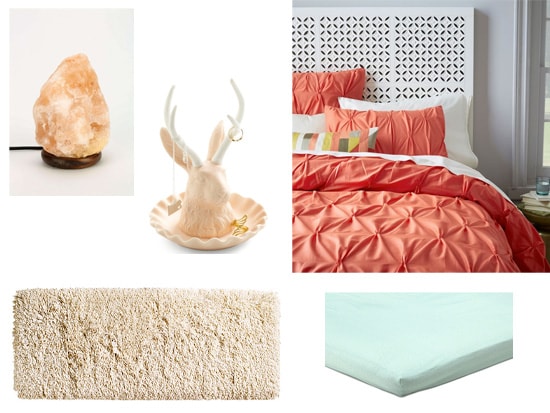 Product Information: Lamp, Jewelry Holder, Rug, Bedding, Sheets
Soft coral colors predominate in this color palette. Start off with a bright pintucked duvet cover for the perfect balance of detail and simplicity, then match with mint green sheets for added sunniness. Finish with muted accessories, like a Himalayan salt lamp, a pale beige shag rug, and an adorable jewelry holder.
Palette 3: Zensations

Image credit: Pantone
This darker palette is warmed up with well-placed notes of Anemone (far right) and Pale Gold (far left). Great for the winter months, this color scheme can also be brightened with silver accents in warmer seasons.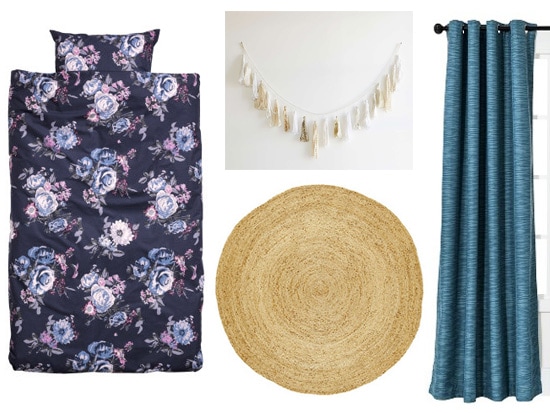 Product Information: Bedding, Garland, Rug, Curtain
More boho and vintage-y than the other two palettes, this particular color scheme evokes warm natural colors that invite a variety of textures. A navy duvet cover with floral details is the perfect backdrop to a round jute rug and a fabric garland. Finish off with teal curtains that let in just enough sunlight.
What do you think?
Do you like Pantone's color selections for 2015? Which was your favorite combination? Do you often look to color predictions when designing a room's decor? Let us know with a comment!