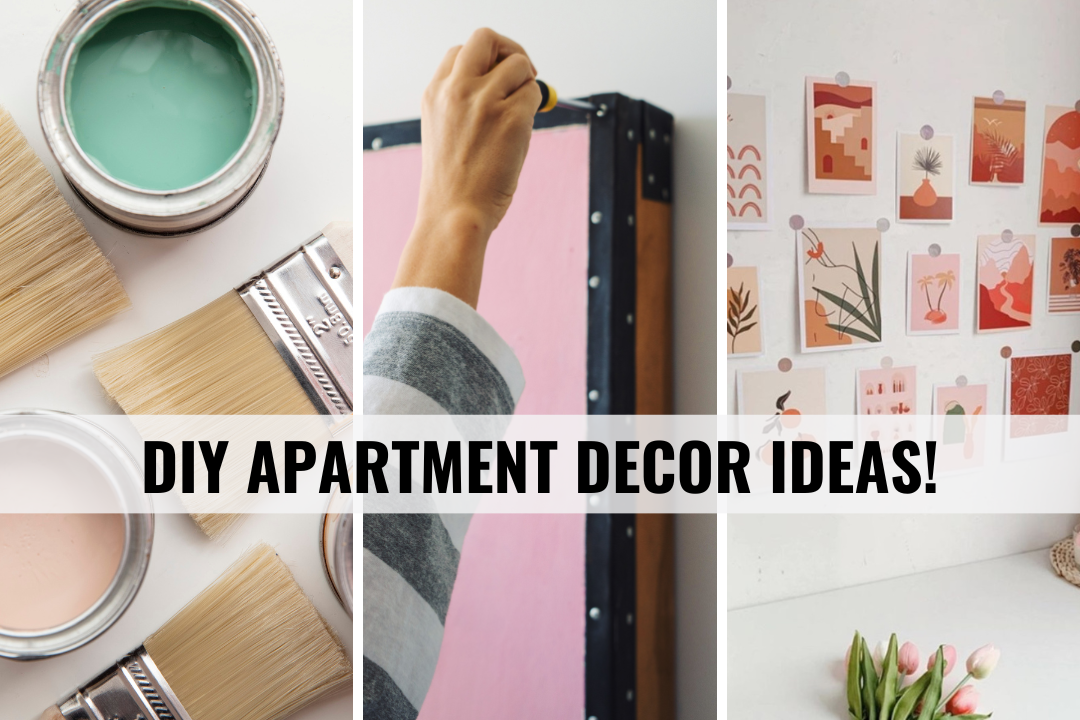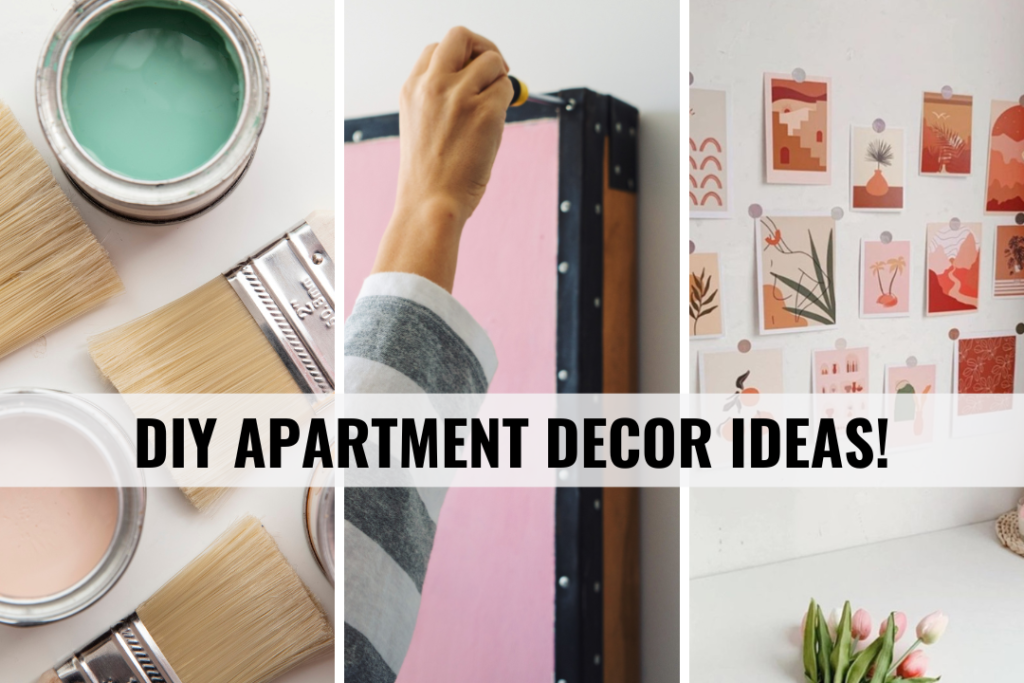 Transforming a college apartment into a cozy and personalized space can be challenging due to its small and cramped nature. However, with creativity and DIY skills, students can turn their living spaces into havens that reflect their personalities. These DIY college apartment decorating ideas are a great way to add personality and maximize your limited space.
Understanding your space is the first step in creating a functional and aesthetically pleasing living area. Before diving into DIY projects, assess your apartment's layout, natural lighting, and storage options. This will help you determine which DIY decor basics and furniture ideas work best for your space. Additionally, space-saving hacks can help maximize your living area and make it feel more spacious.
Decorating on a budget is another important consideration for students. While it can be tempting to splurge on trendy decor, it's important to be mindful of expenses and prioritize essentials. Also, seasonal decoration ideas can help refresh your space without breaking the bank. Finally, adding some final touches, such as plants and artwork, can tie your DIY college apartment decorating ideas together and make your space feel complete.
First, Getting to Know Your Space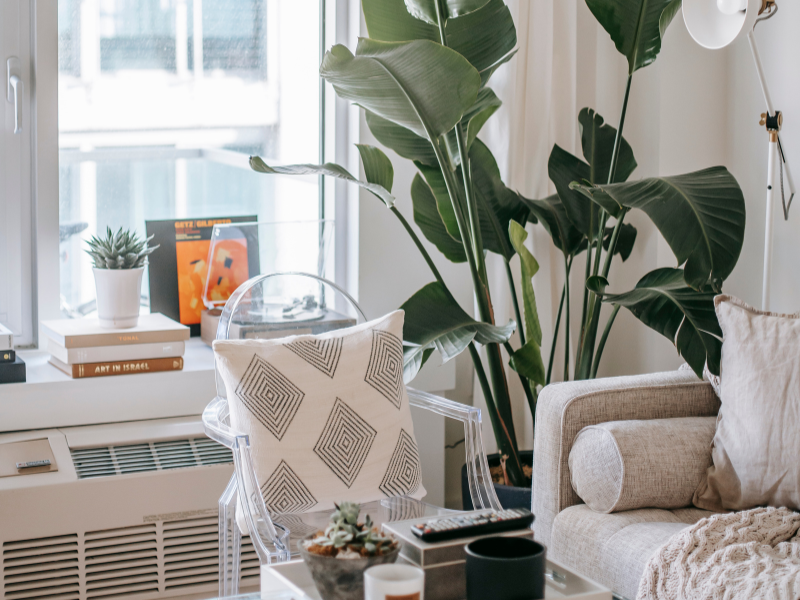 When decorating a college apartment, it's essential first to understand the space you're working with. This involves assessing the room size, identifying your style, and budgeting for decorations.
Assessing Your Room Size
Before you start decorating, measuring your room to understand the size and layout is important. This will help you determine what furniture and decorations will fit in the space without overcrowding. Consider the following when measuring your room:
Measure the length and width of the room.
Measure the height of the ceiling.
Note any awkward angles or corners in the room.
Once you have these measurements, you can start planning your furniture layout and decorating scheme.
Identifying Your Style
Everyone has their unique style, so it's important to identify yours before decorating. This will help you create a cohesive look throughout your apartment. Consider the following when identifying your style:
Look at home decor magazines or websites for inspiration.
Consider your favorite colors and patterns.
Think about the overall vibe you want to create in your apartment.
Create a Pinterest board with all of your ideas and notice any recurring themes.
Once you have a clear idea of your style, you can select furniture and decorations that fit that aesthetic.
Budgeting for Decorations
Decorating a college apartment can be expensive, but it doesn't have to be. Setting a budget for your decorations ensures you spend appropriately while creating a stylish and comfortable living space. Consider the following when budgeting for decorations:
Determine how much you can afford to spend on decorations.
Prioritize which items are most important to you.
Look for deals and discounts on furniture and decor.
Following these tips, you can create a beautiful, functional living space that reflects your style without breaking the bank.
20 Creative DIY Ideas to Transform Your College Apartment's Decor!
When decorating a small college apartment, space-saving hacks are a must. Students can maximize their living space by utilizing vertical storage solutions and multipurpose furniture ideas while maintaining a stylish and functional living area.
1. DIY Wall Decor
Who says you have to spend a lot of money to put art on your walls? This amazing DIY wall decor tutorial only requires a couple of old canvases (find them at thrift stores!), spray paint, and some all-purpose spackle from Home Depot.
It helps if you have a garage or outdoor space where you can apply the spray paint, although you could also do this indoors with acrylic paint and a brush instead!
2. Paint Brick Bookends
This easy DIY "dipped" brick bookend is an excellent addition because it's an inexpensive way to add a touch of elegance to your college apartment. The gold spray paint adds a modern twist to the traditional brick, and the customizable colors allow you to match your decor. Plus, it's a functional DIY project that can hold your textbooks in place.
3. Sticker Wallpaper on the Ceiling
We're obsessed with this cool DIY ceiling decor idea found on TikTok. It does require you to buy some stickers and takes some time, but the effect is incredible! Ceiling decor is so unexpected and is a perfect way to spice up a boring hallway.
While the Target stickers she uses in the video are now sold out, these terrazzo wall decals from Amazon are a dupe and are super cheap at under $15 for a set of six sheets.
4. Hanger Chains
This clever hanger hack is a must-have for college apartments, as it effortlessly maximizes closet space. Furthermore, the affordable chain hack provides ample hanging space for your clothes, which is ideal for those with limited closet space. Prepare for a minimal yet transformative closet upgrade!
5. DIY Pillar Stand
If you haven't yet seen this DIY on your FYP, you need to check it out! People everywhere are scooping up black plastic bowls and plates from stores like Target and Walmart and turning them into beautiful stands!
Seriously, this DIY could not be simpler or more stylish. No one will know it cost you just a couple of bucks!
6. Desk Hutches
The DIY simple desk with a hutch is a fantastic option for creating a workspace in your college apartment. It's affordable and practical, letting you customize the colors and design to match your decor perfectly! Moreover, the added hutch provides valuable storage space, making it a functional and stylish addition to your living area.
7. Coffee Mugs
We absolutely love the DIY 5-minute decal transfer on a coffee mug because it's such a quick and easy way to add a personal touch to your daily routine! Best of all, it's affordable and customizable. Choose your favorite images and designs. Don't forget how chic and beautiful mugs can make mornings more enjoyable!
8. Extra Storage
Check out this roundup of DIY storage solutions for small apartments! They maximize your space and are totally worth trying! Furthermore, these projects are affordable, customizable, and practical. You can create plenty of storage for all your belongings.
These creative, well-designed ideas will maximize your apartment's potential, making your living area organized and spacious.
9. Shoe Storage Ottoman
The storage ottoman is a practical and affordable solution for organizing shoes in a college apartment. This customizable project lets you select colors and designs to match your decor. Moreover, it serves a dual purpose as storage and seating, complementing any living space.
And who doesn't have waaay too many shoes that they need to store? (Guilty.)
10. DIY Rug
We love this "DIY Rug from Scratch" project! It adds a creative and unique touch to your college apartment. Choose colors and designs that complement your decor to let your creativity shine.
And the best part? It brings cozy warmth and instant homely comfort to your living area. Make your space inviting with this awesome DIY rug. Once you get good at making these, they will make fantastic gifts, too.
11. Jewelry Organizer
The DIY jewelry organizer is a great way to keep your accessories organized and accessible. It's budget-friendly, practical, and customizable to match your style and space. Moreover, it adds a touch of sophistication to your decor while keeping your jewelry in pristine condition. Perfect for your college apartment!
12. DIY Clothespin Picture
Looking to display your favorite photos in your college apartment? Check out these affordable and creative DIY clothespin frames!
Customize them to match your decor with the wood and clothespins of your choice. Additionally, they're easily updatable for a fresh, personalized look. Discover the perfect solution to showcase cherished memories on a budget.
13. Wall Collage
Enhance the ambiance of your college apartment by upgrading with a cheap and easy DIY collage wall kit! Add some personality to your living space!
Pick from various images and layouts to match your unique style; the aesthetic is totally up to you. You can get as creative as you like and make the collage yourself, or you can even buy pre-made sets on Amazon to make this project super easy.
14. DIY T-Shirt Rug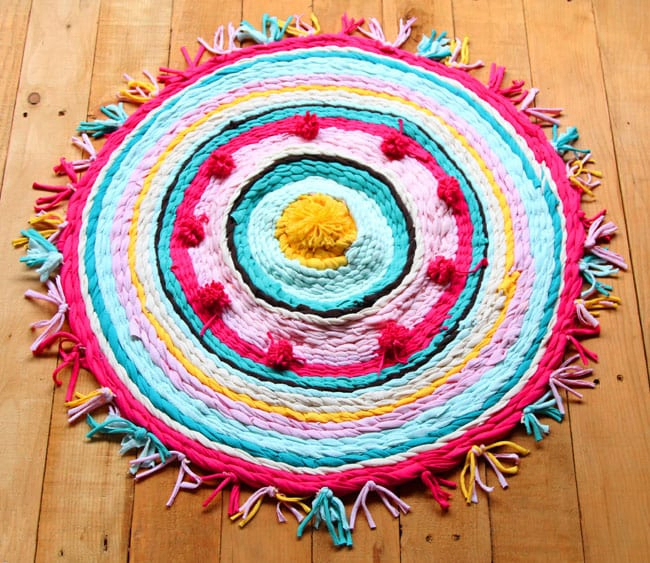 Explore the world of eco-friendly creativity with a charming DIY recycled T-shirt rug. Aside from being cute and eye-catching, this affordable project utilizes materials easily found at home, offering comfort and style for your living space.
The best part is, no one will ever guess that your rug is made from old tee shirts — it will blow your friends' minds!
15. DIY Storage Cart 
Need practical and affordable storage for your college apartment? This upgraded plastic storage cart is the DIY for you!
Literally every college student has one of these storage carts in their room, so this is a DIY you can totally do. Just grab some scrapbook paper, decals, and construction paper at the craft store and start customizing! The result is so cute and you can fit it to your aesthetic.
16. DIY Light Up Neon Sign
Want a cost-effective way to add a trendy touch to your college apartment decor? Try the inexpensive neon-look sign!
While real neon signs are pricey AF, this one is budget-friendly, creative, and customizable. Choose a phrase or word that suits your style, and easily hang it with damage-free strips. Elevate your living space with this versatile addition.
17. Mason Jar Organizers
Need a cute and functional addition to your college apartment decor? Take advantage of this affordable mason jar organizer! It's customizable and perfect for storing small items like makeup brushes, pens, or kitchen utensils.
18. Cork Board
Discover the benefits of DIY corkboards! Customize your board to match your style with ease. These options are affordable, easy to make, keep you organized, and enhance your living space. They will make you WANT to get organized which can definitely be a struggle.
19. DIY Disco Ball Wall Art
I can't get over how cute this disco ball wall art idea is! You just need a blank canvas, some paint, and some old CDs or DVDs.
This is another DIY decor idea that you can totally customize to your style. Make a few disco balls, change the colors, or make something else with the prismatic shards. The options are truly endless!
20. DIY Paint Chip Calendar
This DIY paint chip calendar is a budget-friendly way to organize your schedule and enhance your college apartment decor. Moreover, it's easily customizable to match your style and offers creativity and practicality.
Designed for ease and reusability, this calendar is a perfect addition to your living space, simplifying scheduling. The best part is, it's dry-erase so that you can use it over and over again.
Aesthetic on a Budget: More Affordable Ways to Decorate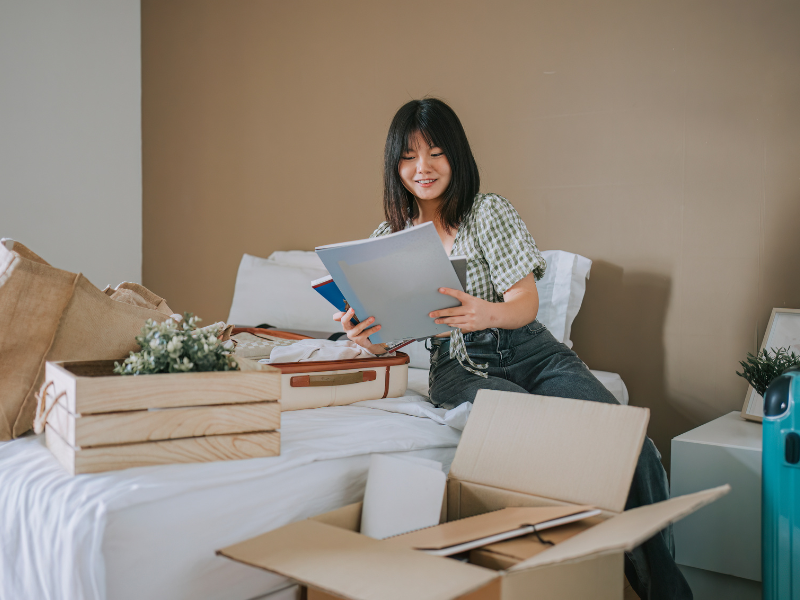 Decorating a college apartment on a budget can seem daunting, but it can be done with a little creativity and resourcefulness. Here are some ideas for decorating a college apartment on a budget.
Thrift Store Finds
Thrift stores can be a goldmine for affordable home decor. Look for picture frames, lamps, and vases that can be easily repurposed or painted. You can also find unique items like vintage posters or decorative plates that add character to your space. Inspect items carefully for any damage or wear and tear before purchasing.
Recycling and Upcycling
Recycling and upcycling items you already have can be a great way to save money on home decor. For example, you can repurpose old t-shirts into colorful and unique braided rugs. Or, turn empty wine bottles into vases by adding fresh flowers. You can also create wall art by framing pages from old books or magazines.
Also Read: Sustainable Fashion 101: Recycled Fabrics
Another way to upcycle is to use old furniture in new ways. For example, a bookshelf can be turned on its side and used as a TV stand, or an old dresser can be repurposed as a storage bench. Use your imagination and get creative with what you already have.
You can save money on home decor by thrift shopping and upcycling items while adding unique touches to your college apartment.
Spruce Up Your Space: Seasonal Decoration Ideas!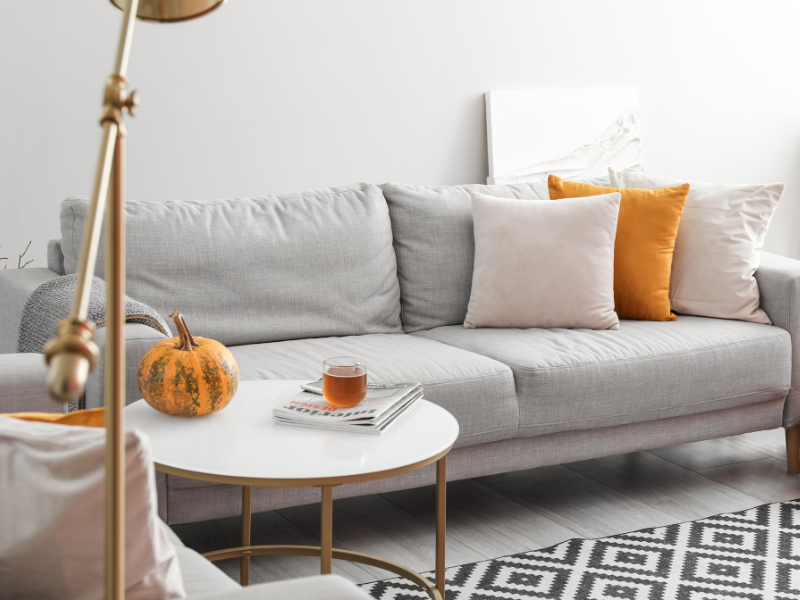 Decorating your college apartment seasonally can be a fun and creative way to add some personality to your space. Here are some ideas for autumn and winter themes and spring and summer themes.
Autumn and Winter Decor Themes
Warm and cozy decorations can make your apartment feel more inviting as the weather gets colder. Here are some ideas:
Fall foliage: Use fake or real leaves to create a fall-themed display. You can put them in a vase, scatter them on a table, or even create a wreath.
Pumpkins and gourds: These classic fall decorations can add color to your apartment. You can carve them or paint them to create unique designs.
Candles: Candles can add a cozy atmosphere to your apartment. Try using scents like cinnamon or pumpkin spice for a fall vibe.
Warm blankets: Adding a few warm blankets to your couch or bed can make your apartment feel more comfortable and cozy. (See our guide to fall dorm decor for even more tips!)
For the winter season, consider these ideas:
String lights: String lights can add a warm and festive touch to your apartment. You can hang them on your walls, around your windows, or even on your bed frame. (See our guide to how to decorate with Christmas lights for tons of ideas.)
Holiday decorations: Whether you celebrate Christmas, Hanukkah, or another winter holiday, adding some decorations can make your apartment feel more festive. Try adding a wreath, a menorah, or a Christmas tree.
Cozy textures: Adding pillows, blankets, and rugs with cozy textures like faux fur or wool can make your apartment feel warm and inviting.
Spring and Summer Themes
As the weather gets warmer, lighter and brighter decorations can make your apartment feel more refreshing. Here are some ideas:
Flowers: Adding fresh or fake flowers to your apartment can add some color and freshness. Try putting them in a vase or creating a floral arrangement.
Bright colors: Adding pops of bright colors like yellow or pink can make your apartment feel more cheerful. Try adding colorful throw pillows or a bright rug.
Outdoor elements: Bringing in natural elements like seashells, driftwood, or rocks can make your apartment feel more connected to nature.
Light fabrics: Swapping out heavy blankets and curtains for lighter fabrics like linen or cotton can make your apartment feel more airy and open.
Seasonal decorations can be a fun and easy way to switch up your apartment's style. Try out some of these ideas to add some personality to your space.
Achieving Perfection: Final Touches to Polish Your Space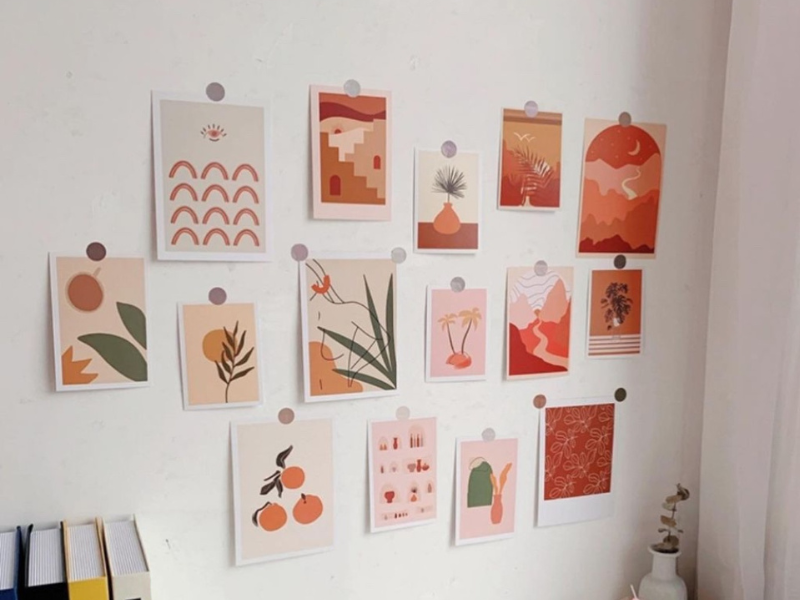 After decorating a college apartment with DIY ideas, it's time to add some final touches to make the space feel complete. Here are some ideas for adding those finishing touches.
Adding Plants
Adding plants is a great way to bring life into a college apartment. Not only do they add a pop of color, but they also help purify the air. Here are some plant ideas to consider:
Snake Plant: This plant is low maintenance and can thrive in low-light conditions. It's perfect for a college apartment.
Pothos: This plant is great for hanging and can add greenery to a bare wall.
Succulents: These small plants are perfect for adding a touch of green to a windowsill or desk.
For more on these, be sure to see our guide to the best dorm plants that are tough to kill.
Creating a Comfortable Atmosphere
A comfortable atmosphere is key to making a college apartment feel like home. Here are some ideas to consider:
Lighting: Adding warm lighting can create a cozy atmosphere. Consider adding string lights or a floor lamp.
Textiles: Adding cozy textiles can make a space feel more inviting. Consider adding throw pillows, blankets, or a rug.
Wall Art: Adding wall art can help make a space feel more personal. Consider adding some DIY art or prints.
Adding plants and creating a comfortable atmosphere makes a college apartment feel cozy and inviting.
What Do You Think Of These DIY College Apartment Decorating Ideas?
Did you enjoy this post? What's your favorite DIY? Are you planning on trying any of these DIYs? Let us know in the comments below!
You will love the posts below if you enjoyed our DIY college apartment decorating ideas. Check them out! –