This post may contain affiliate links, which means we may receive a commission if you purchase through our links. Please
read our full disclosure here
.
So now that I have officially been here in London for a full month (!), I feel like I finally have the fashion authority to make some judgments of my own. The number one thing that constantly surprises me is how fashion inspiration is literally everywhere! As much as I love the urban grit and glamour of my home NYU campus, coming here has opened my eyes to finding inspiration literally on every corner.
Here are some of the biggest inspirations I have found and how you can use them to transform your own wardrobe!
On the Streets
I was a bit nervous when packing to come to Europe, as everything I had heard made it sound like each and every day required runway-worthy looks. However, I was pleasantly surprised to find that while British students are definitely stylish, that does not mean they are constantly primped and perfectly put together.
Instead, many of the students I have seen abroad have mastered the "just-rolled-out-of-bed-looking-fabulous" style. There is something undeniably effortless about the way they embrace their natural hair texture (which, with the constant rain in London, you kind of have to do), seemingly just throw together an outfit that looks impeccable, put on a trench and some boots, and manage to capture the whole effortless, model-off-duty style..
Of course, since I first noticed how prevalent this "effortless" look is, I have been trying to break it down to figure it out for myself (and for all you CF readers). One thing I have noticed is that mixing unexpected prints is a great way to create a more exciting look without having to buy any new pieces. I know the idea of mixing prints seems a bit scary, but it can easily be done in a subtle way to make a statement without being too over-the-top for a typical day in class.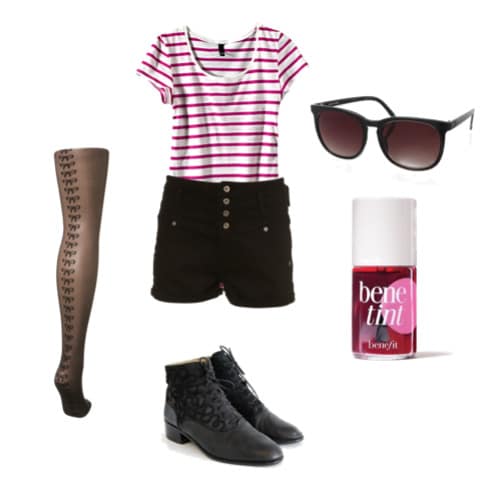 Product Information: Striped Shirt: Shop.hm.com, Shorts: Topshop.com, Tights: Missselfridge.com, Shoes: Bowsandbandits.com, Sunglasses: Asos.com, Benetint: Benefitcosmetics.com
In this outfit, I mixed a striped shirt with high-waisted shorts for a bit of the popular sailor/military-esque trend. To switch it up and make it stand out, I added these adorable tights with bows along the back and detailed lace up boots. I love that this look can't necessarily be defined–it is girly but definitely has an edge to it with its strict tailoring.
Now all you need to do is muss up your hair a bit, use a subtle lip and cheek stain to give you that natural, fresh faced look, and voila–you're instantly the best-dressed whether you're strolling the streets of America, Europe, or anywhere else! Put on your favorite pair of sunglasses for a bit of extra intrigue and I promise you'll be stopped by people thinking you're a celebrity.
Fashion Magazines and Window Shopping
So while I recognize that fashion mags are pretty obvious sources of inspiration, there are marked differences between magazines in the US and UK. For one thing, many of the magazine covers here feature models rather than celebrities. Also, the focus seems to be more on actual designers and runway looks here in the UK than on celebrities or interest stories, which are typical of fashion mags in the US.
As for window shopping, it is an activity that I absolutely suggest adding to your travel itinerary. Some of my best memories from my trip to Paris a few weeks ago included drooling over the gorgeous mannequins in the store windows that dotted nearly every block. The way that the looks were presented and put together was undeniably incredible and there were points when my friend literally had to steer me away before I maxed out my credit card by purchasing the entire window display!
The trends themselves that I have seen in both the magazines and while window shopping also differ from what I had seen for S/S '10 back home. Shape and silhouette are definitely the definitive trends for this season in Europe, as the most popular trends I saw included embellished shoulders, structured harem-style pants, and body-hugging bandage dresses with interesting cutouts. Below are some examples–let me know in the comments if you have similarly seen these trends all over where you live and if you would wear them!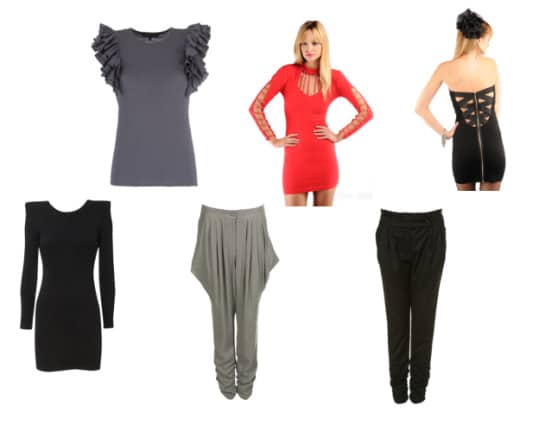 Product Information: Shoulder Pad Dress: Oasis-stores.com, Embellished Shirt: Johnlewis.com, Grey Harem Pants: Topshop.com, Red Cutout Dress: Shopastygal.com, Black Harem Trousers: Topshop.com, Black Cutout Dress: Shopnastygal.com
The Cities Themselves
Lately on CF, a lot of the writers have been showing you how to get style inspiration from music, TV shows, and other innovative sources, but I don't think I've heard cities themselves mentioned! As I was walking through London and Paris, and I quickly found myself envisioning outfits based on the gorgeous architecture around me (yes, this was also possibly a side effect of massive amounts of window shopping).
Here's an example of how I used the city around me to inspire a going-out look!
Inspiration: Big Ben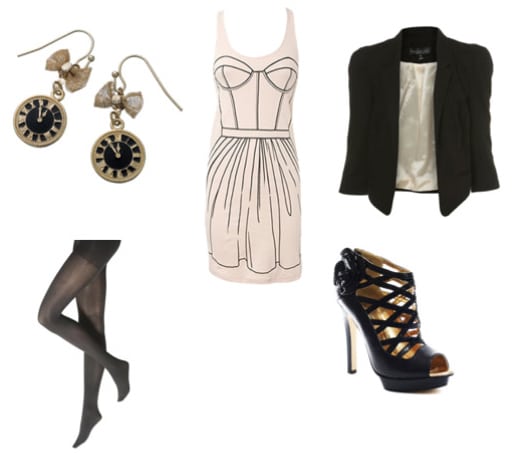 Product Information: Dress: Oasis-stores.com, Earrings: Monsoon.co.uk, Tights: Sockshop.co.uk, Blazer: Topshop.com, Cage Heels: Heels.com
What really stands out to me about the famed Big Ben is the contrast between the straightforward architectural, linear design mixed with the opulence of the gilding at the top.
For this look, I chose a Trompe L'Oeil dress that has the illusion of being extremely structured (but looks like it would be so comfortable to wear)! A stiff blazer, opaque black tights, and cage heels complete the base of this look, mimicking the structural look of the majority of Big Ben. Then at the very top of the look, I added in these adorable clock earrings with bows to add the glitz and fun of Big Ben's gilded top! Complete your look with shimmery gold makeup to give London's major tourist attraction a run for it's money.
Travel Tips and Tricks
Plan Ahead–I cannot stress this enough! Book your trips as early as possible, and traveling through Europe will be a million times easier and cheaper. Also, as soon as you book a trip or find out the due dates of papers, add it on to a calendar. This will prevent you from double booking a weekend or planning a trip right before that giant midterm paper is due!
Beware of heels!— To wear heels or not to wear heels was a point of contention in many of my "Study Abroad" posts. Personally, I decided that I would bring along my trusty pair of chunky heels that are typically easier to walk in than stilettos and have seen me through some rocky NYC streets. However, my confidence in these heels was not deserved, as I took the fall of the century last Saturday night. If my swollen and bloody knees are anything to go by, heels are not your best bet in Europe. I suggest heeled boots if you want to go for extra height, as they are significantly easier to walk around in from my experience than just plain high heels.
Ask for student discounts–I mentioned the ISIC Student Abroad cards in my last post and I still highly suggest purchasing one before coming abroad. Besides the card, though, I have found that many stores offer student discounts that aren't advertised. So when you go out shopping, always ask at the register if they have a student discount. You may be pleasantly surprised!
What do you think?
Where do you find outfit inspiration in your home or college towns? Do you have a favorite place to look for style inspiration? Have you seen similar trends where you live? What else would you like to see in this "Study Abroad" column? Let us know in the comments!