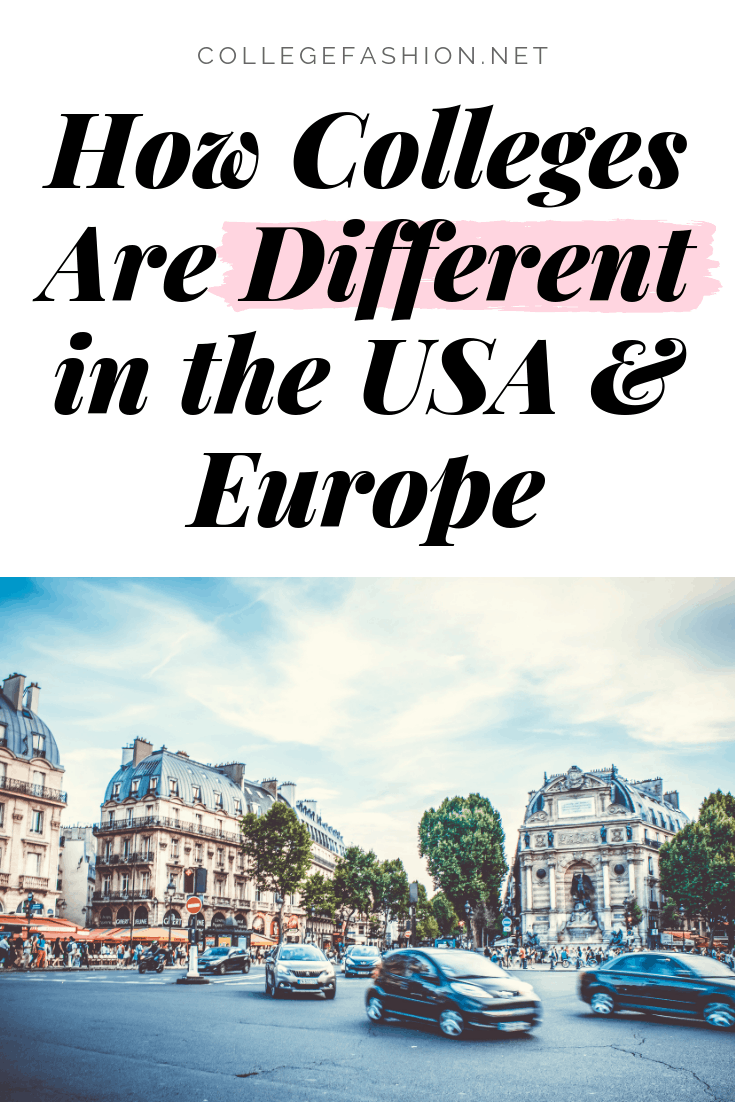 The continent of Europe is the most common destination for American college students who are studying abroad. It's no surprise why: Lots of universities there are affiliated with American schools and the continent is rich in culture and history.
It obviously helps to know what to expect before studying abroad in Europe, but articles that explain the study abroad basics usually tell you about the housing accommodations, the climate of the host country, transportation, staying safe, places to explore, etc. These are all essential for study abroad students to know, but since you'll study at an institution abroad, it's also important to know the differences between American universities and colleges and European universities and colleges. And those differences are many.
Below, I'll share the key differences between European and American universities to get you up to speed. You might be surprised at how different things are across the Atlantic!
Classes
Classes in US higher education institutions often consist of lectures, writing assignments, quizzes, reading assignments, discussions, group projects, etc. At liberal arts colleges and community colleges, you have more interactions with your professors than at big universities. Speaking up in class is encouraged and students can see their professors in their office hours.
In Europe, classes focus on lectures, reading (lots and lots of reading), and one or two major exams. Group projects and other activities are rare. In the UK, there are "tutorials," in which there's a group of 1 to three students, but they are not taught by a professor. In Spain, student debates are common.
At European universities, students are generally expected to learn independently and academic help resources are not common like they are in the states. There's not much student-teacher interaction across most of the continent, although there is in Spain, where student-teacher relationships are very informal. Like Spain, informal student-teacher relationships are common in Finland.
Living Accommodations
Living in a dorm is a big part of the United States college experience. Students often share a dorm with at least one roommate of their gender. It's very common for freshman to reside in dorms.
In Europe, living in a dorm is not really a thing. Instead, many students live in apartments off-campus. However, in the UK, there are residence halls, but it depends on the school.
Extracurricular Activities
In college in the United States, there are so many school-affiliated things you can do outside the classroom. You can join clubs, participate in sports (which I'll explain below), volunteer, etc. You can also participate in sororities.
In the United Kingdom, there are also clubs, which are known as student societies. You might find "student nations" in Sweden and Finland, which are like clubs in the US. But clubs really aren't a big deal in Europe. When you go to Europe, you will not find any fraternities nor sororities.
Sports
In American colleges and universities, sports are a big deal, especially football. College football games are gigantic social events at most large universities. Students wear their school colors at games, tailgate all day, and celebrate big wins with parties on campus. When you're in college, there are many sports you can play, from rowing to softball and volleyball, even intramural Quidditch! College sports means competition and it's not uncommon to compete against other colleges and universities. Athletic scholarships are given to high-performing student athletes.
However, when you study abroad in Europe, you will see that sports have very little or no presence in colleges and universities. European colleges and universities are seen as places solely for studying. However, in the United Kingdom, there's British Universities and College Sport and like the United States, there are competitions and clubs. Although soccer is insanely popular in Spain and Italy, there are no college clubs nor competitions at schools in those countries.
Academics
In the United States, you can major in something and minor in something. You can even do a double major. You take a variety of classes until you know what major/minor you want to choose. You have a lot of flexibility in choosing courses, but you are required to take general education courses.
In Europe, however, there is no such thing as "major" and "minor." In Europe, majors are referred to as "programs of study." You cannot easily switch programs of study. You also need to stick to one degree. Because you stick to one program of study, you can't take classes outside your program of study. You don't, however, have to take general education courses.
Campus Life
In the United States, you can find student union centers. These are places for students to hang out, shop, and eat. Club meetings can even be held there. Students can play sports for fun on campus fields and work out in campus gyms. Students can hang out in libraries and lounges. Students can also do internships on campus. There are residence halls, restaurants like Taco Bell and Pizza Hut, fraternity and sorority houses, athletic complexes, gardens, observatories, etc. Almost everything happens on campus.
In contrast to the United States, Europe does not have much campus life as European colleges and universities are only seen as a place to study as Europeans spend less time on college campuses than their American counterparts. In Europe, you will see libraries, research institutes, and classrooms, but cafes and bookstores may only be occasionally seen.
School Spirit and Mascots
College colors and mascots are a big part of the typical American college/university. They're often a big part of sporting events, especially football. Fight songs and team nicknames are also part of the school spirit. American college students tend to buy stuff with their college's name and colors.
When you study abroad in Europe, you won't find any of that. Some universities do have school colors, though, particularly in the UK. The ubiquitous college logo sweatshirt is not really a thing in Europe, so don't bother leaving room in your suitcase for one.
Did it help you?
Are you going to study abroad in Europe? Are there any more differences you notice between European and American higher education systems? Did you study abroad in Europe? What differences between United States higher education institutions and European institutions? I'm eager to hear your thoughts.