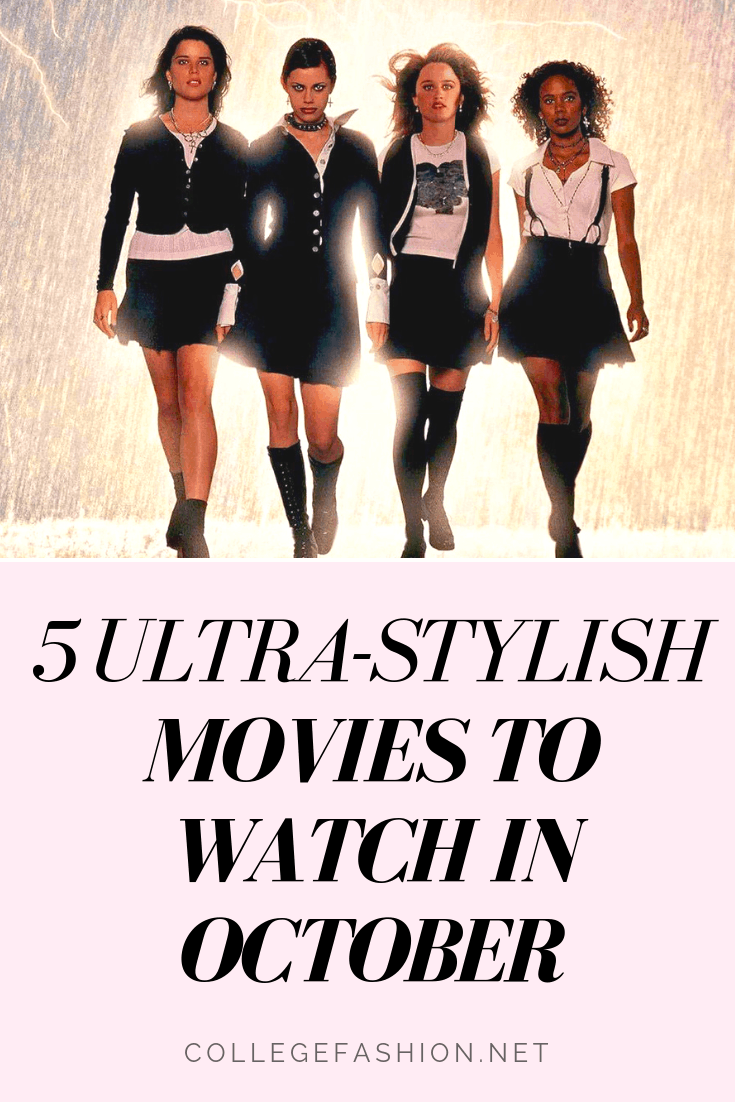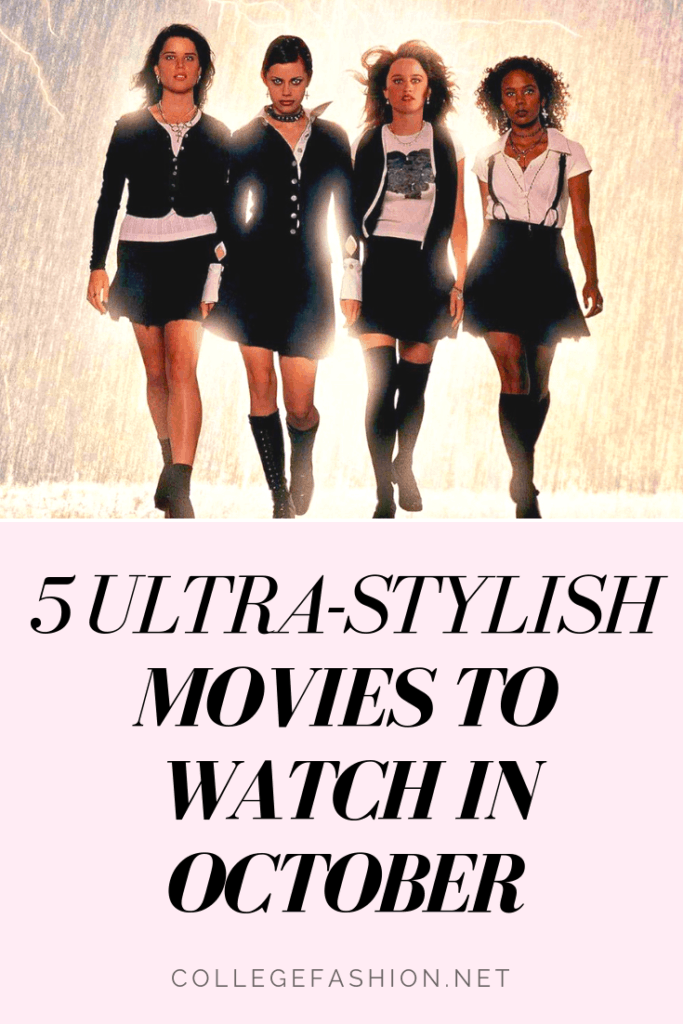 Spooky season is just around the corner, and what better way to celebrate than with a movie marathon? We've talked about our favorite cozy fall movies before, but what if you're in the mood for something a little darker?
With this in mind, today we're sharing 5 spooky and/or Halloween themed movies to watch in October, all of which feature amazing fashion.
Most scary movies that make "Halloween themed movie" lists are all about heart-pounding suspense and blood and guts. I don't know about you, but that's not really my thing. So today I found spooky films that offered more than just the typical horror genre tropes, plus some fabulous style.
Below, I've compiled five films to watch in October, all featuring looks that are perfect for the scariest season of the year. From knee-high boots to chunky sweaters and plaid patterns, these films are fall fashion gold. They're sure to inspire your wardrobe for the whole month of October.
The Craft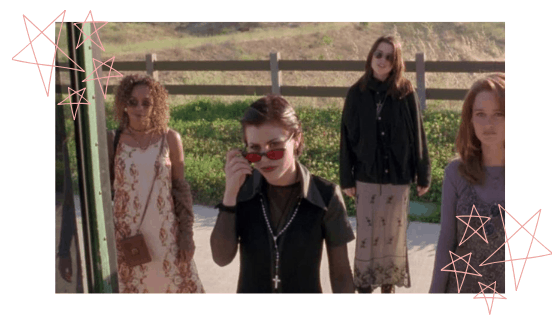 The Craft, which we've covered in its own post on CF before, tells the story of four witches who come together to hone their magical abilities, and later fall apart when their desire for power becomes too much to handle.
The Craft is the ultimate film for '90s grunge style inspo with a gothic feel.
Each of the four girls has her own style, but all of their styles are steeped in grunge: Sarah is often in school uniform-inspired outfits; Nancy is the queen of goth-grunge with her all-black outfits and chokers; Bonnie loves oversized jackets and long, flowing skirts; and Rachelle rocks a more bohemian version of the 90's grunge styles.
Needless to say, this film is chock full of spooky, witchy looks to get you in the Halloween spirit.
Best Looks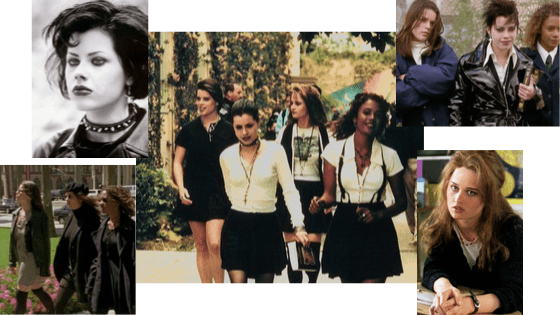 The Craft Inspired Outfit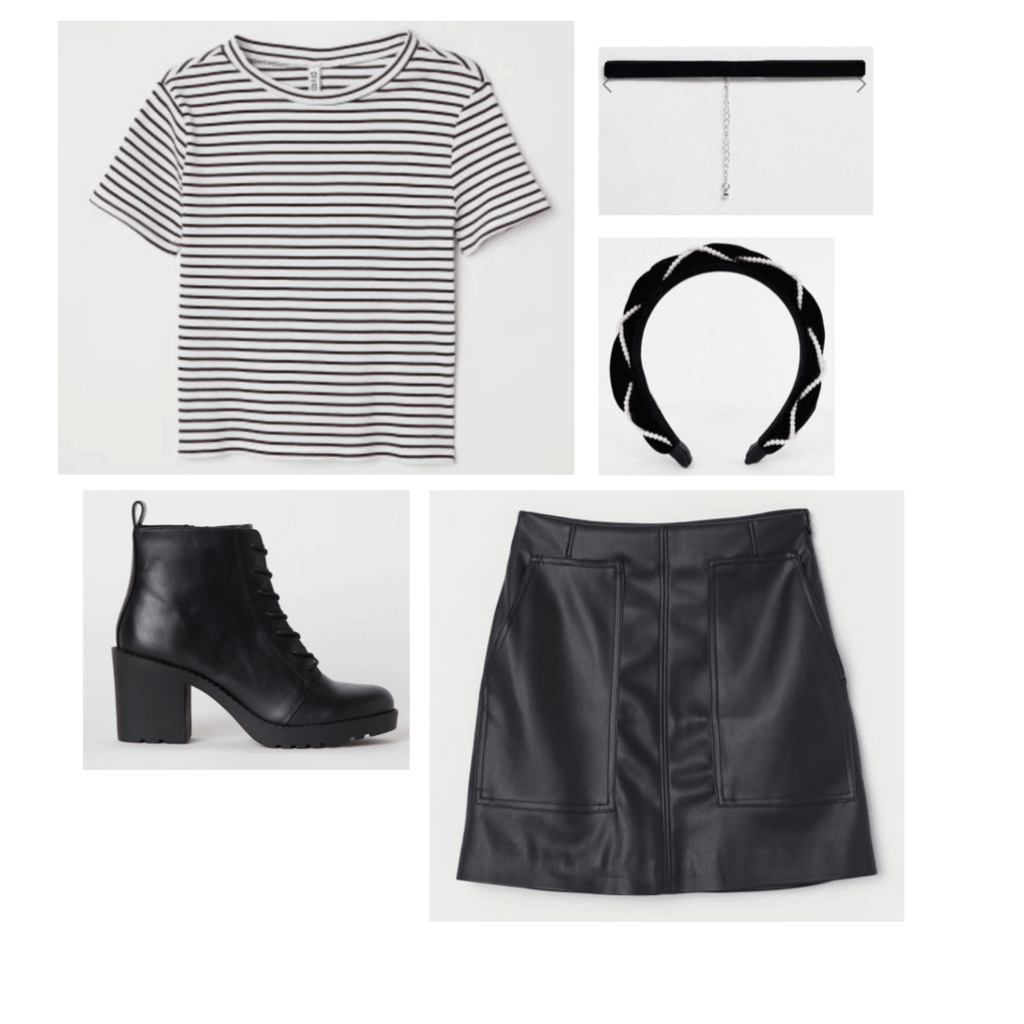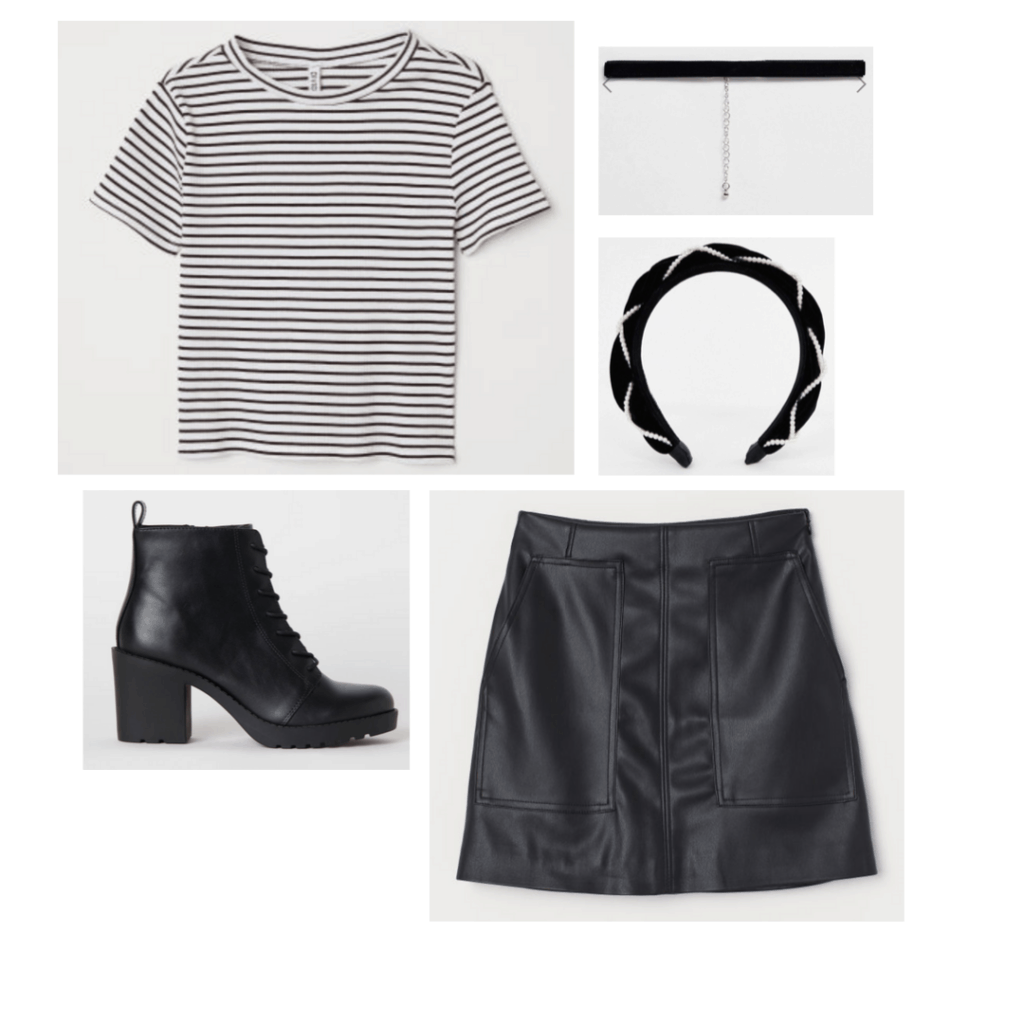 Products: Skirt – H&M, T-Shirt – H&M, Boots – H&M, Choker – ASOS, Headband – ASOS
Beetlejuice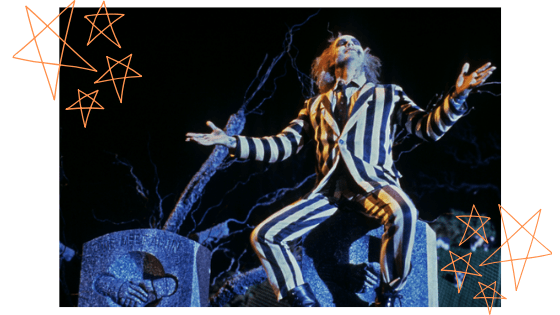 Tim Burton has always been known for colorful and gothic-styled films, and Beetlejuice is certainly one of his most stylish. This is one of those classic movies to watch in October for laughs and all the Halloween feels.
Plus, I have to say, the style is pretty great.
From Beetlejuice's classic black and white striped suit to the red wedding dress Winona Ryder wears, this film is as fashionable as it is creepy. There are styles in this film perfect for everyone to wear this fall season, especially if your fashion vibe is bold.
Bonus: This movie also offers some top-notch Halloween costume ideas.
Best Looks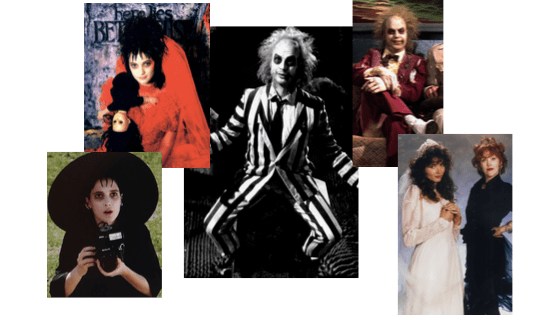 Beetlejuice Inspired Outfit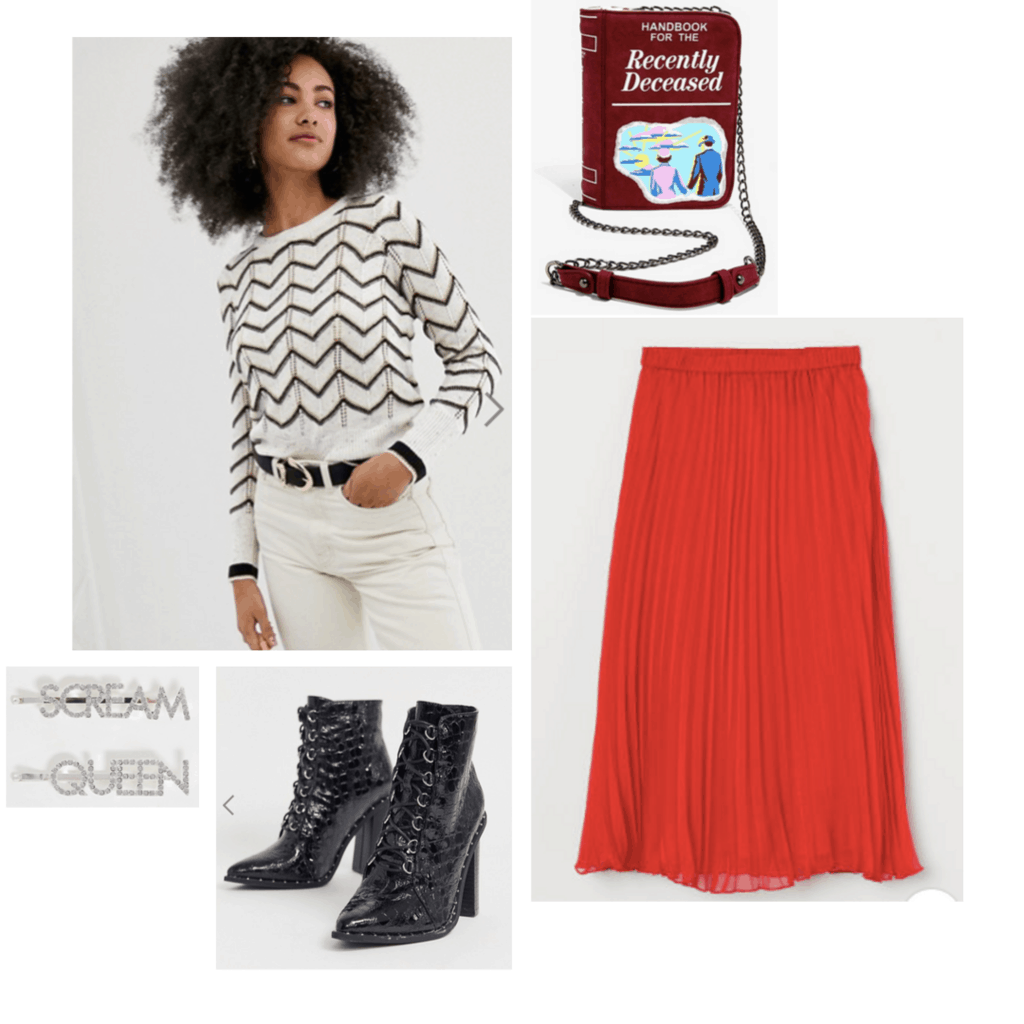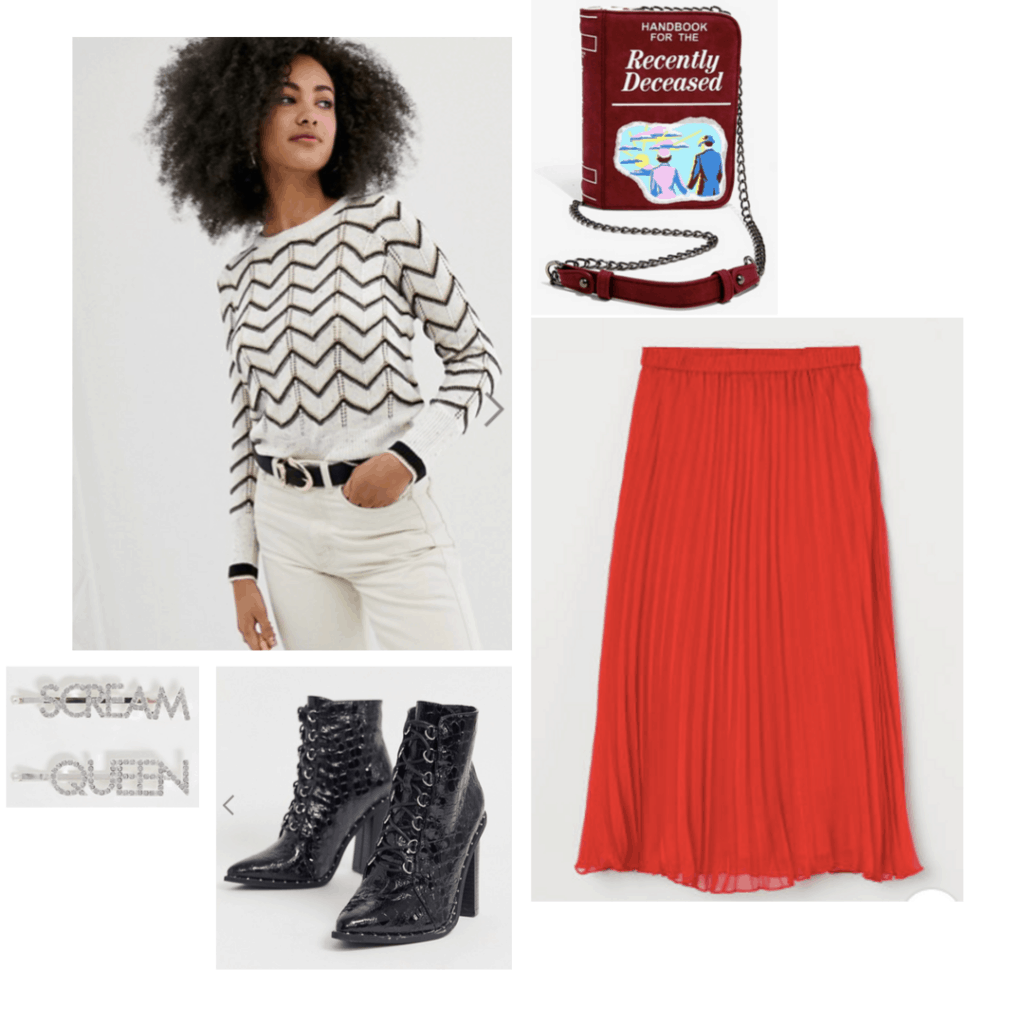 Products: Skirt – H&M, Sweater – ASOS, Shoes – ASOS, Purse – Hot Topic, Hair Clips – ASOS
Carrie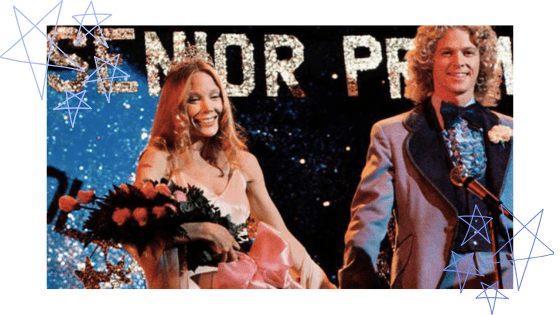 Carrie is the now-iconic story of a bullied girl who discovers she has telekinetic abilities. When her bullies take it too far on prom night, her powers sure do come in handy.
Carrie is set in the 1970s, which, for our style inspo purposes, is awesome. Everyone in this film is dressed in some of the best trends of the time. Colorful striped tops, bell-bottom jeans, and floral prints are everywhere in the film.
Not to mention, the prom looks are to die for, literally, especially Carrie's pink silk slip dress and her date's all blue tuxedo.
Best Looks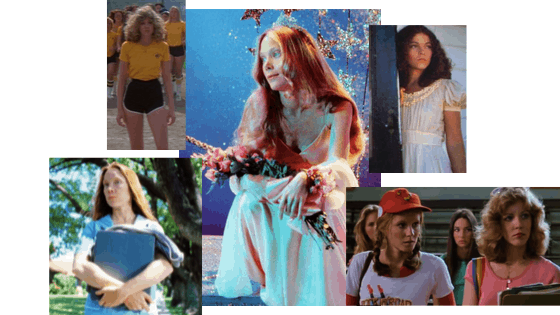 Carrie Inspired Outfit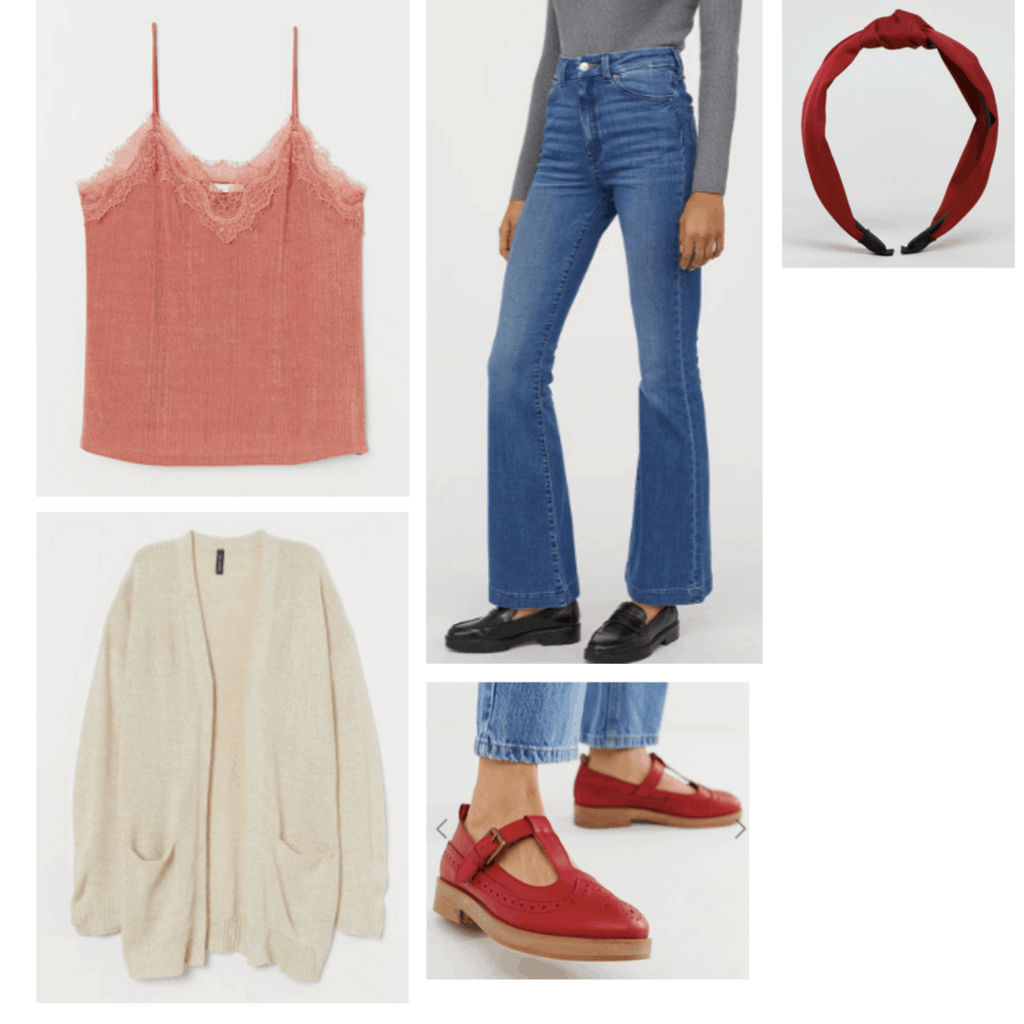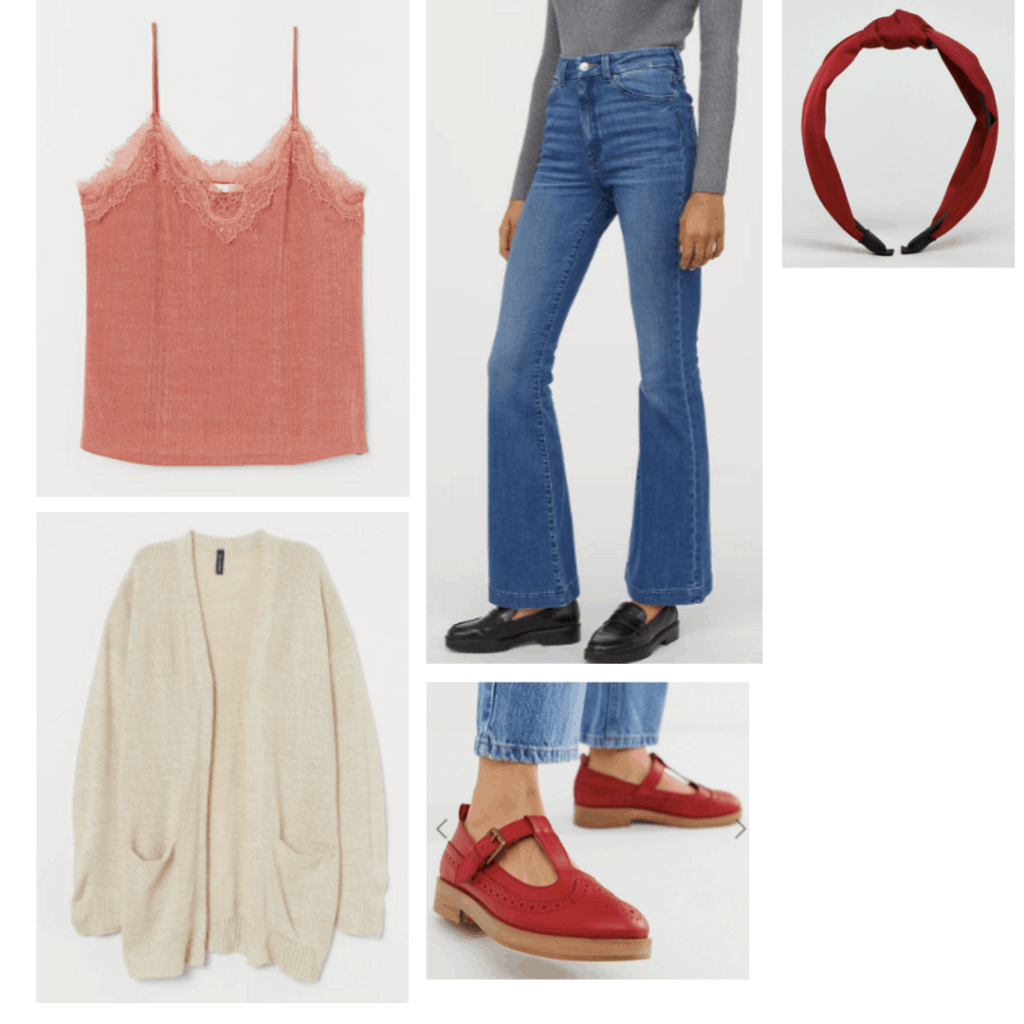 Products: Top – H&M, Jeans – H&M, Cardigan – H&M, Shoes – ASOS, Headband – ASOS
Black Swan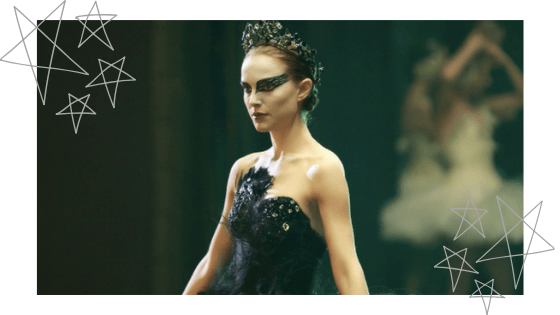 Okay, this one is technically more related to Christmas than Halloween, but I'd argue that its subject matter puts it solidly into October-viewing territory.
And the fashion. Oh, the fashion.
(Did you know that the Rodarte sisters designed the costumes for this film? Nothing like having legit runway designers on staff.)
Black Swan tells the story of Swan Lake, through the eyes of a shy ballerina, Nina, who drives herself insane trying to be the perfect Black Swan.
Though the film can be hard to watch, there is no way you'll be able to look away from the screen when there are so many beautiful costumes to admire.
For instance, Nina's pastel pink, white, and grey outfits that she wears to rehearsal and at home are so cozy and sweet looking, you just want to jump into them.
But the true fashion standouts of the film are the costumes worn in the film's finale. The Black Swan and White Swan dresses are gorgeous. Covered in feather and jewel embellishments, they're true works of art worth appreciating again and again.
Best Looks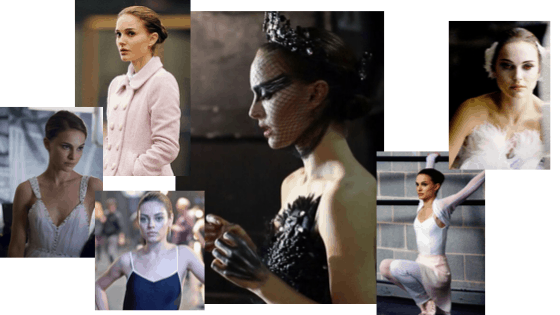 Black Swan Inspired Outfit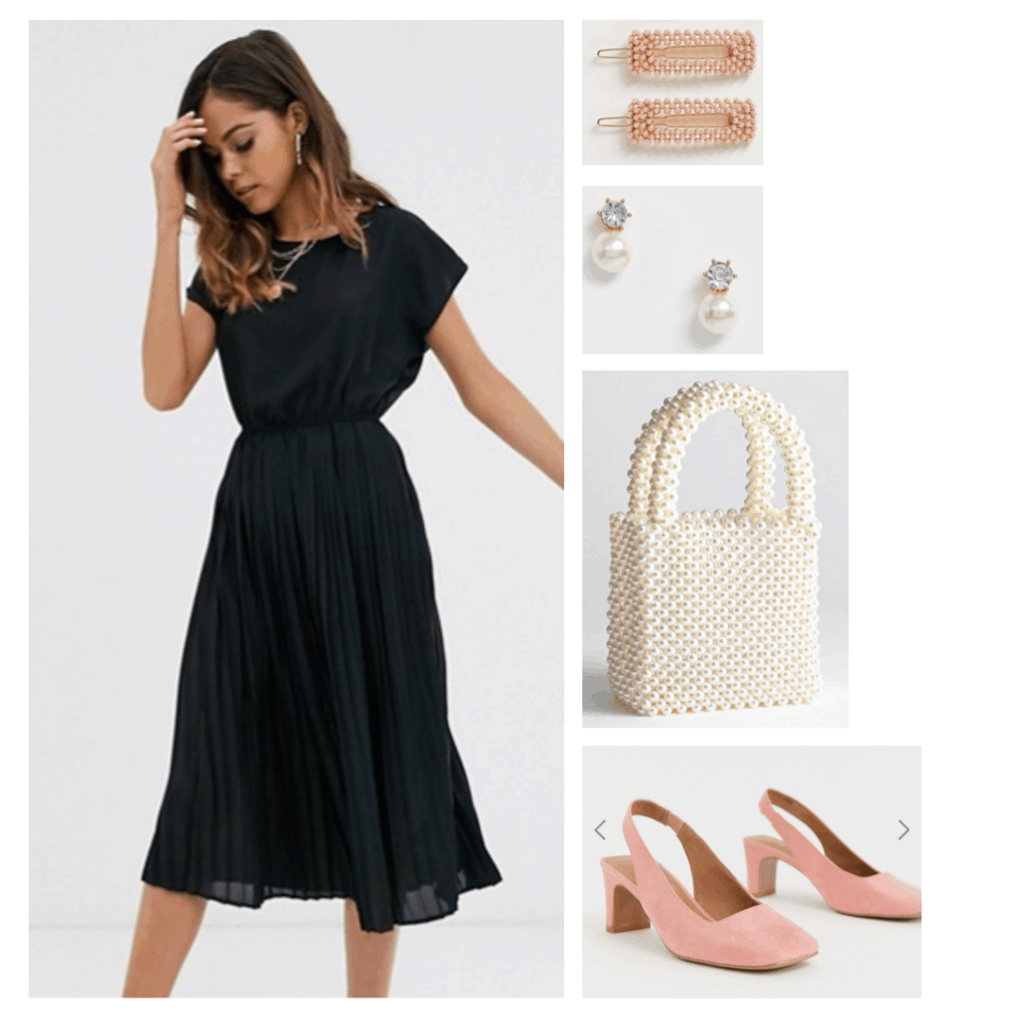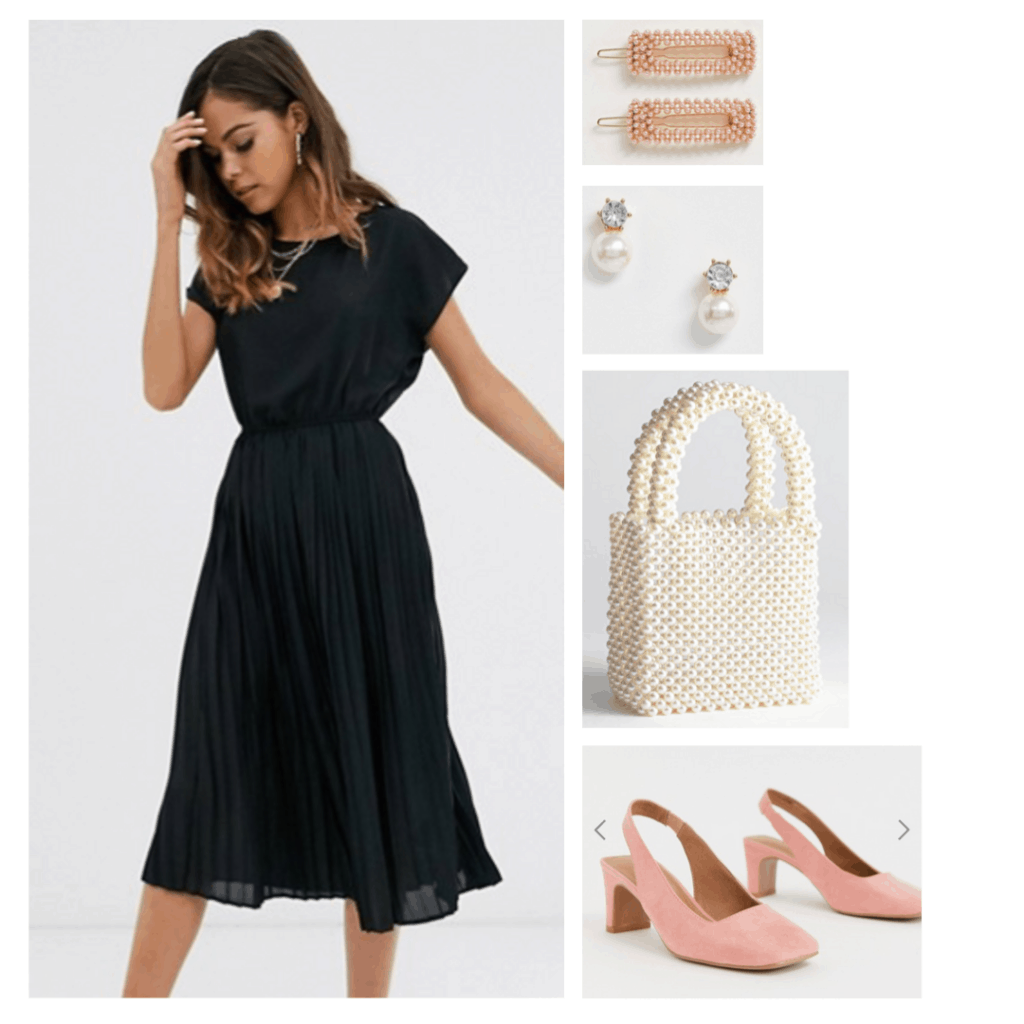 Products: Dress – ASOS, Heels – ASOS, Bag – & Other Stories, Earrings – ASOS, Hair Clip – ASOS
Addams Family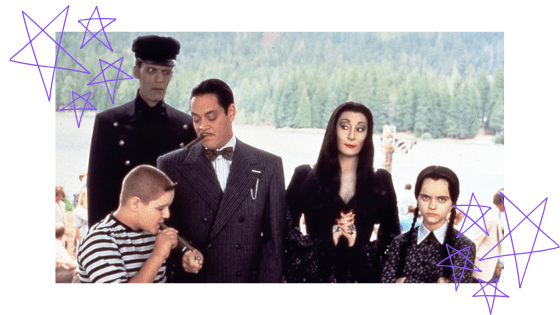 Who could go through the month of October without watching The Addams Family? I know I couldn't.
The Addams are a cooky family, known for their gothic clothing and love for all things terrible. Morticia Addams' long, black, form-fitting dresses have become iconic over the years. And Wednesday's schoolgirl dresses and long braids are instantly recognizable.
This loosely Halloween themed movie is pure fun, required viewing for Halloween season!
Best Looks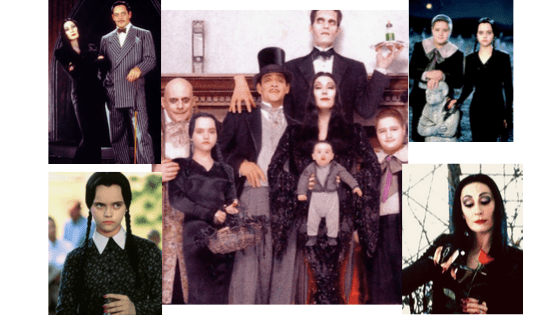 The Addams Family Inspired Outfit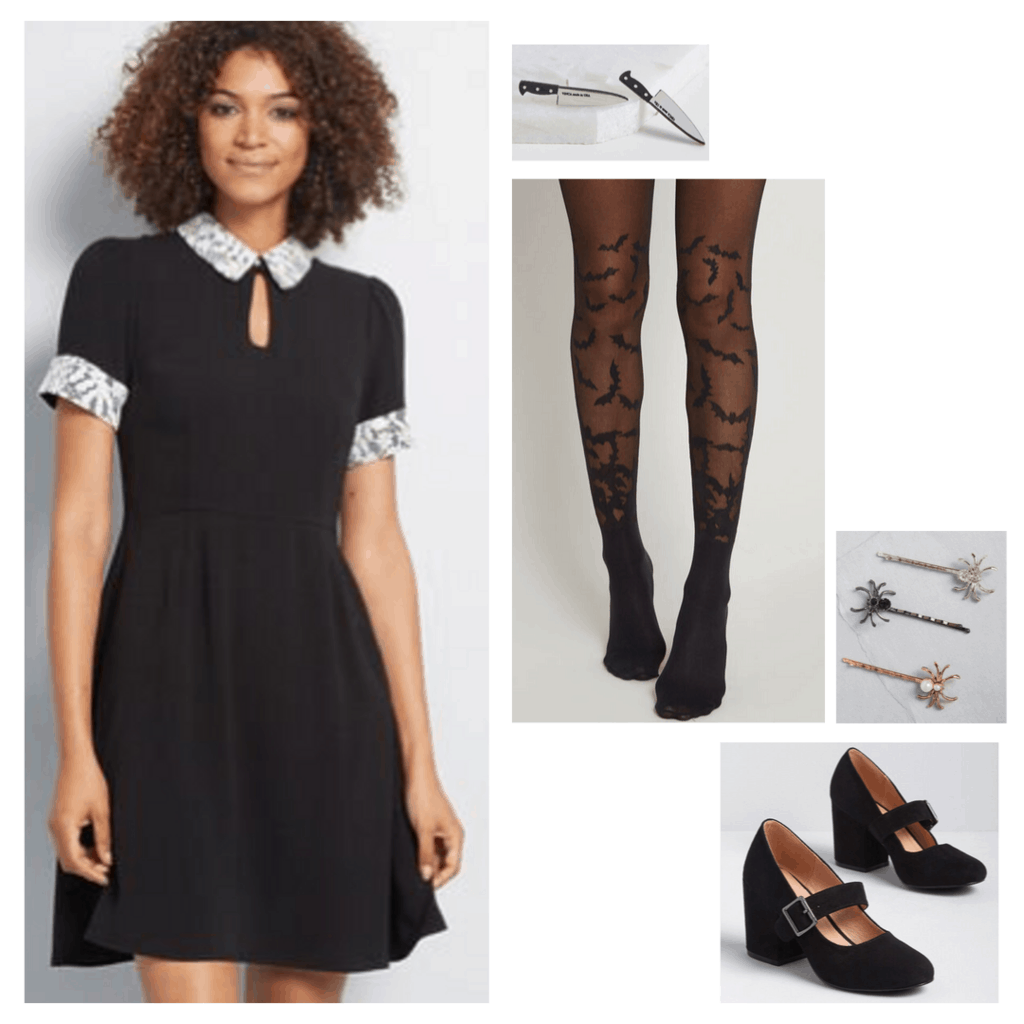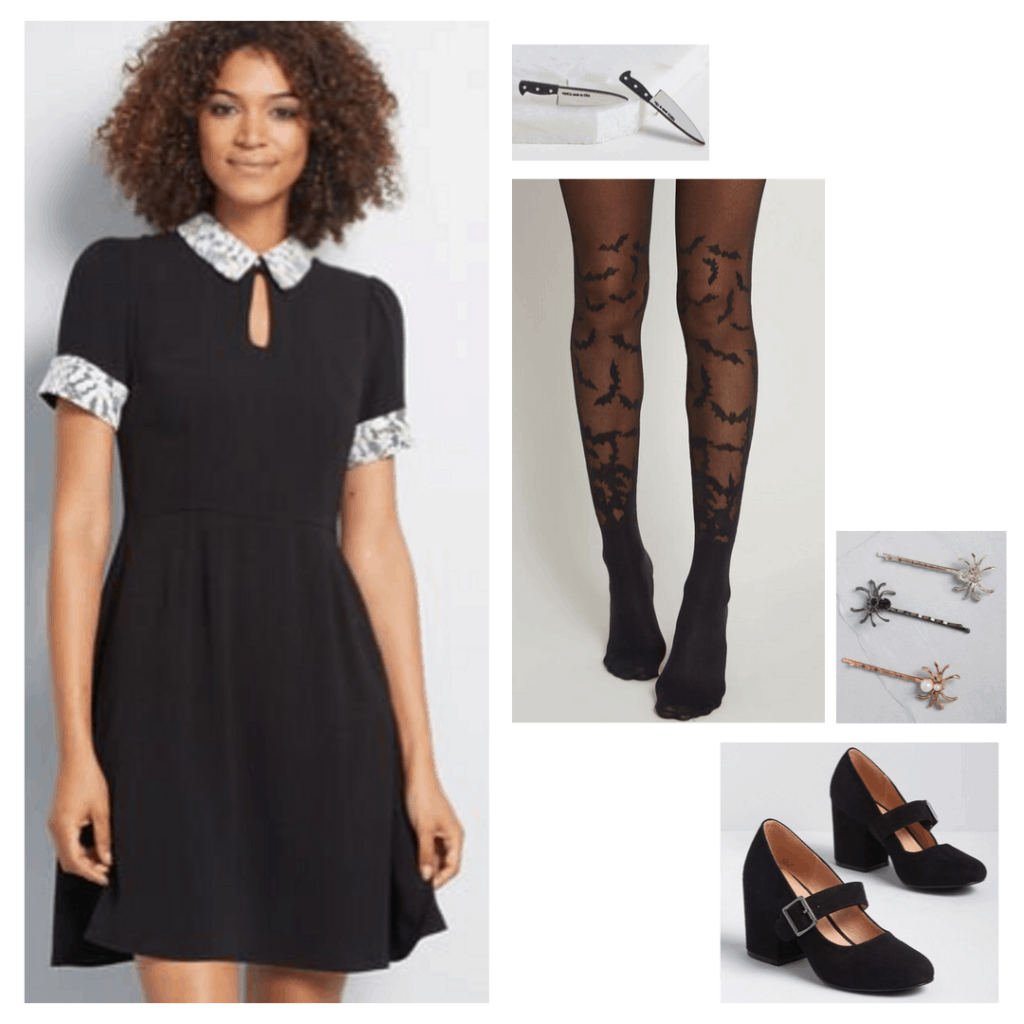 Products: Dress – Modcloth, Shoes – Modcloth, Tights – Modcloth, Hair Clips – Modcloth, Earrings – Modcloth
What are your favorite fashionable movies to watch in October?
Do these films put you in the Halloween spirit? We hope so! We hope you've found plenty of spooky fashion to get you inspired to wear creepy, but cute, outfits this October.
What are your favorite movies to watch in October? Do you prefer family Halloween movies or straight horror flicks? Tell us in the comments.