Before heading back to the Midwest, Levi is spending her last couple of weeks in NYC finishing her internship at PromGirl and exploring as much as she can of the city, creating everlasting memories to take back with her.
She does all this while rocking the heck out of a great summertime outfit.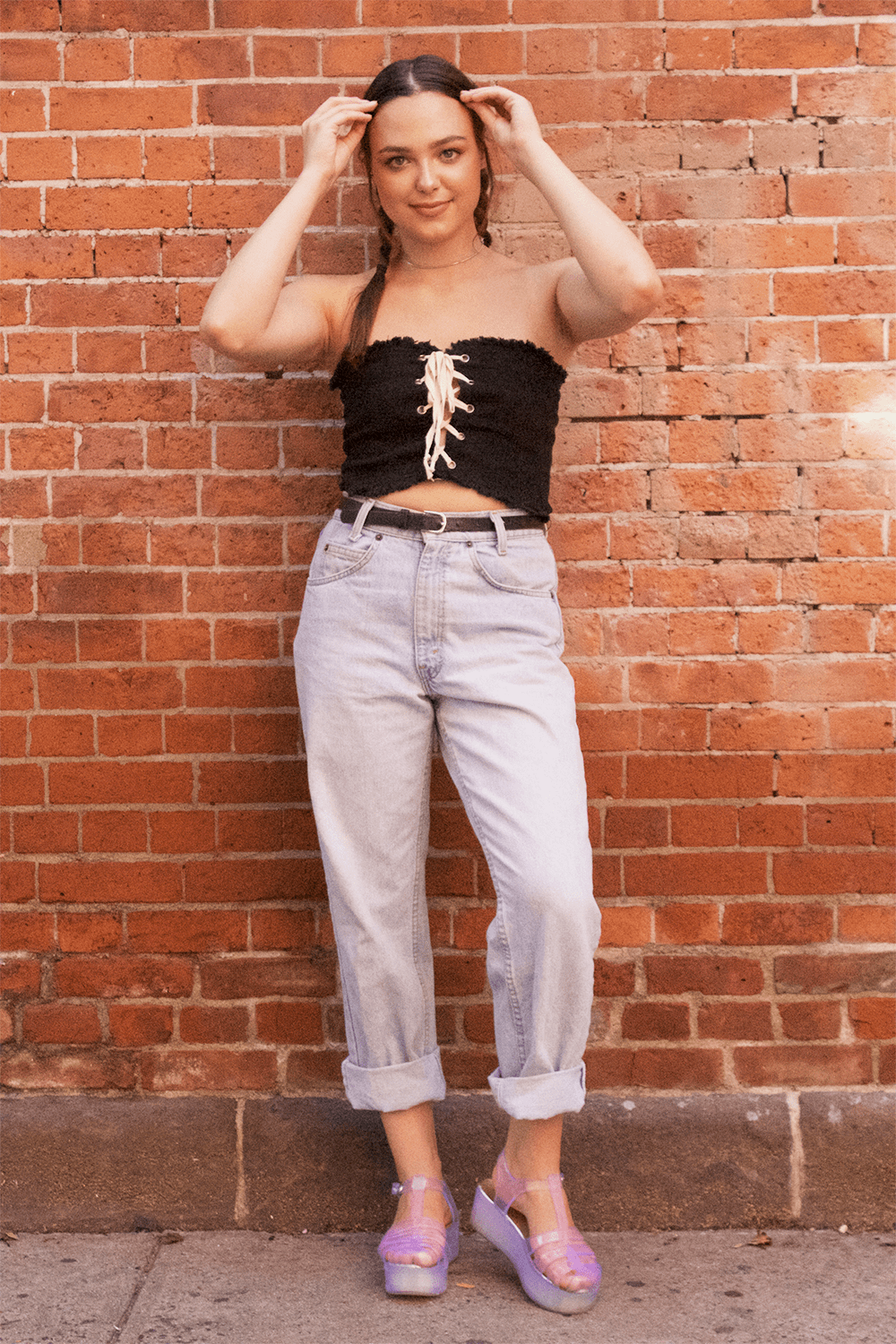 Levi 101
Name: Levi
School: Ball State University
Year: Junior
Major: Public Relations
Hometown: Indianapolis, IN
Let's Talk Fashion
Who or what inspires your style? "My biggest style icons are Twiggy, Marilyn Manson, Kendall Jenner, and Jackie Kennedy. I'm inspired by these individuals because they are unforgivingly themselves. Whether they have shocked the runway, the stage, or Instagram, these individuals have a unique style that has influenced the way I dress in many ways."
Where do you like to shop? "My favorite place to shop is the thrift store. I have always shopped at the thrift store, [essentially] since I was a little girl. Not only is it more affordable, but you can also find unique pieces that you cannot buy from major retailers. I also enjoy shopping at H&M and Charlotte Russe."
How would you describe your sense of style? "I would like to describe my style as trendy although I feel like I have no distinct look. I think style is ever-changing and is influenced by the things we see every day. I love mixing different textures and layering to create more of a dimensional look."
Why did you choose this particular outfit? "I choose to wear this outfit because I love tube tops lately and the lace-up trend is really in style. I just decided to keep it casual by pairing it with a light wash pair of Levi's because they match basically everything. Overall, I wanted to [wear a] simple, yet fun look."
What fashion advice would you give to other students looking to improve their style? "A piece of advice I would give students trying to improve their style is: wear what you like! I know it may seem difficult to do, especially if you come from a conservative area or college like me, but once you start wearing things you actually like, it will give you more confidence. A lot of my friends say 'I wish I could wear this. I like it. Levi, you can pull off anything!' The truth is no one 'pulls off' a look, they simply decide to confidently wear it."
What are your favorite trends right now? "Currently, I'm obsessed with early 2000s trends like camo, matrix glasses, flames, and checker[board print]. I'm also in love [with] '70s trends like platform sneakers, star print, and flare jeans. 'Supermodel chic' is something I'm so into right now."
Do you have any favorite fashion designers? "My all time favorite designer is Jeremy Scott because he does what he wants and he doesn't care what anyone thinks. His designs are wild, yet classic, and graphic, which I love. He is a genius when it comes to reflecting modern society into his designs. He gets the present, future, and past, in my opinion."
What do you do for fun – do you have any unique hobbies or interests? "I love to paint in my free time. I love participating in [the] extracurricular activities that my university offers. I am an account coordinator for an on campus PR agency, PR chair for a fashion critic show, and a member of a sorority. Aside from these things, I really enjoy painting with acrylics or oil paint."
If you could raid anyone's closet, who would it be, and why? "If I could raid one person's closet, it would be Amanda Steele because her style is super versatile yet unique. I think she has a good taste for mixing simple with dynamic things. She takes modern day trends and makes them her own."
Elements of Levi's Outfit
1. Cropped Tube Top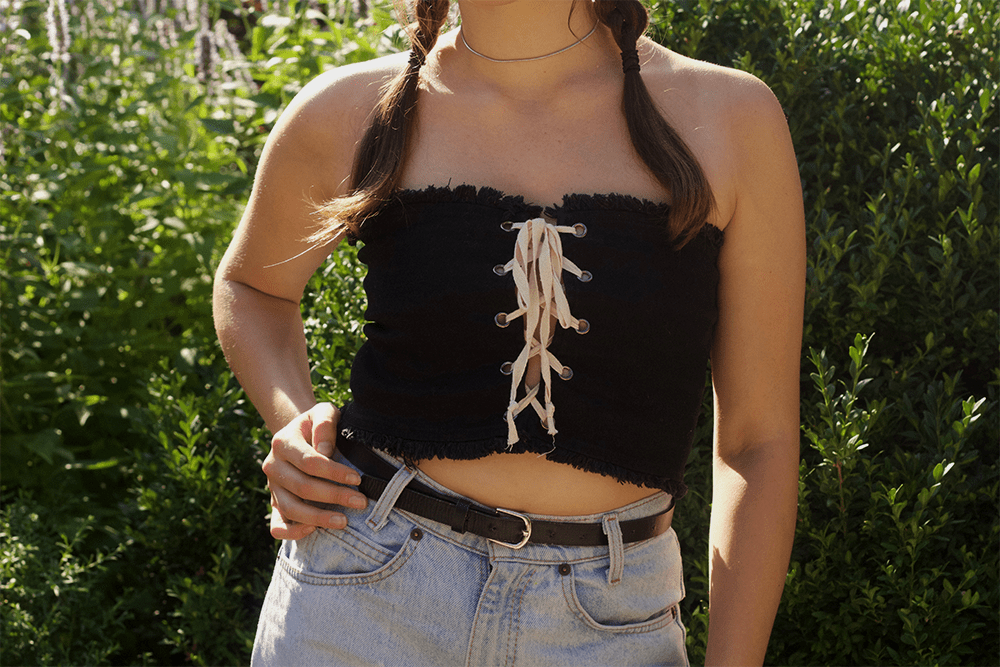 The brilliant thing about Levi's lace-up tube top is that it could easily be layered and worn over a long-sleeve top as a corset. Today, Levi wears it as is and rocks it as a bold statement piece.
2. Jelly Platform Sandals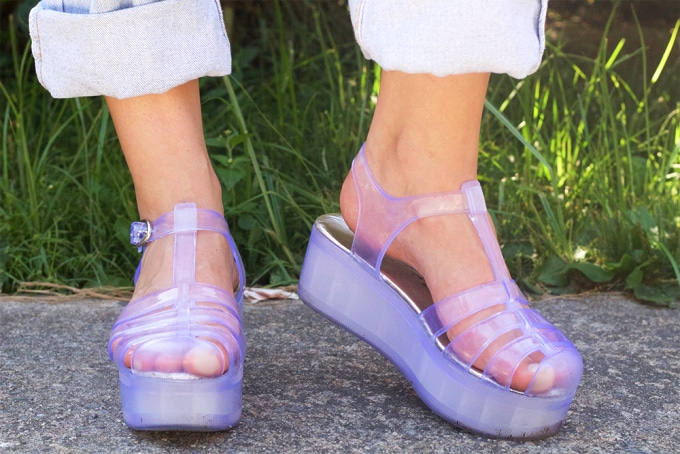 I was trying to come up with a way to trick Levi into letting me try on her shoes, so I could run away in them. Luckily for Levi, I couldn't come up with any good excuses. These almost-holographic purple platform jellies are perfect, and that is that.
3. Handbag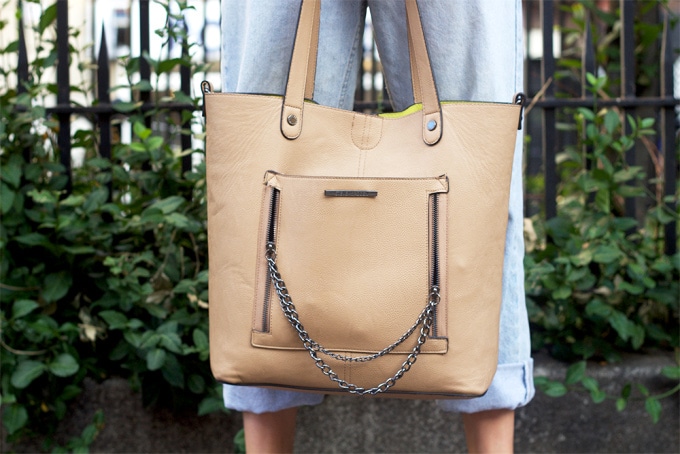 Levi's simple tan tote is both practical and unexpected. Every single element of her look is so unique and cool, and the same goes for her bag. This piece is more toned down than the rest of her look. With basic chain and zipper accents, this bag could be the most versatile thing in a college girl's closet.
4. Jeans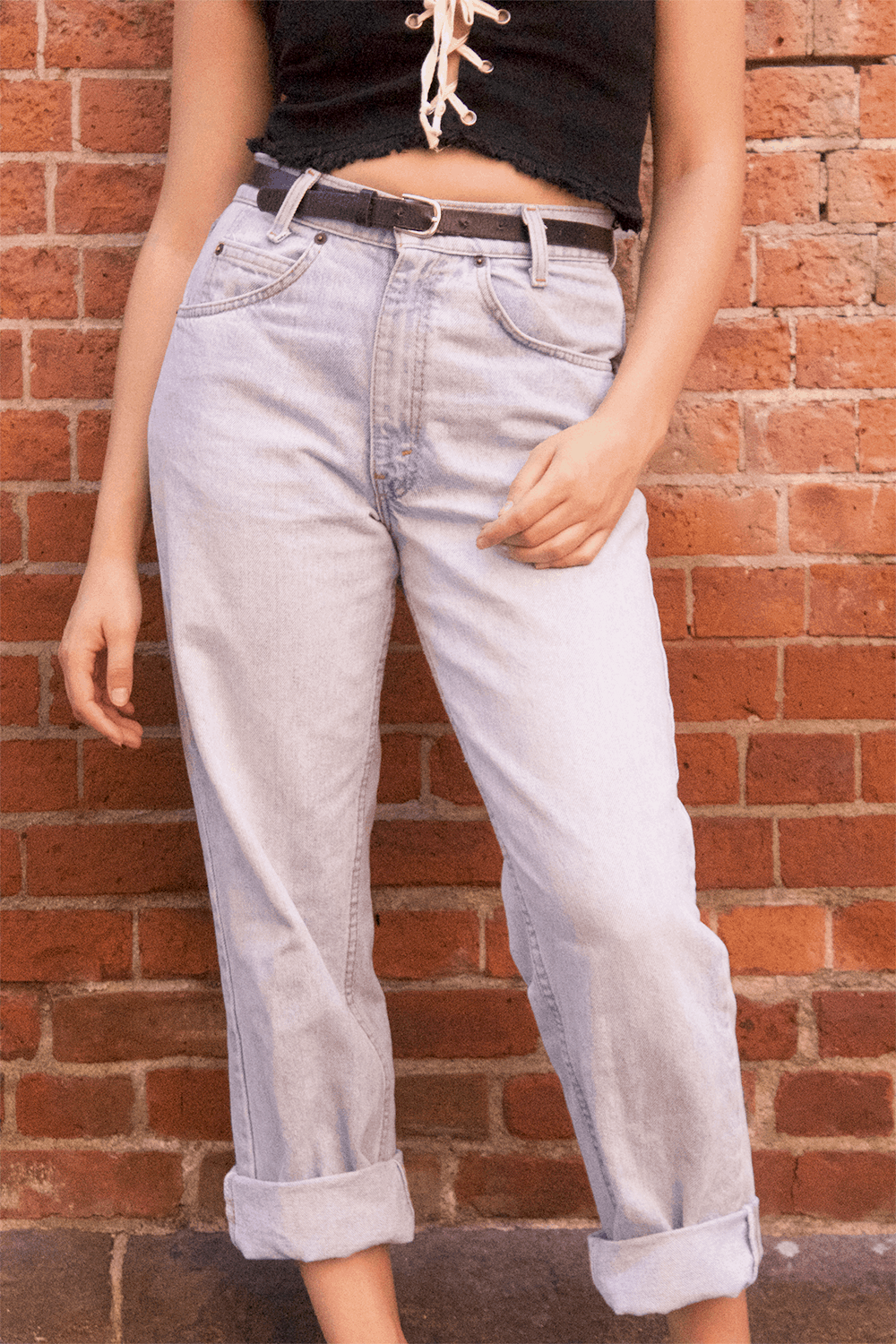 Levi has no ties to Levi Strauss denim except for the fact that she snagged the perfect boyfriend style from a thrift shop back home. What's not to love about cuffed and distressed jeans?
What do you think of Levi's look?
Would you wear her outfit? Tube top crop tops – yea or nay? Comment below and let us know!