Editor's note 2/26/20: While we stand by this advice from 2015, if you want an updated post on Kendall's fashion sense, see our guide to Kendall Jenner's style in 2020.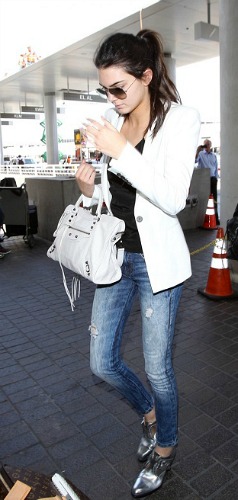 Unless you have completely rejected any media in the past year, you probably know who Kendall Jenner is and the news that has been surrounding her.
The Kardashian sisters have always been known for their style and their drama, but lately their younger sisters, Kendall and Kylie Jenner, have been getting all the attention. There is no denying that both sisters have great personal style, and rock edgy yet casual looks with ease. Also, the fact that Kendall Jenner, who now prefers to be called just "Kendall," is the new "it" model cements her street style star status.
In this article, I am going give you a week's worth of outfit ideas inspired by Kendall Jenner's personal style. Hopefully these street style snaps will serve as fab fashion inspiration and make it easier for you to get ready quickly while still looking stylish.
Monday:
Photo: Pacific Coast News
Mondays are lazy days, so it's tempting to throw on some sweatpants, but don't. A black t-shirt is a simple staple that everyone should own, so grab your favorite one out of your closet.
Printed pants (check out Forever 21 for an inexpensive pair) up the chic factor and add interest to the look, while trendy slip-on sneakers are easy to wear when you're on the go.
Carry a black bag and, if you want, add a pair of sunglasses to finish the look. Since it is winter right now and there's a good chance it's cold where you live, throw on your favorite denim or leather jacket.
Tuesday: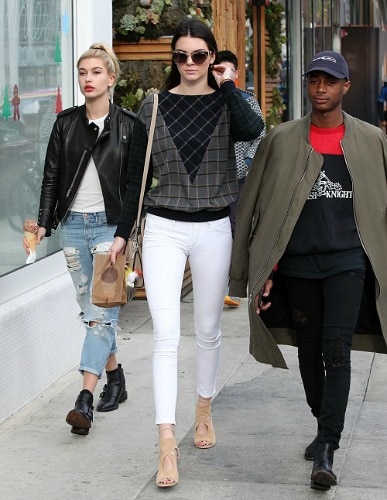 Photo: Pacific Coast News
A graphic sweater is another easy-to-throw on item that makes a very stylish impact, and I love Kendall's. Sweaters like this are interesting, fashionable and, best of all, comfortable.
Pair one with white jeans instead of the typical blue jeans for a chic, fashion-forward look. Kendall wore neutral sandals, but ankle boots would make the outfit winter-appropriate.
If you want to see a lower-priced version of this outfit, be sure to check out this recent Celebrity Street Style of the Week post!
Wednesday: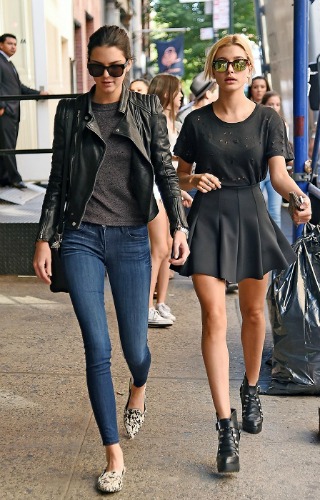 Photo: Pacific Coast News
A leather jacket is a staple item every girl needs because it can be worn with anything – if you don't already own one, get on it! Same thing goes for a simple gray top. Pair the two together with skinny jeans and stylish printed flats for a casual yet edgy look.
This outfit is easy but also fun because the shoes add a lot of character to the ensemble. These printed flats from Aldo have a similar pointy-toed look.
PS – Look how great Hailey Baldwin looks, too!
Thursday: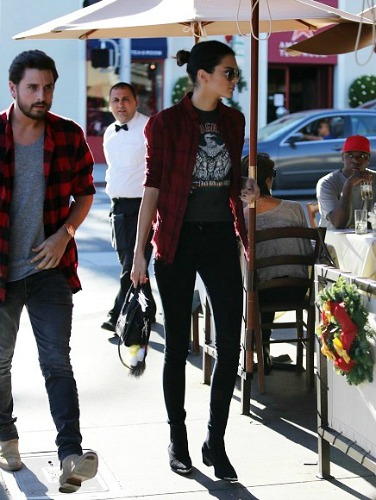 Photo: Pacific Coast News
I really love this look because I have a thing for flannel shirts. They are so comfortable and easy to throw on over any tee. Kendall wore her flannel over a band tee, and you should do the same. Honestly, who doesn't have those two things laying around?
Add high-waisted skinny jeans and your favorite pair of black ankle booties and you'll be ready to go, rockstar!
Friday:
Click here for photo of this look.
For a Friday night out, go for a standout look featuring an asymmetrical skirt. Target has an almost identical one for only $20. Pair the skirt with a trendy cropped sweater to keep you warm and cozy. Burgundy goes great with black, so try to stick with that color combo.
Add pointed heels or flats, or if you want to go the ultra-trendy route, try kitten heels. They are coming back in style!
Saturday: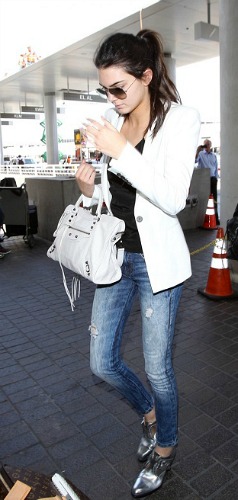 Photo: Pacific Coast News
Saturday brunch with the girls? Skinny jeans are a casual choice, but up the style factor a bit with a white blazer. It gives you a polished look even if you still feel messy from last night's party.
Holographic shoes are a trendy, standout piece (this pair from Forever 21 costs less than $25!) that are sure to have people in awe of how you can look so chic so early in the morning. You may not feel great, but you definitely look great.
Sunday: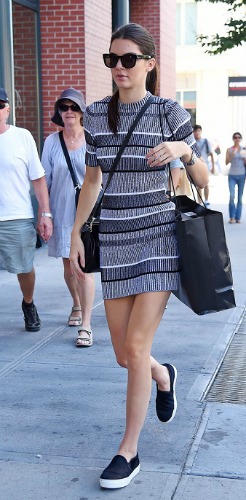 Photo: Pacific Coast News
Sunday is ideal for running errands, and while you want to look put-together you also want clothing that is easy to shop in. A printed sweater dress can be thrown on in seconds, but has that comfort factor you are looking for and is less restricting than jeans.
Since it's winter, throw on some tights and a cardigan. And look, there are those slip-ons again. They're casual but stylish and can be worn with anything. Plus they look so much better than your Sketchers. Seriously, if you don't have a pair yet, you best go get them. GoJane has an array of decently priced slip-ons.
Thoughts?
What do you think of Kendall Jenner's style? Would you like to see more posts like this? If so, who would you like to see featured? Did you find this post helpful? Which outfit is your favorite? Let me know in the comments!