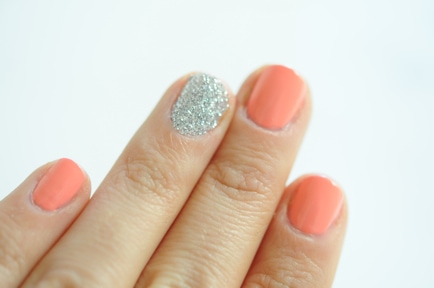 One of the major trends in nail art right now – and one that I myself happen to love – is using materials other than nail polish to create unique, textured designs.
Over the months ahead, I'll be writing a series of articles covering some of the practically endless nail art possibilities and showing you how to achieve them yourself. First, I want to start with one of the more straightforward options: loose glitter.
Related reading: 15 Beautiful Glitter Nail Designs You'll Be Obsessing Over
Techniques for Applying Nail Glitter:
There are two main techniques for applying nail glitter, and I'm going to demonstrate both. The first results in a nail that is completely sheathed in sparkle, and is perfect for special occasions or just a more daring statement. The second technique ends in glitter that's more sparse, and creates a really cool effect when used over color for a more wearable, everyday look.
Here's What You'll Need:
Base coat
Nail polish
Top coat
Loose glitter
One quick note on the glitter: I used Sephora by OPI Nail Glitter for this tutorial, but I don't see a reason why any other loose glitter wouldn't work just as well (although the super sweet Sephora checkout girl did say she swears by this stuff and that it lasts forever). The Sephora glitter is also cheap, at just $5 a pot. But no matter what brand you choose, go with a fine glitter, so that it will adhere easily and lay flat on the nail.
Before you start, you may want to put something down on your work area – I used printer paper – so you can easily clean up the excess glitter and funnel it back into the pot. As with any manicure, remove any nail polish you're currently wearing and wash your hands. Now it's time for the fun part!
Technique #1: All-Over Glitter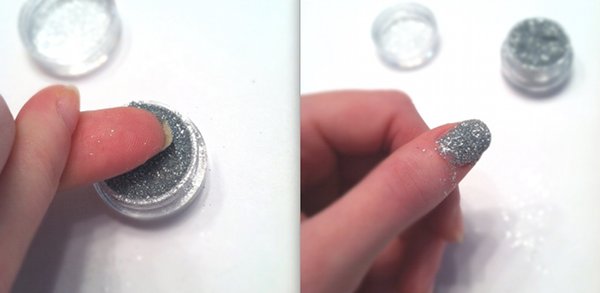 Step 1 — Apply a clear base coat. Make sure to apply it evenly so that the glitter will stick to the entire nail!
Step 2 — Dip your nail in the pot of glitter, laying it flat over the surface and rolling it back and forth a bit to cover the sides.
Step 3 — Tap your finger to remove any extra glitter. If you find that the glitter seems chunky or not completely even, you can press it on with your fingers.
Step 4 — As you can see in the picture of my nails above, glitter will probably get on your cuticles. Be sure to wipe it off so the finished product looks precise. I found that an eyeshadow brush is perfect for this, because it dusts all the glitter off without getting it on the fingers of your other hand or messing up your nails.
Technique #2: A Sprinkle of Glitter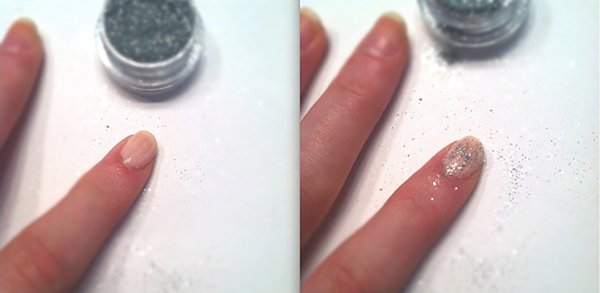 Step 1 — Apply a clear base coat and color, as you would with a normal manicure. I used a very pale pink, but colors that are darker or more vibrant would also look awesome.
Step 2 — While the polish is still wet, take a pinch of glitter with your other hand and sprinkle it over the nail.
Step 3 — Tap off the excess and wipe your cuticles clean.
Step 4 — Make sure the nails on one hand are completely dry before doing nails on the other hand. If they're still wet, they will pick up more glitter than you intended to put on them when you go to sprinkle your other nails, and they may start to look messy.
Finishing Up
Repeat these steps on the rest of your nails. Or don't, and have just a few nails that glimmer. The choice is yours!
After applying glitter, I would recommend at least two top coats to ensure that you get a really good seal and a smooth texture. I used three or four – I like my nails glossy! Be sure to do this gently in order to avoid wiping off chunks of glitter as you go.
After trying these two methods, I decided to give some fun designs like these a go: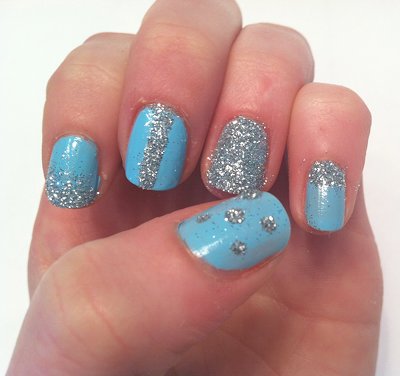 To make the polka dots, I just dabbed little dots of top coat onto my nail and pressed my nail into the glitter. I then used my eyeshadow brush to clean up extra glitter between the dots.
The other patterns were a little easier – for the stripe on my middle finger, I put scotch tape on either side of my nail, leaving a gap between the two pieces where I put on some top coat. Then I dipped my nail in the glitter as I normally would and gently peeled off the tape to reveal a clean stripe. On my index and pinkie fingers, I just put the top coat on half the nail and then used my brush to get the glitter where I wanted it to go.
Also Read : DIY Beauty: Glitter Nail Polish
Your thoughts?
Would you try out ultra-sparkly nails? How would you wear them? Have you come up with any cool glitter designs of your own? Leave your ideas and questions in the comments section below.
For more glitter nails tips and ideas, check out our related posts below –