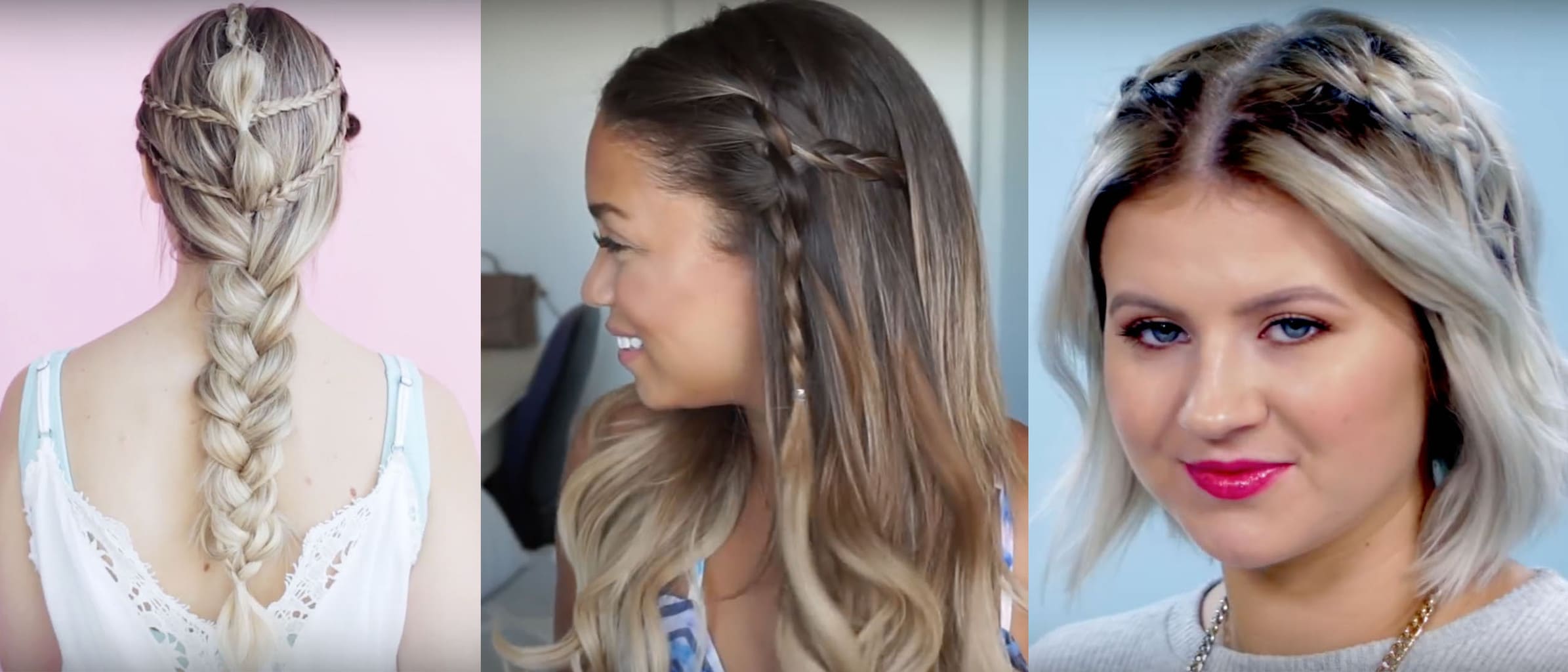 Braiding is the quickest and most effective technique to make hair look instantly fantastic. Braids are super versatile and, imo, look particularly majestic in the summer sun.
Here are five easy and quick braided hairstyle tutorials that will give you summer-ready hair in minutes.
Side Note: While these hairstyles will work for any hair color and length, I deliberately chose people with light brown/blonde hair because A) it makes it easier for you to follow the tutorial and B) it's easy to see the final look!
Related reading: The All-Time Cutest Summer Hairstyles We Love
1. Kayley Melissa's Khaleesi-inspired Elegant Braid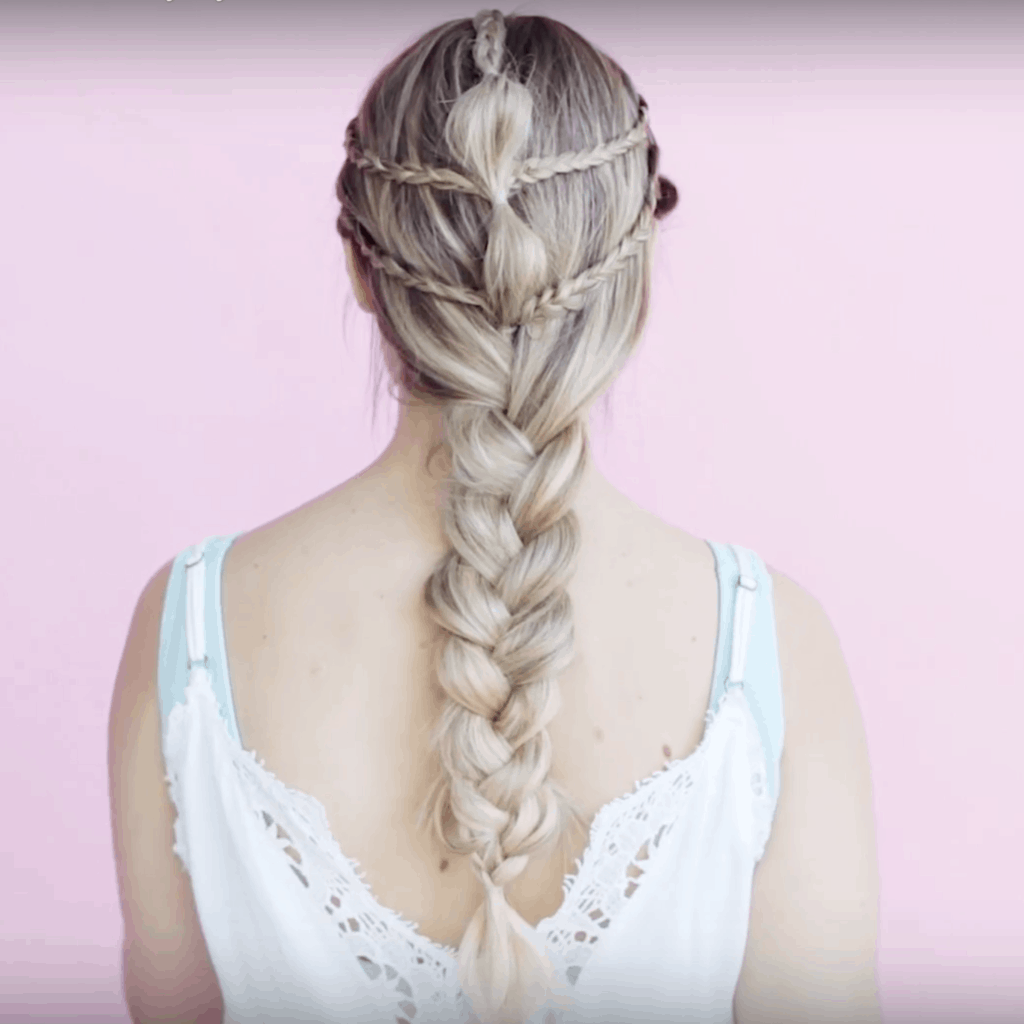 Kayley Melissa, a.k.a. my personal hair queen, created this Khaleesi-inspired braid that's incredibly easy to recreate.
To do this khaleesi braid hairstyle (yes, we know her name is actually Daenerys), braid a thin front section of hair back normally towards the crown of the head and leave a little portion of it unbraided, then make two thin braids on both sides. Keep everything in place with clear elastic (like these from Goody).
Repeat the same process for the second layer. Braid the remaining hair down your back for a truly awesome hairstyle. No french or dutch braiding needed! 
2. Ashley Bloomfield's Double Waterfall Braid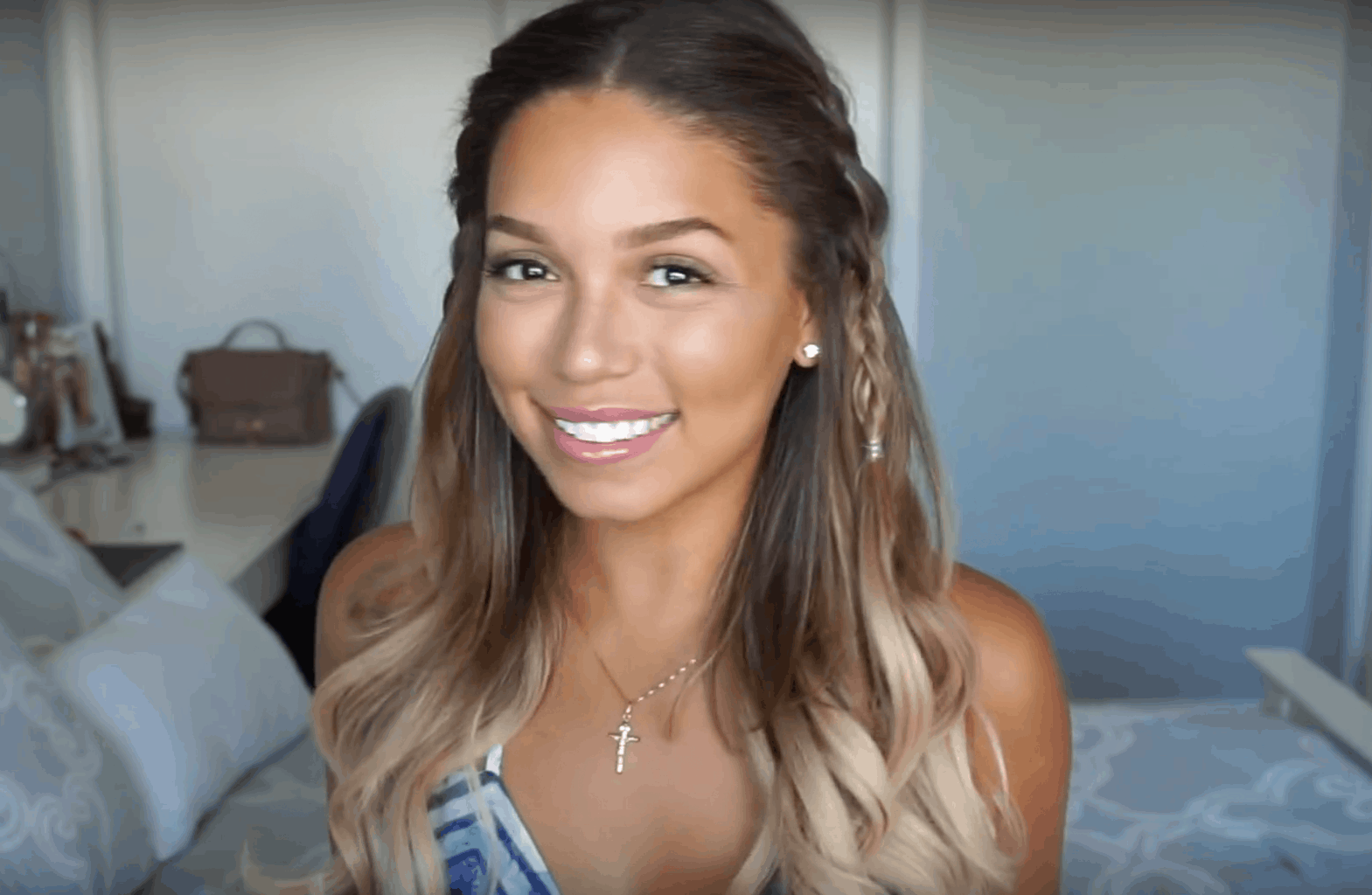 Ashley Bloomfield's double waterfall braids add some extra intrigue to this classic style.
To get this double waterfall braid hairstyle, make two braids down both sides of the face, leaving a good inch of hair in front of each braid. Carefully widen the links of the braid and thread small pieces of hair from this 1 inch section through the braid. Secure each piece with bobby pins.
When all the hair is incorporated, remove the bobby pins and begin braiding the pulled through hair together into a normal braid like you're making a half-up style. Secure it with bobby pins, and you've got yourself a simple, yet fancy-looking double waterfall braid!
3. Roxxsaurus' Double Braided Pigtails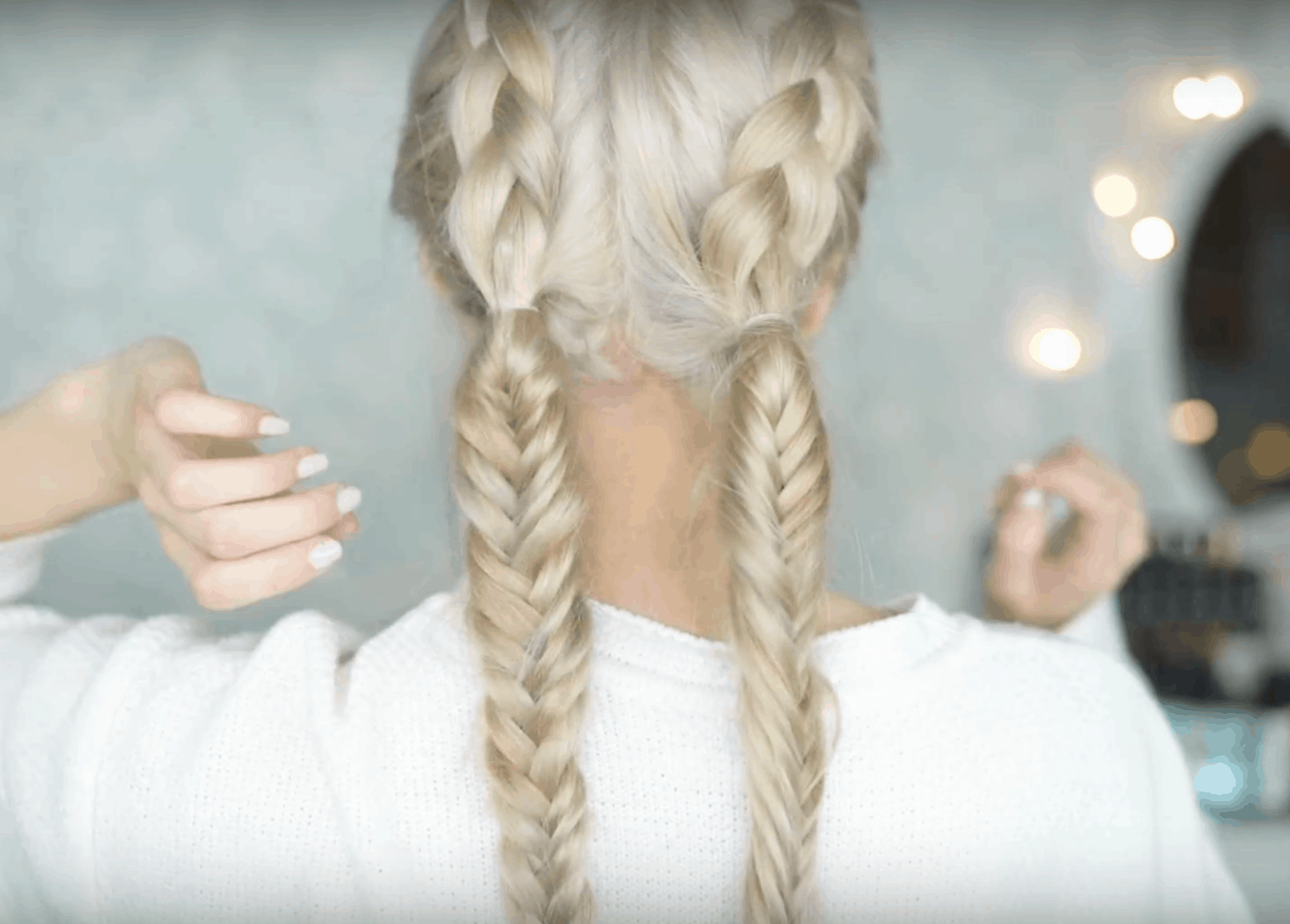 Roxxsaurus' double braided pigtails tutorial combines dutch and fishtail braids in an intriguing and wearable way. (Watch the full tutorial here!)
To do double braided pigtails, start with a center part and dutch braid both sections back towards the nape of the neck, securing it with elastic (great dutch braiding tutorial here).
From this point, fishtail braid the rest of your hair (killer fishtail braiding tutorial here). You can also mess up the braids for a more distressed look. If edgy braids are more your style, give this look a shot.
4. Milabu's Four Stranded Braid Half Updo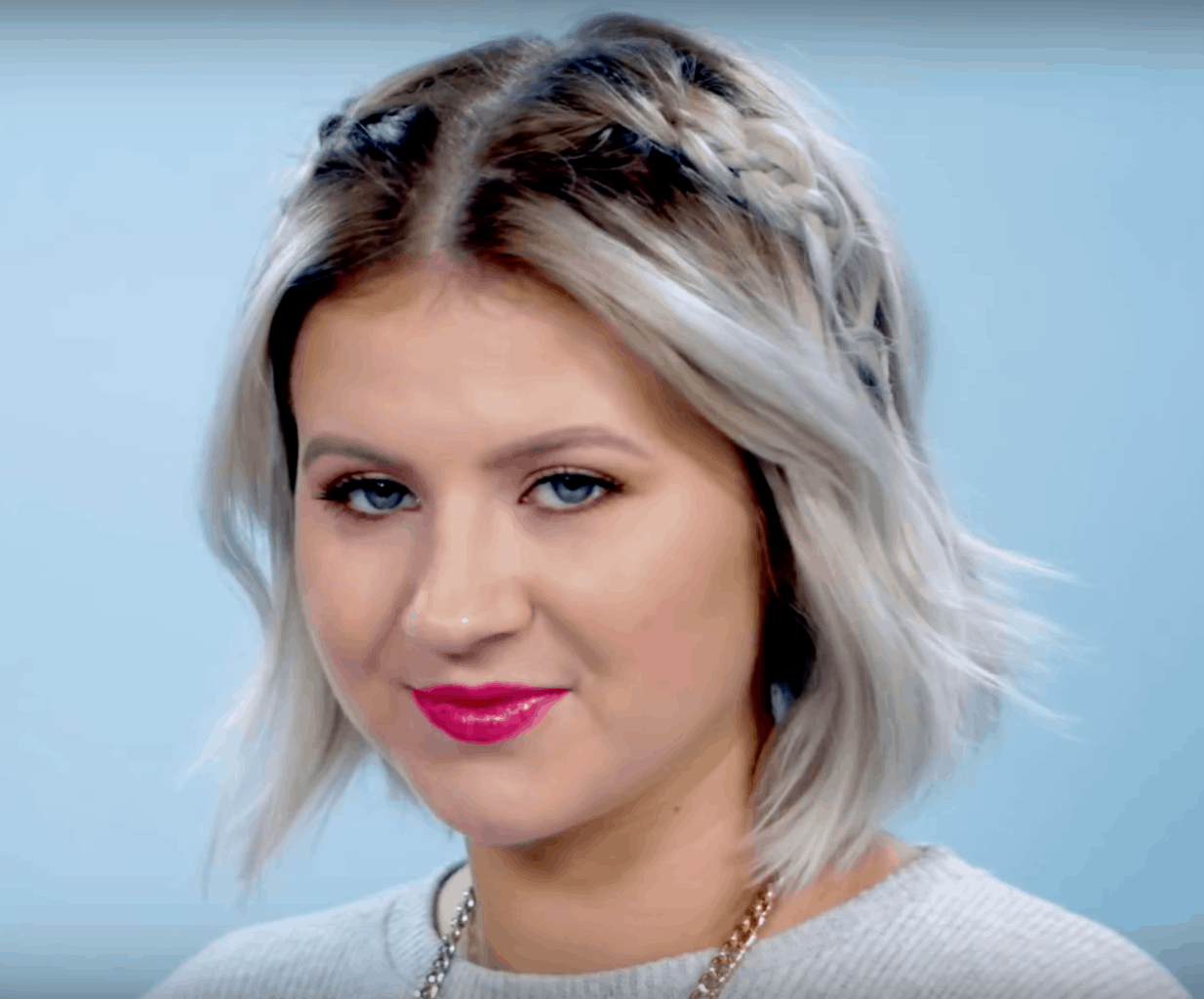 Milabu is the princess of hairstyles for short hair, and this four-stranded braid hairstyle for short hair is nothing short of beautiful!
Spritz some dry shampoo onto the roots before you start for some extra texture (this one from Batiste is the best).
Gather four small sections of hair from about 1 inch behind your face. Braid each side into a four-stranded braid (following her tutorial – this look is at 11:47 on the video) and tie them off with clear elastic.
Rough up the braids by gently pulling on each section. Finally, bobby pin the braids in the back of the head to create this understated, yet fancy-looking braided 'do.
Also read: Holiday Hairstyle How To: Easy Braided Updo
5. Kayley Melissa's Dutch Braided Space Buns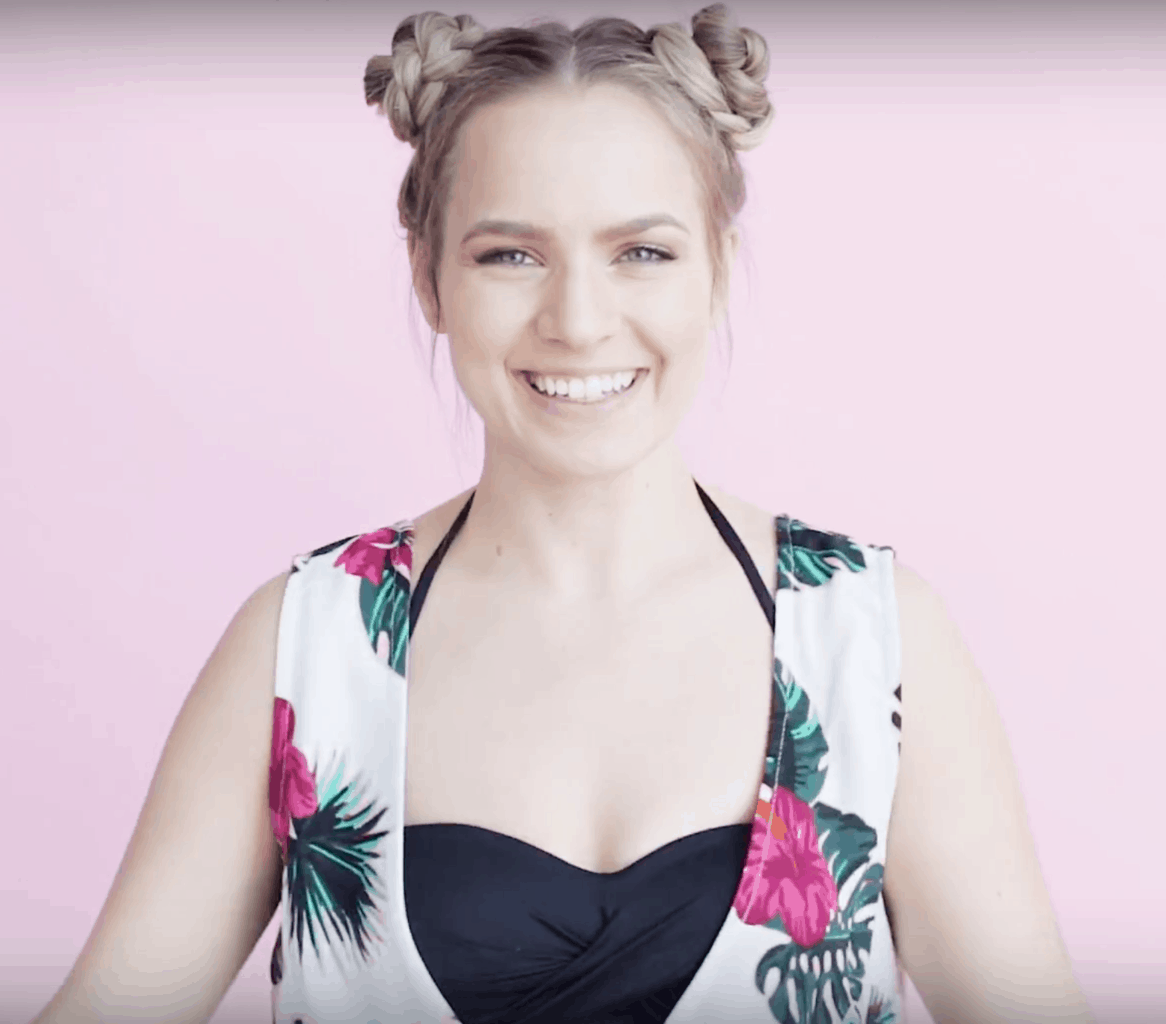 The hair queen Kayley Melissa returns! Can you blame me for featuring her twice? The girl gives me serious hair envy. Her dutch braided space buns tutorial is giving me some serious Zenon vibes. Too cute!
Start with a middle part, and dutch braid the hair up from the nape of your neck to the top of your head. Tie it into high pigtails with clear elastic. Braid the hair in these pigtails normally, wrap them around the base, and secure with bobby pins. This sweet look couldn't be easier!
Favorite Braided Hairstyle?
Let us know how you typically style braids! We're always looking for ideas!
Related post: