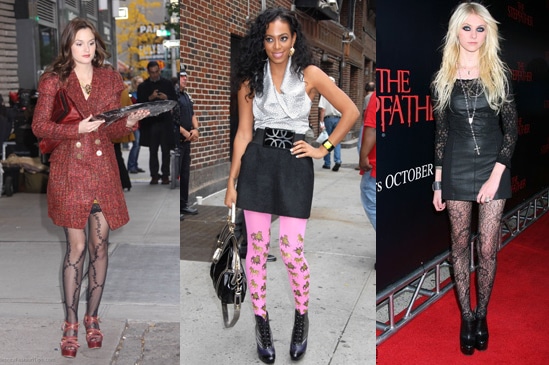 Leighton Meester, Solange, and Taylor Momsen in patterned tights. Photo credits: 1, 2, 3.
Tights have been a staple in every girl's wardrobe for many a season now, and for good reason: tights can bring your spring and summer clothes well into fall, provide a little bit of extra warmth on chilly days, and even make a questionable cocktail dress more appropriate for work.
Right now, the trendiest tights are far from basic. Patterned tights are the latest in legwear, and as you can see from the photos above, no pattern is off limits. Celebrity fans like Leighton Meester and Solange have been spotted wearing tights in patterns ranging from floral fishnets to.. well.. I don't know what the pattern on Solange's tights is supposed to be!
Retail stores have also picked up on this trend in a big way. Here are a few examples of patterned tights from ModCloth: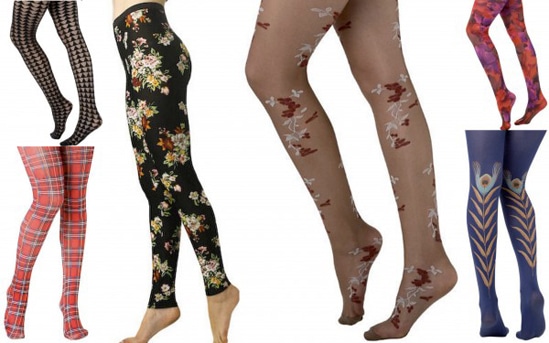 Product Information: Black and White Tights, Red Plaid Tights, Black Floral Footless Tights, Berry Tights, Blue Peacock Tights, Red and Purple Tights
Personally, although I like that the patterned tights trend is cheap enough for everyone to try (you can get tights for under $10 at most stores), I have to admit I'm concerned about the wearability of some of the patterns. Also, patterned tights aren't as versatile as solid tights and are therefore not a very good investment. On the other hand, patterned tights do pack a punch of personality that makes them almost impossible to resist once you find the perfect pair.
Overall, this strikes me as one of those trends that will be on its way out as fast as it made its way in, especially since these tights are less likely to be worn as often as solid tights. Patterned tights are fun to try, but I don't recommend spending much money on a pair – they'll be gone by next season.
So–what do you think? Are patterned tights a trend to try, or are you more into the solid colors? Most importantly, would you wear patterned tights? Leave a comment with your thoughts!!