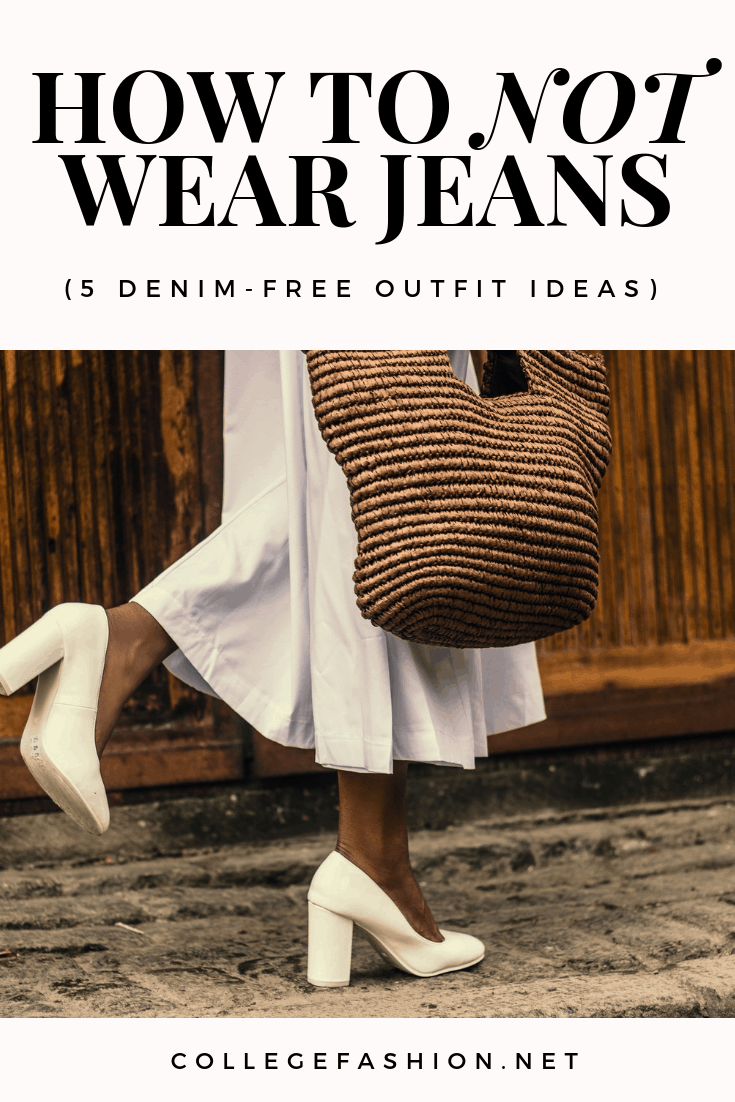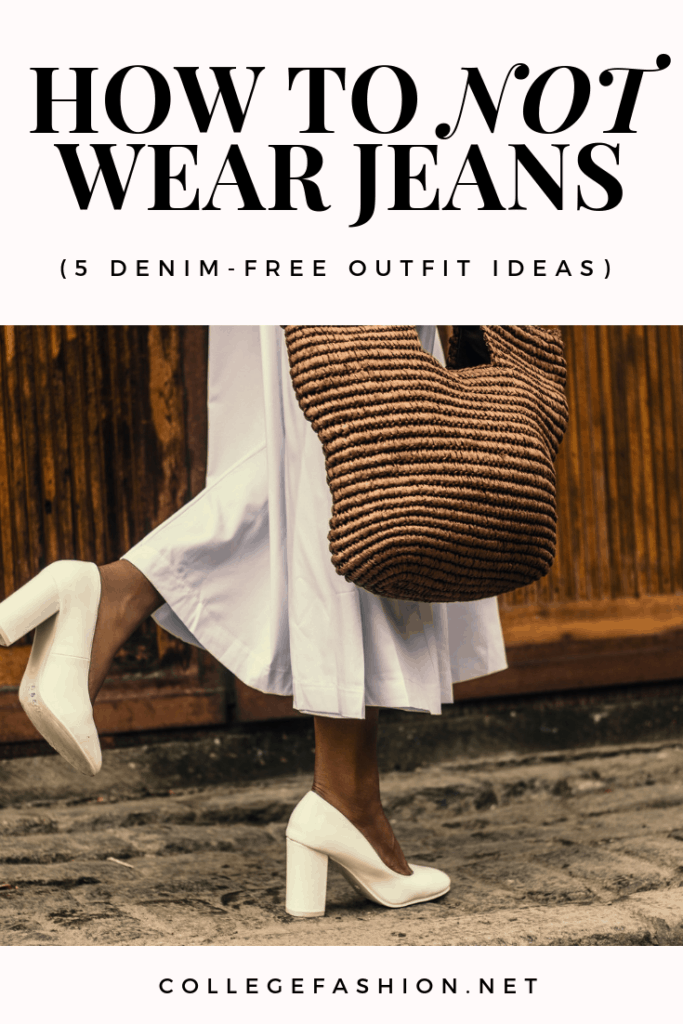 Last week, I gave you guys ideas for comfy yet stylish lazy day outfits. And while we love the latest denim trends as much as anyone, none of those looks contained jeans because too often, denim is just not as comfortable to wear as other bottoms.
Despite this fact, wearing denim every day is a hard habit to break, so I decided to create a post with some denim-free outfit ideas.
Things to Consider
When dressing without denim, there are a lot of factors you have to consider. What are your options for a day with no jeans?
Consider the weather and the day's events. There are many ways an outfit without jeans could go wrong – if it's super windy out, you probably don't want to wear a skirt. At the same time, consider how appropriate it is to wear super-short shorts to, say, a job interview (hint, it's not!). And while leggings and a tee may be fine for some, consider how comfortable you are walking around without real pants on. Essentially, you can't keep a resolution if you can't practically execute it.
Borrow ideas from our friends across the pond. Believe it or not, wearing denim every day is a very American thing. While Europeans are known for their well-cut denim too, they also wear different styles of pants and legwear that are rarely seen in the States. We don't even really have comparable words for most of them (tapered trousers, hotpants, jumpsuits, cropped trousers)! This is where UK retail sites (Topshop.com, Missguided.co.uk) and fashion community sites (Lookbook and Chictopia) really come in handy. Do your research and get inspired!
Think outside the box. Often times when people hear "no jeans", their minds jump straight to skirts and dresses. Sure, when the weather cools down, skirts and dresses can easily be worn without freezing to death. However, skirts are not the only non-denim legwear option! You can stay warm in leggings, joggers, cargos, tights, trousers… there are options!
How to Create Outfits Without Jeans
So now that we've talked about the basics behind the resolution, lets get to the fun (and most challenging) part: how do you dress without jeans?
Here are my top tips to creating cute outfits without jeans – it's easier than you think to pull off!
Warm Weather Revival
I probably cannot stress this enough: get some mileage out of your warm weather clothes while you can!
I know it's tempting to break out the fall clothes as soon as school starts, but in a few months after you've worn them all, what will you wear then? Resist the urge to wear your fall/winter stuff as long as you can, and bust out your layers instead!
In the outfit below, I've shown you how to style a summer dress two ways. This pretty smock dress (on sale for only $20!) can be paired with a cardigan or cropped sweater, in case your classes are overzealously air conditioned like mine.
Simply add some winter accessories such as thermal tights, a cozy scarf and staple black booties to help your warm-weather wardrobe go the distance.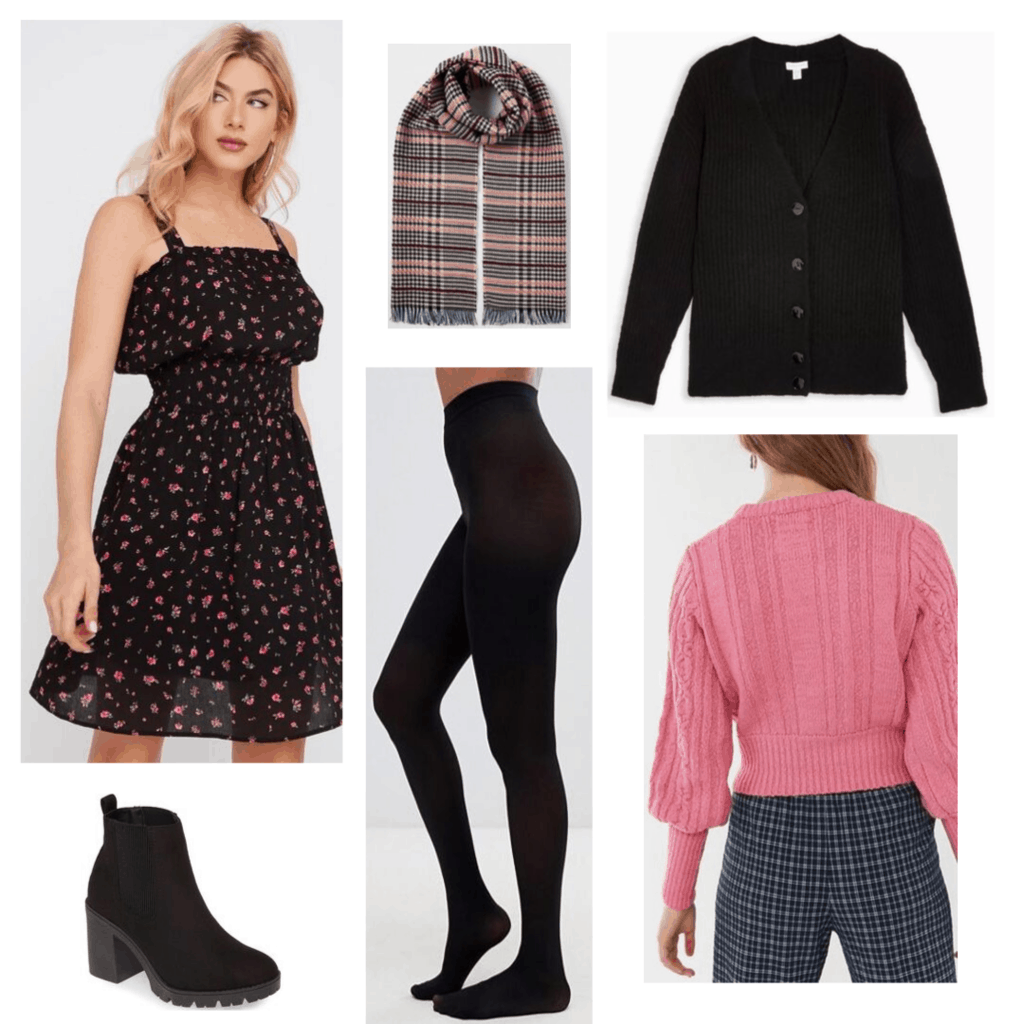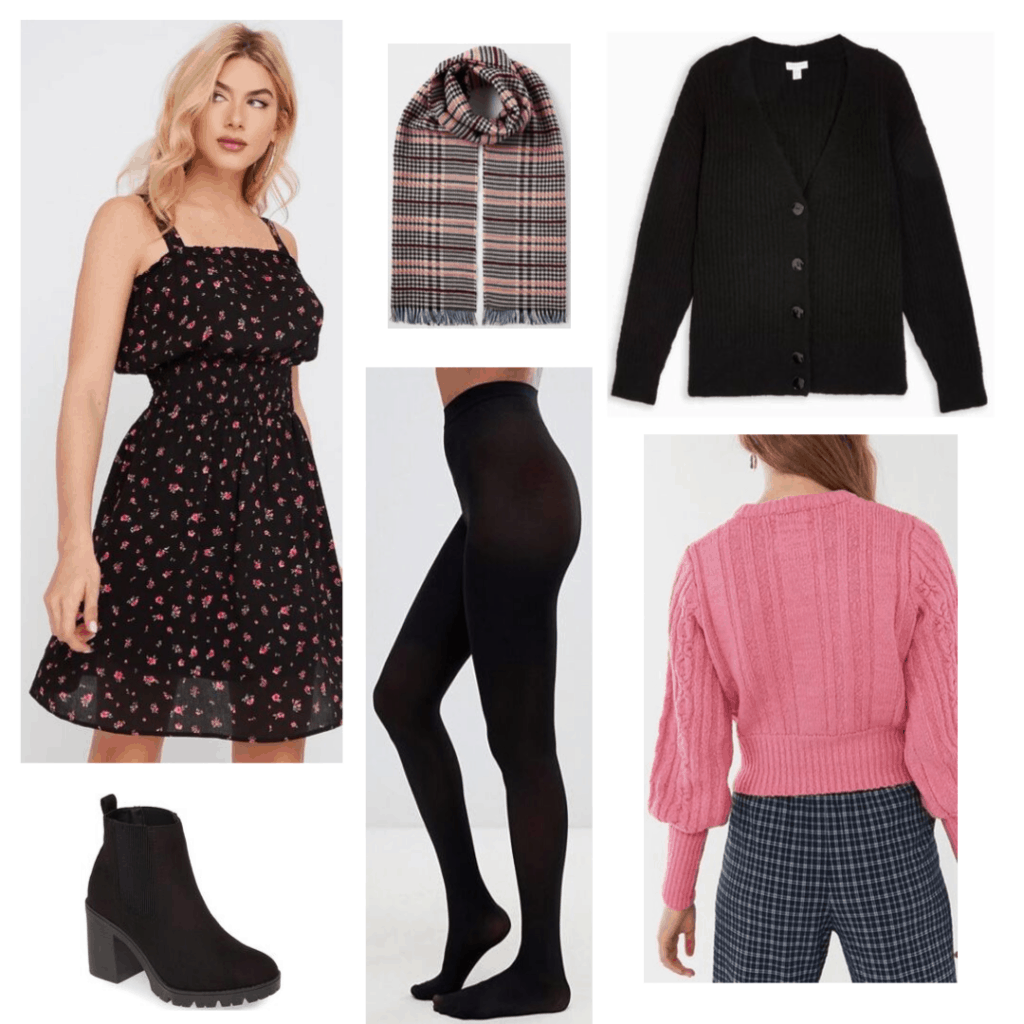 Products: Dress – Charlotte Russe, Cardigan – Topshop, Sweater – Urban Outfitters, Scarf – River Island, Tights – ASOS, Boots – Nordstrom
Similarly, a summer skirt can be styled to withstand the winter chill in an instant – just add accessories and layer-up!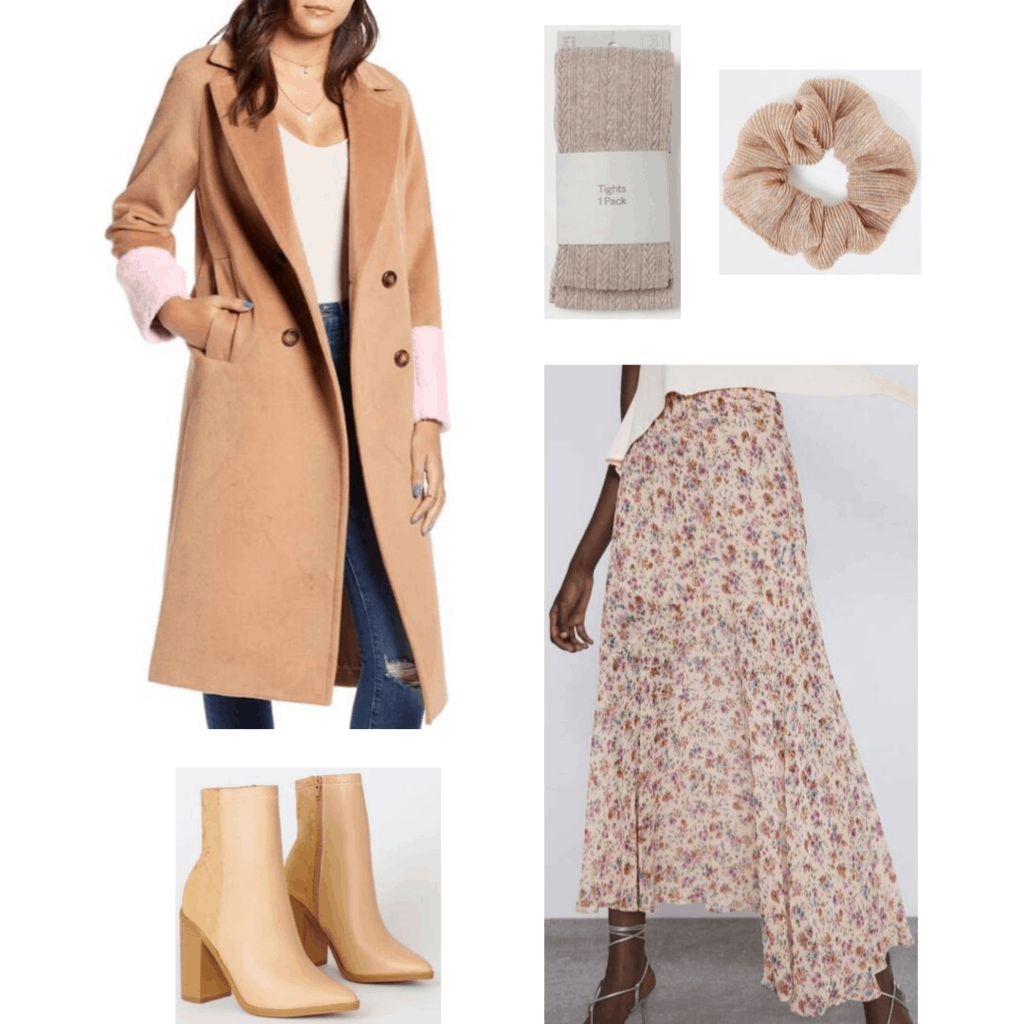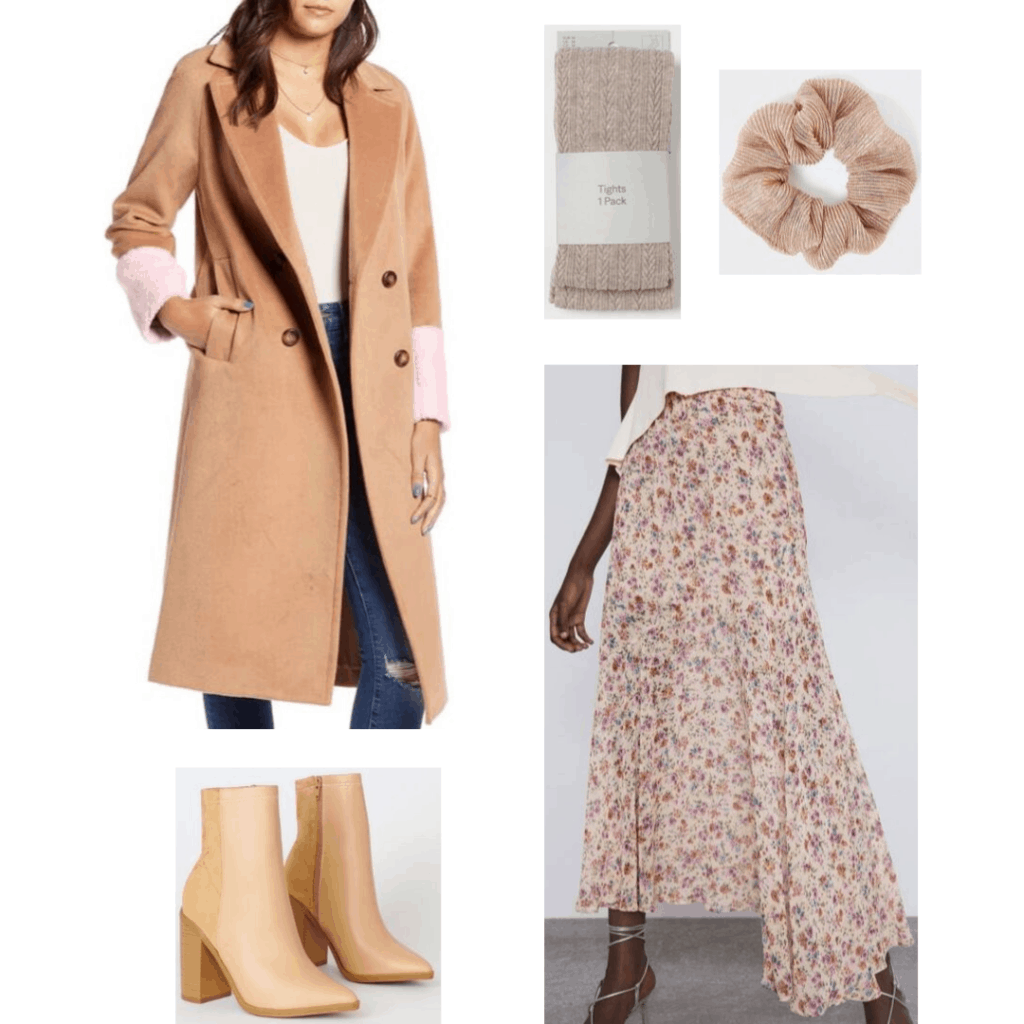 Products: Coat – Nordstrom, Skirt – Zara, Scrunchie – River Island, Tights – H&M, Boots – Lulu's.
Trendy Legwear
Tights, leggings, joggers, jeggings and trendy cargo pants are staples in every college girl's wardrobe in 2019.
We're spoiled for choice in the Instagram era — an age where fashion is becoming increasingly risky and trend-driven (who would've ever thought that bicycle shorts would become mainstream?!)
Different types of legwear can help you distinguish your true style persona. Edgy girls rock cargos and leather pants. Preppy ladies go for jeggings and cigarette trousers. Boho babes favour flowy pants, and sporty girls live in joggers.
Therefore, why go for plain 'ol denim when you could make a comfier, more style-conscious choice? The outfit below shows you how to style a turtleneck-and-sweater combo two ways — with joggers and trousers. Both provide a similar relaxed feel, but a different vibe.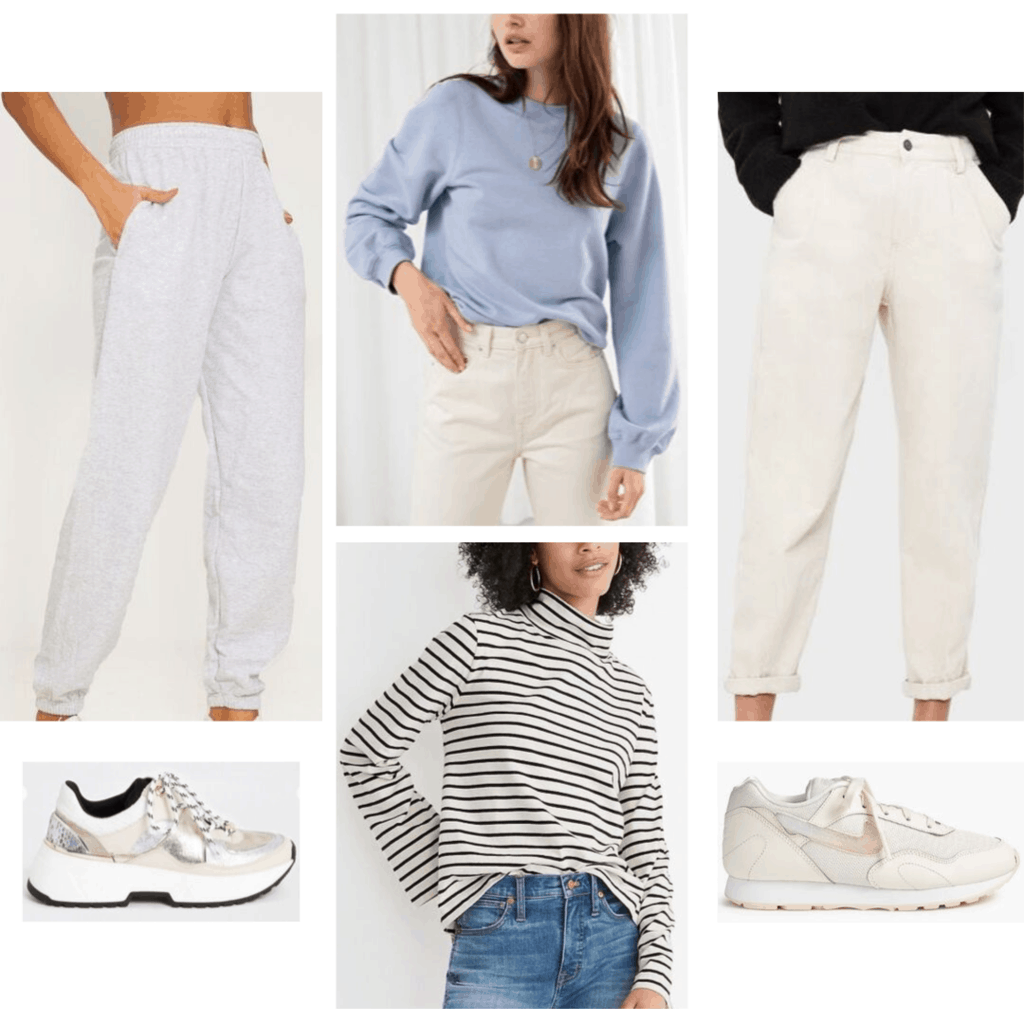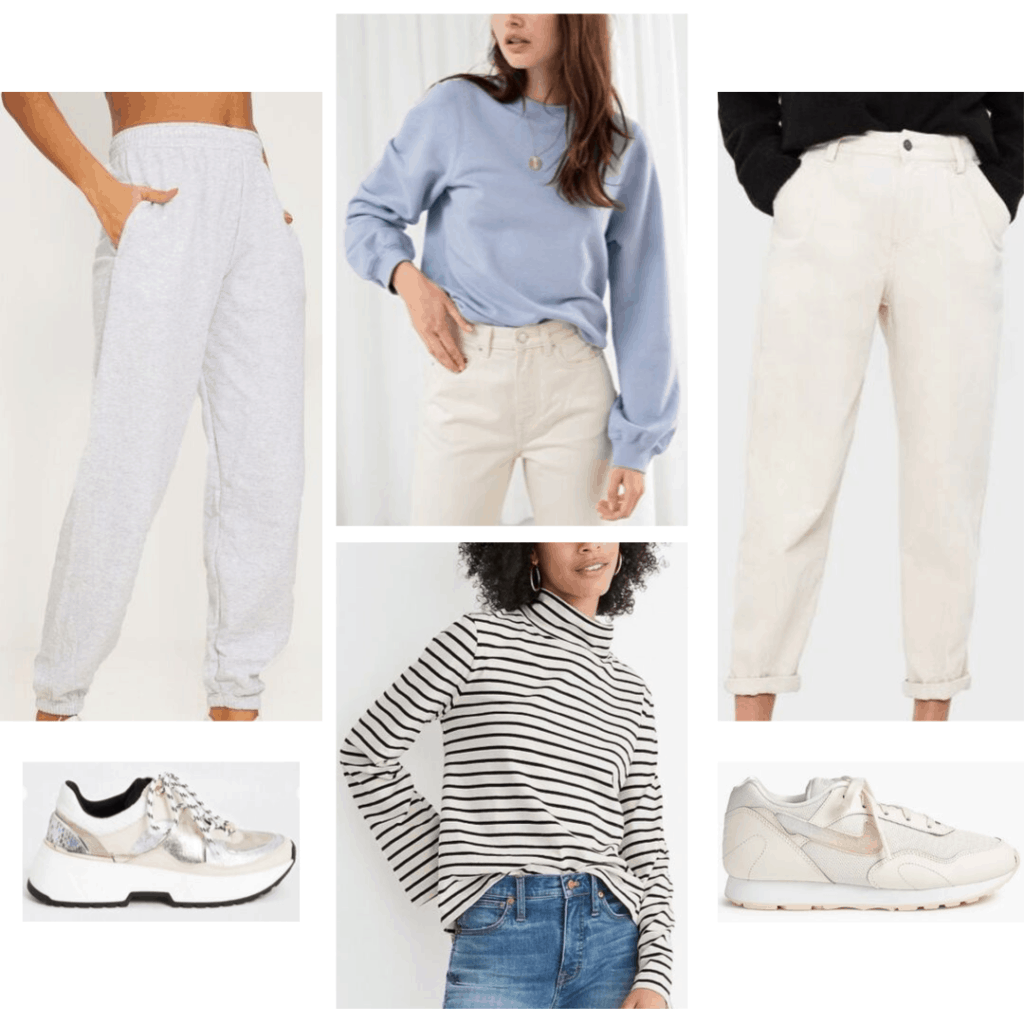 Products: Turtleneck – Madewell, Sweater – & Other Stories, Joggers – Pretty Little Thing, Harem Pants – Bershka, Chunky Sneakers – River Island, Nike Sneakers – J-Crew.
Alternatively, check out the outfit below which shows you how to take one classic work look from desk to dancefloor.
Combined with black cigarette pants, this blazer-and-bodysuit look can carry you through the workday with ease. Switch them out for leather pants in the evening for drinks with the girls.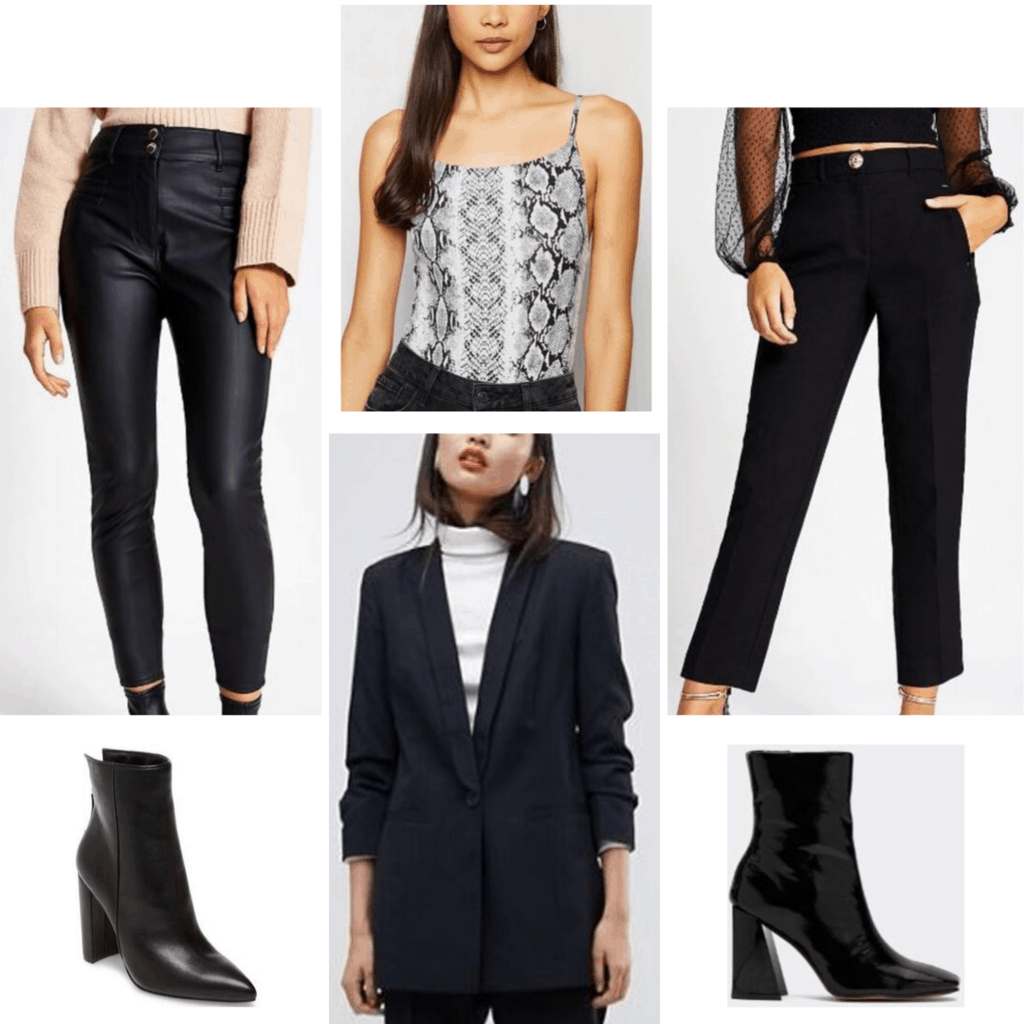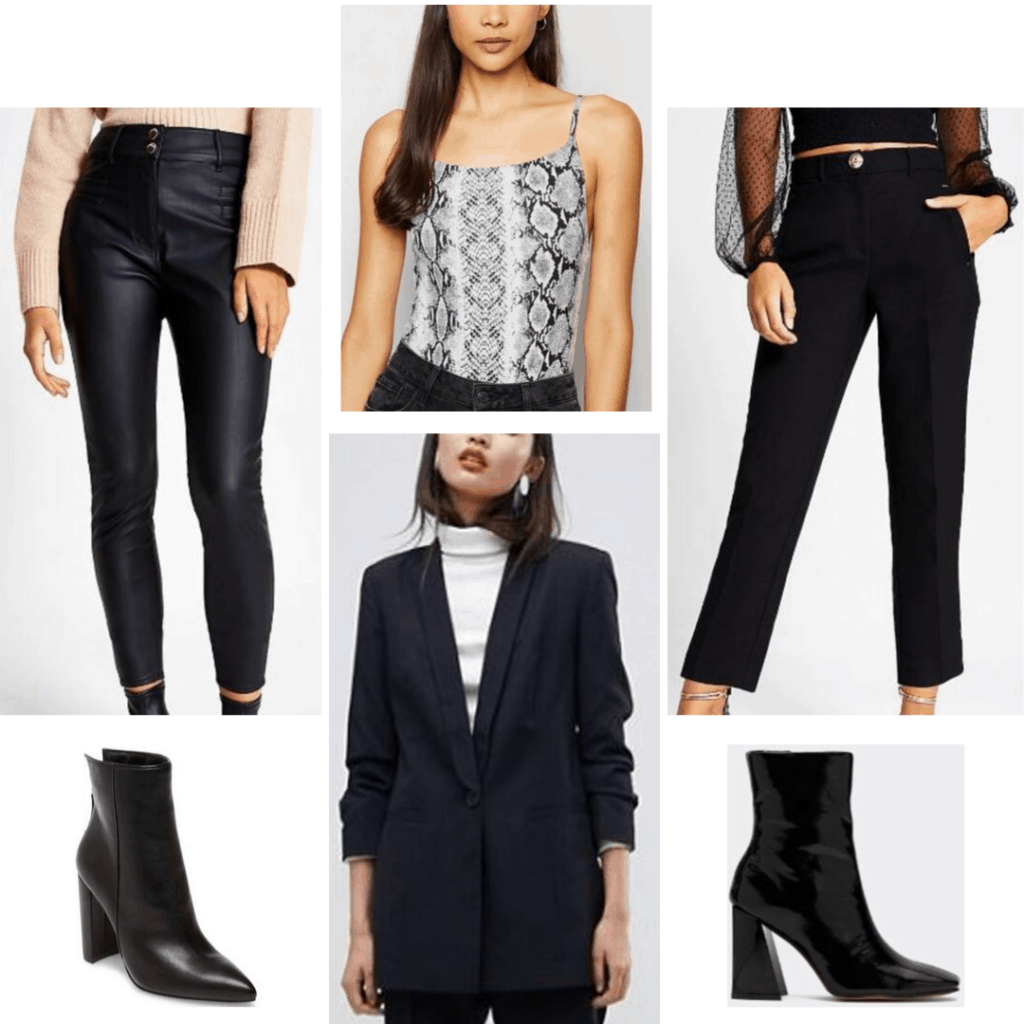 Products: Bodysuit – New Look, Blazer – ASOS, Leather Pants – River Island, Cigarette Trousers – River Island, Booties – Steve Madden, Patent Boots – Nasty Gal.
Jumpsuits
In my opinion, the jumpsuit is an oft-overlooked piece with great versatility. The best jumpsuits can be styled up or down depending on the occasion, and they're a viable alternative to denim jeans in both the summer and winter months.
The key to nailing the jumpsuit look when the weather gets colder is everyone's favorite 'transitional dressing' buzzword: layering.
Similarly to how I added layers to the dress in outfit 1, you can add dimension and warmth to a jumpsuit look by adding a turtleneck or sweater.
You can even layer an oversized sweater over your one-piece and bam! Your jumpsuit looks like a pair of pants. Just add crisp white accessories like this eyelet belt (to add definition to your waist) and these block-heel booties for a fab winter-wonderland look.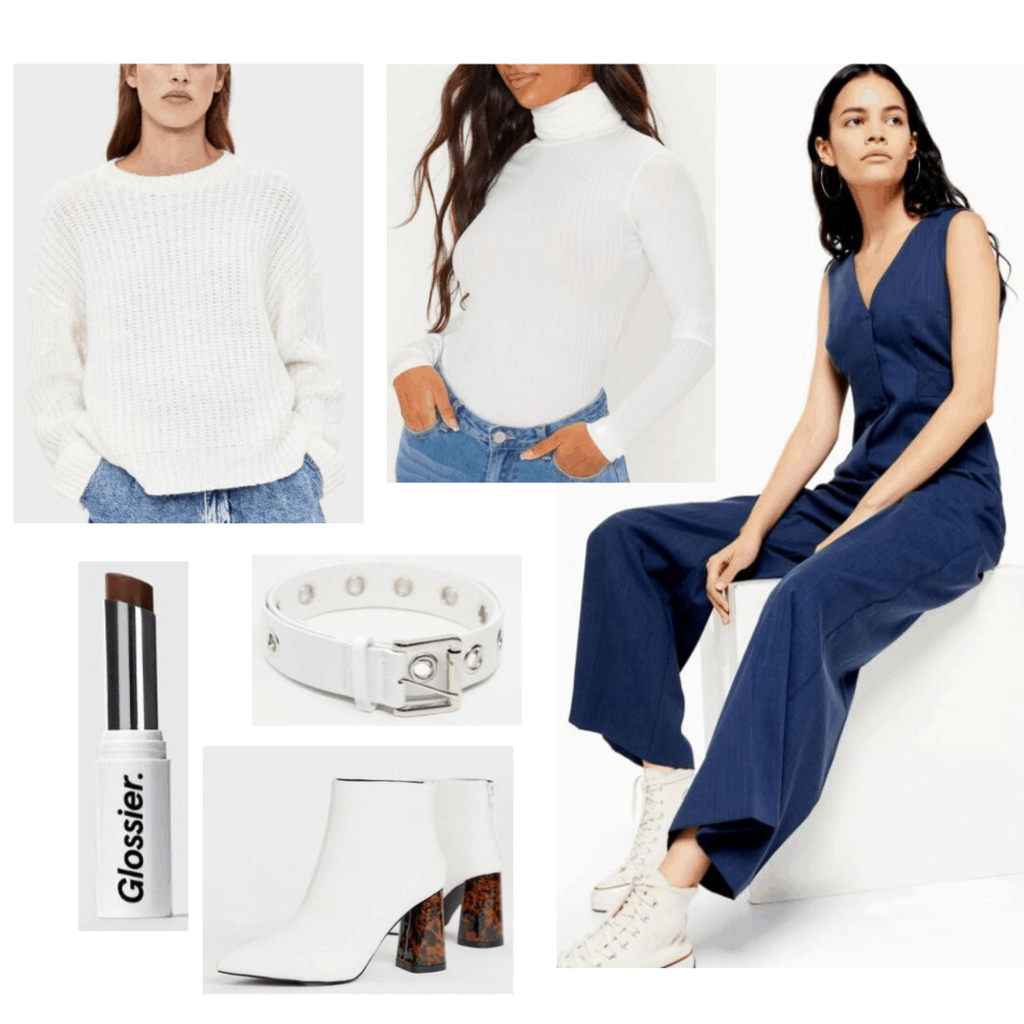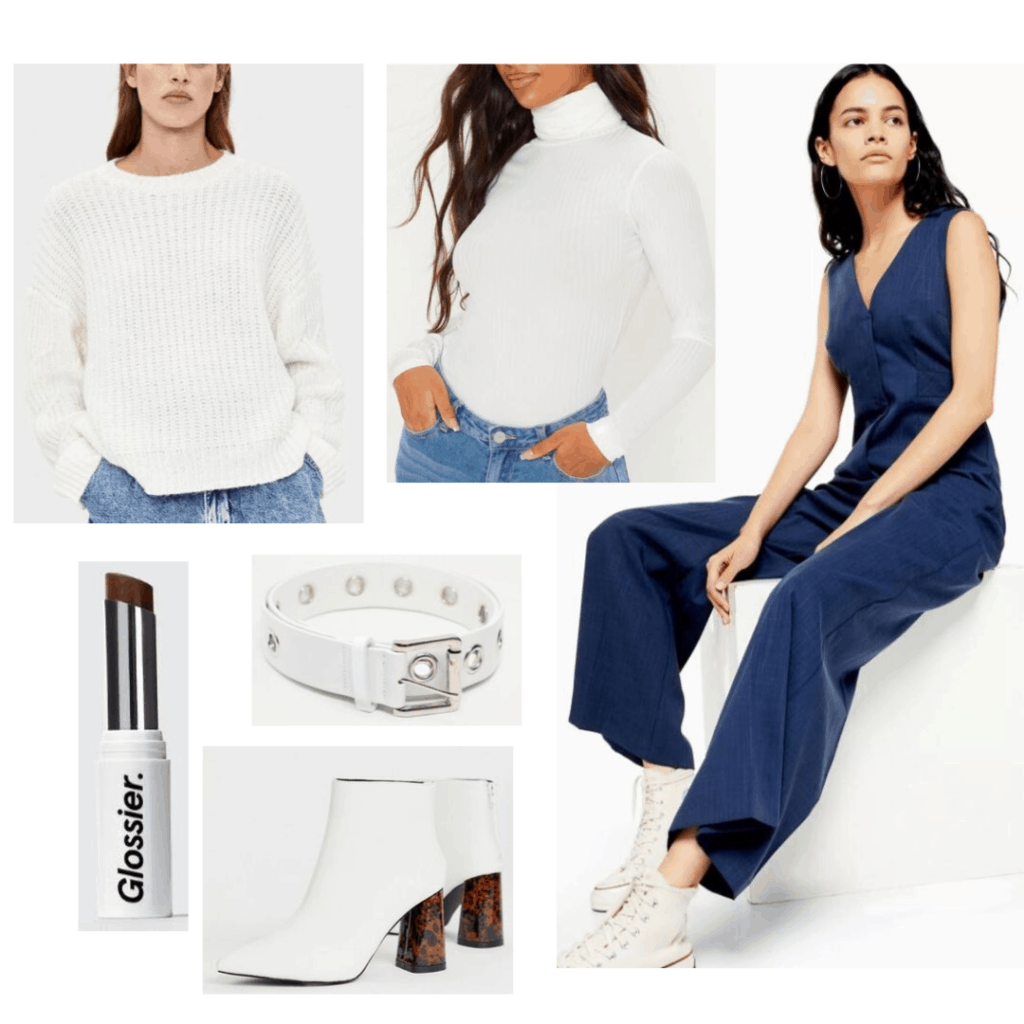 Products: Jumpsuit – Topshop, Turtleneck – PLT, Sweater – Bershka, Belt – PLT, Lipstick – Glossier, Boots – ASOS.
What do you think of these outfits without jeans?
I hope that this article helps all of you planning to diversify your wardrobe.
What do you think of my ideas? How do you survive on days when you don't wear denim? I'm always open to suggestions, so don't forget to comment with any questions you have or anything else you'd like me to address!
Editor's note: This post was originally published in 2009; it was completely updated and revamped in 2019 with new photos and information.