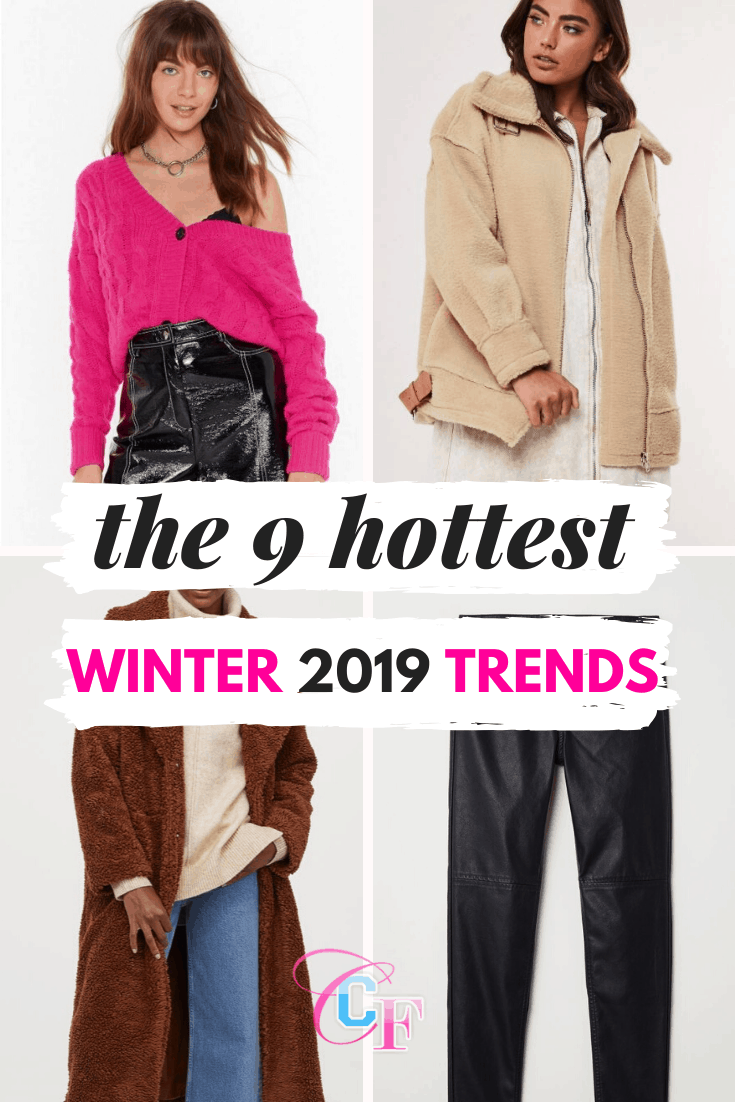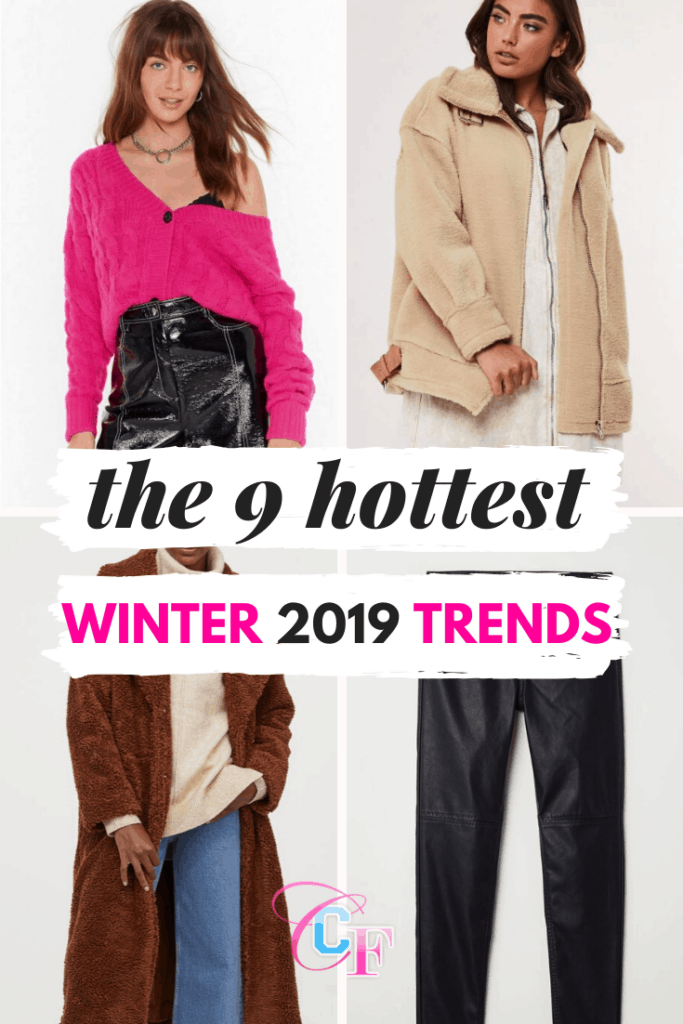 Now that we're well into November, the weather is really starting to cool down. Stores are blasting Christmas music, and it's even starting to snow in some places (ahem, where I live). Winter is definitely on its way, so we're here to help you suit up with our list of the hottest winter 2019 trends!
We all miss hot girl summer, but we can make cold girl winter work for us, right?
Winter 2019 Trends: Cozy Cable Knits
I don't have to tell you that cozy sweaters are an absolute essential during the colder months.
This season, cable knits are trending in every form. Whether you prefer crewnecks, turtlenecks or cardigans, cable knit is the texture to watch this winter. The best part is that these cozy knits work with any outfit — definitely a must for your winter wardrobe.
For more on these, be sure to see our guide to cable knit sweater outfit ideas.
Shearling Everything
Speaking of cozy, shearling (or its faux variant) is another winter must-have!
Personally, I love teddy coats during the winter — at least until it gets too cold to wear them. I layer up with comfy knits and scarves — the ultimate winter outfit. I'm also a huge fan of coats with faux shearling trim, and I've recently seen some very chic shearling hats.
Basically, adding shearling to anything and everything is a super hot winter 2019 trend!
Puffer Jackets
Puffer jackets are one of my favorite athleisure trends! These are perfect to throw on before you head out for your morning lectures. They provide warmth and an effortlessly cool vibe.
Feel free to wear your favorite joggers as well, to really play up the athleisure appeal. Or, throw it over your go-to LBD on your next night out.
Maxi and Trench Coats
Regardless of what color or material you choose to rock, a long coat adds an air of mystery to your winter outfits.
If you're a fan of the utility trend, you'll love a bold statement trench like the one below. Of course, there's always the option of having a Carrie Bradshaw moment in a long fur coat (see the second option below), but a chic trench is a classic essential that goes with anything.
Leather
An understated theme this winter seems to be bold classics — timeless pieces, reimagined.
Leather is always a wardrobe essential, especially this time of year. This season, leather is trending in so many chic varieties — there's truly something for everyone.
Apart from the classic leather jacket, I'm a huge fan of leather wrap dresses, pants and even button-up shirts. Like I said, something for everyone.
Neon Pink
Along with your standard golds, reds and silvers, pink will be one of the front-runners for your holiday wardrobe this winter.
This trend is so cute in sweater form, and will definitely be worn often — pink pretty much goes with anything! If you're feeling bold, consider a puffer jacket in neon pink for a chic athleisure-inspired look.
Edgy Ankle Boots
Fall always brings a little bit of a grungy flair. Combat boots and lug-soles are having a fashion moment, and have been for a while. With no signs of stopping, these booties will be your go-to shoes this winter.
The key players in this trend are moto boots and lug-soles, which might already be in your closet, especially if you prefer an edgy vibe.
Capes
Not all heroes wear capes, but fashion girls certainly will be wearing them this winter. This is such a bold take on a classic silhouette, and we are totally here for it!
If you're a classic kind of gal, this is the trend for you.
My favorite thing about the cape trend is that it's not limited to coats — cape scarves are just as cute for a much smaller price tag.
As for styling this winter 2019 trend, you really can't go wrong — the structure that the cape silhouette provides will work with anything you choose to pair it with, from holiday dresses to workwear.
Colorful and Logo Tights
Colder temperatures don't have to mean the end of preppy girl autumn! The spirit of Blair Waldorf is alive and well with the resurgence of colored tights. Along with logo tights, this trend will be the key to taking your warm-weather wardrobe into winter.
Check out our recent post on how to wear colored tights for super cute ways to style this bold trend!
Which winter 2019 trends are you looking forward to?
Will you be rocking any of these? Share your favorite winter style tips below!