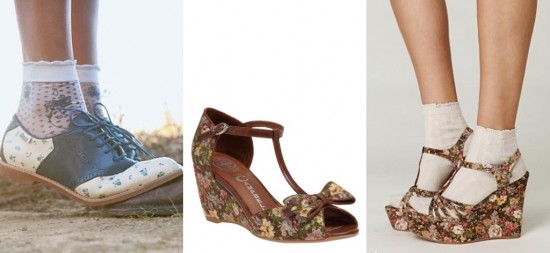 Floral print shoes available at Free People (right and left) and ModCloth (middle).
While scouring my favorite online shopping locations for spring wardrobe inspiration, I noticed floral print shoes everywhere. While floral prints seem to be a perpetual trend for spring and summer, we haven't seen them on shoes to this extent in a very long time.
This '70s-retro look is versatile and can be worn many ways in the months to come. Since mixing prints will continue to be popular through Spring 2011, these shoes could be fun to wear with a cute patterned dress or a polka dotted blouse. If you're in the mood to try another trend, the furthest right look above displays the high heels and ankle socks trend worn with floral wedges – and they couldn't look any cuter!
Personally, I think floral print shoes can pretty much work on any girl. When worn with flowy spring dresses or cropped cardigans and vests, these shoes would help channel the perfect boho vibe, but a pair of floral oxfords worn with cargos could create an edgier look – it's all in the styling.
In case you're looking for more inspiration, here's how I would wear it…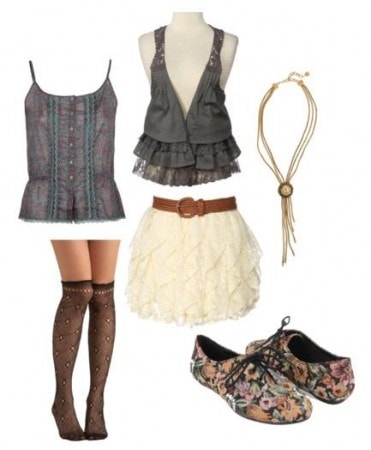 Product Information: Top – Amazon, Vest – Rue21, Skirt – Rue21, Tights – ModCloth, Shoes – Forever 21, Necklace – ModCloth
Now it's your turn!
Leave a comment and let me know what you think. How do you feel about floral print shoes? Would you wear them? Do you like the sample outfit? Would you wear any of the Free People or ModCloth sample shoes? Tell us your thoughts below!